When visiting Athens even for a short time, travelers don't want to leave the country unless they've seen a tiny bit of the islands. Most popular Greek islands need you to travel for hours by ferry from the capital, and not everyone has that kind of time. Unless you visit Hydra, a great destination for a day trip or to spend a few nights. If you're wondering where you can sleep once there, check these great places to stay in Hydra before you book!
---
Disclaimer: Posts include affiliate links to products or services. I might earn a commission if you make a purchase, at no extra cost.
---
Essentials for your Adventures in Greece!
Getting to Greece: Nothing like sailing from one island to the other. Check Ferryhopper to book your ferry tickets in advance.
Spending the night: It's always wise to compare, check both Booking.com and Hotels.com for the best accommodation deals.
Top-rated tours in Greece: If you visit Athens don't miss this Acropolis Guided Tour. When in Crete, check the amazing Balos Beach with this Boat Cruise to Balos. And if you love wine, then splurge in this Santorini Winery Tour. To save time and money, get a convenient Combo Ticket Pass Athens.
See Greece at your own pace with a rental car: Personally, I use Discover Cars to reach places where my old jalopy won't take me.
Wonderful Rental Homes and Airbnbs in Hydra, Greece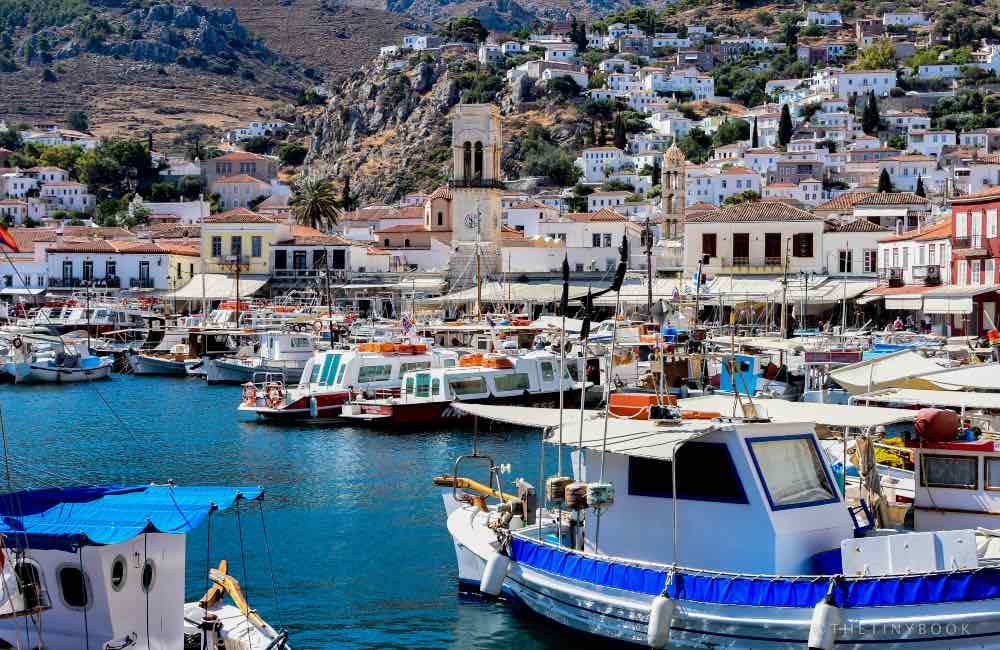 Upon your arrival to the island, expect to be charmed by the unique landscape, laid-back vibe, and elegance that this tiny Greek island naturally exudes. It's one of the most beautiful places to head to for a romantic getaway or just a relaxing weekend on your own. Hydra, the island where no cars are allowed, where donkeys and mules are the only means of transport allowed, often looks like a place where time has stopped.
If you set out for the day, you'll explore the island, discover the most beautiful little bays for a swim, and taste the stunning local cuisine… And you will fall in love with Hydra. This is such a common scenario among travelers that's usual to see people looking for a place to stay last minute late in the afternoon.
If you haven't booked in advance, you should know that there is a limited accommodation offer on this small island, therefore hotels tend to charge quite high for last-minute availability. Often, Airbnbs are more accommodating and could save your day (or night) if you decide not to sail back to Athens right before you're bound to leave. So why not check these great Airbnbs in Hydra for your stay?
Where to Spend the Night in Hydra, Greece
In no particular order, these are some of the places I suggest spending the night in Hydra…
Visiting Hydra soon?
>>Discover what things you can do on the island<<
Nesea Boutique Apartment
Why you should stay: To wake up every morning in a cozy home with wonderful views of Hydra little alleys.
Probably the best-rated rental home to spend some time in Hydra, it boasts all the comfortable features you need for a short stay. It's located just 200 meters from the port and set in a traditional, recently renovated residence in a quiet area, close to everything on the island.
Extras: a continental breakfast is served daily at the property.
Sleeps: up to 5 guests.
Unique Luxury Suites
Why you should stay: Because it has one of the nicest views of the island that you'll be able to find in Hydra.
In this one-bedroom apartment, you can experience the true feel of Hydra. A great place to stay with inspiring views of the island any time of the day! Just minutes from the port, this is an ideal base to experience the best of Hydra. The place is only 600 m from Avlaki Beach and 500 m from George Kountouriotis Manor.
There are several popular points of interest nearby, including the Port, the Historical Archives, and the Byzantine Museum.
Want to visit other quiet islands in Greece?
>>Check the best beaches in Sifnos here<<
A House in the Center of Hydra
Why you should stay: Because the lively, fresh atmosphere of this home will immediately put you on a vacation mood!
This house in the center of Hydra is a two-floor apartment, less than a minute away from the port. It was built during the 19th century but recently renovated and redecorated. The house's original style was maintained and enhanced with contemporary decorative ideas, resulting in a simple and comfortable rental home.
The house features two floors, three available bedrooms, a comfortable kitchen, and two terraces, one on each floor.
Sleeps: up to 6 guests.
Pets allowed: yes.
Villa Mandraki
Why you should stay: To experience the thrill of living in a home completely made of stone, with the traditional touches of the local architectural style.
Set in a traditional settlement at Mandraki Bay, the house overlooks the spectacular Mandraki cove. It's split into two levels and caters to your every need with its furnished verandas, fully-equipped kitchen, and cozy fireplace. The town of Hydra is a 25-minute walk away.
Right across the villa, there's a traditional beachfront taverna serving local specialties and ouzo as well as a beach bar offering snacks and refreshing drinks.
Sleeps: up to 5 guests.
Extras: family rooms available.
Pets allowed: yes.
Hydra's View
Why you should stay: Because the place is unique and cozy, offering stunning views and great comfort for your stay.
Nothing but a stunning and authentic Hydra property with an excellent location and beautiful views of the port. This unique house, recently renovated, is one of the oldest houses on the island.
The beachfront home is located 400 meters from the port and offers access to a gorgeous patio, high enough above the port to offer amazing views, but not as high so it's still easy to reach the town and harbor in a few minutes.
Sleeps: up to 4 guests.
Extras: family-friendly accommodation.
This home is one of the most popular Airbnbs in Hydra, don't miss it if you find availability!
Livin Hydra Luxury Apartment
Why you should stay: Because the minimal, calm, and relaxing environment is all you need for an unforgettable stay.
If you're on the hunt for a simple and minimalistic kind of home, don't miss this place! It's particularly loved by the services offered by the hosts as well as by the amazing position. The place is 600 meters from Hydra Port, featuring great town views and a comfortable balcony.
There are 2 bedrooms and a comfy kitchenette with dining area and a sitting lounge.
Sleeps: up to 4 guests.
Pets allowed: yes.
Guarda il Porto
Why you should stay: Because it's a stylish, modern, comfortable place where you'll enjoy a magical stay. Even for one evening only!
Located just 70 meters from Hydra Port, this beautiful and comfortable place to stay offers a lounge and a comfortable kitchen as well as a balcony where to enjoy breakfast every morning.
Close to everything in town, it's situated 200 m from The Hydra Museum Historical Archives. For more comfort, the well-equipped kitchen also includes a microwave and a washing machine.
Sleeps: up to 4 guests.
Extras: the apartment offers a continental or buffet breakfast.
Amoroza Guest House
Why you should stay: To enjoy a small but super comfortable, stylish environment on the island!
A traditional place, beautifully decorated and renovated steps from the port and about 1500 meters from Prophet Elias Monastery.
Comfortable and easy to access, the home features all the necessary facilities, remaining close to the beach as well as minutes from cafeterias, restaurants, bars, and all the shops on the island. However, if you prefer to cook your own meals, the home has a complete kitchen for your comfort.
Sleeps: up to 2 guests. Children are not allowed.
In the mood for more islands in the Saronic Gulf?
>>Check what to do in Aegina<<
Hydra Suites
Why you should stay: To enjoy the modern comfort and relaxing atmosphere in any of the three apartments of the aparthotel.
The houses are situated 500 m from Avlaki Beach and combine the comfort of a house and the perks of a hotel stay, including a 24-hour front desk for any of your needs.
Hydra Suites features accommodation with a garden and a terrace as well as a patio. It's close to the port and near Prophet Ilias Monastery too.
Hydra Kamini Beach Thea
Why you should stay: Because… ok, just look at that view!
Check this amazing place right overlooking the beach of Kamini. It's also 600 meters from the popular Avlaki Beach. This holiday home is in an area where guests can engage in activities such as hiking, diving, and fishing.
The place features a patio and 3 bedrooms, while the kitchen is equipped kitchen with a dishwasher, a microwave, and a washing machine.
Popular points of interest near the property include the Port of Hydra, the Museum and Historical Archives, and the Byzantine Museum.
So… where are you planning to stay when you visit Hydra?
---
Where would you like to stay on Hydra island?
Let me know in the comments below!
---
Travel Plans for Greece?
More Resources to Organize Your Trip!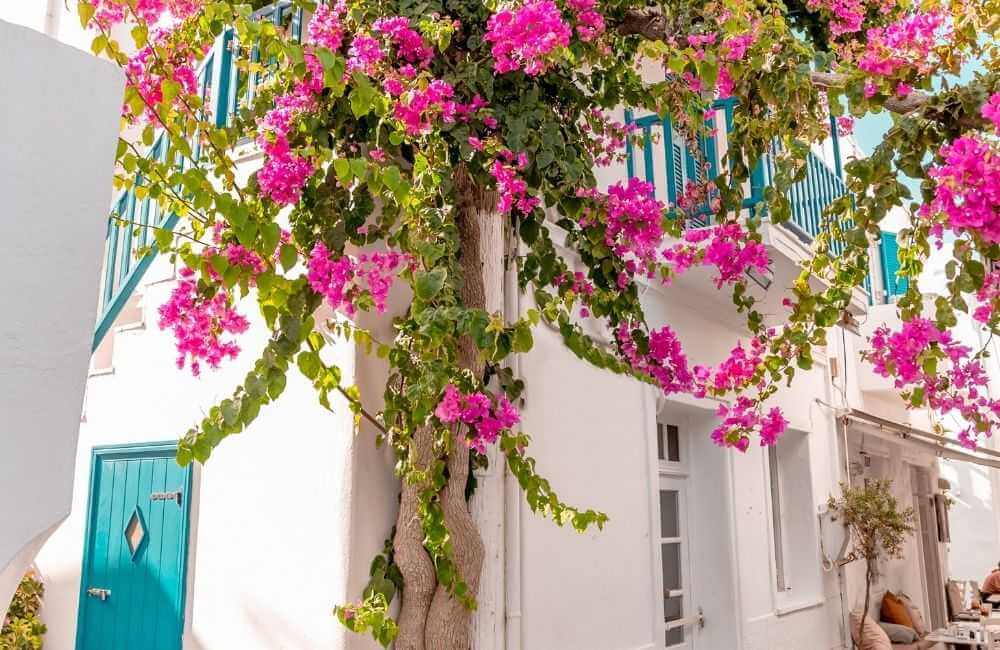 Start by heading right to my Greece travel guide for in-depth details you need to know about Greece. You can also check my post to plan a trip to Greece with children!
Get in touch if you need extra help to plan your trip. If you want to tour West Crete, check my guide. Want more? Join my Private Facebook Group to connect with like-minded travelers who love Crete as much as you do!
Make Sure You've Got Everything For a Hassle-Free Vacation!
Without my Osprey backpack, I never move around the islands…it's a sturdy but light travel partner I just love. For short trips, I carry this crossbody bag. If I drive, I pack my Nikon D7200 and a good travel guide! Lonely Planet's Best of Greece & the Greek Islands.
When it comes to plane tickets, compare prices with a powerful search engine. However, nothing beats traveling by sea in Greece. With Ferry Hopper, you can book in advance at the lowest price.
For accommodation, I use Booking.com.
Traveling to remote places is easier with Discover Cars. Other times, I join organized tours with GetYourGuide, which features anything from cooking lessons to airport transfer!
COMING TO CRETE SOON?
Get in touch and let me know!
Read more:
Things to do on Hydra island on a day
Perfect Things to Do in Aegina, Greece
Athens Mythological Tour: Walking Ancient Athens
Most Traditional Airbnbs in Aegina, Greece
Relaxing things to do on Lipsi island
Pin this Guide to the Best Holiday Homes in Hydra for Your Greece Travels!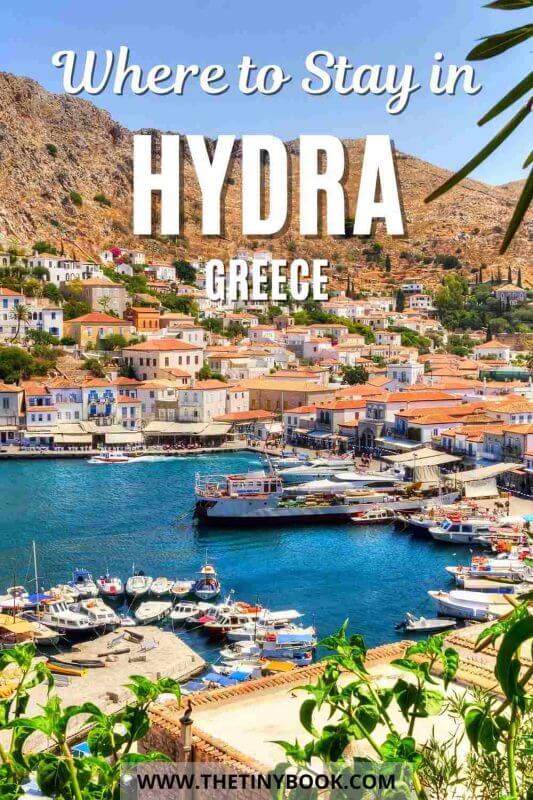 About the author of this blog: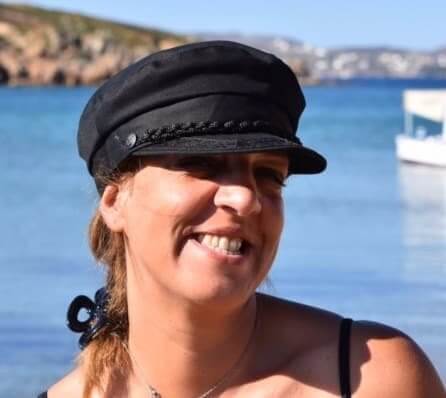 Gabi has been living in Crete for the last five years. On the island, she juggles being a solo mom, hosting culinary tours in summer, translating, and freelance writing.
She's written for Greek Reporter, published several travel guides about Greece, and had more glasses of frappe than any regular person would be able to handle.
---
You might also want to read:
---