When visiting Athens even for a short time, travelers don't want to leave the country unless they've seen a tiny bit of the islands. Most popular Greek islands need you to travel for hours by ferry from the capital, and not everyone has that kind of time. Unless you visit Hydra, a great destination for a day trip or to spend a few nights. If you're wondering where you can sleep once there, check these great Airbnbs in Hydra before you book!
Where to spend the night in Hydra, Greece
This article may have affiliate links to products and services that I use. If you make a purchase through these links, I might earn a small commission at no extra cost to you. Some of the articles in this blog have affiliate links to properties and services provided by Airbnb. As an Airbnb Associate, I might earn a small commission – at no extra cost to you – if you book through one of these links.
Wonderful rental homes and Airbnbs in Hydra, Greece
Upon your arrival to the island, expect to be charmed by the unique landscape, laid-back vibe, and elegance that this tiny Greek island naturally exudes. It's one of the most beautiful places to head to for a romantic getaway or just a relaxing weekend on your own. Hydra, the island where no cars are allowed, where donkeys and mules are the only means of transport allowed, often looks like a place where time has stopped.
If you set out for the day, you'll explore the island, discover the most beautiful little bays for a swim, and taste the stunning local cuisine… And you will fall in love with Hydra. This is such a common scenario among travelers that's usual to see people looking for a place to stay last minute late in the afternoon.
If you haven't booked in advance, you should know that there is a limited accommodation offer on this small island, therefore hotels tend to charge quite high for last minute availability. Often, Airbnbs are more accommodating and could save your day (or night) if you decide not to sail back to Athens right before you're bound to leave. So why not checking these great Airbnbs in Hydra for your stay?
Visiting Hydra soon?
>>Discover what things you can do on the island<<
Veranda Apartment
Why you should stay: To wake up every morning in a cozy home with wonderful views of Hydra's port.
Sleeps: 2
Minimum stay: 4 Nights
Pets allowed: No
This tiny apartment has all the comfortable features you need for a short stay in Hydra. It's located just 150 meters from the port. The place is set in a traditional, recently renovated Judean Mansion in a quiet area, close to everything on the island.
The apartment offers accommodation for two, it features a balcony with views of the port and the town. It's located a few meters from Leonard Cohen's House and just steps from Lazaros Koundouriotis museum. As with everything in Hydra, you can walk to the closest beach, only 250 meters from the apartment.
Naval House
Why you should stay: Because it's one of the most traditional places to stay you'll be able to find in Hydra.
Sleeps: 7
Minimum stay: 2 Nights
Pets allowed: No
In this home, you will live the true feel of Hydra's history. An iconic place to stay, featuring meter-thick stone walls and original high ceilings, antique wooden consoles, and anchors mixed with a varied array of modern comfort. The house also has a two-floor courtyard, a veranda, and a balcony with a sea view. Just minutes from the port, this is an ideal base to experience the best of Hydra.
Built during 1893, the Naval House is an authentic old residence of Hydra inside the main town. Upon arrival, an imposing 19th-century anchor puts you in the right mood. The house features a traditional bedroom with a comfortable bed and a 19th-century chest.
An original wooden doorway takes you to the kitchen, and then out to the back yard, where the breakfast table is located, surrounded by tall fortress-like stone walls. The ground floor is cool in the summer, as it is insulated by meter-thick stone external walls. On the upper floor, there's a second living room and two more bedrooms.
Want to visit other quiet islands in Greece?
>>Check the best beaches in Sifnos here<<
A House in the Center of Hydra
Why you should stay: Because the lively, fresh atmosphere of this home will immediately put you on a vacation mood!
Sleeps: 6
Minimum stay: 2 Nights
Pets allowed: Yes
This house in the center of Hydra is a two-floor apartment, less than a minute away from the port. It was built during the 19th century but recently renovated and redecorated. The house's original style was maintained and enhanced with contemporary decorative ideas, resulting in a simple and comfortable rental home.
The house features two floors, and three available bedrooms, a comfortable kitchen, and two terraces, one on each floor.
Braxos, a beautiful rocky place
Why you should stay: To experience the thrill of living in a home completely made of stone, with the traditional touches of the local architectural style.
Sleeps: 2
Minimum stay: 2 Nights
Pets allowed: No
Set in a traditional settlement at the top of the hill, the stone house offers a private sun terrace with views of the port and the surrounding area. This quiet place offers an excellent experience of the old, historic part of the island.
The home is 15 minutes from the center, in the Kiafa, the oldest part of Hydra. The place is newly built and fully equipped to provide all comforts to any couple looking for a memorable vacation.
The place has a private entrance along with a totally private terrace, a common garden area. Common laundry can be arranged with the hosts.
The White House in Hydra
Why you should stay: Because the place is unique and cozy, offering stunning views and close to Hydronetta.
Sleeps: 8
Minimum stay: 7 Nights
Pets allowed: No
If you choose this place you'll be staying in one of Hydra's most iconic places. The White House in Hydra features superb harbor and sea views, large sun-drenched terraces, a shaded garden, and a quiet courtyard. The main house is a former Captain home and it comes with a fully equipped separate guesthouse.
The place is just above Hydra Town, high enough above the port to offer amazing views, but not as high so it's still easy to reach the town and harbor in a few minutes.
Lovingly renovated and cared for by the present owners, the house is a delightful fusion of Eastern and Traditional Greek elements. The main house is spread over several levels, there is a garden also to relax in the heat of the day. There's a comfortable living room, while a hallway leads to the master bedroom and study.
There are two bathrooms in the main house, one of which offers a large bathtub and trompe l'oeil artwork, as well as a light shaft to the garden and lovely smooth molded cement work reminiscent of an Eastern hammam. The kitchen is fully equipped and it comes with a coffee machine and a water dispenser.
>> This home is one of the most popular Airbnbs in Hydra, don't miss it if you find availability!
Apartment by the Port
Why you should stay: Because the minimal, calm, and relaxing environment is all you need for an unforgettable stay.
Sleeps: 3
Minimum stay: 2 Nights
Pets allowed: No
If you're in the hunt for a simple and minimalistic kind of home, don't miss these apartments! Yes, these are two fully equipped apartments in the most central location of Hydra', just one minute away from the port.
Recently renovated with beautiful but modern decoration, ideal for a couple, both can host also an extra person. Both homes feature kitchen and beautiful views.
Keresbino Luxury Townhouse
Why you should stay: Because it's a stylish, modern, comfortable place where you'll enjoy a magical stay. Even for one evening only!
Sleeps: 4
Minimum stay: 1 Night
Pets allowed: No
No smoking is allowed on the property
Known as Keresbino, this rental home is ideally located in the center of Hydra, just 80 meters from the port. It's a comfortable place on the first floor, ideal for a family.
Guests will find a bedroom with a comfortable double bed, and two single beds in the living room with coconut mattresses and anatomic pillows. The house features a nice kitchen, built-in comfy sofas, fresh towels, and soft bathrobes for a welcoming feeling.
The kitchen fully equipped for you prepare your own meals. Cribs are available upon request.
Alleyway Hose in Hydra
Why you should stay: To enjoy a comfortable, stylish environment on the island, literally steps from the port!
Sleeps: 4
Minimum stay: 4 Nights
Pets allowed: No
Alleyway House is a traditional and fully renovated home featuring the high quality of the local architecture. It's located in a quiet alley and just 100 meters from the port of Hydra.
Comfortable and easy to access, here guests will be staying close to cafeterias, restaurants, bars, and all the shops of the island. However, if you prefer to cook your own meals, the home has a complete kitchen for your comfort.
In the mood for more islands in the Saronic Gulf?
>>Check what to do in Aegina<<
Veranda Apartment with Port View
Why you should stay: To enjoy the modern comfort and wonderful views of the port of Hydra, even if you don't want to book a whole house but just a super comfortable room.
Sleeps: 2
Minimum stay: 4 Nights
Pets allowed: No
This house is located only 150 meters from the port of Hydra. It's a fantastic place to relax and rest. The main room features 2 comfy beds, a small kitchen for your basic needs, and a private bathroom, while the balcony has stunning views of the island.
The space is part of an old mansion in the style of the island which has been recently renovated. According to the legend, Sofia Loren used to stay in this room when filming a movie in Hydra during the 50s
Dimitri's Stylish Island House
Why you should stay: Because… ok, it could also happen that you have planned a longer stay in Hydra and want to explore the island with a group of friends… this is just the right place!
Sleeps: 7
Minimum stay: 5 Nights
Pets allowed: No
Check this unique island home made of modern comfort and hints of traditional architecture. The house follows the style of the homes of the island but also includes decorative elements from many other areas in Greece.
The house is made of two separate buildings connected via a beautiful courtyard. The bougainvillea-filled courtyard features an idyllic outdoor dining area. There's a spacious living room on the ground floor, with a cozy fireplace, a dining room, and a magnificent kitchen. On the second floor, there is a second sitting area, a comfortable bedroom, and a great terrace.
The second building features two bedrooms each one with an ensuite bathroom. Both bedrooms overlook the house's lemon tree garden. The house is perfect for a family or a group of friends and it's a good choice all year round, as it has AC and heating, and a fireplace.
So… where are you planning to stay when you visit Hydra?
---
Where would you like to stay on Hydra island?
Let me know in the comments below!
---
Travel plans for Greece?
These resources will help you organize the trip!
Start by heading right to my Greece travel guide for in-depth details you need to know about Greece. You can also check my post to plan a trip to Greece with children!
Get in touch if you need extra help to plan your trip. If you want to tour West Crete, check my guide. Want more? Join my Private Facebook Group to connect with like-minded travelers who love Crete as much as you do!
Make sure you've got everything for a hassle-free trip!
I never move around the islands without my Osprey backpack, a sturdy but light travel partner I just love. For short trips, I carry this little crossbody bag. If I drive, I pack my Nikon D7200 and a good travel guide! Lonely Planet's Best of Greece & the Greek Islands.
When it comes to plane tickets, compare prices with a powerful search engine. However, nothing beats traveling by sea in Greece. With Ferry Hopper, you can book in advance at the lowest price.
For accommodation, I personally use Booking.com and Airbnb.
Traveling to remote places is easier with Discover Cars. Other times, I join organized tours with GetYourGuide, which features anything from cooking lessons to airport transfer!
Are you coming to Crete any time soon?
Get in touch and let me know!
Read more:
Things to do on Hydra island on a day
Perfect Things to Do in Aegina, Greece
Athens Mythological Tour: Walking Ancient Athens
Most Traditional Airbnbs in Aegina, Greece
Relaxing things to do on Lipsi island
Pin this article and read it later!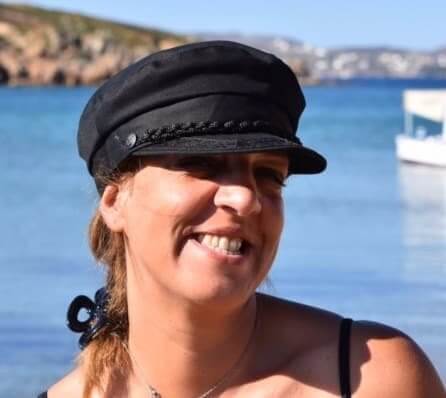 About the Author
Hola! I'm Gabi. Welcome to The Tiny Book – Crete Travel Blog! I moved to Crete to explore the island all year round. I love taking pictures and driving on the mountain roads of Crete. I'm a beach freak and on this island I've found heaven on earth!
---
You might also want to read:
---