One of the things I adore about currently being based in Greece is the possibility of indulging in the local cuisine anytime I want to. It is abundant in genuine ingredients from the Mediterranean, it can be terribly simple and tasty, yet keep refined touches of the autochthonous traditions. When it comes to choosing a place to dine in Athens, one of my favorite ones remains the Atrium Greek Bistrot… Let me tell you why.
---
Disclaimer: Posts include affiliate links to products or services. I might earn a commission if you make a purchase, at no extra cost.
---
Review
This is a sponsored post. I was a guest for a weekend at the Blossom Premium Living Residence, yet all opinions remain, as usual, my own and unbiased. A heartfelt thank you to all the management, Dimitris, Katerina, and staff for the care and service.
Where to Eat in Athens: Atrium Greek Bistrot
I first had a taste of Atrium cuisine back in June, when in town to do some research and meet friends.
That night was incredibly warm and quiet, the views were amazing and dinner proposals from their rooftop bar – Point a – surprised me in such a way that I've always wanted to go back.
On this occasion and being winter, the option was a very creative winter menu.
Their classic winter garden boasts magnificent views of green trees and the stars. Candles, dimmed lights and quietness make the Atrium a perfect choice for a romantic evening with your partner. Or even for some quality time on your own. Once I was shown to my table, I was equally tempted to try all their dishes on the menu. The same as I had been back in summer.
Cocktails are Olympian Gods
One of my most vivid memories from the Point a has always been their bizarre variety of cocktails. They display a colorful array of creativity, variety, and tastes from all over Greece.
My choice was a bitter-sweet cocktail: Mediterraneo. A delicious mix of Mastiha from Chios, Cocchi Americano vermouth, and 3 cents of lemon tonic. Greek olives on top of it… paradise.
But there is more… your choice might get even more drama with their God's Theory (Aperol infused strawberry, M.B. elderflower liquor, M.B. apricot liquor, 3 cents lemon tonic), their Olympic Flame (Sailor Jerry rum, Bacardi, Fresh lemon juice, Strawberry puree, Chamomile syrup infused with spices, M.B. cacao liquor, Basil, Fig marmalade tapas: loukoumas) or their Nostalgia (Vodka, M.B. coconut liquor, Aperol infused sage, Fresh lime juice, Pepper, Strawberry puree, Blackberry puree, Basil tapas: fish and chips).
Popular Dishes for Dinner
Even when there're plenty of choices and you might have no idea where to start from, I knew one of the many reasons to come back was their incredible revisitation of loukoumades. Definitely one of the most amazing starters I've ever tried.
They are a bittersweet delicacy of the traditional Greek sweets, filled with manouri cream cheese from Elasona and drops of local honey. I could have also tried a different dish this time; the proposals were all enticing… However, I couldn't really resist the loukoumades temptation.
For main, I decided to taste their Slow cooked lamb with avgolemono sauce and greens. A simple touch of black pepper on top and it was Heaven. A creamy acidulous sauce bathing tender pieces of meat. Herbs and aromas were all there, not invading, but evoking Greek mountains.
A must-try. Sweets would have meant sinning even more. I decided to skip them and honestly I regret doing so.
Their Sweet pumpkin pie with mastic ice cream sounded heavenly, but I settled for a cozy cup of Greek coffee with homemade butter cookies.
Find cheap flights with Skyscanner.
The Experience at the Atrium Greek Bistrot
Whether you go for it in summer, adding to your dinner that impressive touch only Athenian nights can offer; or in winter, enjoying the calm atmosphere of their winter garden, the staff caring for your meal will be the same.
Staples dishes are available all year long in the Atrium's menu, and the seasonal additions are simply a tough decision.
The service is incredibly thoughtful. Everything is looked after with detail and attentiveness. And in case you're wondering, two details that should not go unobserved.
They have a very appealing menu for kids and prices are affordable too. Not the usual trap for tourists, but an incredible place where to relish the most amazing Greek traditions with a surprising sense of modern elegance.
The Atrium Greek Bistrot is at the Herodion Hotel, in the very heart of Athens. The Atrium is open daily from 10 am till late at night. You can make a reservation at +30 210 9236832. Read their whole menu! Rovertou Galli 4 Athens, Greece
I personally thank the staff at the Atrium for turning my stay in Athens into a memorable experience.
Last-minute plans for Greece?
– Use Ferryhopper to book your tickets.
– Find accommodation deals on Booking.com.
– Compare car rental prices with Discover Cars.
– Visit popular places with GetYourGuide.
About the author of this blog: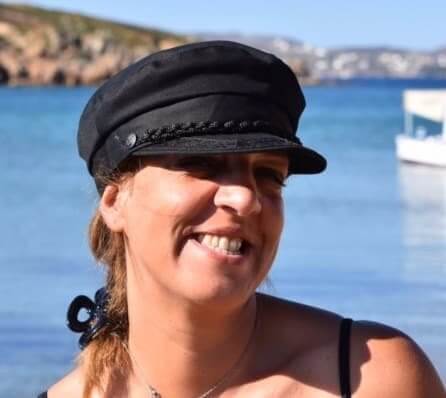 Gabi has been living in Crete for the last six years. On the island, she juggles being a solo mom, hosting culinary tours in summer, translating, and freelance writing for several travel blogs.
She's written for Greek Reporter, published several travel guides about Greece, and had more glasses of frappe than any regular person could ever handle.
COMING TO CRETE SOON?
Get in touch and let me know!