Athens can be such a pretty city by day. Alluring, dazzling, gorgeous town to wander. Art and history are all over the place.
However, at night, the city changes deeply. It unveils a magic atmosphere that will conquer visitors in search of some unexpected fun.
Let's see what to do in Athens at night!
---
Disclaimer: Posts include affiliate links to products or services. I might earn a commission if you make a purchase.
---
Things to Do in Athens at Night
PLANNING A LAST-MINUTE TRIP TO GREECE?
Be sure to book accommodation and tours in Greece ahead of time to ensure availability!
🛥️ Book ferry tickets with Ferryhopper.
🛌 Find hotel deals on Booking.com.
🚘 Compare car rental prices with Discover Cars.
💳 In need of money? Use WISE as a digital card and top-up from the app.
Where to Stay in Athens
If you're planning to spend some time in Athens, then the first thing to consider is where to stay. Whether you're traveling on a budget or have a flexible expense window, Athens has an endless offer when it comes to accommodation.
If it's your first time in the Greek capital and have no idea where to go, I suggest you check these hotels for an unforgettable stay.
🛌 Suggested Accommodation in Athens:
🗺️ More resources to book your trip to Greece:
Athens at Night: Seeing Athens Under a Whole New Light
They say the Greek crisis has squeezed creativity resources from the locals, giving a further twist of imagination. Just like their ancestors, Greek people are in a boundless search for beauty, and nights in Athens are live proof.
Alternative tribes of counterculture movements lighten up the atmosphere. They give new life to retro alleys and express authentic art in offbeat areas.
Having already seen several angles of the city under the daylight, it was about time to peep into its dark alleys once the sun had set. I picked an Athens by night and I had the time of my life.
And… I took my kids with me! They had as much fun as adults did and it was worth every minute of it. They were enthusiastic and loved every moment of it.
Take an Athens-at-Night Tour
Our appointment was at Syntagma Square, just after dawn, with a local guide who had the right attitude for such an evening.
It was an immediate entente as he was well acquainted with every palm of his city, but most of all, he loves Athens and enjoys showing it.
Our guide was able to share with us the love he feels for his city, making us feel a bit Athenians ourselves, even just for a night.
Click here for a night tour experience that also includes a fantastic food tasting.
Sweet Chocolate
We headed down what he called the street of chocolate, a sweet path promising the right kind of night ahead of us. The most refined and traditional chocolate stores in Athens, all dressed up for the upcoming Easter.
Among them, Matsouka Le Chocolate stands out with wonderful windows displaying the most exquisite chocolate figures, a feast for our imagination, a feast for the senses.
Our stroll went on with a wise lesson: Don't ever be afraid of Athenian traffic, but most of all, don't be afraid of drivers. Be careful, but also be brave.
Secret galleries, drives, and porticos showed us the way into hidden alleys of gone splendor, boasting a wonderful array of light and imagination.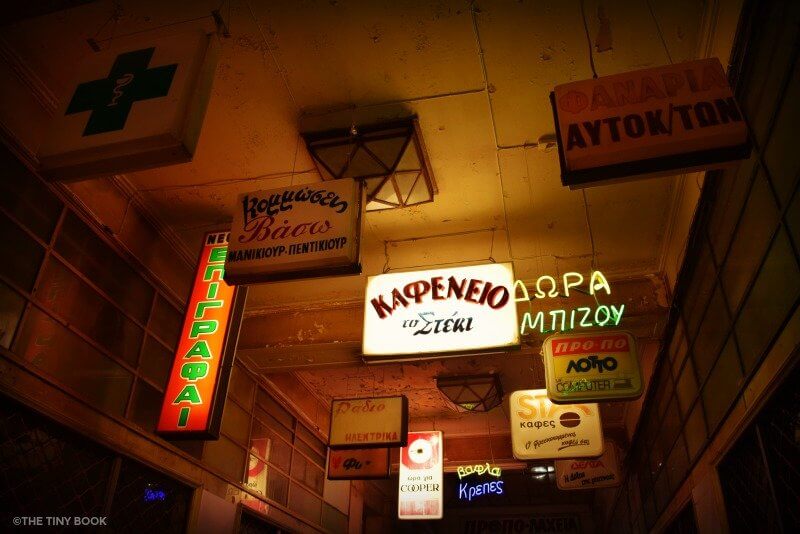 Cafés, bars, and pubs are crowded with eclectic people and more liberal decorations. Even a quick stop at a very ordinary door revealed itself as the gate to the only Private Bar in Athens.
Just a very anonymous entrance that would open itself to a night of excitement and great cocktails to those few chosen ones who know which bell to ring.
It'll be the beginning of exclusive parties and excitement that not many know about.
Through more porticos and stairs, a marvelous world opened to our eyes.
Dark, narrow paths with amazing places where to eat/dance/drink or laugh the night away… your choice! These are just some of the places we visited. All in all, the whole tour had me wanting to return.
Discover the Best Bars in Athens
The first bar we entered, Artizan, is a laid-back place famous for its choices of coffee.
Right after Artizan, it was the moment of Bar Tessera, where the classy atmosphere, warm colors, and inviting scenario welcome visitors to stay for long hours just relaxing and having fun.
Little tables populated by friends having late cups of cappuccino and rivers of conversation. Laughter and utter joy.
A few steps away, Booze Cooperativa is a unique blend of play zones for you to take your time. Smoking allowed fun admitted.
It a magnificent to spend some time admiring all the strange forms of art in every single zone. How do they define themselves? Well, like this …
"A BRAIN HUB. TRIBES AND NATIONS IN CREATIVE DISRUPTION. TRENDSETTERS AND MIND CLUSTERS COOPERATE IN FULL TIME"
Go in, look up, and look around. You will love it.
Drunk Sinatra couldn't be missing! Alternative music, cool cocktails, and young people going about. I would definitely choose this space for a late-night meeting with friends sharing drinks, meze, and conversation.
Two more places followed our tour, The Holiday Bar, also known as Noel, a magical venue where despite the plethora of clocks hanging everywhere, time seems to have stopped to allow people to live in an endless parallel world.
Athens, an Old-Time Favorite
Then it followed a beautiful underground garden which is house to Six Dogs.
A mysterious entrance transports you into a city oasis, sandy floors, open terraces and trees, candles, animals and dimmed lights make out of this place a rightful contradiction.
A gate to the sixties opening into the most extravagant nineties. Loved it.
Athenian Gyros
Right after that, our second stop took us to enjoy a gyros wrap the way Athenians do, on the go. The chosen place was Savvas in Monastiraki.
I had to keep my mouth shut as my unconditional love for Thanasis, a landmark for gyros in the area was completely defeated by this place I have never tried before. Their food was really good!
Our journey kept going, as we walked through Monastiraki Square. There, Thodoris introduced us to a secret feature that the city won't even care to show you if you are not attentive enough:
A tiny river flowing in the guts of Athens, covered by glass and barely seen if you don't pay close attention. It's the Eridanos. When in Monastiraki, try and look for it.
Monastiraki at Night
Through the entrance of the Monastiraki Flea Market, a completely different place at night. No shops, no crowds, hence it offers the opportunity to see the local imagination behind the closed doors, blinds, and shutters of the shops.
Turning into what seemed a dangerous alley we made our way to one of the most beautiful, bizarre, and extravagant places I've ever been to. Above all, I found the place alluring; its atmosphere, captivating; and the idea weird enough to tease you to return.
It's Taf Monasthraki. What used to be a detention and interrogation place in the past has been turned into a multicultural space (they define it as metathematic) where drinks and a lively atmosphere are not the only key features.
An impressive tour of what used to be detention cells, allowed us to see how they were turned into zones devoted to interactive forms of art, making use of sounds, video, and live animals!
In fact, I was sorry to leave the place and I would go back there as soon as I return to Athens.
Right at the end of the street, the most famous mannequin of Athens opens the gates to Psirri.
Another favorite alternative spot in town, both day and night. In addition, incredible street lamps lead the way to the heart of a vibrant area of Athens…
So close to the center of town and so far from it in terms of vibes and visitors.
Psirri
Psirri is one of those places you do not want to miss when in town, choose any bar, pub, or café and simply sit to see people passing by, enjoy a nargile or stop for a snack.
This famous alley, Pittaki Street, has been decorated with lamps and artifacts donated by citizens to give new life – and light – to the neighborhood.
The most eccentric decorations lead the way to the heart of a vibrant area of Athens, so close to the center of town and so far from it in terms of vibes and visitors.
The alley ends in The Little Kook a tea house, night bar, extreme imagination, and so many other ideas are not enough to describe the concept of this venue.
From the outside setting, a reminder of Alice in Wonderland, to the way waitresses dress…. all is an invitation to childhood reminiscences with a darker twist. Like going through the mirror and never coming back.
Psirri is a must-see. Just head there stop by and make a pause at To Koulouri To Psirri. Choose a freshly baked treat and move on to reach a more alternative or traditional venue… The choice is endless.
Rooftop Glam
We ended the night as most Athenians do, having a glass of wine. The place? A rooftop bar. Rooftop bars have become the thing to do when in Athens during the last few years.
However, we didn't settle for the common thing to do. Thodoris chose a fantastic place, a magnificent rooftop bar in Athens Style, one of the top hostels in Athens, where super convenient prices don't even match the outstanding beauty of Athens at night when seen from above.
It suddenly started to rain, but that didn't stop us from enjoying the magical aura that surrounds the Greek capital, day and night.
Wide skies boasting the profile of an illuminated Acropolis, Mt Lycabettus illuminated ancient sites under the rain.
A glass of red wine and great conversation with our tour mates. In conclusion, this was the perfect way to end a night with style.
With that bizarre touch that only Athenians can bless you with. Every time I visit I love Athens more, there's no secret about that.
This time, I simply surrendered to the city. And I suspect my guide had a lot to do with my renewed love for Athens. Honestly… can't wait to go back.
My special thanks go to Thodoris, a smart, smiling local guide, who really knows everything about Athens night hours and is always available to tell a bit more about them.
When in Athens, we love to sleep here and here, take a look if you are looking for a place where to sleep in Athens. The tour was kindly offered by Urban Adventures, Athens but unfortunately, the tour is no longer available.
Which of these places would you like to see in Athens at night?
Other spectacular food tours of Athens are:
Read more about Greece
🛌 Suggested Accommodation in Athens:
🗺️ More resources to book your trip to Greece:
Before you Leave… Pin this Guide to the Best Things to Do and See in Athens in a Day For Your Next Greece Aventure!
---
You might also want to read these Athens guides
---
About my blog: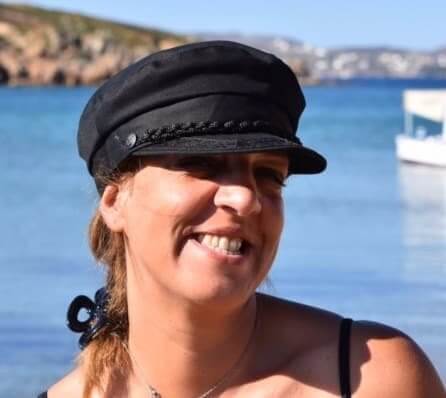 I moved to Crete in 2016. During these years, I learned much about the island.
In Crete, I juggle being a solo mom, hosting culinary tours, and writing for several travel media.
I've written for Greek Reporter, published travel guides about Greece, co-authored DK Eyewitness Top 10 Crete, and had more glasses of frappe than any regular person could ever handle.