The views of the Acropolis are one of the most romantic scenes to experience during a trip to Athens. In the morning, when the sun touches the summit, it's clear why this was the center of the ancient Athenian world. During the sunset, the columns of marble glow with the last rays of orange. And at night, finally, the lights are on to capture you forever. The Acropolis shines the same way it did through the centuries, so who wouldn't love to combine the Acropolis view with a place to sleep in Athens? Who wouldn't love to wake up looking at this view? Here is where to stay in Athens with an Acropolis view.
This article may have affiliate links to products and services that I use. If you make a purchase through these links, it might earn me a small commission at no extra cost to you.
Experience AthensWas
The range of rooms varies from Deluxe to different types of Suites and Superior rooms with views. If you are able to do without the stunning Acropolis View (which you can enjoy from their fine restaurant), Classic rooms are perfect for those staying in Athens for just one or two nights or coming to town for business meetings or a shopping spree!
The Classic room is a smart and convenient choice, with access to the best parts of town within minutes. My favorite thing of all was being able to reach Plaka in minutes and enjoying night walks in the area.
Breakfast a la carte is a modern idea that more hotels are taking into consideration. The Breakfast menu in Athens Was was rich and very varied and it also offered the opportunity to choose a "Full-Breakfast" menu for those uncertain of what to pick from the list. The Brasserie Moderne breakfast restaurant is elegant and modern at the same time, with an interesting use of glass to take advantage of natural sources of light.
AthensWas is a modern setting in one of the most beautiful parts of central Athens. The staff will take care of your needs and go the extra mile to offer you the best comfortable experience. You will be able to choose your pillow from the pillow menu, as well as take advantage of the mini gym. The hotel also has business facilities for meetings hosting up to 20 people.
AthensWas will show you how Athens used to look like. This was Athens and its landscape back in Ancient times. AthensWas' name is also a concept, an idea that puts you in the right mood to be part of the surrounding scene.
Fine dining with an Acropolis view
Sense Rooftop Food & Bar, the rooftop restaurant of the AthensWas hotel is one of the features that I enjoyed the most during my stay in Athens.
>> Read more about the best things to do in Athens <<
I've prepared an extensive review of the dinner I was lucky to enjoy during one of the evenings.
The restaurant offers a stunning view of the Acropolis, which is already worth the evening, but chef Thodoris Papanikolaou and his creativity were the most pleasant and unexpected surprises of the stay.
Mr. Papanikolau reinvented the definition of Greek cuisine. He is capable of respecting those key elements of the tradition we have all learned to love in our favorite Mediterranean dishes, but he also adds creativity and freshness giving shape to a different concept in Greek cuisine.
You can read more about this experience here and take a look at some of the amazing pictures of his dishes on Sense website.
Location & booking
If you are looking for a place where to stay in Athens, AthensWas Design Hotel is a great hotel. The venue is located in the heart of the city, comfortably close to Plaka, Anafiotika, the Acropolis Museum, and the Acropolis. steps away from the Temple of Olympian Zeus and round the corner from the metro (Line 2 – Acropolis metro station).
This review only includes our personal views. We were offered a complimentary stay at AthensWas. Ideas and opinions remain unbiased and our own.
Are you ready to explore Greece? It can be the trip of your lifetime. Get in touch if you need extra help to plan your itinerary. If you happen to also tour West Crete, check this guide. You'll find detailed info about where to go, what to see, where to eat, and more!
Want more? Join my Private Facebook Group to connect with like-minded travelers who love Crete as much as you do!
Coming to Greece any time soon? These resources will help you organize the trip!
Start by heading right to my Greece travel guide for in-depth details you need to know about Greece. You can also check my post to plan a trip to Greece with children!
Probably, you're planning to experience the thrilling island-hopping experience. Head to this article and read about the best cruise ports in Greece.
To have updated information about the island of Crete, as well as about the rest of Greece, join my private group on Facebook about Crete and download a copy of my West Crete Travel Guide to have it always with you if you visit Crete!
Finally, make sure you've got everything you for a hassle-free trip!
I never move around the islands without my Osprey backpack, a sturdy, light, roomy, and super comfortable travel partner I just love. To visit villages, sites, and museums instead, I carry this little crossbody bag.
When driving around, I pack my Nikon D7200. In Summer I also carry good sunscreen lotion, the sun on the island can be pretty aggressive. Always bring with you a good travel guide! Lonely Planet's Best of Greece & the Greek Islands.
Airfares to Greece can change from one airline to the other, make sure to compare prices with a powerful search engine. Planes are fast, but nothing like the romantic experience of traveling by sea in Greece. Direct Ferries has great ticket deals.
If I need to book accommodation, I personally use different search engines. Booking.com and Hotels.com are my go-to options.
Sometimes, the best way to get to know a place and make the most of your time is to join an organized tour. GetYourGuide has top-rated tours to save time and money. From cooking lessons to archaeological site tours, skip-the-line attractions, and even airport transfer!
Do you have everything you need? Then you just have to get ready to discover Greece!
These articles about Greece have been thought just for you!
If you're curious about traveling the Greek islands, check the most amazing places to visit in Greece. Crete is my favorite island of all, and these 50 unmissable things to do in Crete is a great article from where to start planning a visit. Greece is also an ideal place for scuba diving, here you can discover where to do it on the islands.
Head to this article to check the best ports for cruises in Greece. This guide, instead, shows you the best things you can do in Athens if you visit for three days. If you have less time in the capital of Greece, find inspiration in this article describing all you can do if you have one day to spend in Athens.
What did you think of this place ant its view?
Let me know in the comments below!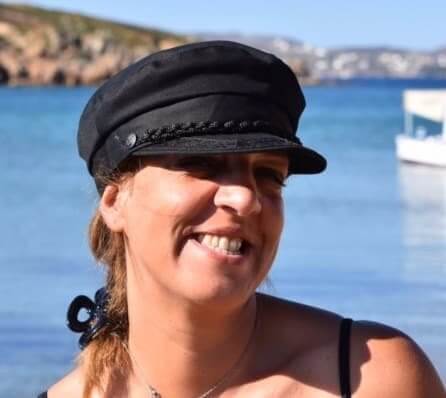 About the Author
Hola! I'm Gabi. Welcome to The Tiny Book – Crete Travel Blog! I moved to Crete to explore the island all year round. I love taking pictures and driving on the mountain roads of Crete. I'm a beach freak and on this island I've found heaven on earth!
---
You might also want to read:
---