Conveniently close to Athens, Aegina (sometimes also spelled Egina) is a small island on the Saronic Gulf. Probably the closest island to Greece's capital, it's located only 45 km from the port of Piraeus. Normally, the ferry trips last from 40 minutes to a bit more than an hour, and it's a great place to have a break from Athens without traveling much. If you're planning to spend a couple of days in Aegina to enjoy the laid-back vibe of the place, try staying in one of the many Airbnbs in Aegina, Greece. It's a great way to spend less on accommodation and to have an authentic feel of the local lifestyle.
---
Disclaimer: Posts include affiliate links leading you to products or services, I might earn a small commission if you make a purchase. This has no extra cost to you but allows me to continue writing articles that are helpful for your travels. I only recommend things I use myself or that I believe will deliver value to you. 
---
Last-minute plans for Greece?
Get there: Use Ferryhopper to book your tickets.
Stay: Find great accommodation deals on Booking.com.
Move around: Compare car rental prices with Discover Cars.
Tours: Check the most popular places with GetYourGuide.
Read more: Pack the Lonely Planet Guide to Greece or get a copy of my digital guide to Santorini.
Where to Stay in Aegina: Traditional (and Pretty) Vacation Homes in Aegina, Greece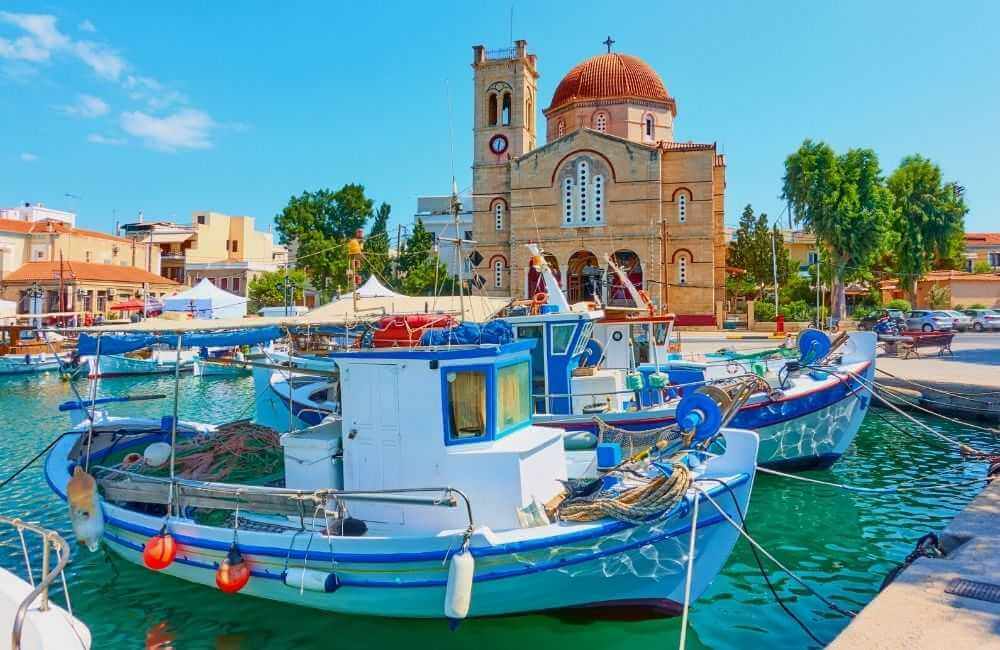 Aegina is an island that will pleasantly surprise you. Upon setting foot on the island it's quite easy to observe that, despite being so close to Athens, the busy capital of Greece, the pace of life is completely slower and more relaxed.
Thanks to receiving mostly local tourism, even for Summer vacations, most shops, tavernas, and cafeterias preserve an almost intact local flavor… visible not just from the menu. Home rentals are by no means different. Houses are mostly traditional and help visitors soak in the unique Greek vibe of the islands.
If you've already discovered more popular or even crowded islands in Greece, maybe now it's time to try something different. Aegina is certainly a good place where to start from. So… are you considering a vacation on this small Greek island? Try renting a home instead of booking a hotel if you wish to experience a truly Greek holiday experience!
Visiting Aegina soon?
>>Discover what things you can do on the island<<
The Boatyard Luxury Studio
Why you should stay: To spend a few days in a house built back in 1779… with a courtyard that used to be a boat repair business.
This place dates back to 1779 and has been recently renovated to meet all your needs for a short stay on the island. This small, but comfortable studio is in a tranquil area. Here, you can enjoy the pretty terrace to sip your morning coffee and just relax!
The studio is in Kapótidhes, within 2.9 km of Panagitsa Beach, and comfortably close to several restaurants. In the area, there is also a bus stop and a taxi rank.
A barbecue and a sun terrace are available for guests at the apartment to use.
Sleeps: up to 2 guests
Pets allowed: yes
Aegina Sunset Villas
Why you should stay: Because who wouldn't dream of such a swimming pool by the sea?
Are you looking for a beautiful place to stay with super hospitable and friendly hosts? Check these villas in Perdika with stunning views, a garden, a terrace, and a seasonal outdoor swimming pool shared among 5 villas.
The villas feature comfortable and elegant indoors, equipped kitchens, and balconies with views over the pool. There are also car rental services available at the villa. The complex is about 2 km from Marathonas beach.
Sleeps: depending on the villa, up to 5 guests.
>> CHECK REVIEWS AND BOOK HERE
Want to visit other quiet islands in Greece?
>>Check the best beaches in Sifnos here<<
Apartment at the Port of Aegina
Why you should stay: Because the view of this apartment is priceless!
This comfy apartment in the port area of Aegina features sea views and a fantastic location, close to every place of interest in the center of the island's main town. Are you a fan of the beaches in Aegina? Kavouropetra Beach is only 2.5 km away.
The apartment has one bedroom, a living room, and a fully equipped kitchen (including a microwave and a kettle).
There's also a terrace available, perfect to enjoy your meals under the sun.
Villa Eirini
Why you should stay: To experience a relaxing vacation in a comfortable cottage surrounded by nature and not too far from the beach.
You'll be enchanted by the relaxing garden views in Villa Eirini. The property is in a comfortable position, a short walk into town, less than 2 km from Kolona Beach, and about 5 km from the well-known Agios Nektarions, a must-visit in Aegina.
Other than enjoying the garden, the patio, the sun terrace, and the barbecue facilities, guests can also use the private parking area.
The villa has 3 bedrooms, a well-equipped kitchen with a dishwasher and a microwave, a washing machine, and 2 bathrooms with a shower.
>> CHECK REVIEWS AND BOOK HERE
The Roof – Seaview Apartment
Why you should stay: Because why would you miss the chance to stay in the center of town with the fantastic views of the port?
Located in the center of Aegina Town, steps from the central market and the main shops, only 20 meters from the seafront. In the living room, it features a comfortable sofa bed, ideal for children (You can ask for a baby cot if you need one!). There are two comfortable twin beds in the main bedroom and a roomy closet as well as extra pillows and blankets.
The kitchen is fully equipped and it comes with a professional coffee machine for you to enjoy your morning breakfast from the comfort of the magnificent terrace with pergola. Guests can also use the water dispenser.
This apartment looks fresh, new, and is in a superb location… It's one of the most convenient rental homes for holidays in Aegina Town.
>> CHECK REVIEWS AND BOOK HERE
Aegina's Oasis
Why you should stay: Because it's a fantastic place if you travel if you enjoy dinners and quiet evenings surrounded by pretty gardens.
Top-rated by couples, this place is in Aegina Town, about 2 km from Kavouropetra Beach and 5 km from Agios Nektarios Cathedral. The place has a beautiful garden and patio with comfy furniture.
Among the amenities to enjoy: a well-equipped kitchen with a dishwasher, and an oven, a living room, a dining area, and 2 bedrooms.
>> CHECK REVIEWS AND BOOK HERE
Villa Konstantinos
Why you should stay: Because if you're looking for a comfortable, vacation home in Aegina, with a pool and ideal for a group of friends, this is the place for you!
Super close to the center and the port, this rental home features accommodation with a private pool, garden view, private parking, and a balcony. It's about 1 km from Kavouropetra Beach.
The villa offers a wonderful terrace and is equipped with all the comforts for a vacation with a friends.
Agios Nektarios Cathedral is 5 km from VILLA KONSTANTINOS 6 bedrooms. The nearest airport is Elefthérios Venizélos Airport, 49 km from the accommodation.
Sleeps: up to 15 guests.
Main feature: super swimming pool and 6 bedrooms!
Astra Holiday Home in Aegina Island
Why you should stay: Because the atmosphere in this home is nothing but unique!
This is a beautiful place, perfect for a romantic getaway. It features a comfortable bedroom and a terrace from where to enjoy the scenic views of Aegina.
In the nearby area, there are restaurants, markets, and convenience stores. According to the hosts, the area is great for walking, cycling, diving, sailing, and fishing.
Just minutes away from the port of Aegina, the home has a double built-in exterior bed and it has beautifully decorated interiors. There's a well-equipped kitchenette too. In your free time, you can relax in the seating area.
In the mood for more islands in the Saronic Gulf?
>>Check what to do in Hydra in one day<<
Los Olivos
Why you should stay: Because it's a really beautiful place, decorated with great taste and in full harmony with the surroundings.
The property boasts a patio with views, a lounge, a garden, and free bikes about 650 m from Agios Vasilios Beach.
The villa has 3 bedrooms, an equipped kitchen with a dishwasher and a microwave, a washing machine, and 3 bathrooms. Continental breakfast is available each morning at the villa.
Other beaches nearby are Panagitsa Beach (1.2 km) and Avra Beach (2 km.
Sleeps: up to 4 guests.
Pets allowed: yes
>> CHECK REVIEWS AND BOOK HERE
Breathtaking Seaview House
Why you should stay: Because you do not need much more than this cozy environment to spend a romantic vacation on the island.
This house is in a quiet neighbourhood, only a 10-minute walk from Marathonas Beach, and just a 10-minute car drive from Aegina Town. You can enjoy unique views of the nearby Moni Islet and Agistri, while all other beaches in Aegina can be easily accessed by car or even with the local bus.
A holiday home that offers has 3 bedrooms, 3 bathrooms, and a very comfortable kitchen and seating area with great views of the sea. There's a terrace is available
Comfortable, well-equipped and with every essential you will need, a stay in this place will make your holiday in Aegina simply unforgettable.
>> CHECH REVIEWS AND BOOK HERE
So… where are you planning to stay when you visit Aegina?
---
Where would you like to stay on Aegina island?
Let me know in the comments below!
---
Travel Plans for Greece?
More Resources to Organize Your Trip!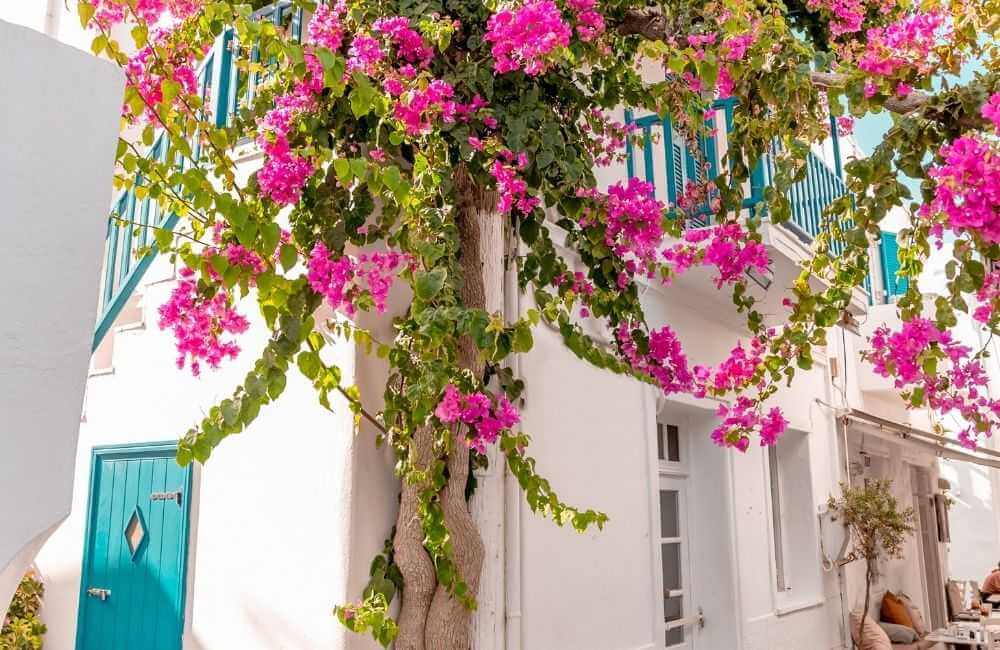 Start by heading right to my Greece travel guide for in-depth details you need to know about Greece. You can also check my post to plan a trip to Greece with children!
Get in touch if you need extra help to plan your trip. If you want to tour West Crete, check my guide. Want more? Join my Private Facebook Group to connect with like-minded travelers who love Crete as much as you do!
Make Sure You've Got Everything For a Hassle-Free Vacation!
Without my Osprey backpack, I never move around the islands…it's a sturdy but light travel partner I just love. For short trips, I carry this crossbody bag. If I drive, I pack my Nikon D7200 and a good travel guide! Lonely Planet's Best of Greece & the Greek Islands.
When it comes to plane tickets, compare prices with a powerful search engine. However, nothing beats traveling by sea in Greece. With Ferry Hopper, you can book in advance at the lowest price.
For accommodation, I use Booking.com.
Traveling to remote places is easier with Discover Cars. Other times, I join organized tours with GetYourGuide, which features anything from cooking lessons to airport transfer!
COMING TO CRETE SOON?
Get in touch and let me know!
Read more:
Things to do on Hydra island on a day
Athens Mythological Tour: Walking Ancient Athens
How to travel to Crete: Best air and sea routes
Relaxing things to do on Lipsi island
What to do in Heraklion in 1, 2, or 3 days
Pin this Guide to the Best Vacation Homes in Aegina for Your Next Trip to Greece!
About the author of this blog: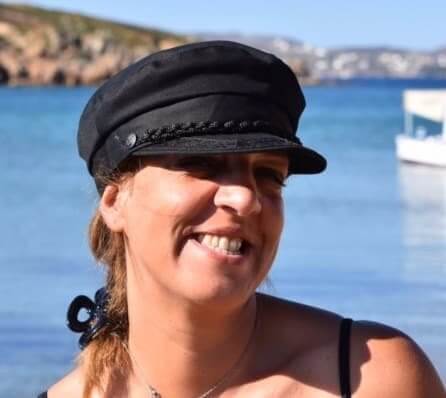 Gabi has been living in Crete for the last five years. Here, she juggles being a solo mom, hosting culinary tours in the summer, translating, and writing for The Tiny Book and her other blogs.
She's written for Greek Reporter, published three travel guides about Greece, and had more glasses of frappe than any regular person would be able to handle.
---
You might also want to read:
---