Sifnos is an island rich in history and with a plethora of things to do. Known for its traditions, its gastronomy, and its whitewashed churches and monasteries perched on top of a uniquely rugged landscape, there is still more on the island to discover. The beaches in Sifnos, often cataloged among the top shores in Greece, are arguably the main ingredient of any summer vacation on the island. Often overlooked and forgotten, the island is a great travel destination in any Greece itinerary.
---
Disclaimer: Posts include affiliate links to products or services. I might earn a commission if you make a purchase.
---
Top Beaches in Sifnos, Greece
PLANNING A LAST-MINUTE TRIP TO GREECE?
Be sure to book accommodation and tours in Greece ahead of time to ensure availability!
🛥️ Book ferry tickets with Ferryhopper.
🛌 Find hotel deals on Booking.com.
🚘 Compare car rental prices with Discover Cars.
💳 In need of money? Use WISE as a digital card and top-up from the app.
Basic Information About Sifnos
Sifnos is a Greek island part of the group of the Cyclades, on the South Aegean. It's surrounded by the islands of Kimolos, Serifos, Paros, and Antiparos and it's about 75 nautical miles from the Port of Piraeus, on mainland Greece.
Not as big as other Greek islands, nor as tiny, the top sights and points of interest on Sifnos can be visited in 3 to 5 days. However, if you have more time or are keen on outdoor activities (Sifnos' trails are stunning!), you'll be able to discover more, and even check out many of its spectacular beaches.
As with many other islands in the Aegean, the rugged terrain is a fascinating part of the island's landscape. In fact, on Sifnos there are four different mountain ranges and a few peaks to climb as well.
The Best Beaches in Sifnos, Greece
In no particular order, these are the beaches you should check out when spending time in Sifnos…
Vathi Beach
Latitude: 36.9325° N
Longitude: 24.6906° E
Characteristics: Sandy beach with shallow waters. There's some organization and it's possible to get there by boat too.
The quietness of the village of Vathi (also spelled Vathy) combines with the same relaxed atmosphere of its beach. Since cars do not have access to the area and are not allowed in the village, it's still quite a tranquil place to spend the day by the sea.
Vathi is a sheltered harbor, as a matter of fact, until recent times, the only way to get there was by boat but now you can also do so by driving from the capital of the island, Apollonia.
If you're traveling the island without a rental car, you can jump on a bus at the port of Kamares or in Apollonia, and reach Vathi within minutes.
The beach, which is more than one kilometer long, offers enough secluded spots if you're into naturism. The place is ideal for families with kids as the sea is safe, protected from winds and waves, and very shallow.
On the beach, there are tavernas and traditional restaurants where it's possible to have a great Sifnian meal any hour of the day.
While spending the day in Vathi, don't forget to check the picturesque whitewashed Church of the Taxiarchis (the Archangel) located exactly where the boat from Kamares docks.
If you happen to be on the island in September, don't miss the celebration to honor Archangel Gabriel.
Vathi is one of the most traditional beaches in Sifnos!
Platys Gialos
Latitude: 36.929448 N
Longitude: 24.734321 E
Characteristics: Narrow sandy beach with shallow waters and well organized.
Although not the best beach on the island, rather touristic and often crowded, Platys Gialos is a great choice if you want to spend a day at the beach in Sifnos and you're staying in the nearby area.
The sand is golden under the sun's rays and the waters are crystal clear. In the area, it's possible to practice different water sports.
There's a direct road that from Apollonia takes you directly there (about 10 minutes by car). If instead, you're getting to Platys Gialos from Kamares, expect to drive for about 20 minutes.
Platys Gialos is a favorite beach among Greek holidaymakers who love the long line of tavernas by the beach serving delicious local food. the area is also known for an open-air theater located nearby.
From this beach, it's possible to take different hiking trails that take you to Vathi and other settlements on the island.
Among the things to do in Platys Gialos, it's a good idea to take some time out and walk for about 1.5 km to visit one of Sifnos' best-preserved towers.
Known as the White Tower (Aspros Pyrgos), it is one of the over 70 fryktories or ancient beacon towers that you can bump into on the island. The White Tower dates from the 6th century BC and it's 5.5 meters high.
A few nautical miles from the beach, you can admire the uninhabited islet of Kitriani home to the oldest church of Sifnos, dating back to the 10th century.
Want to check other Greek islands?
>>Take a trip to Aegina<<
Kamares
Latitude: 36.9890 N
Longitude: 24.6748 E
Characteristics: Popular and well-organized, sandy, quite safe, and with beautiful clear waters.
Kamares, the main port of Sifnos and the first place you'll set foot on the island, is a pristine sandy bay, long and quite wide, with spectacular turquoise waters Kamares, and the nearby area of Agia Marina, is probably the most popular place to stay in Sifnos.
There is plenty of accommodation as well as restaurants, bars, and some night entertainment. All these reasons make the place quite crowded during most of the summer.
Since this is the most important coastal center on the island, you're likely to find the beach quite overcrowded, so it's always a good idea to head there quite early in the morning to find the perfect spot to spend the day.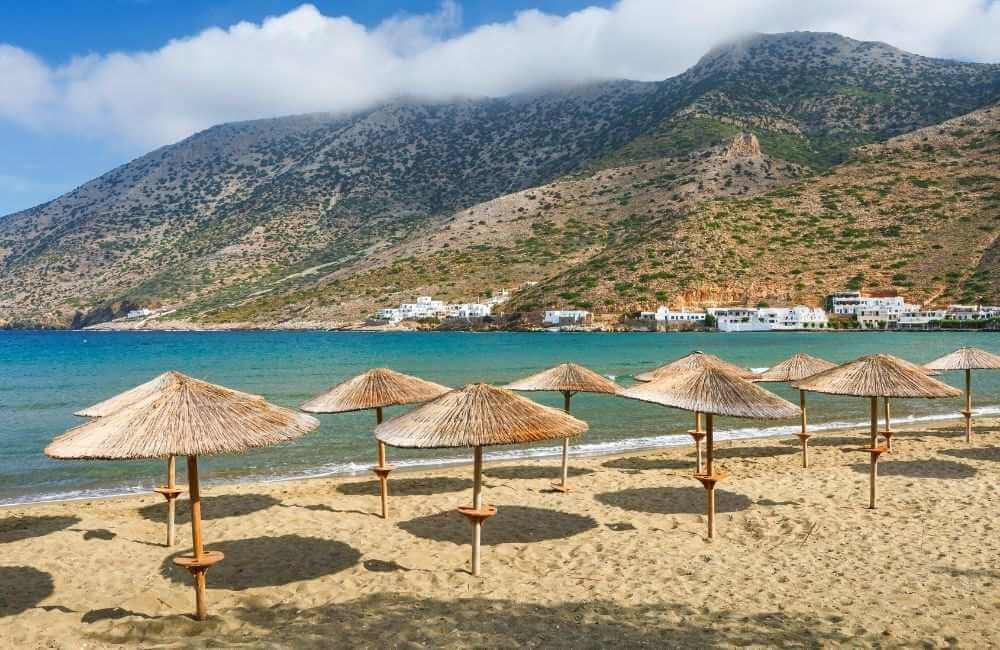 Are you a fan of photography or simply love to enjoy the unique sunsets on the Greek islands?
Then Kamares is the perfect place to be at this hour of the day.
Due to the orientation to the west, it's in Kamares where you can get the best sunset pictures on Sifnos Island.
Faros
Latitude: 36.9944091 N
Longitude: 24.751530 E
Characteristics: Gorgeous beach in a sheltered harbor with crystal clear waters and trees for shade. Organized
Faros, which was Sifnos" main port until 1887, is a gorgeous sheltered port with stunningly beautiful blue waters and a spacious sand beach.
The word faros in Greek stands for lighthouse. The beach receives its name after an ancient tower in the area.
The beach has certainly fans that get to the area every year and who consider it to be one of the best corners in Sifnos.
Clam and pristine waters, soft fine sand, tamarisk trees offering nature shelter, and a few tavernas on the waterfront make this place the utmost example of Greek summer.
If you also adore this settlement, you'll be happy to learn that there are a few rooms and studios to let, as well as a good Airbnb where you can spend your vacation.
Right next to Faros, no more than 3 minutes away on foot, you can discover the small Glyfo Beach featuring huge tamarisk trees offering natural shade for your stay.
From Glyfo, different paths start to reach the beaches of Apokoftou and Chrysopigi.
Fasolou Beach
Latitude: 36.9944091 N
Longitude: 24.751530 E
Characteristics: Small, sandy beach with beautiful and calm waters.
Fasolou is located towards the east of Faros, it's a tiny settlement with a picturesque beach well-protected from winds and waves.
At the end of the beach, there's an imposing peninsula that hosts the picturesque white monastery of Timios Stavros. A hiking trail in the area leads directly to Kastro, the former capital of Sifnos.
Apokofto Beach (Chrisopigi Beach)
Latitude: 36.939433 N
Longitude: 24.744948 E
Characteristics: Paradisiac Bay with a transparent sea that features both sand and pebbles. Parking is available and there are places to eat.
Also known as Chrisopigi Beach since it's quite close also to Sifnos' famous Chrisopigi Monastery, Apokofto beach is located est of Faros Beach.
If you reach the area from Faros on foot, you'll be able to discover the magnificent hidden coves along the coastline.
Instead, those driving from Apollonia can marvel at the spectacular scenery that unfolds right in front of them. The ride is worth more than one stop if you love taking panoramic pictures.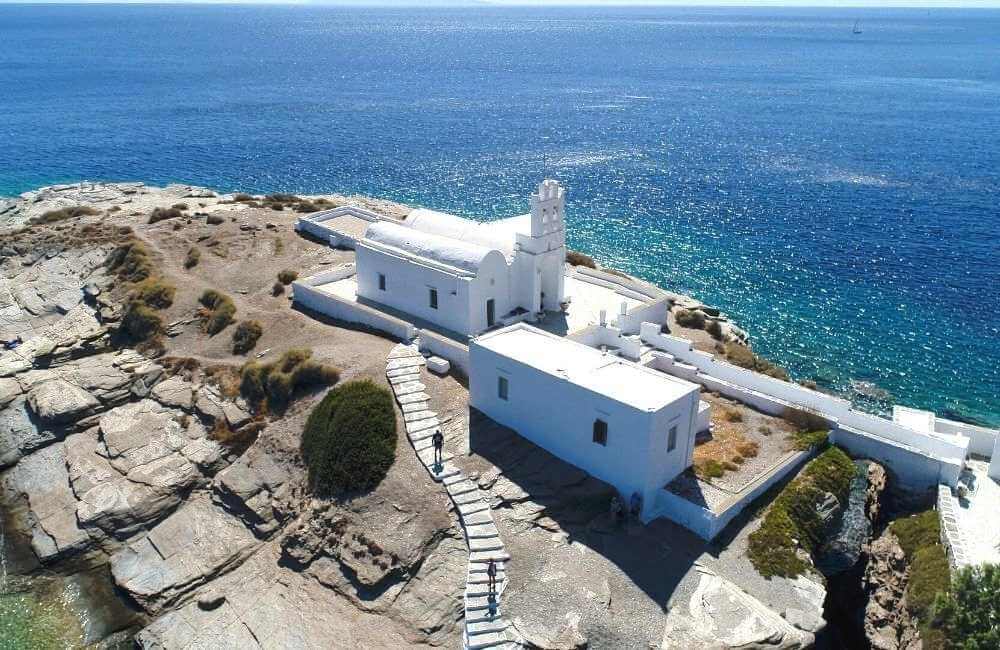 The bay is not deep but awesome for snorkeling and features a mixture of sand and colorful pebbles that make the underwater experience quite unforgettable.
Although the beach is partially organized, you can easily find a shady spot under the many trees.
The beach is not crowded with allows for a relaxing experience. Most visitors to the area only focus on the magnificent monastery (they're not to blame!) and ignore the spectacular beach of Apokofto.
If you also want to visit Chrisopigi, it's located at the end of an imposing headland towards the south of the beach.
Several coves and unknown small pebble beaches populate the area, walk along the coast and discover them!
Herronisos
Latitude: 37.034211 N
Longitude: 24.650965 E
Characteristics: Small sandy beach, shallow, and crystal clear with some organization.
Located on the northern coast of Sifnos, Herronisos is about 15 km from Sifnos' capital, Apollonia. The settlement is a tiny fishing village with just a few shops and places where you can rent a room.
Although many don't consider this corner of the island worth a visit, I believe that the peace and quietness of the area are quite difficult to find anywhere else on Sifnos.
The beach is fairly small, sandy, and with a very familiar atmosphere.
If you're exploring the area on a day trip from the more important villages of Kamares or Apollonia, it's a good idea to set some hours aside and visit Vroulida Beach, just minutes by car from Herronisos.
Vroulidia
Latitude: 37.023674 N
Longitude: 24.655434 E
Characteristics: Large bay with wonderful crystal waters and fairly shallow. Small white pebbles. There are some tavernas in the area.
Among the least visited but most spectacular shores on Sifnos, Vroulidia can be a little hard to visit but it's definitely worth the effort. The hike down to the beach is not as hard as the way up after a day of swimming!
The crystalline sea bathes an extensive bay of white small pebbles.
However, if you don't really love walking on pebbles, or left your swimming shoes back home, two wooden piers will make it easier for you to get in the sea. It's a relatively calm bay, but better avoided on windy days.
There are also two tavernas serving fresh fish, ideal for a quick lunch or cold drinks.
Panagia Poulati (Dialiskari Beach)
Latitude: 36.984465 N
Longitude: 24.737505 E
Characteristics: Wild and secluded beach, accessible via hiking path, no organized facilities, rocky bottom.
Located at the end of a lonely but quite brief hiking trail that starts near the village of Artemonas, this is a small beach, quite secluded (not everybody visits this part of the island), featuring amazing turquoise waters, with shallow but quite rocky bottom, which makes it an interesting place for snorkeling.
The small bay, surrounded by breathtaking cliffs that plunge into the sea, offers no organized structures nearby, therefore you will need to pack snacks and drinks for the day.
Overlooking the beach, you can visit the small church of Panagia Poulati, which gives name to the area and was built back in 1870.
This quintessential Cycladic church is the focal point of the landscape, featuring contrasting whitewashed walls, and a typical blue dome.
As you can see, the island of Sifnos packs enough incredible beaches for you to spend a beach vacation … are you planning to visit Sifnos' beaches soon?
How to Get to Sifnos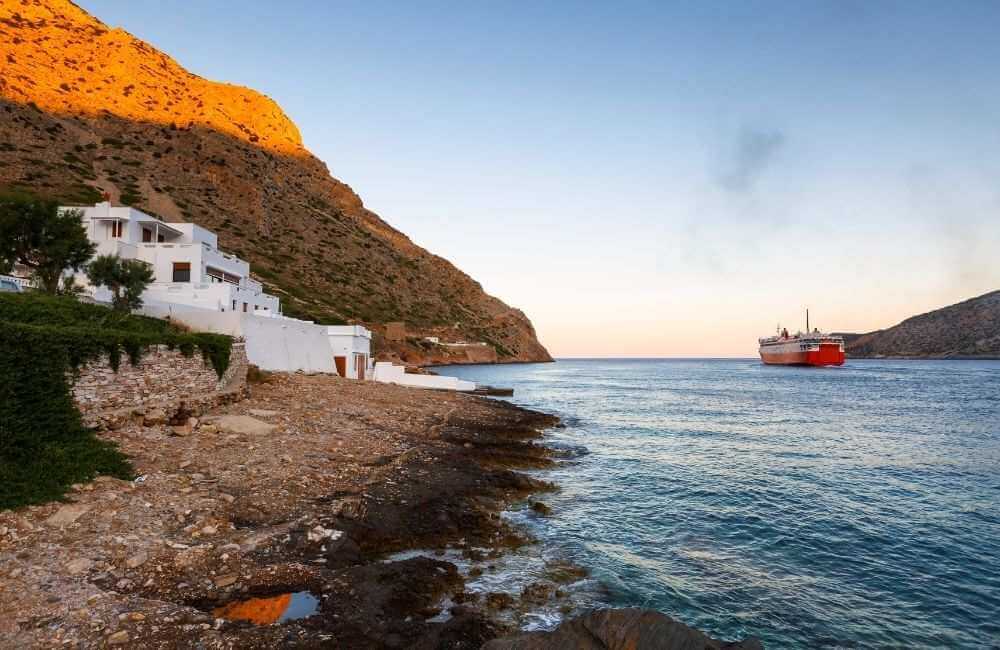 There are no airports on Sifnos Island, so you need to travel by sea. Year-round ferries from the port of Piraeus connect Athens to Sifnos, and there is a more frequent service during summer, featuring both fast ferries and regular ferries. In summer, it's also possible to reach Sifnos from the Port of Lavrio, close to Athens.
You can also travel to Sifnos from nearby islands such as Paros, Milos, Kimolos, Serifos, and Santorini among others.
⛴️ Check out ferry ticket fees and schedules
Where to Stay in Sifnos
If you're thinking about spending your summer on Sifnos Island, it's a great idea to plan where you'll be staying in advance, I've written a guide to the best rental homes on the island, but you can also check these hotels that I recommend.
Budget Hotel in Sifnos:
– Aerides Boutique Rooms is located in Vathi, one of the most gorgeous corners of the island, features comfortable studios with comfortable amenities and there is also a shared kitchen in the property.
Click here for more information and to get the latest prices.
Mid-range Hotel in Sifnos:
Ammos Sifnos Village is located right on the beach of Platys Gialos, one of the best shores on the island Click here for more information and to get the latest prices.
Luxury Hotel in Sifnos:
Niriedes Hotel will offer you an unforgettable stay right by the beach of Platys Gialos, featuring a fantastic seaside terrace where you can enjoy one of the best breakfasts on the island!
Click here for more information and to get the latest prices.
Pin This Guide to Remember What Beaches You Should Visit in Sifnos!
---
---
About my blog: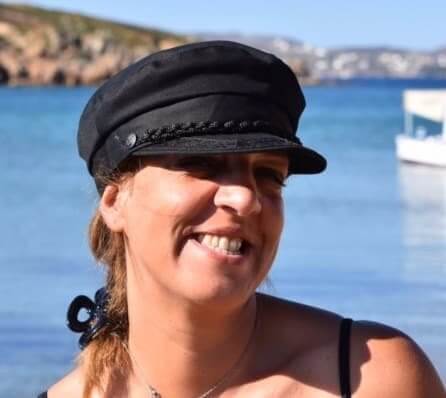 I moved to Crete in 2016. During these years, I learned much about the island.
In Crete, I juggle being a solo mom, hosting culinary tours, and writing for several travel media.
I've written for Greek Reporter, published travel guides about Greece, co-authored DK Eyewitness Top 10 Crete, and had more glasses of frappe than any regular person could ever handle.