Located just a short hour-long ferry ride from Athens, Aegina Island makes a great day trip from the Greek mainland. Aegina is the perfect destination for remote workers and digital nomads or those who have time to explore the less-known islands of Greece. While tourists flock to Santorini and Mykonos, Aegina offers a Greek experience that is relatively free from the tourist resort feel of some of the other Greek islands. Read on and discover some of the most perfect things to do in Aegina, Greece.
---
Disclaimer: Posts include affiliate links leading you to products or services, I might earn a small commission if you make a purchase. This has no extra cost to you but allows me to continue writing articles that are helpful for your travels. I only recommend things I use myself or that I believe will deliver value to you. 
---
Collaboration post
Last-minute plans for Greece?
Get there: Use Ferryhopper to book your tickets.
Stay: Find great accommodation deals on Booking.com.
Move around: Compare car rental prices with Discover Cars.
Tours: Check the most popular places with GetYourGuide.
Read more: Pack the Lonely Planet Guide to Greece or get a copy of my digital guide to Santorini.
Where to Stay in Aegina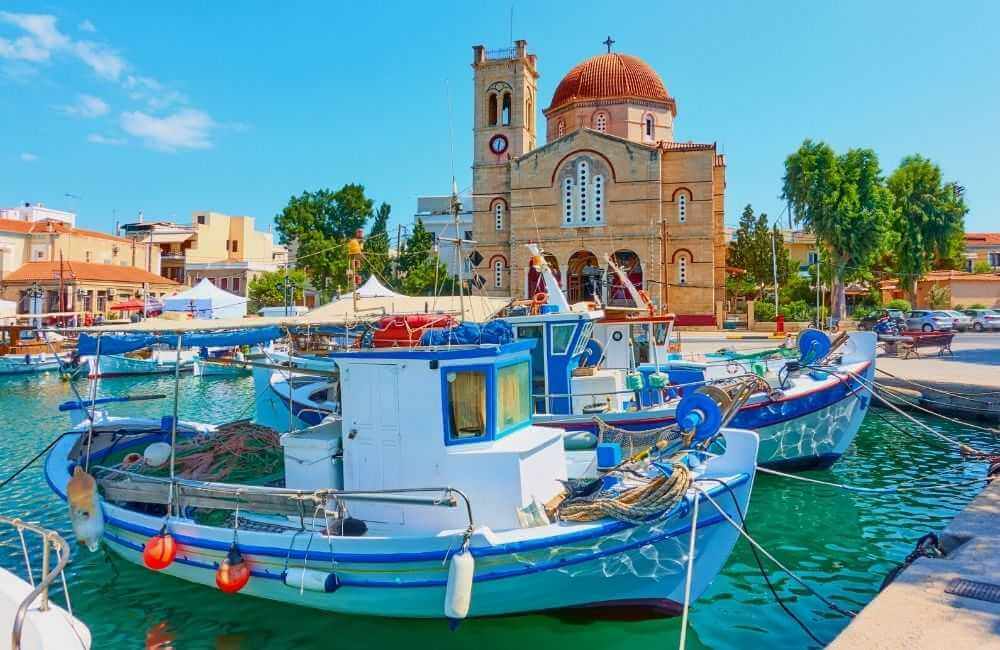 If you're traveling to Aegina to enjoy your summer vacation, discover the beaches, the archaeological sites (… and the pistachios!), the first thing to do is to start with accommodation. There are tons of nice homes to rent on the island to spend a few days and explore well. I've written a guide that you can check here. There are also some pretty hotels, for all kinds of pockets and budgets.
Instead, if you just want to check my favorite places to stay, take a look at this quick selection. Mid-range hotels go from €50 to €80 per night. Better places can be booked for more than €100 a night.
Instead, if you just want to check my favorite places to stay, take a look at this quick selection. Budget usually means accommodation for less than €50 per night. Mid-range hotels go from €50 to €80 per night. Better places can be booked for more than €100 a night.
Budget accommodation in Aegina
For a convenient stay in Perdika, it's a good idea to check Aegina Bed & Culture. It's a colorful and relaxing spot in the small fishing village.
>>Check Aegina Bed & Culture prices<<
Ilida Studios is a small place, cozy and inviting, in the area of Agia Marina. It's located right on the beach and offers convenient prices for a stay on the island.
>>Check the latest offers for Ilida Studios here<<
Mid-range budget
If you want to stain near the picturesque port of Souvala, check Mistral. The place is ideal for families with its sea-water pool, a sun terrace, a bar, a sauna, and fantastic sea-view rooms.
>>Check Mistral prices and book your stay here<<
If you're looking to enjoy a stay in Aegina Town within a mid-range budget, take a look at Plaza. It's located near the harbor in the center of Aegina town, just 50 m from the beach.
>>Read the reviews and book a room at Plaza here<<
Luxury accommodation
Just opposite the beachfront of Perdika, Lalibay Resort & Spa offers 5-star accommodation, featuring a private beach. There's also an outdoor heated pool, a fitness center, a bar, and a restaurant.
>>Check prices and reviews before you book<<
For a luxury stay in Aegina Town, take a look at Pistakion Houses. It features a romantic atmosphere and a unique vintage style.
>>Check Pistakion Houses and book your stay<<
Basic Things to Know About Aegina Island, Greece
Aegina is one of the closest islands to Athens. It's roughly 27 kilometers (17 miles) off the coast of Greece's capital. It's a special destination with a tranquil atmosphere as it has yet to be discovered by large groups of tourists. Aegina is famously known for the pistachios that are grown there. Consequently, almost every shop and vendor sells pistachios, and you should definitely pick up a bag when you visit.
Greek legends have something to do with its name, as with almost everything in Greece!
Aegina was a remarkable character in Greek mythology. She was daughter of the river god Asopus. Her son, Aeacus, whose father was Zeus, grew to become a king on the island.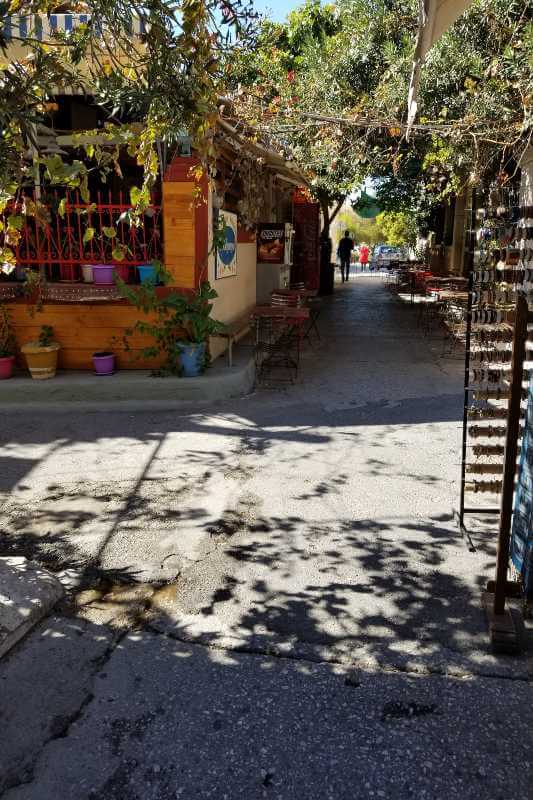 On Aegina, you'll be able to get a condensed taste of the typical Greek island lifestyle. Find pretty beaches, historic places, and ancient sites, and lots of local products to try. No matter how small you might think Aegina is, there's a lot to do over there.
How to Get to Aegina
Getting to Aegina is relatively easy. It's only accessible by boat, and several ferries arrive every day from the port of Piraeus in Athens.
The ferries are affordable and cost between 8 and 15 euros.
Two ferries service the island, the cheaper €8 ferry is slower and takes about an hour. The faster one is more expensive but cuts your ride down to 20-30 minutes.
The first ferry leaves at 7 am and the latest at 6 pm.
Curious Things to Know About Aegina
Did you know that the island is part of an extinct volcano? The island, which has a triangular shape, has a distinct north face. Here, there are fertile plains where crops of grain, cotton, almonds, olives, figs, and – of course – pistachios flourish. The island is also known for the old sponge fisheries.
The south of the island is the volcanic area of Aegina, featuring a more rugged landscape, barren and hilly. Here it's possible to spot Mount Oros, the highest point on Aegina.
Planning a visit?
>>Check the best rental homes in Aegina<<
The Best Things To Do in Aegina, Greece
There are several towns on the island, the main settlement, where the ferries dock at, is the town of Aegina. Most people will stay in Aegina and never explore the rest of the island. While there is plenty to do in Aegina, there is more to see if you explore beyond the touristic areas.
You'll definitely want to explore the town of Aegina. However if you're going to explore the rest of the island, it is best to make the town the last stop before you leave.
All the shopping you'll want to do is mainly in town. Therefore, if you plan on buying anything you might as well wait till the end of the day so you don't have to carry it around all day.
Rent a Scooter and Ride Around
For any activity outside of Aegina, you'll need to rent a vehicle to get around. There are several car rental options on the island, including jeep rentals. However, the island really isn't big enough, so some people choose to see the island is with a scooter.
You can find a scooter to rent between the Alpha Bank and Piraeus Bank. Just across the street from the pier where the ferries dock. There are signs above the street that point the way. Once you arrive at the door you'll have to go upstairs to rent the scooter.
Scooters are affordable to rent and well worth it. At a very affordable fee, it is probably the best use of money on the island!
You can book your scooter online through a rental search engine to save time!
>>Check motorbikes, scooters, and bicycles here<<
Explore the Coast of Aegina
Once you have a way to get around the island, you can either head north or south along the coast. You'll be glad to explore what Aegina has to offer. The north side of the island is where most of the tourist sites are. In the south, you'll find the best beaches.
There is a road that follows the coastline around most of the island. Along the road, there are many different beaches you can stop and enjoy. Most of them are not very busy and can make for a relaxing day. You could spend your entire day on one of these beaches to make your trip to Aegina a success.
Close to many of them, there are beach bars to spend some hours sipping a freddo espresso or a glass of chilled beer. Most of the beach bars are on the route south of Aegina.
There are several, too many to count, small restaurants serving fresh seafood and traditional Greek food. They make great places to stop for lunch. Food outside the town of Aegina is cheaper than near the pier where the ferry lands. Often these places will serve better food too!
Top Beaches That You Can't Miss in Aegina
Among the top beaches that dot the coast of the island, you need to visit at least a couple of them. If you are not sure about which one, these are the top 5 beaches on Aegina!
Agia Marina
Probably a place you've already heard of is Agia marina Beach. It's ideal for families as well as for those into water sports. Agia Marina is a sandy beach with crystal clear waters. It's a popular destination among tourists since it's in one of the main resorts on Aegina.
Perdika Beach
Not just for the great beach, Perdika is one of those places that deserve a visit while on the island. Other than the pretty coast in the area, the beach is in the quaint fishing village of Perdika. The area offers stunning views of the Peloponnese. On Perdika beach there are solitary coves, as well as rocky and sandy sections.
Trip to Moni Island: Not far from the beach, there's a small, uninhabited islet, Monì. It features a tiny sandy beach as well as a great taverna for drinks or a quick lunch. Taxi boats will take you from Perdika to Moni in about 15 minutes. If you are up for a longer boat ride, you can also depart from Aegina Town.
Marathonas Beach
Also located in a small fishing village, Marathonas can be rightfully considered the best-known beach on Aegina. The beach is well organized but quiet at the same time, which makes it a hot destination on the island.
If you're not in the mood for just lying on the beach and relaxing, then head to Marathona. Here, take advantage of water sports, including snorkeling and diving. At lunchtime, indulge in some local fish and seafood dishes in the local tavernas that you'll find in the area
Souvala
Souvala is a small, but adorable bay very close to the village of the same name. It's a fantastic place to explore, known for the hot and cold springs that are easily found in the area. The beach is mostly sandy, quite shallow, and ideal for a relaxing afternoon in Aegina.
Kavouropetra
Do you love to enjoy remote, lonely locations with an exotic touch and plenty of space of your own? Then you should definitely take some time to explore Kavouropetra! Not really crowded, Kavouropetra is ideal to soak in the spectacular views of the island and the local landscape.
Other great beaches to check are Kolona, Paralia Eginitissa, and Paralia Klima, a paradisiac bay with unique turquoise waters.
When exploring the Greek islands and their beaches, always have a hat, sunscreen lotion, and a bottle of water.
>>Check this guide to learn how to pack the perfect beach bag<<
Temple of Aphaia
As you wind your way along the north coastline and near the opposite side of the island from Aegina, stop at the Temple of Aphaia. It's one of the most famous archeological sites in Aegina and the best-preserved Classic temple all over Greece. It's on the top of a hill on the northeastern side of the island, about 13 kilometers from Aegina town.
The temple was dedicated to the goddess Aphaia. It was built around 500 B.C. and was most recently restored in the late 20th century. The entrance fee to the temple is 6 euros.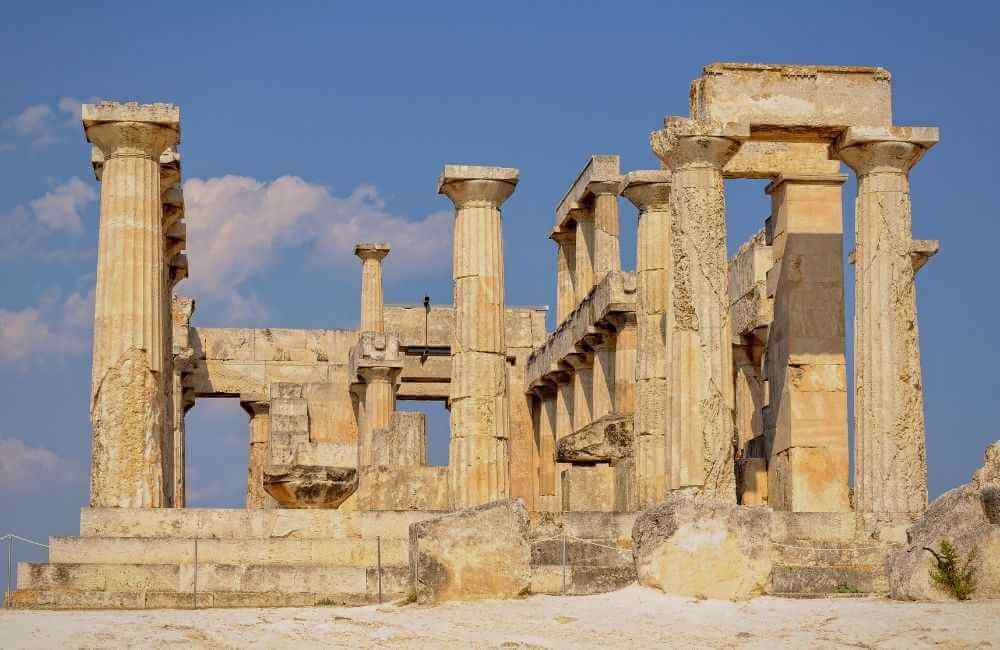 Once there, don't miss the amazing views from this site. You can see the entire town of Agia Marina and it's definitely worth the stop.
Good to know: Right next to the temple, spend some time exploring the The Archaeological Museum of Aphaia.
Looking for more archaeological sites? Discover the Archaeological Site of Kolona
If the Temple of Aphaia left you craving for more, then you would love to check the archaeological site of Kolona. It's believed that thousands of years ago, the place was home of a spectacular Doric temple in honor of the god Apollo.
There are just a few rests remaining, the most remarkable is a monolithic column that formed part of the temple. This column used to be a reference point to the Venetians who gave the name Colonna (Italian for column) to the area. Not far from the site, it's a good idea to check the Archaeological Museum of Aegina.
The museum first opened its doors at the beginning of the 19th century. It was the first museum to be established in the modern Greek State.
Agios Nektarios Monastery
From the Temple of Aphaia, you'll want to stop at Agios Nektarios Monastery before heading back to the port. The monastery is in the center of the island and you'll pass it on your way back to Aegina Town. The Cathedral of Saint Nektarios is one of the largest buildings on the island – you can't miss it as you drive by.
Parking and entrance are free. They do request that women wear a shirt that covers their shoulders and a skirt that is at least knee-length. Men are required to wear pants and not shorts. This is customary for monasteries and is not unusual. They have skirts on site that will be offered to you if you do not have one.
Saint Nektarios, one of the best-known saints in the Greek Orthodox church, is buried on the grounds. He established this monastery in 1904.
If you're visiting Aegina in just a day, from the monastery, you can head back to the town of Aegina to finish out your day on the island before the last ferry leaves.
Instead, if you've plans to spend a few more days on the island, read on this list to discover more things to do in Aegina, and if you still don't know where to stay, pick a place to spend the night.
Exploring the Town of Aegina
The main town of Aegina is a beautiful settlement with traditional Greek architecture. It has narrow streets with buildings splashed in beautiful colors making the town very picturesque and charming.
There are several shops to purchase souvenirs or other items to remember your trip by. There are also vendors selling pistachios and other gastronomic products. You'll want to buy a bag or two of fresh pistachios to take home with you. They are delicious!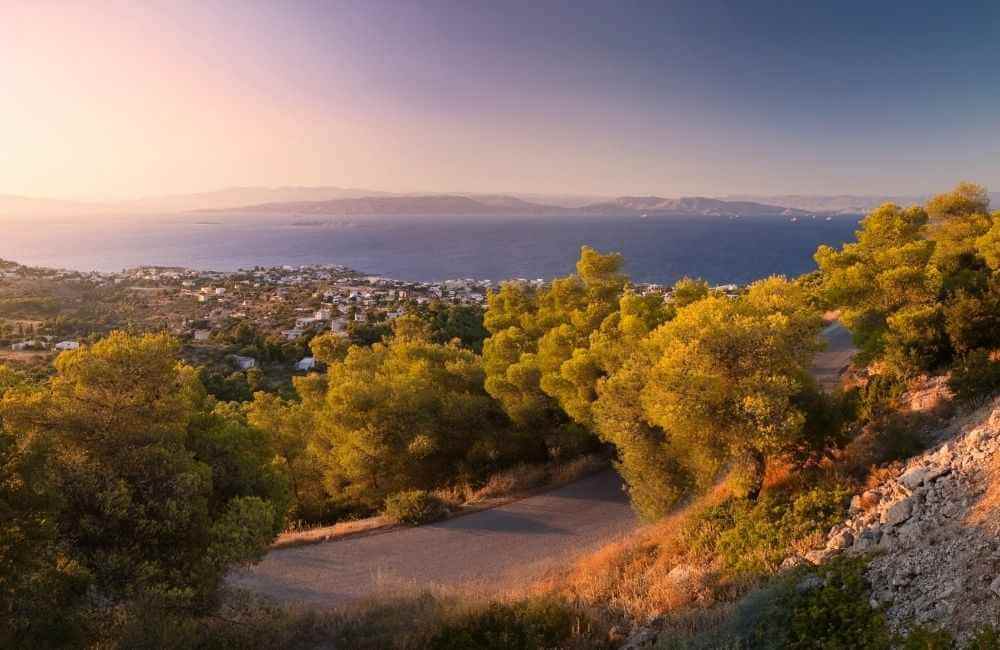 When the sun starts to go down, there are many restaurants serving some amazing Greek cuisine to finish off your day. As is typical in the Mediterranean, dine outside listening to the sounds of the port and sea as you wait for your ferry. In my opinion, there are few better ways to end a day than to relax to the sounds of the sea.
More Time on the Island? Discover Aegina's Traditional Villages
Exploring the picturesque small fishing village of Perdika is certainly one of the great things to do in Aegina. It's possible to get there with a short ride or to take a boat and sail there from Kalamaki.
Perdika is a romantic spot for a nice diner at a local fish taverna. Or – to keep it simple – just to witness the sunset and then walking around the alleys of the small town.
If you prefer to take a closer look at the local architecture, explore the small settlement of Kypseli, known for the unique churches and the pistachio trees that blossom in the area.
Finally, for more insights into the past of Aegina, head to Paleachora. The settlement, which was once the capital of the island, features beautiful ancient chapels, many of them made of stone. The twin chapel of Agii Giorgos and Dimitrios stand on the spot where the was once a medieval fortress.
Pay a Visit to the Tower of Markellos
Another sight not to miss is The Tower of Markellos. An unexpected salmon pink construction left on the island by the Venetians, during their second rule on the island. The tower is a stone fortification which, later in history, was used as headquarters during the 1821 Greek revolution.
The watchtower was certainly built in anticipation of an Ottoman siege which finally took place in 1715. Many were the fortified walls and watchtowers constructed in that period
When the Turkish occupied the island, the tower was abandoned. Later in time, it became the headquarters of the temporary government of a Greek state on the making.
During the years, the tower functioned as a police headquarters and housed various government agencies.
Check the Churches and Museums
There are a few museums other worth a visit on Aegina. You might be interested in checking the Folklore Museum of Aegina.
Right in the center of Aegina Town, the Folklore Museum features maps and curious manuscripts. Exhibits include costumes and furniture that depict a clear portrait of the island's culture, past, and traditions.
The most beautiful and original museum you can explore on the island is Christos Kapralos Museum. The place used to be the workshop of a famous Greek sculptor and exhibits some stunning pieces of his work.
There are also other churches and monasteries to check on the island, including the picturesque churches of Agios Nikolaos and Isodia Theotokou at the port.
You can also visit, the spectacular Monastery of Saint Catherine, a beautiful convent surrounded by lush gardens and flowers.
Eat Local Food: What and Where to Eat in Aegina
As already mentioned, pistachios are a must-try. It's the main crop on the island and they are legendary good. Many consider these pistachios to be the best in the world.
And if you're lucky to visit during the Fistiki Festival, usually held in September, you can taste local pistachios and learn about local crafts and traditions too!
However, there's more to Aegina's gastronomic scenario. And fish has a leading role! If you're wondering about the small fishing villages, head there and try whatever the catch of the day is.
Fish taverns often serve anchovies, octopus, boque, swordfish, yellowfin tuna, grey mullet, and ret mullet as a local specialty.
A fish variety you should try is katsoula, a local flat fish, similar to a sole but pink. This variety is often found on Aegina as well as in Rhodes.
In Aegina Town, quite close to the fish market, there are no-frills fish taverns full of authentic charm. Here you can discover everything about Aegina's Fish Market.
As you can see, Aegina makes a great day trip from Athens and it is the perfect destination for someone looking to experience the Greek island culture. All this, without being over-saturated with tourists. It's great for a longer stay too.
And if you work online or remotely, it is a great destination to spend a few days. It's an affordable island and the escape from the hustle and bustle of Athens is well worth it.
---
Would you like to visit Aegina, in Greece?
Let me know in the comments below!
---
Travel Plans for Greece?
More Resources to Organize Your Trip!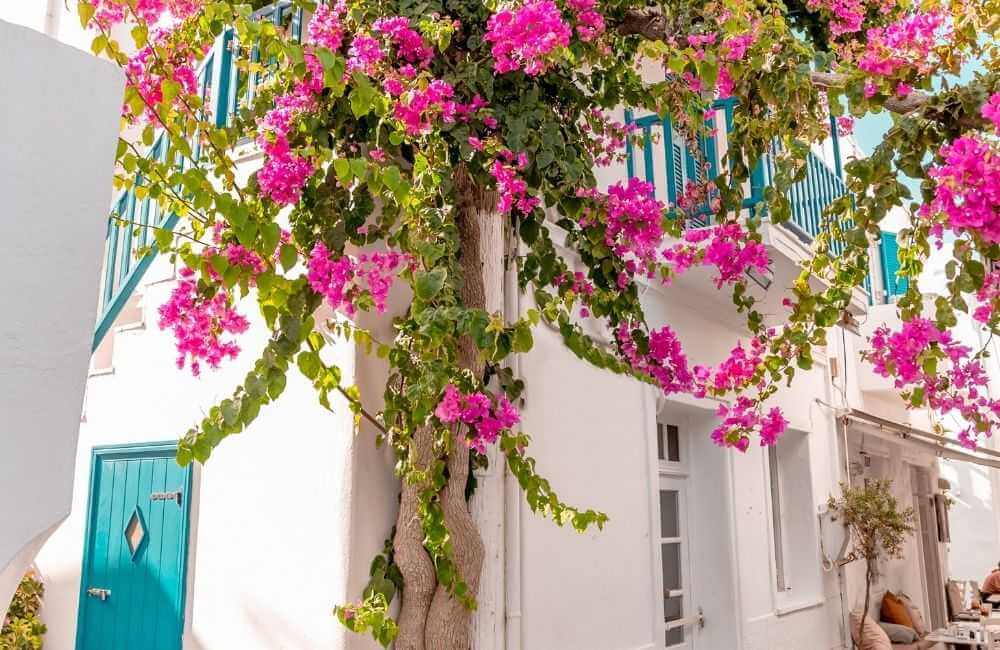 Start by heading right to my Greece travel guide for in-depth details you need to know about Greece. You can also check my post to plan a trip to Greece with children!
Get in touch if you need extra help to plan your trip. If you want to tour West Crete, check my guide. Want more? Join my Private Facebook Group to connect with like-minded travelers who love Crete as much as you do!
Make Sure You've Got Everything For a Hassle-Free Vacation!
Without my Osprey backpack, I never move around the islands…it's a sturdy but light travel partner I just love. For short trips, I carry this crossbody bag. If I drive, I pack my Nikon D7200 and a good travel guide! Lonely Planet's Best of Greece & the Greek Islands.
When it comes to plane tickets, compare prices with a powerful search engine. However, nothing beats traveling by sea in Greece. With Ferry Hopper, you can book in advance at the lowest price.
For accommodation, I use Booking.com.
Traveling to remote places is easier with Discover Cars. Other times, I join organized tours with GetYourGuide, which features anything from cooking lessons to airport transfer!
COMING TO CRETE SOON?
Get in touch and let me know!
Read more:
Amazing things to do in Heraklion, Crete
Top scuba diving spots in Greece
Magical things to do in Corfu
Best beaches on Sifnos island
Relaxing things to do on Lipsi island
Pin This Guide to the Best Things to Do in Aegina for your Greek Adventures!
About the Author
Phillip is a digital nomad with his wife, Bridgette, and two kids, Hope and Archer. He blogs at The Coddiwomple Life where he helps other families live their dreams and travel the world as digital nomads.
---
You might also want to read:
---