Picturesque and refined, the Greek island of Sifnos is not among the first places to think of when dreaming about a holiday in Greece. However, this welcoming island is ideal for a short vacation. Small enough to be seen in a few days, Sifnos can be a great destination on its own or a smart addition to your island-hopping itinerary. No matter what your plans are, make sure to check this article for the best things to do in Sifnos.
---
Disclaimer: Posts include affiliate links to products or services. I might earn a commission if you make a purchase, at no extra cost to you.
---
The Most Incredible Things to Do in Sifnos
Last-minute plans for Greece?
Get there: Use Ferryhopper to book your tickets.
Stay: Find accommodation deals on Booking.com.
Move around: Compare car rental prices with Discover Cars.
Tours: Visit popular places with GetYourGuide.
Read more: Pack the Lonely Planet Guide to Greece.
General Things to Know about Sifnos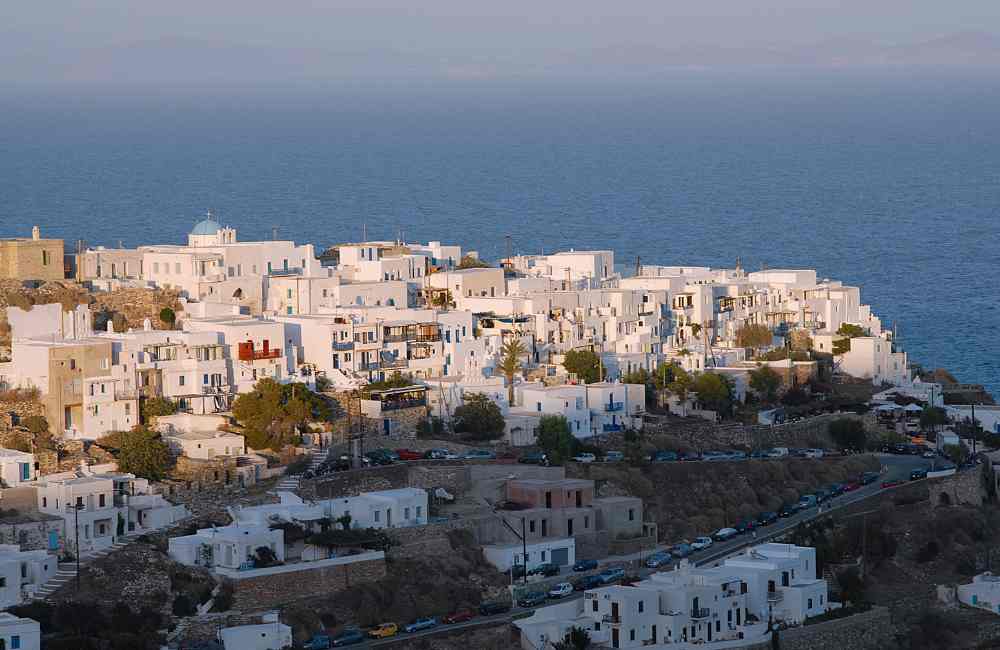 Part of the Cyclades island group, Sifnos is a wonderful Greek island home to a variety of impressive beaches, some of them quite popular for the pristine waters and golden sand.
The island has an elegant inland capital, Apollonia, and one of the prettiest ports in the Aegean, Kamares.
One of the most famous things about Sifnos is their pottery and their unique ceramic pots, known as gastra, a word that gave origin to the term gastronomy.
And in fact, food on Sifnos is quite an important thing. The island was the birthplace of one of Greece's most important chefs and some unique Greek dishes originated in Sifnos.
What's the Weather Like in Serifos
As with many other islands in the Aegean, the climate is mild all year round, beating long, dry summers, and pleasant temperatures from the end of May until the end of September.
You will find the highest temperatures during July and August, which are also the months with more tourists. Winters are short and not as cold as on the mainland, although it can be rainy and sometimes windy as well.
Frequently Asked Questions about Sifnos
How long does it take to get to Sifnos from Athens?
Usually, it can take anything from 2.5 to almost 6 hours to get to Sifnos from Athens, this depends on the type of ferry you choose (regular vs. high-speed).
There are daily ferries from Athens (Piraeus) that depart all year round while there is also a ferry route connecting Sifnos to the port of Rafina (also on mainland Greece) that runs during summer.
What is Sifnos known for?
The island is known for its relaxing atmosphere and elegant architecture. It is also known for its ceramics and delicious food, especially revithada, a typical chickpea soup or stew that's cooked on the island.
One of the most famous sights of Sifnos is Chrisopigi Monastery, located in a dramatic position facing the sea.
How much time should I stay in Sifnos?
Sifnos is not among the biggest islands on the Aegean, therefore any length of time ranging from three to five days will give you enough hours to explore the island, discover the hidden gems, and try some of the best things to do in Sifnos.
What things should I do in Sifnos?
When visiting the island, it's a good idea to get a close-up look at some of the local traditions, including the production of ceramics, especially popular in the towns of Vathi and Kamares. Foodies will love to learn everything about the local gastronomy, sampling tasty dishes such as revithia or homemade cookies.
But that's not all, you can also venture on hikes and walks surrounded by the breathtaking views of the island as there are many interesting marked paths, and hikers from all over the country come to explore them.
What other islands can I visit from Sifnos?
Some of the nearby islands include the popular Serifos, Paros, and Naxos, while lesser-known islands close by include Milos, Kimolos, and the smaller Syros and Antiparos. Although not all of them have regular ferry connections, there are several private excursions departing from Sifnos to reach the coast of these islands.
Map of Sifnos, Greece
Top Things to Do in Sifnos
Let's now take a look at some of the things you can do in Sifnos if you're staying there for three to five days.
Explore the Capital, Apollonia
The gorgeous Apollonia is the capital of the island, this is a whitewashed Cycladic settlement built on the slope of three fairly low hills.
Not only is Apollonia a very picturesque settlement to visit, but also the right place to visit at night for food, drinks, and even some music.
This is also one of the places to go to get those typical souvenirs we all love to buy in Greece!
Staying in Apollonia is a good idea if you are not interested in direct access to the beach every morning but are keen on exploring the island and walking some of its fantastic hiking trails.
When exploring Apollonia, don't miss a stop at the Folklore and Pop Art Museum, located in the main square of the village.
This is a great place to start learning about Sifnos' pottery and other crafts and jobs typical of life on the Cyclades.
The museum also exhibits interesting objects of domestic use, agricultural tools, and elements used for embroidery and textile works.
Walk from Apollonia to the village of Artemonas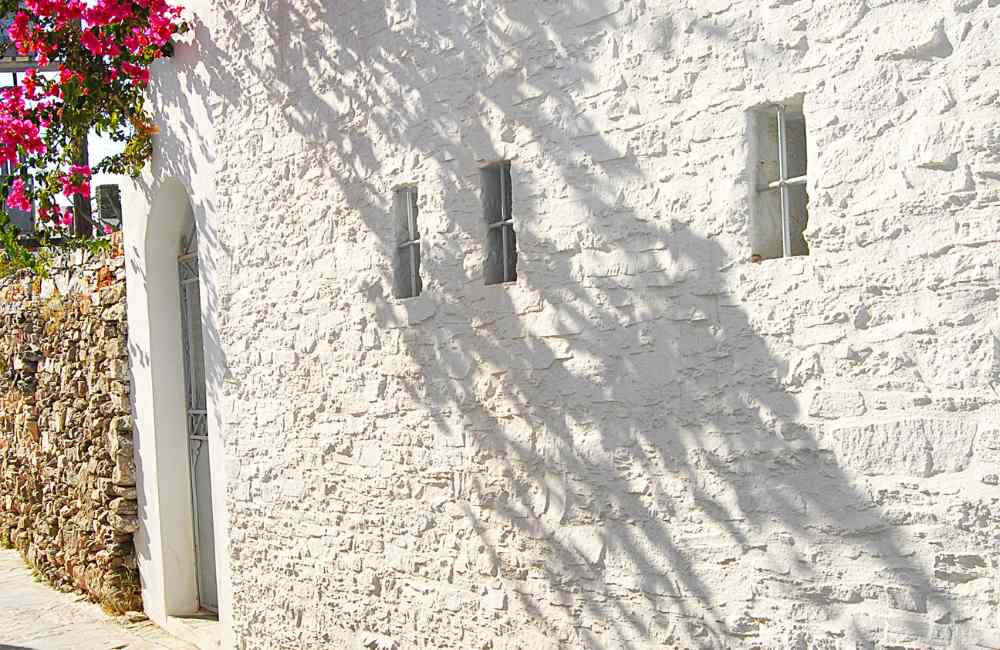 A well-marked road will take you from Apollonia to Artemonas, it is a pleasant walk of about half an hour (1.6 kilometers) although you can also do it by bike or car (there is a public parking spot in the village, not far from the church of Agios Konstantinos and Agia Eleni.
Artemonas is another picturesque settlement named after the Greek goddess Artemis (yes, just the same as Apollonia gets its name from God Apollo).
This is the second most important village on the island and it includes some other small villages such as Herronissos (also spelled Cherronissos), Agia Marina, and Troulaki.
From Artemonas, you can have an outstanding view of some windmills that remain on the island.
Although some of them have been turned into fancy accommodations, they are silent witnesses of the agricultural character Sifnos used to have.
Artemonas is a great place for an afternoon walk after a day at the beach (for instance the nearby Herronissos).
Don't miss a relaxed stroll along the narrow alleys while you discover some of the gorgeous mansions with blossomed gardens that tell us about the striving economic past of this island.
Eat at the Port of Kamares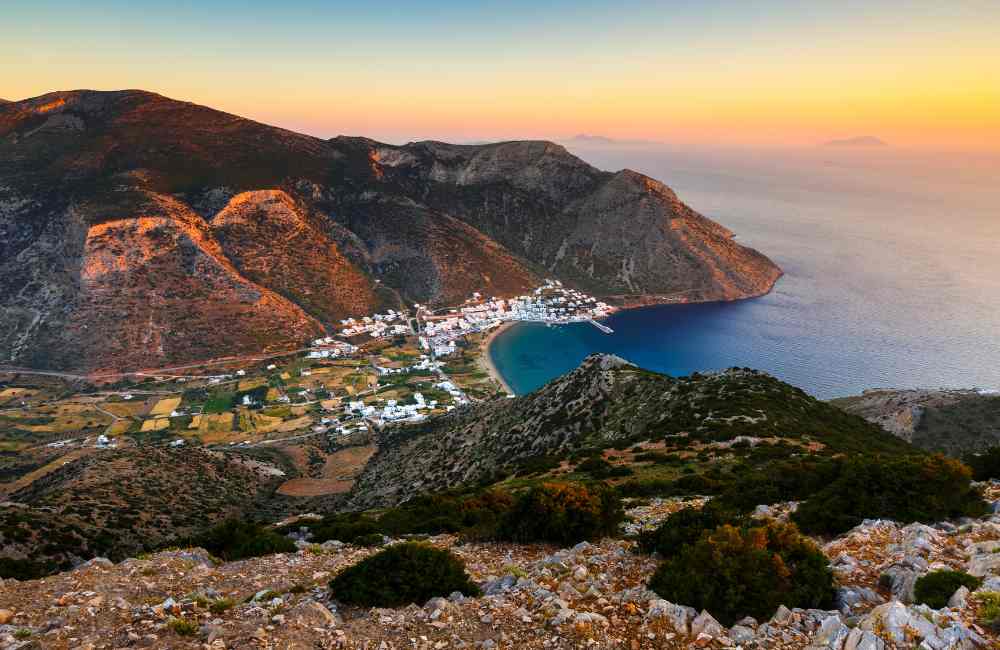 Kamares will be the first place you see of Sifnos as your ferry approaches the coast of the island.
Home to the main port on Sifnos, Kamares is a picturesque village with a wide golden sand bay lined up with great fish taverns and other souvenir shops.
Do not miss the quintessentially Greek experience of having a delicious fish platter right by the sea when you visit Kamares.
Also here, it is possible to visit some of the last remaining pottery artisans and purchase a few interesting souvenirs to take home with you.
Discover Local Crafts
Trademark of Sifnos, pottery has always been one of the most important products of the island as its soil has always been rich in high-quality clay.
Pottery has been produced in Sifnos for centuries, and it's worldwide known for its refined qualities.
The best places to learn, purchase, and even put your hands on clay are Apollonia, the village of Vathi, and the area of Kamares, yet there are producers all over the island.
And if you'd like to buy a traditional piece of pottery from Sifnos, then make space in your luggage* for a gastra, a typical clay pot that locals use to prepare their chickpea stews. The ones used for roast meat are known as tsikalia.
Once all the ingredients are inside the gastra, they are often sealed with bread dough and put to cook overnight in a wood oven on a Saturday night and then shared with the family for Sunday lunch.
However, you can buy other ceramic objects, including cups, plates, stamnes (water pitchers). And not everything is about ceramics. It is also possible to purchase handmade textiles and embroideries and straw hats or bags.
*You don't really need to make space in your bag though, many local artisans ship their products abroad for an affordable fee.
Check out the Churches and their Panoramic Locations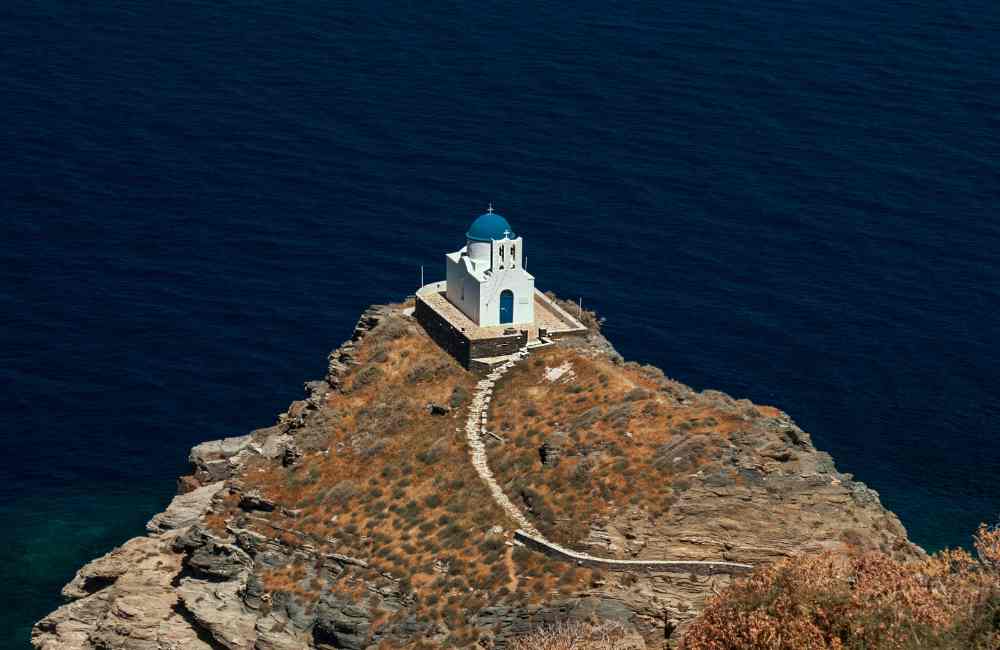 One of the main reasons why many people visit Sifnos is the incredibly beautiful collection of churches and monasteries scattered around the island, many of them in breathtaking locations, perfect for laconic pictures… in fact, photographers love Sifnos!
Arguably the most famous picture of Sifnos, which you have probably already seen hundreds of times, is the Church of Seven Martyrs, a famous chapel and very popular place among photographers in the village of Kastro.
Situated on top of a rocky islet with the background of the sea, this is another traditionally Cycladic building with a typical blue dome you've already seen on many other islands of the Aegean.
The most curious trait of this church is that the islet on which it has been built is linked to the main island by stairs.
Another religious building not to miss is the Monastery of Panagia Chrisopigi. A gorgeous Cycladic church standing atop a rock with incredible views over the sea, and a perfect place to witness the sunset.
Finally, at 690 meters above the sea, the highest peak on the island is home to the whitewashed Monastery of Prophet Elias, a beautiful complex with protective walls and remarkable underground cells and corridors.
This church is quite old, dating back to the sixteenth century, and it's a popular place in Sifnos as it is considered a miraculous temple.
If religious art is something that interests you, then head to the village of Exambella, where you can also check out the small Ecclesiastical Museum in the Monastery of Panagia Vrysiani.
Explore the Village of Vathi
One of the most beautiful settlements on the island, Vathi is the perfect place to spend a whole day. It is a quiet village by the sea with a gorgeous and quiet beach perfect for families.
Right by the small harbor of Vathi and along its wide beach, you will find delicious taverns as well as some good rooms and studios for those who want a very relaxing stay.
Also here, there are several small ceramic studios and a few souvenir shops.
If you don't have a car to drive from Apollonia (a pleasant 15-minute ride), then you can board a boat from Kamares.
Remember that driving in the village is not possible, so you will need to park your car and then head down to the beach and move around on foot.
Visit the Fishing Village of Herronissos
Another great place for a day out is Herronissos, a tiny seaside settlement, and fishing village you don't want to miss.
The most important feature of the village is, in fact, the beach, considered one of the most beautiful shores on the island.
The attractive sand beach has trees for natural shade and crystal clear water perfect for diving as well as for kids.
Check out Kastro, the Former Capital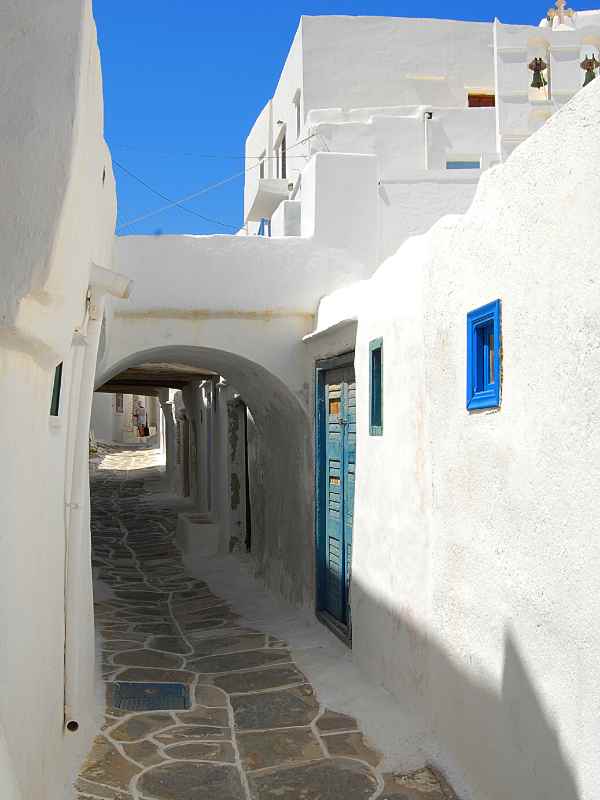 The island's former capital, Kastro, gets its name from the word castle.
In fact, this is where the main settlement of the island was built back in the fifteenth century.
Today, the village develops along the very narrow alleys of the former Frankish fortification, featuring gorgeous little houses, small patios, and incredible ancient churches and aristocratic mansions, some of them turned into rental homes and villas.
Also in Kastro, it is possible to discover the Archaeological Museum of Sifnos which is located inside a beautiful medieval building.
Here, you can check out findings from archaeological sites around the island.
In fact, the Archaeological Site of Agios Andreas stands at the top of a hill between Vathi and Apollonia.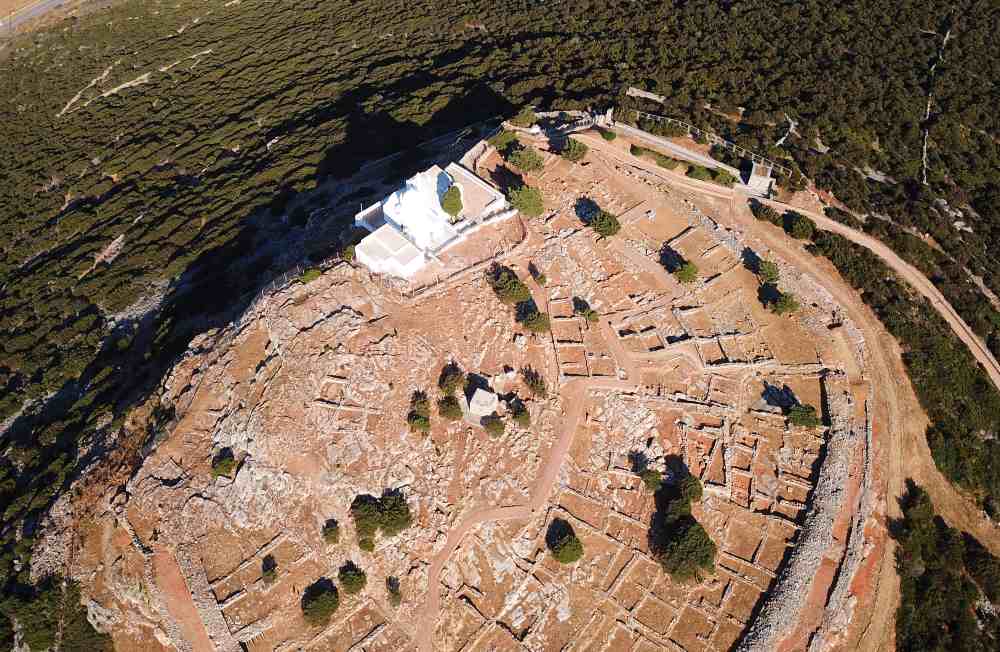 Over here, archaeologists unearthed an ancient Mycenaean settlement where you can still admire the old citadel on the top of the hill, and is considered one of the best examples of Mycenaean fortifications in Greece.
Discover the Old Settlement of Faros
About 7 kilometers from Apollonia, Faros is another gorgeous place you can check out on the island.
You can combine a few hours on the beach and some time exploring the traditional whitewashed homes along the small alleys of the village.
Other than the main beach of Faros, you can also check out Fasolou Beach and Glyfos beach (both described also here). Faros gets its name from the lighthouse located on the small harbor.
Visit the Ancient Towers
One of the main reasons people venture along the island's trails is to discover the Ancient Towers on the island.
This old network of watchtowers is believed to have been an ancient communication system used by the former settlers to be alert and defend the island in case of sieges and pirate attacks.
These round towers had been strategically built in several locations on the island and the roof would be ignited in case of attack, alerting the next tower which, would also light a fire (a bit like you've seen in the Lord of the Rings, right?).
Today, there are remains of more than fifty ancient towers in different areas on the island, built around the fifth century BC, although some might be even older. Aspros Pyrgos, or White Tower, is the best-known tower and among the best-preserved ones.
Top 5 Beaches in Sifnos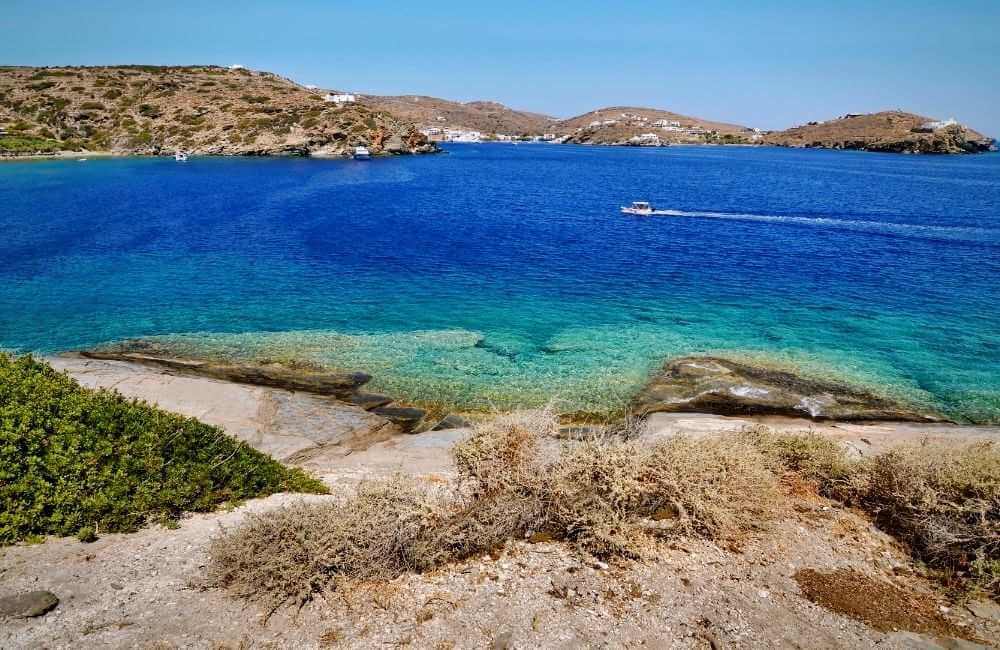 No visit to Greece can lack at least a couple of days lazily spent at the beach. Even less so if you're visiting the Greek Islands.
There are some beautiful, pristine beaches you can visit, these are the top five beaches you must see in Sifnos.
Platis Gialos
Platis Gialos or Platys Gialos is a favorite beach among Greek holidaymakers who love the long line of tavernas by the beach.
This area in Sifnos is also known for an ancient open-air theater nearby. From this beach, it's possible to take different hiking trails that take you to Vathy beach and other picturesque settlements on the island.
The sand is golden under the sun's rays and the waters are crystal clear. In the area, it's possible to practice different water sports too.
Although this might not be the best beach on the island, it is certainly popular among all visitors.
Fasolou Beach
Fasolou is located towards the east of the more popular Faros Beach.
It's a tiny settlement with a picturesque beach well-protected from winds and waves.
At the end of the beach, there's an imposing peninsula that hosts the picturesque white monastery of Timios Stavros. A hiking trail in the area leads directly to Kastro, the former capital of Sifnos.
Faros Beach
Faros, which was Sifnos" main port until 1887, is a gorgeous sheltered port with stunningly beautiful blue waters and a spacious sand beach.
The beach is considered one of the best corners in Sifnos. It has calm and pristine waters, soft fine sand, tamarisk trees offering nature shelter, and a few tavernas on the waterfront.
Kamares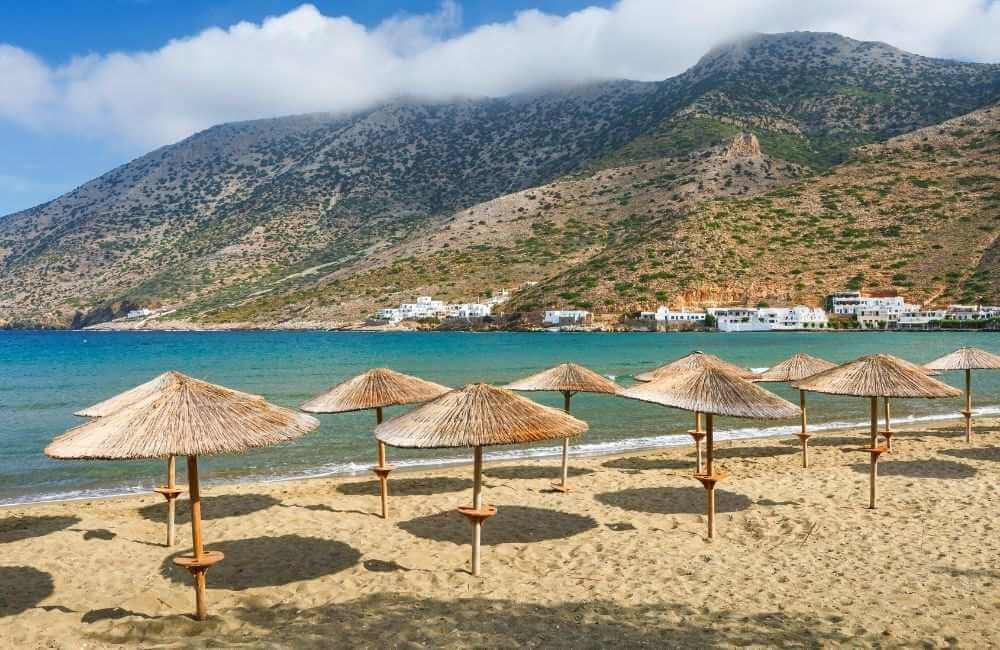 Kamares is the main port on the island. It is a pristine sandy bay, long and quite wide, with spectacular turquoise waters.
The area known as Agia Marina is probably the most popular place to stay in Sifnos and enjoy this beach.
Over here, there is plenty of accommodation as well as restaurants, bars, and some night entertainment. All these reasons make the place quite crowded during most of the summer.
Vathi
This is one of the most relaxing places to stay on the island… why? Well, since cars do not have access to the area and are not allowed in the village, the beach is truly a quiet place to spend the day by the sea.
The beach of Vathi is located on a sheltered harbor which makes it a great shore for families with children looking for calm waters and soft sand.
Top Tours Not to Miss in Sifnos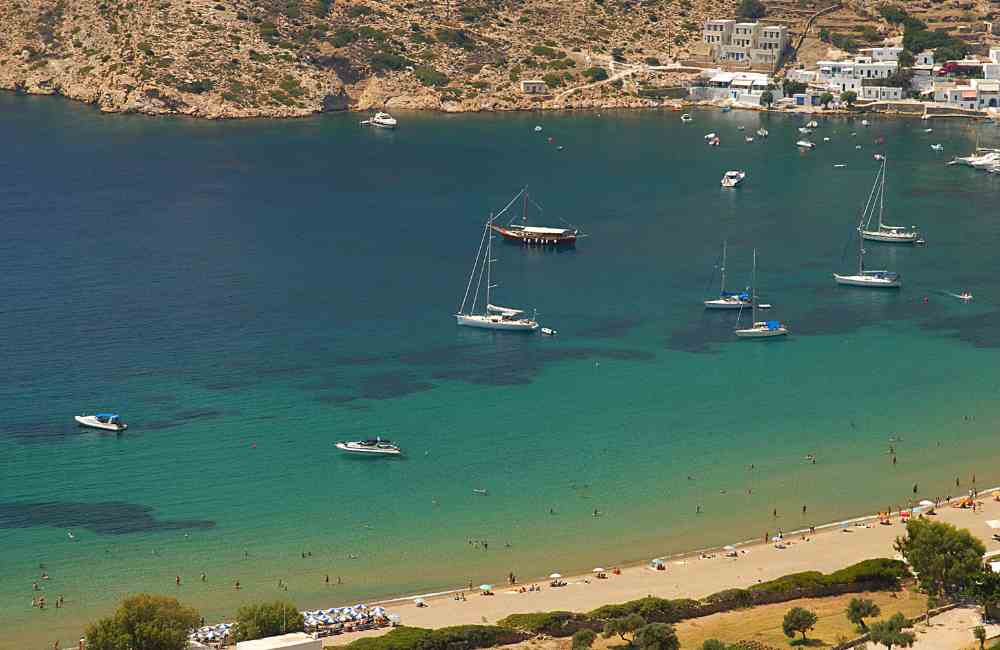 These are some of the most fantastic organized tours, experiences, and activities to do when visiting Sifnos.
Private Speedboat Cruise to the South Coast of Sifnos Island:
Take a private speedboat with an experienced captain and explore the secluded coasts of southern Sifnos and walk to beautiful churches built on the rocks and see traditional monasteries in the middle of nowhere.
Click here for more details and to book this tour.
Best Places to Stay in Sifnos
One of the first things to sort out when organizing this Sifnos trip is accommodation. These are the places I recommend on the island:
Budget Accommodation in Sifnos
Margado: This place is built on a hill over the bay of Kamares, the picturesque port of Sifnos, 300 meters from the beach. It offers a variety of accommodation types surrounded by a beautiful outdoor pool with views of the sea. Guests can start their day with the buffet breakfast served at the property's dining area. There is also a parking area available for guests and barbecue facilities.
Click here for more information and to get the latest prices.
Mid-range Accommodation in Sifnos
Niriedes Hotel: This fantastic 4-star hotel in Platis Gialos is an excellent option for families and friends. The hotel is built above the bay of Platis Gialos, just 100 meters from the cosmopolitan beach. It features an outdoor pool with a hydromassage area and a small art gallery. Guests can enjoy breakfast made with local ingredients on a sea-view terrace.
Click here for more information and to get the latest prices.
Luxury Accommodation in Sifnos
Gerofinikas Boutique Hotel: In the heart of Apollonia, this Cycladic-style accommodation with panoramic views over the Aegean Sea includes a lovely swimming pool and a poolside snack bar. The property has rooms and apartments with a mini fridge, while some also have a kitchenette. Continental breakfast is served in the morning.
Click here for more information and to get the latest prices.
Rental Homes in Sifnos
I've written a special post about the best Airbnb homes and some picturesque rental villas on the island that you can read here. Alternatively, check out these places to stay if you prefer the comfort of a house for your stay in Sifnos.
Villa Celestina: Less than 14 km from the port of Kamares, this rental home offers direct access to a secluded beach in a tranquil area in Chrisopigi.
It features a garden and a sun terrace with panoramic views of the Aegean Sea and it is built and decorated respecting the Cycladic style. It features 3 bedrooms, a comfortable living room, a fireplace, and a fully equipped kitchen plus a relaxing outside area.
Click here for more information and to get the latest prices.
What to Eat in Sifnos
More than where to eat, you should be focusing on what to eat in Sifnos!! Home to delicious cuisine, the island is heaven for foodies! Sifnos has a long culinary tradition that's famous all over Greece.
Nikolaos Tselementes, a renowned Greek chef who published the first Greek cookbook back in 1932 was born on the island, he is considered the father of Greek Cuisine with its fascinating mixture of Western and Eastern flavors.
Today, the island continues the great chef's legacy by keeping food standards at the highest level, experimenting with new tastes but keeping the core of local gastronomy, an essential key to preserving the island's century-old, recipes.
The island's signature dish is revithada or chickpea stew. Slow-cooked to perfection in a clay pot for an entire night in a wood oven, long hours under slow fire ensure that chickpeas will be incredibly tender and flavorful.
Revithokeftedes or fried chickpea balls are also famous on Sifnos. They are usually served as a meze dish or starter but they can definitely be enjoyed as a main alongside some salad.
Also popular among locals is mastelo, the island's typical meat-based dish made of lamb or goat's meat, washed in red wine, and doused in dill. It's then slow-cooked inside a clay pot also called mastelo or tsikalia.
The three main types of cheese produced in Sifnos are chloromanoura, gilomeni manoura and xinomizithra. Depending on the producer, local cheese can be spread-like or firm.
Where to Go in Sifnos for these Dishes
Iliovasilema Sto Troullaki: Located in Troulaki (in Artemonas), here you will not only enjoy the typical dishes on the island but also an incredible view over the sea. Go when the sun is about to set. More info on their website.
Sifnos at Night
The island is certainly not known for its nightlife, but rather because of its elegant and somewhat quiet atmosphere.
For more options and venues to discover, head to Apollonia, the capital of the island, where there are also a few clubs open until very early in the morning.
However, you can also enjoy a drink at the beach of Platis Gialos or in Kamares. Kastro's open-air lounges have a unique vibe and atmosphere and also Artemonas offers a few surprises for night owls.
How to Get to Sifnos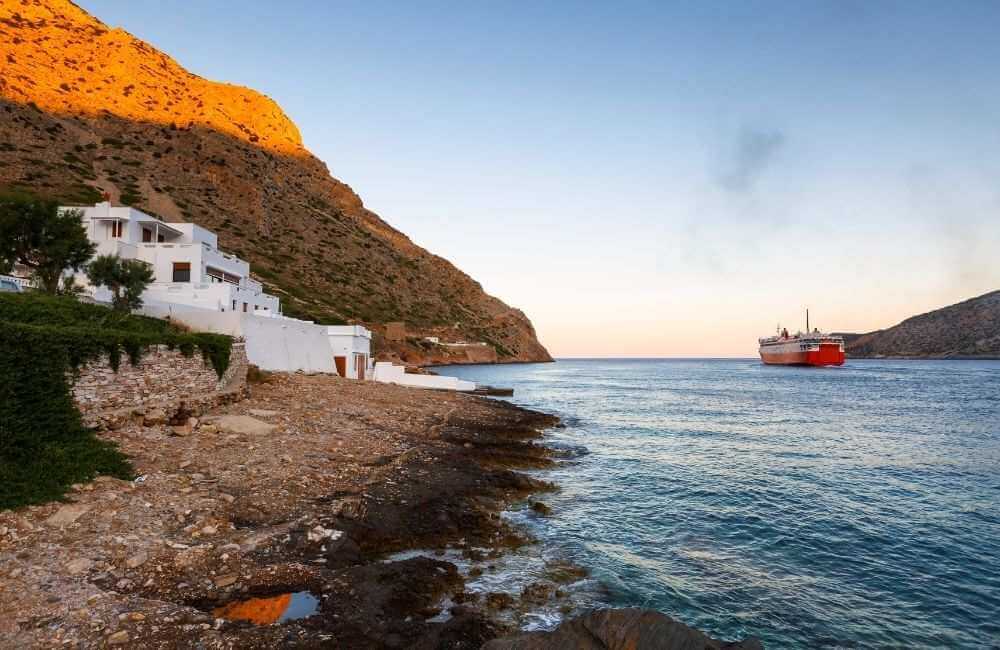 The trip can be quite short if you book a ticket on a high-speed boat (a bit more than two hours). The traveling time on regular ferries is about 5 hours.
How to Move around in Sifnos
Once you've reached Kamares, it's possible to use the public bus to get to Apollonia and Artemonas, there are hourly buses with an increased frequency during the hot season.
You still need to take the same bus to reach other destinations, but you will need to change the bus once you arrive at the capital of the island.
Other places you can reach by bus include Faros, Platys Gialos, Kastro, and Vathy.
Car rental can offer great freedom to those who are eager to explore and maybe stay in one area longer than what any bus schedule would dictate.
I trust this car rental search engine ahead of time to secure the right model of car I enjoy driving.
The island is a great place to visit by motorbike or by bicycle too since most of the roads are in quite good condition.
Essentials You Should Pack for Sifnos
Beach & Excursions: Other than the essential swimming suits, pack your snorkeling gear, and a high SPF lotion.
Hikers will certainly walk better when wearing breathable walking shoes and add a good quality hat to your outfit.
If you want more details about how to prepare your beach bag, check out this article!
Clothing and accessories: Pack clothes that you can easily mix and match. Choose breathable material or garments that dry fast for you to wash and wear the day after. Three t-shirts, two pairs of shorts, and a couple of summer dresses will be more than fine.
For men, a nice shirt for dinner, three to five t-shirts, plus two pairs of shorts or bermudas are more than enough for a week on the islands.
When it comes to shoes, if you're a woman, avoid heels and prefer flat sandals or wedges. For men, the best shoes are summer loafers or soft leather sandals.
Don't leave your flip-flops at home and don't forget your toiletries, your electronics, your photo camera, extra memory cards, and a good guide to the Greek islands.
On Sifnos for a Short Visit? Don't Miss…
If you're visiting Sifnos for a couple of days only, don't miss these three things:
Admire Chrisopigi Monastery: Walk to this religious complex to enjoy one of the most gorgeous views in the Aegean.
Visit the fishing village of Vathy: If you like quaint, traditional villages, spending a day in Vathy (or Vathi) will transport you to heaven.
Read More about Sifnos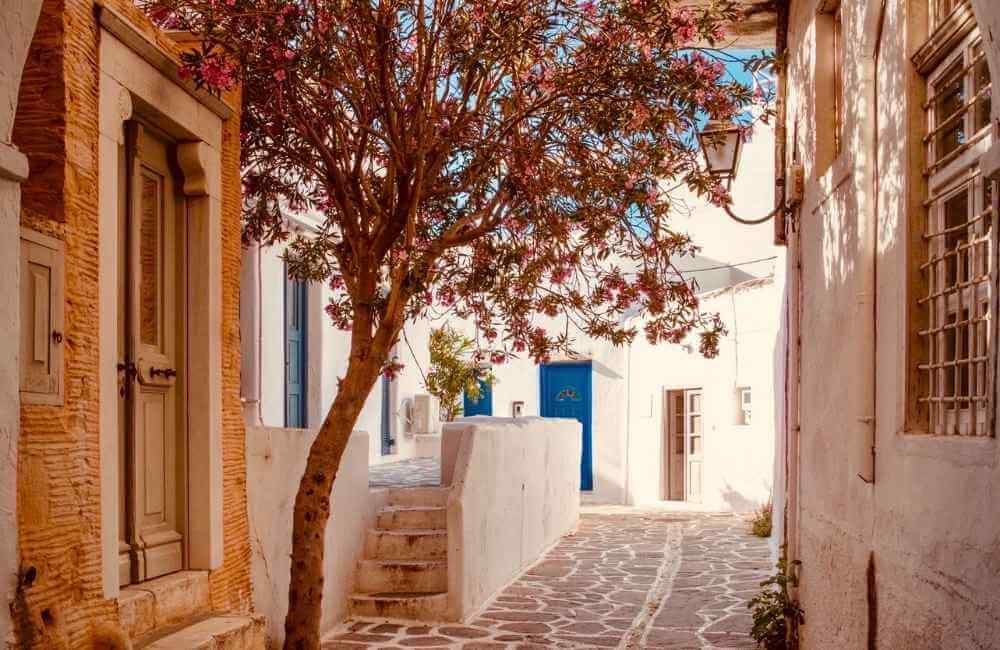 ---
Are you visiting Sifnos this summer?
Let me know in the comments below!
You might also want to read these Greece travel blogs:
---
Pin This Guide to the Best Things to Do in Sifnos for Your Travels!
About the author of this blog: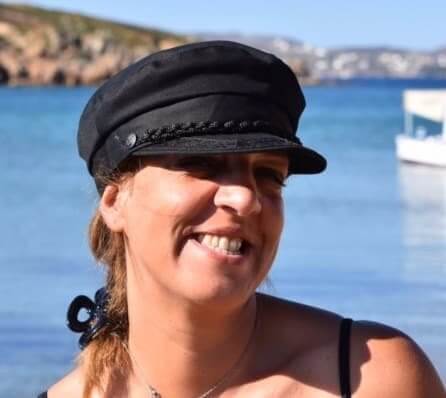 Gabi has been living in Crete for the last five years. On the island, she juggles being a solo mom, hosting culinary tours in summer, translating, and freelance writing.
She's written for Greek Reporter, published several travel guides about Greece, and had more glasses of frappe than any regular person would be able to handle.