Thinking about taking a vacation in Greece? There are so many gorgeous islands to explore, with their very own charm. As such, it's going to be hard to find an island that suits you best. Crete and Lefkada are both popular choices, but they do offer different experiences. Still not sure whether Crete or Lefkada is the right choice for you? Read on!
---
Disclaimer: Posts include affiliate links to products or services and I might earn a commission if you make a purchase, at no extra cost to you. This allows me to continue writing helpful articles for your travels. I only recommend things I use myself or that I believe will deliver value to you. 
---
Crete or Lefkada? Where to Go in Greece…
Let's start by describing the top characteristics of each island…
All About Lefkada
So first of all, let's take a look at Lefkada. It's one of the biggest Greek Ionian islands, which are known for their natural beauty and green landscapes. And it's also one of the top places to go if you're looking to enjoy outdoor adventures in Greece.
The island is home to a dramatic mountain landscape, combined with unspoiled beaches, often listed among the most stunning in the country. In fact, many say that it has the best beaches in Greece, period. 
Lefkada has become a tourist hotspot, as many have discovered the beauty of the area as well as how easy it is to reach with a direct flight from many European cities. As such it can get quite crowded.
However, you can visit during the shoulder seasons (May-June and September-October) and get the full experience, without the crowds. 
All About Crete
Being this a blog that heavily focuses on Crete, this would be an easy choice if I was the one to make it. But if you're here is simply because you're still not sure whether to choose Crete or Lefkada. So, yes, Crete is your other option, and it's also another popular Greek destination.
There's a real melting pot of cultures here, with Minoan, Venetian, and Turkish influences all contributing to the feel of the island.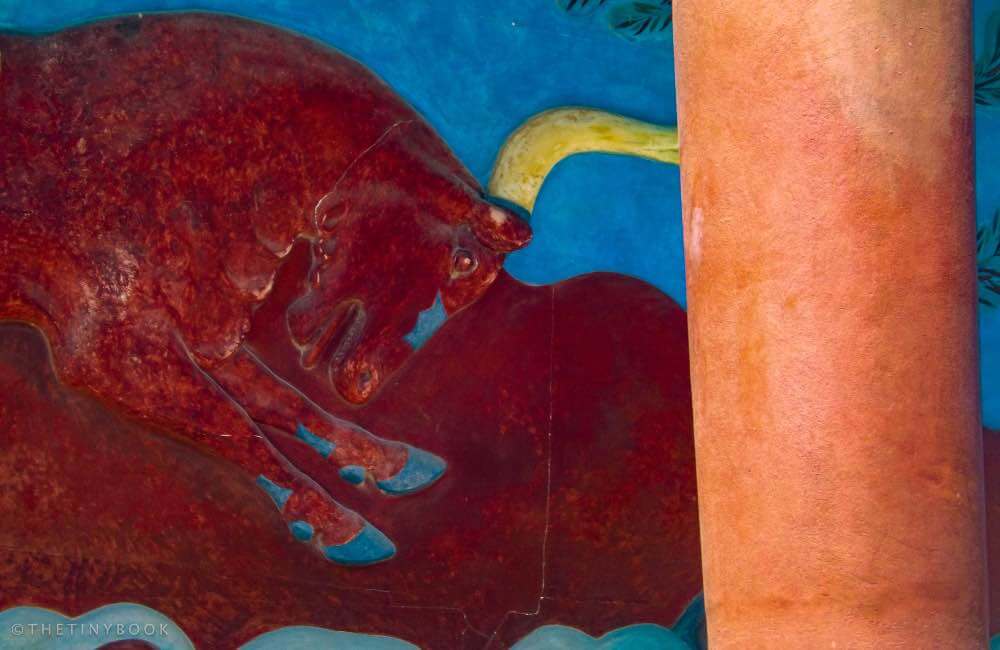 Just like in Lefkada, you'll see there's some great natural scenery, including impressive mountains, valleys, and some of the most stunning gorges in the country.
There are certainly lots of beaches where you can lay in the sun all day, should you want to relax, and plenty of opportunities for water sports too. If you want to explore though, you can find plenty of archaeological sites, traditional villages, and monasteries where you can learn more about the island and its history. 
Crete or Lefkada: Which is the Best Destination?
Of course, every person is different and so will be looking for something different from their holiday. That's why you should compare Lefkada and Crete, and see which one is better for you. Let's take a look and see what they both offer.
Family Friendly Resorts
If you have children, you want a holiday destination that will give you something for everyone. You may already know that Crete has a lot of family friendly resorts, so you can take your pick and enjoy your time together in the sun.
These resorts offer lots of activities so the little ones will be entertained, while you can relax. Of course, you'll be able to visit the beaches and other tourist destinations as well, so there's lots to do. 
You might also want to read this guide to Family Holidays in Crete or this guide to the Best Family Hotels and Resorts on the island.
Lefkada has a much more laid back vibe to it, so you'll need to consider if it's the right destination for your family. You certainly could visit for a day or two with the kids to visit the island's amazing beaches, but it may not be your main destination for your trip to Greece. 
Relaxing Atmosphere
For those who want to go on holiday and simply relax by the pool or at the beach, with nothing to do but sunbathe and maybe read a book… Lefkada might prove the best choice. If that sounds like your kind of holiday keep in mind that Lefkada offers many great beaches. So you can take your pick and stake out your sunbathing spot for the trip. 
While Crete feels more busy, there are times you can go when it's more relaxed, bbesides the island is so big that finding a spot all for yourself is not that hard at all.
You can also find seaside resorts that are just for adults, should that be something you want too. You may want to choose your timing carefully to get the right atmosphere here, though.
Tourist Season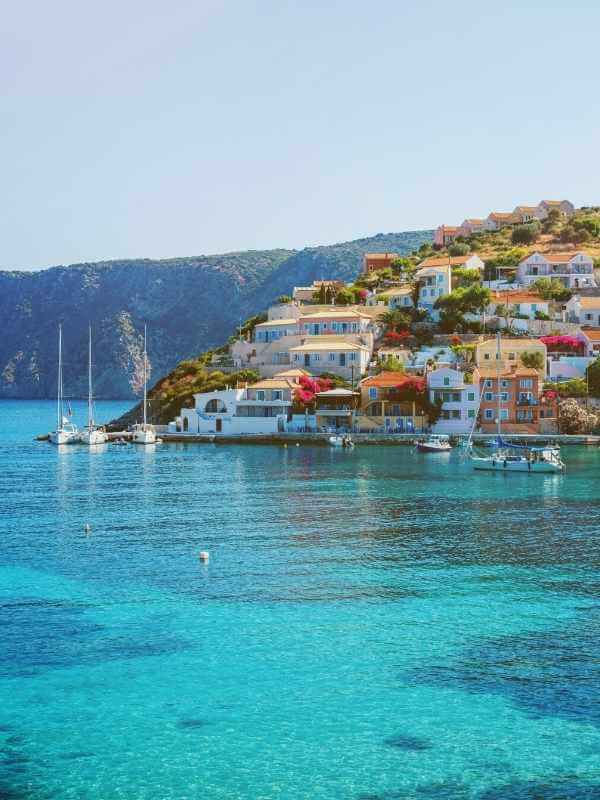 Most visitors will want to visit Greece when it isn't as crowded. The problem is, both Lefkada and Crete are popular destinations.
If you visit during the busy seasons, then you'll be rubbing shoulders with tourists wherever you go. The good news is, there are quieter seasons when you can go and properly enjoy the experience. 
As mentioned above, that's the so-called shoulder season, when all over Greece visiting is easier as the environment gets quieter to visit. Typically, these are late April to early June, and mid September to the end of October.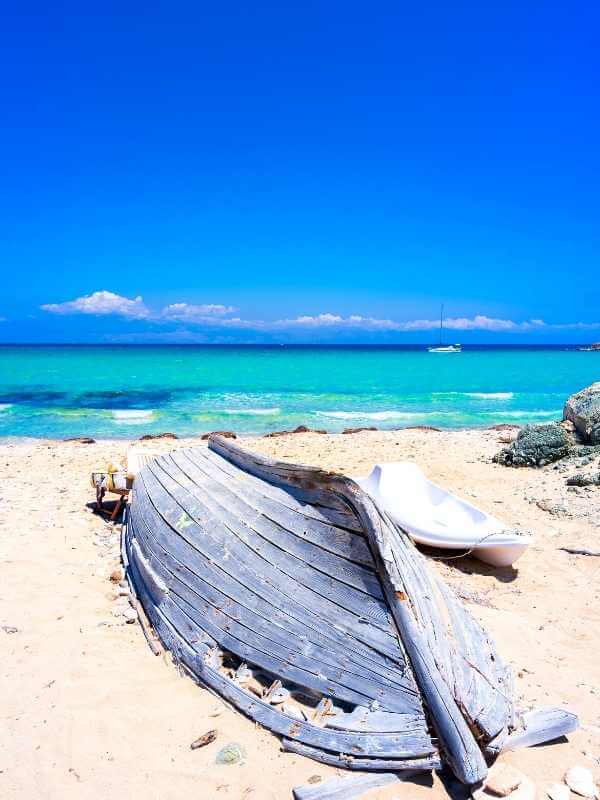 You'll still get the beautiful weather and be able to enjoy everything, but you won't be fighting with other visitors for space as you do so. 
These timings are very true for Crete as well. For many, they like to stay into late autumn, as the weather stays warm for a long time here. It's a great destination if you want to escape the grey cold weather from the rest of Europe. 
Best Beaches
When it comes to beaches, it's hard to say which islad has the the upper hand. While some consider the beaches in Lefkada to be the best in Greece, and for good reason, other people might argue that the beaches in Crete are different and unbeatable: exotic shores like Balos and Elafonisi with its unique pink sand, or home to a distinctive hippie vibe!
On the other hand, Lefkada is famous for boasting beaches with white sand and turquoise water as far as the eye can see. In fact, there are so many beaches to choose from on the island. Porto Katsiki has a dramatic mountain backdrop for example, while Egremni Beach has one of the most unspoilt stretches of water you've ever seen.
History and Culture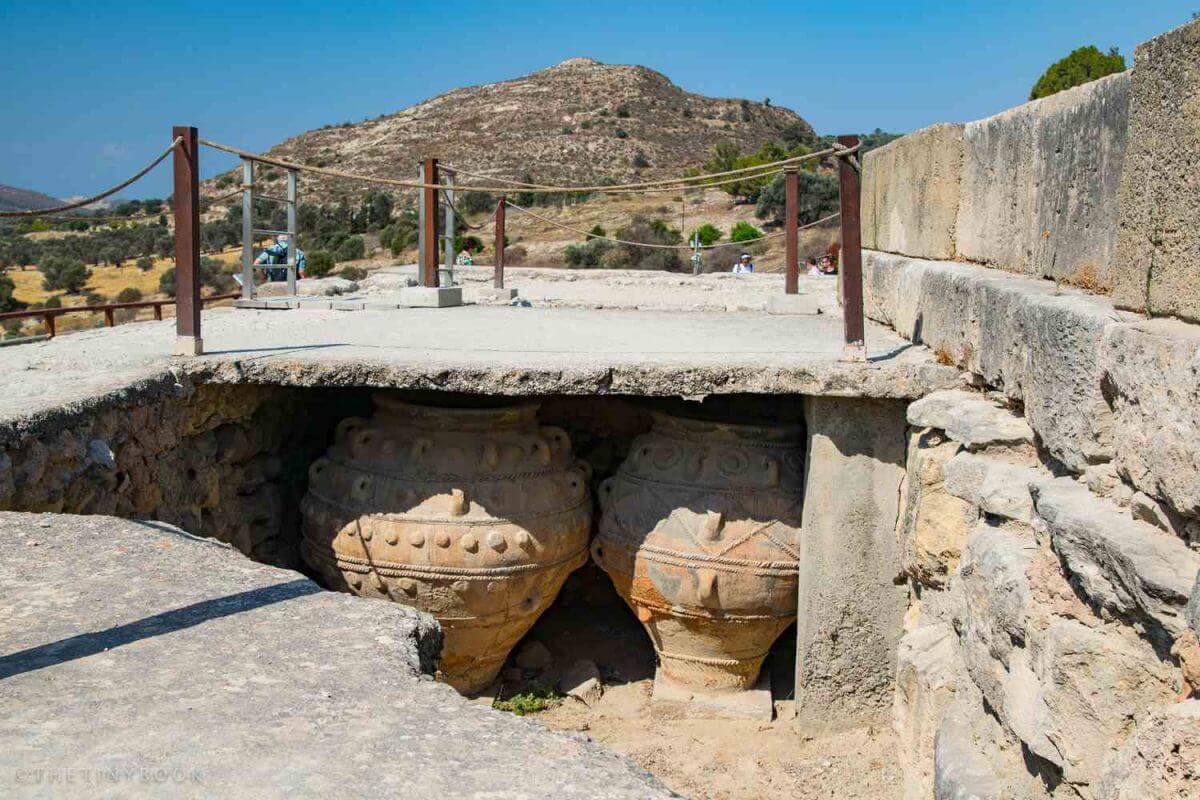 While sunbathing is a great part of any holiday, it's not everything that you want to be doing while you're in a different country. If you want to get out and explore, which island has more to offer you?
This is where Crete shines, as there's so much to see and do. Part of this is because it's a bigger island, so you'll be able to find a lot more to enjoy while you're here.
As touched on earlier, there are a lot of archaeological sites to check out, places that will tell you a lot about the history of the island and the country too.
For example, you can visit Chania's Archaeological Museum, which has just opened its door in a brand new building in the historic district of Halepa, right out of town. 
This is something that Lefkada is also able to offer you but in a more limited way. For instance, you can check out the interesting ruins of the Temple of Apollo, check out several ancient monasteries, or even pay a visit to the well-preserved castle of Agia Maura. 
How Long You Should Stay
Something else you want to keep in mind when you're considering whether to go to Crete or Lefkada is how long you want to stay. No one wants to get to their destination, without realising that there's only enough there to see and do for a couple of days at most. Ok… let's be honest, that's really never the case in Greece though.
However, it's good to keep in mind that being Lefkada much smaller than Crete, this is the right destination for a shorter holiday. This destination is well suited to short trips and you can see everything it has to offer in that time frame. 
This means that if you plan to take a longer vacation, then you might want to consider a visit to Crete. Most visitors agree (and those of us who live here confirm it) that you can travel around Crete for two weeks and still not really scratch the surface of what the island has to offer. As such, it's one of the best places to go in Greece if you want a longer vacation.
Being the island so large (its surface is about 8,336 km2 or 3,219 sq miles), there's so much packed onto the island that there's really lots to see and do. 
As you can see, both islands have their charms, but many find that Crete has the upper hand for them. It's a bigger island, with lots to do and family friendly resorts too. Of course, you can always visit Lefkada and check out those amazing beaches that perfectly embody the essence of Greece!
About the author
This is a collaboration article: Madeline Miller is a writer at Best Essay Writing Service, where she covers travel tips for readers. 
Have you made up your mind? Are you visiting Crete or Lefkada soon?
Let me know in the comments below! 
You might also want to read these Greece travel blogs:
Last-minute plans for Greece?
Get there: Use Ferryhopper to book your tickets.
Stay: Find great accommodation deals on Booking.com.
Move around: Compare car rental prices with Discover Cars.
Tours: Check the most popular places with GetYourGuide.
Read more: Pack the Lonely Planet Guide to Greece.
Pin this Guide to Decide whether to Visit Crete or Lefkada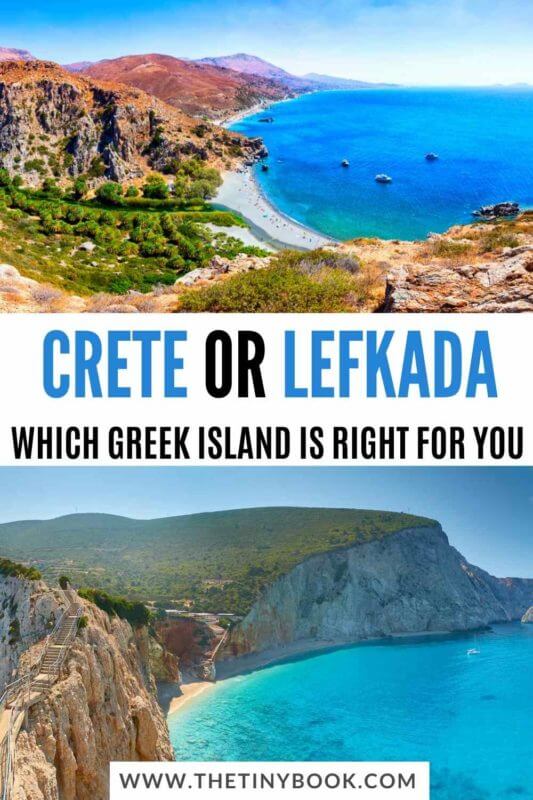 About the author of this blog: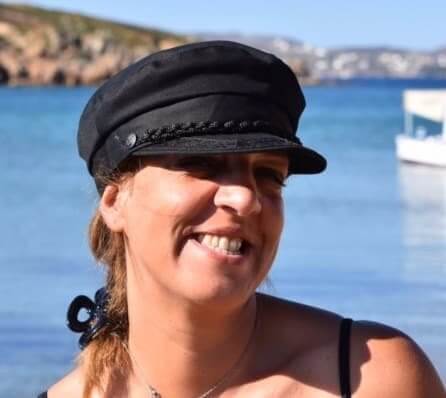 Gabi has been living in Crete for the last five years. Here, she juggles being a solo mom, hosting culinary tours in the summer, translating, and writing for The Tiny Book and her other blogs.
She's written for Greek Reporter, published three travel guides about Greece, and had more glasses of frappe than any regular person would be able to handle.
COMING TO CRETE SOON?
Get in touch and let me know!