When deciding where to stay in Crete there's a lot to consider if you're bringing the kids along. It's important to keep in mind both their age and their interests, doing things that keep them entertained, relaxed, and happy, but that are educational and fun at the same time. Crete can offer all that and more, you just need to choose the right place that combines all that. To help you find the right place, I've put together this guide to the best places in Crete for families… Enjoy reading!
---
Disclaimer: Posts include affiliate links to products or services. I might earn a commission if you make a purchase, at no extra cost.
---
Best Places to Stay in Crete for Families
Do your kids love playing by the sea making sandcastles or do they prefer snorkeling and marveling at the colorful pebbles at the bottom of the shore? Are they teens, and therefore old enough to go out until a bit later at night, or are they into outdoor sports and adventures? Are they curious about Greek mythology, the fascinating Ancient times, and old civilizations?
As you can see, there is a lot that can ignite your child's curiosity and imagination, and the best part of it is that during family holidays, they'll have enough free time to do more of what they like.
It's also important to consider that kids have times and needs that are different from ours. What do families need when they're on holiday? They need their kids to be having a good time!
And for me, that equals kid-friendly beaches together with fun, main attractions, and engaging activities.
For that reason, in this guide, I won't only combine kid-friendly sandy beaches with fun and engaging outdoor or learning activities, but I will also add basic services (such as supermarkets, a bank, restaurants, pharmacies, and maybe even a nearby doctor) that will make your time in Crete a breeze!
Let's discover where to stay in Crete with kids.
You might enjoy: Fun Things to Do in Crete with Kids.
Best Places to Stay in Crete for Families
The 4 Regions
Best Places to Stay in the Chania Region for Families
Chania is a great location in Crete for families, offering plenty of things to do for children. The city of Chania offers cultural activities and interesting places that keep kids entertained, but there are also many towns and small villages that are perfect for families, water parks, hikes like Samaria Gorge, and other interesting and entertaining things to do.
Akrotiri Peninsula
The region of Chania is great for kids that love the beach, their families won't only have easy access to Elafonisi or Balos, two of the best beaches on the island, but there are many kid-friendly and super beautiful beaches in the Akrotiri Peninsula, such as Stavros, Tersanas, and Kalathas. You can stay in any of these villages. They are tranquil and have nice beaches – all of them safe for children, but they are also very close to Chania.
Paradisio Baby and Kinder Hotel – This resort was made with kids in mind. Paradisio is a whole different story. The hotel is a short walk from Stavros Beach with its emerald crystal clear water.
It has a huge play area, a go-kart track, a treehouse, a ping-pong table, and an animal farm.
The units have 2 separate bedrooms, a kitchen, and a living room.
Click here for more information and the latest prices.
Villa Krini – This complex of studios in Kalathas, one of the best areas in Akrotiri, is within 500 meters from the beach.
It has a pool, a sun terrace, and self-catering units with a balcony, kitchenette, and dining area.
Click here for more information and the latest prices.
Frangokastello and Paleochora
If you want to take a day trip to kid-friendly beaches that are wide, safe and offer a wonderful natural environment for families, it is a good idea to head south.
On the southern coast of Chania, Frangokastello is one of the best beaches for families, besides, this tranquil seaside settlement has a fascinating castle by the beach that kids will enjoy exploring. Also, Paleochora on the south coast and Falasarna (on the west coast) are good places to stay. Paleochora offers more facilities and activities, while Falasarna, is not far from the main town of Kissamos, but the village remains quite remote and might be great for older kids that want to try water sports.
You might enjoy: Fantastic places to stay in Falasarna or Best Holiday Homes in Paleochora.
Capitan Tom – Located in Frangokastello, this property is set amid a large garden with a pool surrounded by a sun terrace. The studios and apartments are spacious and have a private balcony.
Click here for more information and the latest prices.
Chania Old Town for Families
Kids that enjoy cultural activities, museums, and engaging entertainment, the old town of Chania offers a lot to see and do. Children love both the Archaeological Museum of Chania as well as the Maritime Museum. The Archaeological Site of Aptera is a great cultural visit, not far from the city center, while the gorges of Theriso and Imbros are fairly close too and give the opportunity to discover the attractive natural areas in the region.
Estia Residence in Chania Old Town – One of my favorite properties in the hidden quarter of Splantzia, offers accommodation with 4 bedrooms, 2 bathrooms, a dining area, a fully equipped kitchen, and a patio with garden views.
Click here for more information and the latest prices.
Best Places to Stay in the Rethymnon Region for Families
Rethymnon is a very family-friendly region, an ideal place filled with relaxing places for families to enjoy a vacation by the sea, great little villages, easy-to-hike gorges, such as Patsos Gorge (also known as Saint Anthony), and many outdoor experiences available for kids of all ages.
The south of the region is also quite family-friendly, beaches such as Ligres and Tripetra are remote but also wide and good for kids to play and run without any risk of getting lost. Ligres, with fine sand and gorgeous springs, is a fun place for small explorers.
Enjoying a boat ride from Plakias to Preveli Beach or going for a hike can be two great things to do in the south of Rethymnon.
Hiking the Preveli forest of lush vegetation and palm trees right by the river which ends by the sea can be a great challenge for children.
The region has also the beautiful Melidoni Cave to explore not far from the pottery village of Margarites, or they can learn about history in the monasteries of the region both Arkadi and Preveli.
Adelianos Kampos and Pigianos Kampos
The small villages of Adelianos Kampos and Pigianos Kampos are located about 20 minutes from the center of town, they are small but lively seaside resorts, with shops, restaurants, arcades, and entertainment. They are perfect to avoid staying in the old town if you are looking for a more relaxed place to stay just steps from the beach.
Matthias Hotel Apartments – We stayed in this apart-hotel back in 2014. It offered comfortable apartments with a nice kitchen and a balcony, a great morning breakfast, and a relaxing pool good for adults and kids.
The apartment is on the main road of the village, offering easy access to the beach, shops, and tavernas.
Click here for more information and to check prices.
Caramel Grecohotel Boutique Resort – One of the best hotels in the area, this property has an outdoor pool and offers tastefully decorated accommodation, some with panoramic views of the Cretan Sea. Every morning, guests are served a buffet breakfast including Cretan delicacies. Later, they can enjoy a meal at the on-site restaurant.
A snack bar and room service are also available.
Agreco Farm, 1.9 mi away, is set amid olive trees and vineyards and offers unique culinary experiences with organic produce for the whole family.
Click here for more information and to check prices.
Old Town of Rethymnon with Kids
A stay in the old town can be fantastic when you have older kids and teens who might enjoy a bit more evening entertainment.
The city has interesting places to discover the local history, for instance, the Venetian Fortress and the Archaeological Museum. Smaller kids can enjoy a boat trip on a Pirate Ship and have the time of their lives!
Moreover, the alleys of the old town have excellent restaurants and tavernas, but also many shops and entertainment thought for your adults.
Don't forget that Rethymnon is home to a very important university, which makes this town lively and fun all year round.
Esterka – This family-friendly villa is located in the old town and offers a lot of features for families. These include a beautiful garden with a small playground, the house is close to Rethymno Beach, it has a terrace, a private pool, and free private parking.
Click here for more information and to check prices.
Panormos
Panormos is a picturesque beach town on the north coast of Rethymnon with a lovely traditional vibe, fantastic narrow alleys with traditional homes, shops, and delicious tavernas.
The little town has a gorgeous harbor, and three different beaches with calm waters and sheltered from the winds that often affect the northern coast of Crete.
The town is a good family-friendly option, it is quiet and close to many attractions in the region too.
Iberostar Creta Panorama & Mare – Situated a 5-minute walk from the beach, and 4 km from Panormos, the beachfront Iberostar Creta Panorama & Mare is an elegant complex with 6 pools, a spa center, and 3 restaurants. Each modern room enjoys views of the garden and the sea from its private balcony. On the premises, it is possible to practice numerous sports and there is a children's area with activities and entertainment.
Click here for more information and the latest prices.
Best Places to Stay in the Heraklion Region for Families
Hands down, the most entertaining area to stay for kids is Heraklion, which offers tons of things to do for families. Very near the capital, you will find fantastic theme parks, water parks, museums (some of them especially interesting for kids, such as the Natural History Museum), and the wonderful Knossos Palace.
Every year, the city hosts cultural events and summer festivals, and it also offers the possibility to choose from a variety of day trips and excursions that will take you anywhere on the island.
Heraklion offers real-life experiences, sports, cooking lessons, and a lot more.
Amoudara and Agia Pelagia
These two coastal towns are located minutes from Heraklion, on the northern coast. Amoudara (or Ammoudara) is less than 15 minutes from the city center and its main attraction is the wide sandy beach. There are shops, restaurants, and other convenience stores, but you will need to go to Heraklion for entertainment.
If you want to stay in Amoudara, renting a car is the best option although there are enough public transport options to reach the center of town, and a taxi ride is also affordable.
Agia Pelagia is another of my favorite places to stay near the center of Heraklion with children. There are a few different bays with beaches for water sports and relaxation that focus not just on kids but on the whole family.
Amounda Bay – This 4-star hotel is a gorgeous place for families This property in Amoudara has an outdoor pool surrounded by sunbeds within minutes from the beach. The hotel includes a restaurant and a snack bar. All air-conditioned rooms at the hotel open out to a balcony.
Click here for more information and the latest prices.
Stalida
A little further away towards the east, Stalis (or Stalida) is a fantastic family-friendly resort about 30 minutes from the center of Heraklion.
This resort has a wide, sandy, and shallow beach, perfect for toddlers and small kids that are just learning to swim. Besides, it is easily accessible from the National Road, allowing easy access to the center of Heraklion, which is about 20-30 minutes from the village. It is also very close to the archaeological sites of Malia and Knossos, as well as different theme parks, water parks, and CretAquarium.
Eurohotel Katrin Hotel & Bungalows – Situated a short 3-minute walk from the beach, Katrin Hotel & Bungalows is within walking distance from the small entertainment and shopping area of Stalis village, with tavernas, bars, and stores. The rooms and bungalows are spacious and comfortable, equipped with modern amenities. On the property, there are 2 swimming pools, a pool bar, a restaurant with outdoor and indoor spaces, pool tables, a children's playroom, and other entertainment facilities.
Click here for more information and the latest prices.
Heraklion Town for Families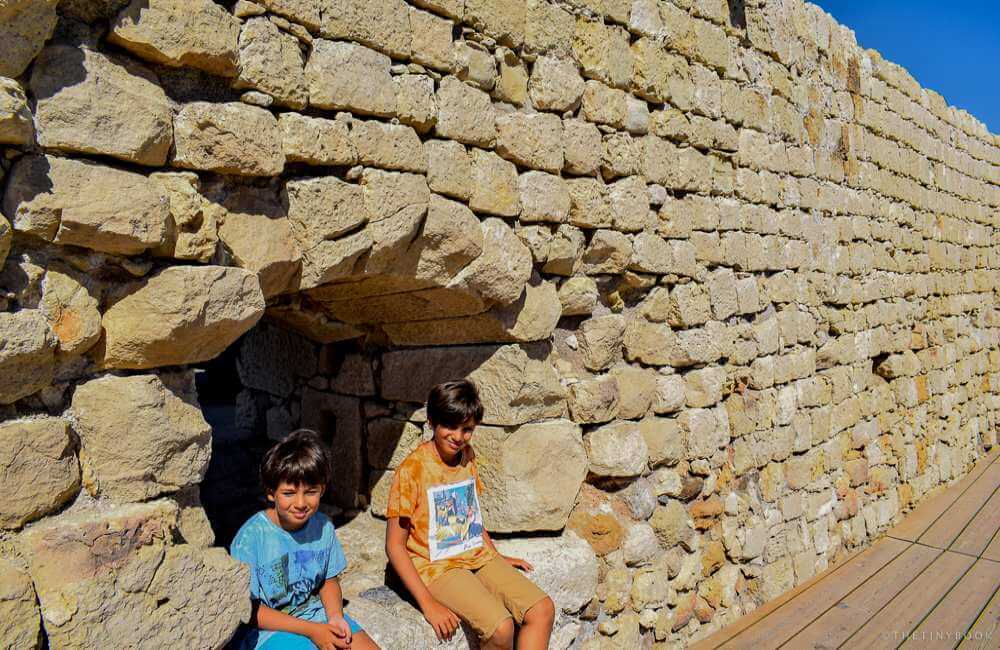 There is a lot to for in Heraklion for children, including fascinating archaeological sites, such as Malia (small and easy to visit with kids) and Knossos, educational activities, fantastic theme parks, and countless adventurous activities. So there's plenty to do in Heraklion with kids, therefore, staying in town is a sensible idea.
Moreover, if your kids enjoy road trips, Heraklion has a central position on the island, allowing travelers to move across the region and the whole of Crete with ease and with shorter driving times if you compare them with trips you would make if you were staying in Chania or Lasithi.
Sofia Hotel – One of the few hotels in town offering a refreshing swimming pool and deck with loungers, this is an affordable hotel in town, close to Heraklion Airport (about 2 km away), so your transport or transfer fees will also be quite contained. According to most reviews, their breakfast is truly delicious!
Click here for more information and to check the latest prices.
Kamilari and Matala in the South
My family loves Matala, and this comes from very personal experience, I hated Matala when the kids were small! The beach was not shallow enough and the waves were a bit rough on them. Being on Matala Beach with kids meant needing to keep an eye on both of them all-the-time. It was a bit stressful so we normally used to spend our days in nearby Kamilari for more kid-friendly beaches.
However, not that they're older, Matala sounds like real fun! They do enjoy the seaside town and all the entertainment it offers as well as the interesting things to do nearby.
There are beach bars for a relaxing afternoon by the sea, music bars, and tons to do, such as exploring the caves, visiting the nearby Phaistos Palace and Gortyna Site, and even going hiking in the mountains to nearby beaches.
We enjoyed hiking to the Red Beach and spending the day there, but also visiting Kommos Beach with its abandoned seaside archaeological ruins.
Matala is a great destination for teens!
If you have teens, I suggest: Best things to do in Matala and How to Get from Heraklion to Matala.
Nikko Summer Home – This is a comfortable place to stay in Matala for a family. Among the most important characteristics, the house provides air-conditioned spaces, a balcony, and both sea and city views. It has 2 bedrooms, a flat-screen TV with satellite channels, a kitchen with a dishwasher, and a fridge, a washing machine, and 2 bathrooms. The place is also perfect for groups of friends.
Click here for more information and to check the latest prices.
Korfes Apartments – This is a beautiful place to stay set amid a well-tended garden in the village of Kamilari, with communal BBQ facilities and a playground for kids.
The self-catered studios open out to a terrace overlooking the mountain and the garden.
In every unit, the kitchen area includes a stove, fridge, coffee and tea facilities, and a small dining table. Perfect both for a short and a long stay in the area.
Click here for more information and to check the latest prices.
Best Places to Stay in the Lasithi Region (and Agios Nikolaos) for Families
Plaka
For kids who are into stimulating landmarks, Plaka can be a great place to stay in Crete with the whole family. This small village allows you to visit the Island of Spinalonga with a short but gorgeous boat ride. Also, the nearby Agios Nikolaos can offer entertainment, while Elounda, the village right next to Plaka, is an interesting place for kids with its sunken ancient town that can be explored snorkeling but also from the surface.
Athina Villas – Only a 5-minute walk from the beach, the accommodations come with a well-equipped kitchenette and a dining area. In the surrounding area, there are stores, a mini-market, bars, taverns all close to the bus stop as well. An array of outdoor activities such as cycling and diving can be arranged upon charge.
Click here for more information and to check the latest prices.
Kalo Xorio – Voulisma
This is a perfect place if you don't want to stay in Agios Nikolaos but still want to use this town for some after-beach entertainment, to visit museums and churches, and have access to a wide variety of restaurants a few by car from your accommodation. But and mostly because Voulisma is a perfect beach for families while the tranquil village of Kalo Xorio offers a wide range of family accommodation.
Near Voulisma, you can take your kids to visit the imposing ancient olive tree in Kavousi village, check the archaeological site of Gournias, or visit even more beaches along the coast. Voulisma is also close to Richtis Gorge, another place that kids have fun exploring and which promises a gorgeous waterfall at the end of the trail.
You might enjoy: How to Visit Vai Palm Beach, Crete: Complete Insider's Guide.
Anemone Homes – Convenient facing the magnificent beach of Voulisma, in Kalo Chorio, about 15 minutes from the heart of Agios, this stylish place is perfect for families. The homes have fantastic balconies that offer impressive views while they are well-equipped for a convenient vacation.
Click here for more information and to check the latest prices.
Makrigialos and Myrtos
Both Makrigialos and Myrtos are excellent places for a restful vacation with the family fairly close to Ierapetra. In the area, you can check the museums of Lasithi, the villages, and the archaeological sites.
Makrigialos (or also Makry Gialos) is a beautiful seaside town east of Ierapetra. It has a nice, shallow bay with several small beaches to spend the day, plenty of tavernas next to the sea, and it is even possible to board a boat from here for a day trip to Chrissi Island.
If your kids enjoy adventures, add Achlia Gorge to the vacation plan. This small and rather wide gorge is fairly easy to walk in about an hour. It has waterfalls and unique views. The best way to access the gorge is from the beach of Achlia, 7 km from Agia Fotia Beach.
Myrtos (also written Mirtos) is about 14 km to the west of Ierapetra and it's another small town that can be great for family holidays. It is a very traditional village, where kids can also enjoy a small archaeological and folk art museum with artifacts found in the nearby Minoan site of Pyrgos.
Myrtos Mare Suites – The accommodation is air-conditioned and has a seating area, a kitchenette fitted with an oven, a microwave, and a coffee machine. Their family maisonette accommodated a family of four with direct views of the sea.
Click here for more information and the latest prices.
Big Blue Apartments – Situated just one minute from the beach, this traditional property offers self-catered accommodations with a kitchenette and seating area. There is a balcony or patio with views of the Libyan Sea or the garden.
Guests can enjoy a daily breakfast, as well as a variety of juices, coffees, cold beers, and ice creams at the Big Blue beach bar. Taverns, a supermarket, and a pharmacy are within walking distance.
Click here for more information and the latest prices.
After reading this post, which looks like your favorite place to stay in Crete for you and your family?
Let me know in the comments below!
You might also want to read these other articles about Crete:
– Unmissable Things to Do in Crete – A guide with over 50 incredible things to do on the island.
– Safest Beaches in Crete for Kids – A guide to the best family-friendly beaches on the island of Crete.
– Where to Stay in Crete for the Best Beaches – A guide to the best places and hotels in Crete.
– The Most Gorgeous Beaches in Rethymnon – A guide to visiting the top beaches in Rethymnon.
– Best Luxury Resorts in Crete – A complete list of 5 and 4-star resorts in every region of Crete.
Get Ready for Crete!
RESOURCES TO BOOK YOUR TRIP:
Book your flight: I use Skyscanner to compare prices before booking a plane ticket.
Book your ferry: When ferries are more convenient than air travel, I use Ferryhopper.
Book your accommodation: I've tried many different platforms for accommodation, but none of them beats the advantages of Booking.com.
Book your car: The best way to find an affordable car to rent is to use a powerful search engine that compares all the rental companies in the market. I use Discover Cars.
Book your tours: Live unforgettable adventures and cultural experiences with Get Your Guide. For instance, you can Visit Elafonisi, discover Balos Beach, hike Samaria, or explore Knossos.
Don't forget travel insurance: Things can go wrong at times, but travel insurance will protect you against illness, injury, theft, and cancellations. I recommend Safety Wing for peace of mind.
Pin This Guide to the Best Places to Stay in Crete for Family for a Fun Holiday on the Island!
About the author of this blog: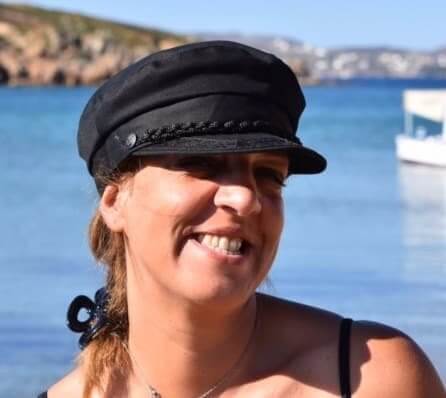 Gabi has been living in Crete for the last five years. On the island, she juggles being a solo mom, hosting culinary tours in summer, translating, and freelance writing.
She's written for Greek Reporter, published several travel guides about Greece, and had more glasses of frappe than any regular person would be able to handle.
COMING TO CRETE SOON?
Get in touch and let me know!