The Best Olive Oil from Crete: Did you know that there are two main olive varieties in Crete and that they are completely different from the olives growing in the rest of Greece? Olives in Crete produce that top-quality oil that gives a completely different taste to anything you try, and Cretan Extra Virgin Olive Oil has unique healthy characteristics you will want to know all about.
---
Disclaimer: Posts include affiliate links leading you to products or services, I might earn a small commission if you make a purchase. This has no extra cost to you but allows me to continue writing articles that are helpful for your travels. I only recommend things I use myself or that I believe will deliver value to you. 
---
The Best Olive Oil from Crete
Read on and discover every secret about Crete's green treasure: Extra Virgin Olive Oil, the best olive oil from Crete.
Cretan Olive Oil Back in Time
Research has found that the origins of the olive tree can be traced as much as 60,000 years back in history. And the island of Crete might as well be the place where everything began.
It was in Crete where the oldest container for storage of olive oil was found, and it is roughly from the year 3500 BC.
In Minoan times, for instance, the olive tree was not only a source for oil but it would be used as fuel and even wood as a raw material for the construction of boats and houses.
And that's not everything, it's believed also that once the olives had been pressed and the oil extracted, the remaining pulp, leaves, and cores would make a great substance to feed cattle and domestic animals.
In history, olive oil played a key role in everyday life, it would even be used to lit lamps, and wood for heating purposes as well.
LAST-MINUTE PLANS FOR CRETE?
– Use Ferryhopper and Skyscanner for the best ticket rates.
– Find great accommodation deals on Booking.com.
– Compare car rental prices with Discover Cars.
– Check the best tours with GetYourGuide.
– Visit Elafonisi, discover Balos Beach, hike Samaria, or explore Knossos.
– Pack the Lonely Planet Guide to Crete or get my digital guide to Chania.
SMART STAY IN CHANIA: For business or a holiday, seasonal or throughout the year, Dimitris City Break Apts is a cozy, peaceful, and sun-drenched place to stay in town. Get in touch with the code TinyBook for a 10% discount!
The Olive Tree in Ancient Greece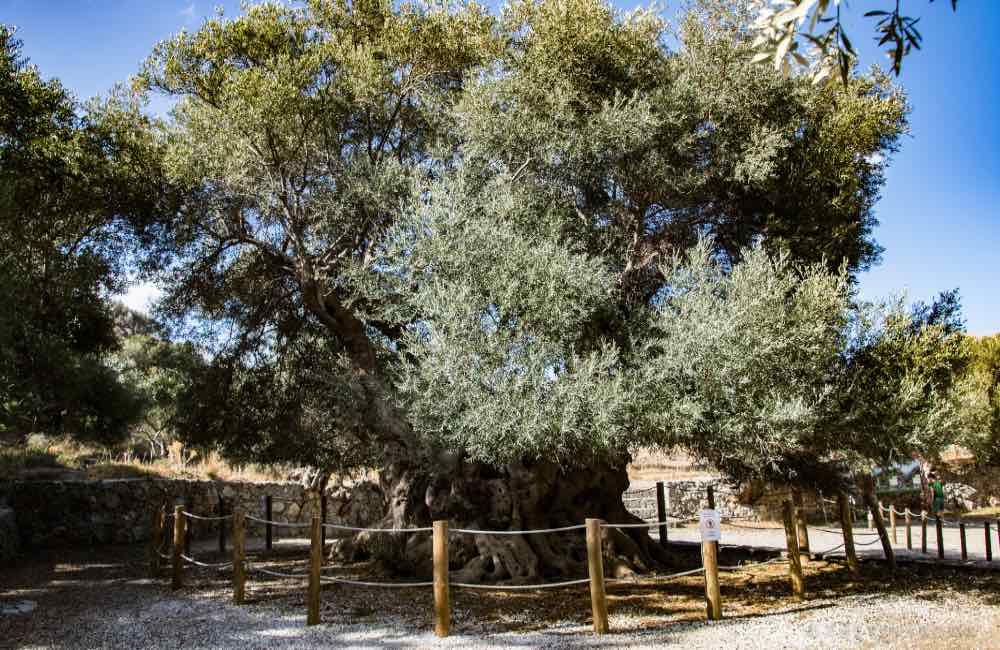 The monumental ancient olive tree, Kavousi, Lasithi.
The olive tree provided for countless basic needs. It didn't take long for it to become an iconic image of wealth and prosperity. Olives were given to the Gods in Ancient Greece as a precious offering.
For instance, on top of the Acropolis, in Athens, there's a sacred olive tree related to the legend according to which, during a contest between Poseidon and Athena to rule over the city, goddess Athena chose an olive tree as a gift to the city, which the Athenians preferred over Poseidon's gift.
Full of unique qualities, the olive tree since then stands as a symbol of victory, peace, and abundance. Its leaves have for ages crowned the heads of kings and victorious athletes in the Olympic Games.
You might also read: Best Hotels in Hersonissos For Your Fun Crete Holiday!
Discover the Ancient Olive Trees of Crete
Kavousi, Lasithi
A few kilometers towards the east from Agios Nikolaos, in the region of Lasithi, there's a legendary olive tree in the small village of Azoria, just a kilometer away from Kavousi, a village close to the Havgas Gorge.
Azoria treasures what's probably the oldest olive tree in Crete. And it doesn't come as a surprise to locals that the tree is still alive and producing hundreds of olives each year.
The trunk of this tree reaches a maximum diameter of 4.9 meters, with a circumference of 14.2 meters, and it's believed to have been planted around 1100 BC.
Vouves, Chania
Not far from Chania, close to the mountains in the region, there's a huge extension of olive trees in the Protected Denomination of Origin area of Kolymbari. The mild weather conditions of the island combined with the microclimate of Kolymbari give life to a top environment that results in high-quality olive crops.
There's a village in the region known as Vouves, where an ancient olive tree has an impressive trunk with a circumference of 12.5 meters and a diameter of more than 4.5 meters. It produces the tsounati variety of olive.
There are two main varieties of olives in Crete that produce the local top-quality extra virgin olive oil, the tsounati variety, with a walnut yet delicate taste, and the koroneiki variety, more fragrant, fresh, and spicy, ideal for salads.
In the village, it's also possible to visit the Olive Tree Museum and take a look at old tools and even a stone olive mill.
Visiting an Olive Oil Factory in Kolymbari
Did you know that about 5 % of the World's olive oil comes from Crete? It does! Learning this fact made me curious, so I looked for a place in the region where I could be able to learn a bit more…
Right in the heart of Kolymbari, and for over five generations, the Dimitriadis family specializes in estate-produced, stone-milled, cold-pressed organic olive oil.
But what makes this place special, is that they combine all the benefits of the traditional methods for oil extraction in full respect of the environment.
The company is called Biolea, and it's one of the very few companies on Crete still producing extra virgin olive oil with this slow method. The impressive traditional stone mill, still in use, fascinated our children.
Biolea owns over 3000 olive trees from the koroneiki variety. Olives in Crete are very small, which makes them especially resistant to the island's rough soil, drought weather, and high temperatures.
The company doesn't put quantity over quality.
Biolea makes a reduced quantity of extra virgin olive oil annually (about 20,000 liters per year, which does not seem a lot when compared to other industrialized companies producing over 300,000 liters per year.
This choice allows them to maintain very high-quality standards.
Biolea's olive oil is extra virgin, young, and fresh. Their method involves cold-pressing while they do not filter their oil. A method that remains close to the most ancient traditions and a winning recipe to have an oil with every healthy property in it.
You might also want to read: Wine Lovers Crete: A Sommelier's Guide to the Best Cretan Wines.
Tasting The Best Olive Oil from Crete:
Extra Virgin Olive Oil at Biolea
During our oil-tasting session, Chloè, the youngest in the family, introduced us to new tastes. They don't only produce an incredibly tasty, mild, and sweet, extra virgin olive oil. We also discovered two fascinating surprises…
Nerantzio
A type of olive oil that is made by adding whole fresh bitter oranges to the mill. These oranges release an exotic punch of orange blossom and a teasing touch of orange skin.
Lemonio
This is is an aromatic olive oil that Biolea produces cold-pressing koroneiki olives with whole fresh lemons in the stone mill. A fabulous oil that explodes with an intense lemon zest aroma and a lasting aftertaste of freshly crushed lemons.
Lessons About Extra Virgin Olive Oil: The Best Olive Oil
During our visit, we learned a few things that come in handy when it's time to pick your next bottle. When you go olive oil shopping, first of all, take a look at the label.
Extra Virgin
The first word to look for on the label is VIRGIN. Definitions as "pure olive oil", "white olive oil", "good olive oil" are simply blends.
The second word to find is EXTRA and it has to do with acidity. A level between 0,0 and 0,8 % qualifies the oil as extra virgin.
But careful! Having a label that reads Extra Virgin is not enough! These two words, even if important, don't account for harvest date: olive oil is at its best in the first two years of its harvest.
"Extra Virgin" does not account for heat either. Cold pressing must be done under 27 °C so the oil still maintains all its qualities.
Pressing, extraction, origin of olives
A step beyond is the distinction between cold press and cold extraction. Modern systems process olives through cold extraction using a chopper. This needs high quantities of water reducing the final quality.
On the other hand, a cold press manages to separate the olive from its skin much better than a chopper, producing olive oil that tastes sweeter, milder, and almost buttery.
Finally, look at the origin. If olives come from Protected Designation Origin Areas chances are your olive oil is indeed top class.
You can learn more about Biolea, by getting in touch with them.
Best Olive Oil Tours in Crete
– The Miracle of Wine and Olive Oil: (from Chania)
This 6-hour tour takes you to family wineries and an olive oil factory on a trip from Chania.
Click here for more information and to check reviews and prices.

– Olive Oil Tasting with Cretan Food Pairing: (from Rethymnon)
This 3-hour tour includes an olive oil tasting experience under the shade of real olive trees. You will learn how to taste olive oil and you will also enjoy a food pairing of local products whilst you learn about the long olive oil history in Crete.
Click here for more information and to check reviews and prices.

– Olive Oil Tasting Experience: (from Heraklion)
One of the most conveniently-priced olive oil tours you will find on the island! You will discover the flavors of olive oil, at the base of the Cretan diet. Along with knowledgeable guides, you will sample various olive oils and learn about their origins. Book in
Click here for more information and to check reviews and prices.
Did you know any of these facts about Extra Virgin Olive Oil?
Let me know in the comments below!
This Belongs to a Board! Pin This Guide to Cretan Olive Oil for Your Next Adventures!
---
About the author of this blog: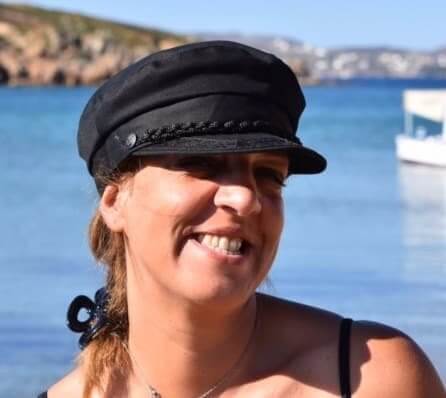 Gabi has been living in Crete for the last five years. Here, she juggles being a solo mom, hosting culinary tours in the summer, translating, and writing for The Tiny Book and her other blogs.
She's written for Greek Reporter, published three travel guides about Greece, and had more glasses of frappe than any regular person would be able to handle.
COMING TO CRETE SOON?
Get in touch and let me know!