Traveling around the Greek islands is a great experience, especially when you can also take unique boat trips to visit unreachable coasts or small islets. When it comes to Crete, there are many boat trips you can take to make the best of your vacation.
---
Disclaimer: Posts include affiliate links leading you to products or services, I might earn a small commission if you make a purchase. This has no extra cost to you but allows me to continue writing articles that are helpful for your travels. I only recommend things I use myself or that I believe will deliver value to you. 
---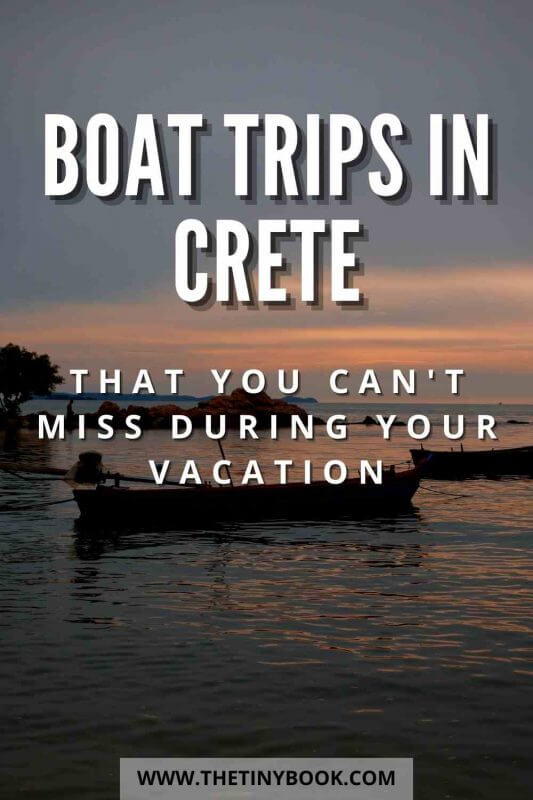 LAST-MINUTE PLANS FOR CRETE?
– Use Ferryhopper and Skyscanner for the best ticket rates.
– Find great accommodation deals on Booking.com.
– Compare car rental prices with Discover Cars.
– Check the best tours with GetYourGuide.
– Visit Elafonisi, discover Balos Beach, hike Samaria, or explore Knossos.
– Pack the Lonely Planet Guide to Crete or get my digital guide to Chania.
A quick guide to the best hotels in Crete
Budget: So Young Hostel in Heraklio, Cocoon City Hostel in Chania, Matthias Hotel Apartments in Rethymnon, and Villa Galini in Agios Nikolaos.
Mid-range: Capsis Astoria Heraklion in Heraklion, Porto Antico in Chania, Archipelagos Hotel in Rethymnon, or Hotel Port 7 in Agios Nikolaos.
Luxury:  Galaxy Iraklio Hotel in Heraklion, Hotel OFF in Chania, Avli Lounge in Rethymnon, or Minos Beach Art Hotel in Agios Nikolaos.
Check more: Where to stay in Crete.
Amazing Boat Trips in Crete That You Shouldn't Miss
When thinking about traveling the Greek Islands, boat trips and sailing easily come to your mind as a great way to move around from one island to another. As a matter of fact, island hopping is a popular way to visit more than one island during your vacation.
Crete, however, is a quite isolated destination, and reaching other Greek Islands is not as simple as it might seem unless you have plenty of time ahead.
You can certainly reach Santorini with a boat tour, or a regular ferry, as well as other Cycladic Island.
There're ferry boats departing from Heraklion (and on some days from Rethymnon too) to go to Naxos, Paros, Ios, and Mykonos.
But it's also possible to take boat tours within the Cretan territory, either sailing trips to reach small islets off the coast of Crete or boat trips that allow you to overcome the somewhat difficult rugged terrain on the southern coast.
Boat Trip to Balos Lagoon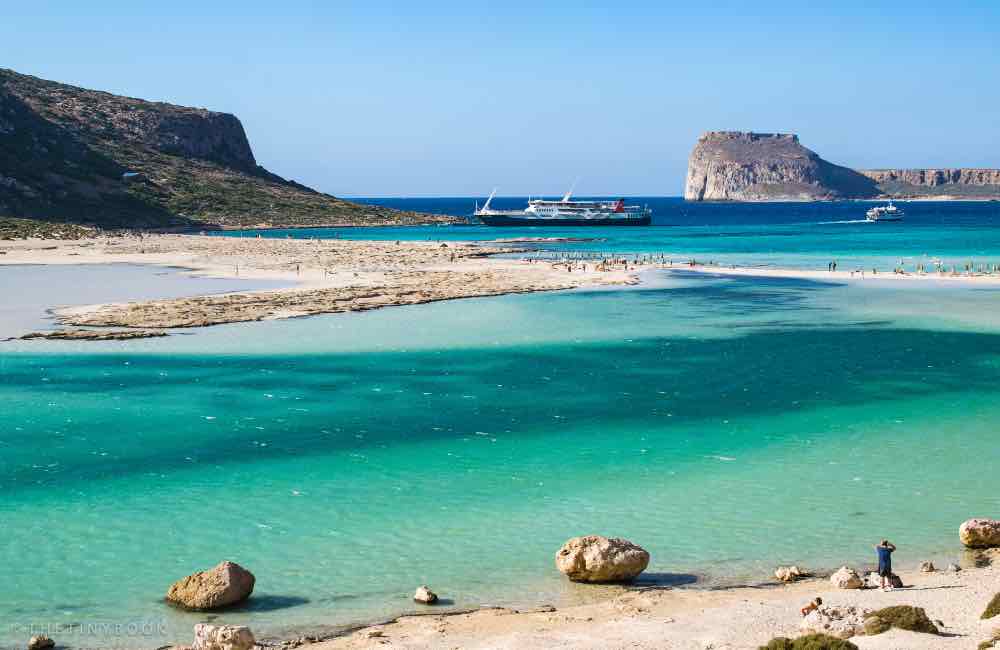 Arguably the most popular boat trip in Crete is the day cruise to Balos Lagoon in the region of Chania. This trip represents the most comfortable alternative to reach the magical Balos Beach if you're not up to driving the dirt road and hiking down to the lagoon.
Although the boat can be a crowded experience, it is very convenient in terms of price, and it's a great opportunity to also visit the beautiful Imeri Gramvousa, a small island not far from Balos, where the boat stops for at least an hour for you to explore, or just swim.
Once in Balos, you'll have about 2-3 hours to enjoy this unique beach. But remember, if you come to Balos with the intention of taking pictures of the beach from above, you need about 45 minutes to hike up and down the mountain. Take that into account!
Booking your Balos Cruise
Since most people tend to buy the ticket at the port on the day of the tour, you risk not finding a place, especially in busy months. The best you can do is to book this tour online.
Boats depart from the small port of Kavonisi, about 2,5 km from the center of Kissamos, there are also more exclusive yacht alternatives departing from the port of Chania (New Marina, next to the old port).
There are daily departures from April or May until October, weather permitting at 10.20, 10.40, 12.30, returning to Kavonisi at 17.45, 18.00, or 19.30. The 12.30 departure is available from June to September. The trip is a full-day excursion.
Boat Trip to Loutro
The most comfortable way to get to Loutro is to travel from Chania to Chora Sfakion and take a boat in this coastal town. There're different ways to reach Chora Sfakion, you can either drive yourself there or use the bus.
Once you've reached Chora Sfakion, you can either hike to the small fishing village or get there by boat.
From the port of Chora Sfakion, there are daily departures from May to October (10.30, 12.00, 13.00, 16.30, 17.30, and 18.30). The trip takes 20 minutes and the ticket is €6. Loutro is the first port of call on the ferry line that connects other southern villages, including Agia Roumeli, Paleochora, and Gavdos island. So if you're staying in Paleochora, you can reach Loutro from there too. This is the official ferry webpage.
>>Read everything about Loutro here<<
Boat Trip to Chrissi Island
You can reach Chrissi by sea from the port of Ierapetra as well as from the smaller port of the nearby beaches of Mirtos and Makrigialos, if you depart from these two small beaches, be ready to pay a higher fee.
There are several different ferry companies as well as a few private ships that, between the months of May and October, reach the coast of Chrissi Island.
Boat tours from Ierapetra are an easy way to visit Chrissi and very convenient. I recommend this tour to Chrissi, I always suggest booking the trip in advance, especially if you're traveling in the high season.
Departing from Ierapetra: The trip is about an hour and it's always better to buy the ticket a few days in advance in one of the offices by the port of Ierapetra. The return ticket is €23 ($27). Boats depart daily (weather conditions permitting) every morning, from 10.00 until midday. Trips back to Ierapetra are usually between 4 and 5 pm.
Private tours: It's also a great idea, if your budget allows, to reach Ierapetra with a private tour. Some of them also include an onboard grill or a lavish Cretan lunch.
Upon arrival, your boat will be docking on the southern coast, and it will be necessary for you to reach the northern coast on foot. You will walk a well-marked path but don't forget to bring walking shoes or sandals, other than your flip-flops.
Boat Trip to Gavdos Island
One of the best boat trips in Crete is the one that takes you to the lonely island of Gavdos, the southernmost point in Europe. The departure points are Chora Sfakion or the coastal seaside villages of Paleochora and Sougia. Sometimes it's also possible to leave from Agia Roumeli or Loutro. All of them on the southern coast of Chania. It's always a must to check the departure schedules because they tend to change often.
Please, do so before booking accommodation, a sudden change in the ferry schedule can make your trip to Gavdos difficult or impossible during the high season, forcing you to change destination or dates or even leaving you battling for a hotel refund.
The best place where to check the schedules is the official site of the local ferry line ANENDYK. (Keep also their phone number at hand in case of need: +30 (28210) 95 511).
The most common point of departure is Chora Sfakion because it is the port with more scheduled weekly trips to Gavdos. The roads are fairly easy by car and the panoramas unique. Buses from Chania's Central Station reach Chora Sfakion daily. Check their website for an updated schedule. Buses also reach Paleochora, another departure point for Gavdos.
Boat Trip from Agia Roumeli to Chora Sfakion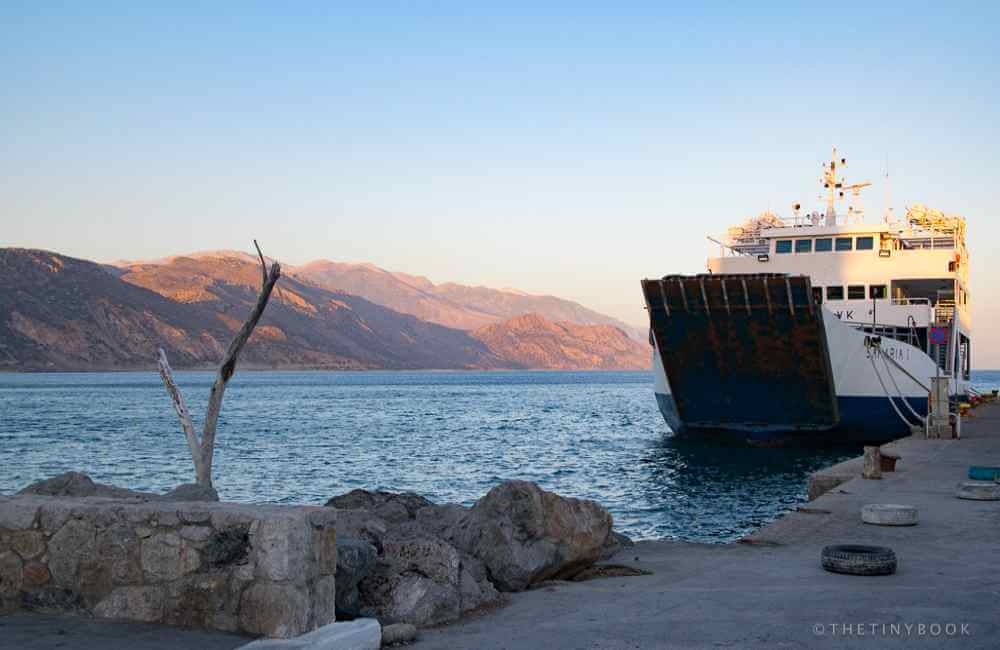 This is a common boat route for those who, after hiking the imposing Samaria Gorge, need to get back to the north coast of Crete. Agia Roumeli is a small coastal town that can only be reached by boat.
From here you can either sail to Paleochora, Loutro and Chora Sfakia or take the ferry boat to Sougia, and from there a but or a taxi to Chania.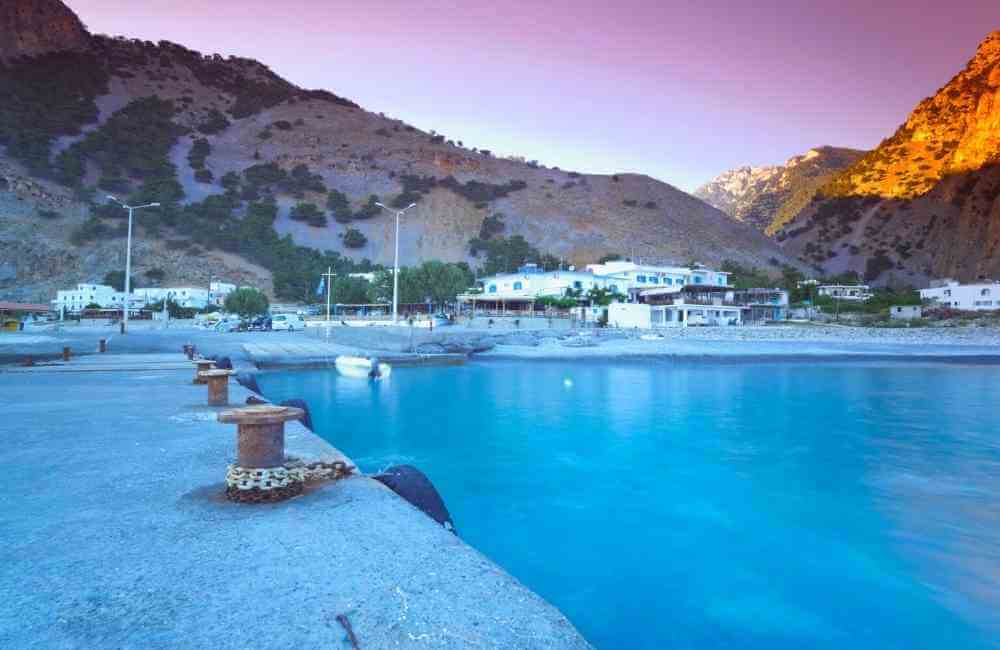 If you're hiking Samaria with a tour company, check beforehand if your hiking tour also includes the ferry ticket back to Chora Sfakion or to Sougia, or if you need to buy it once you reach Agia Roumeli.
If that's the case with you and you're traveling int he peak of the season, head directly to the port and get your ticket early. The last boat from Agia Roumeli usually departs at 5 pm.
Boat Trip from Paleochora to Elafonisi
The only place from where you can take a boat trip to Elafonisi is the southern town of Paleochora. The service is worth considering if you're staying in Paleochora as the road connecting both towns is quite difficult for cars, although there's a stunning coastal path that is perfect for hiking!
Bear in mind that there is no port in Elafonisi, the boat will leave you at a nearby docking area, a small wooden mole about a 10-minute walk from the beach. It's also a good idea to check the prices with several boatmen before buying your ticket.
Booking your Boat from Paleochora
Boats usually leave at about 9 am or 10 am, but it's always better to confirm with the local boatmen. It's also a common practice to agree on the price if you're traveling in a large group. The boat usually returns at about 5 pm. You can get tickets close to the jetty in Paleochora or from the local taxi boats.
Some boats can also take you to Kedrodasos, not far from Elafonisi. If you're interested in learning more about these two great beaches, check this article.
Remember that the boat from Paleochora to Elafonisi operates between May and October. Check prices here.
Boat Trip from Plakias Beach to Preveli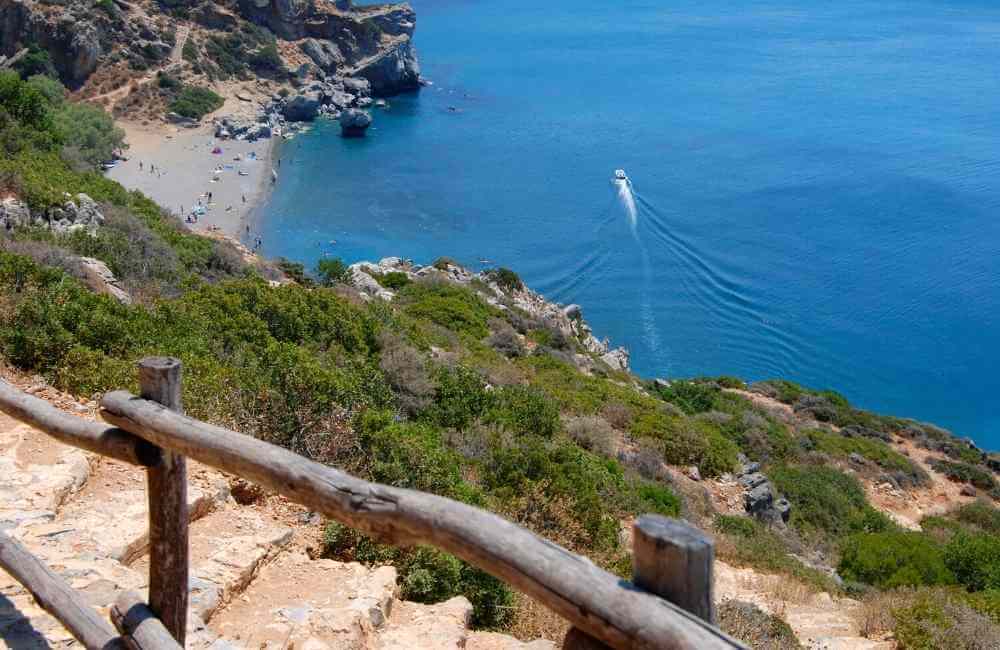 Not really a tour, this trip is a great idea for those staying in Plakias, one of the prettiest beaches on the southern coast of Rethymnon, and do not want to drive all the way to Preveli, nor plan to hike down Kourtaliotiko Gorge to reach the stunning beach of Preveli.
There's a simpler way to reach the Preveli Beach, from the car park, but it needs you to walk down (and up!) about 400 steps to the beach. Although the views are breathtaking, especially admiring the Megalo Potamos (or Bog River) flowing into the sea, the trail is not really for everyone, so this trip is a very helpful resource.
The ride takes from 45 minutes to an hour, and it can be booked here or here. Some boats can also take you to Triopetra Beach and Ligres Beach.
Boat Trip to Spinalonga Island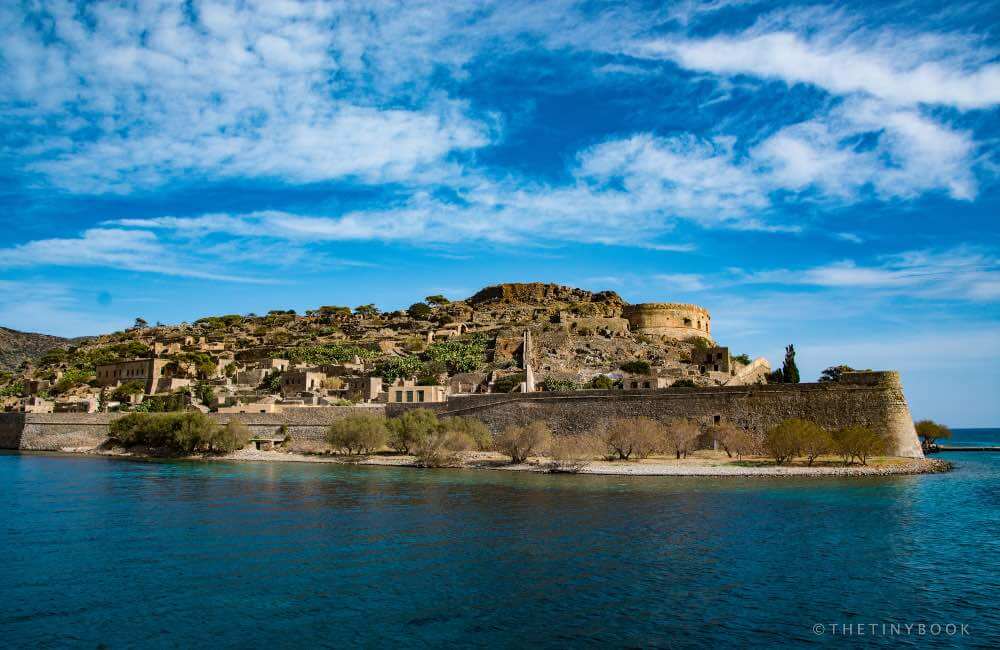 There are different options to reach Spinalonga. There are boats that depart from the small village of Plaka, but also from the port of Elounda and from Agios Nikolaos. Let's see them in detail.
Boat from Plaka to Spinalonga
Departing from Plaka is probably the fastest and the cheapest way to reach Spinalonga. Plaka is a small fishing village located opposite Spinalonga, under one kilometer away, and the ride about 10 minutes. Remember, however, that this option is not available from October to March.
The price of the ticket from Plaka is about €10 per person. It's a good idea to talk with the boat owners of Plaka if you're part of a big group to discuss a better price or to stay on the island longer. Check the Plaka Boat cooperation for more details and an official timetable.
Boat trip to Spinalonga Island from Elounda
The most convenient way to reach Spinalonga is from Elounda. Get to the main square of the village, right in front of the port, and choose one of the many available Spinalonga boat operators on the shore.
We booked our tour with this company and I was happy to see that the boat navigates really close around Spinalonga. This offers great photo opportunities and shows you a different perspective of the island which you would otherwise miss once on land. Check booking info and availability here.
The price of the ticket from Elounda is about €12 per person. When departing from Elounda off the season, it's fairly easy to discuss how much time you want to spend on the island since many are the boats covering this route. The trip lasts about 30 minutes.
Boat trip to Spinalonga from Agios Nikolaos
Bigger ships cover the route Agios Nikolaos – Spinalonga every day. This means that you'll be traveling with more people, but also that you won't find this trip available off-season.
These organized trips normally last several hours, they are more expensive and usually include a swim and BBQ on the beautiful beach of Kolokitha (Spinalonga peninsula). Check the prices here.
There are also super convenient whole day trips that also include a visit to Agios Nikolaos and allow you to forget about everything, check it here.
Boat Trip for Adventurers and Explorers
There are unique experiences you can live at sea in Crete. You can go snorkeling or scuba diving in different areas of the island and even get your PADI certificate too. In this article, I explain more about this possibility and also discuss some of the best scuba diving spots in Crete.
Crete has many diving centers to choose from, so no matter where you are staying, you will find a suitable center that will fit your needs and your budget. Here are just a few to check out around the island:
Divers Club Crete offers two locations in the north of Crete, one in Agia Pelagia, and since 2016 also in Hersonissos.
AquaDive in Agia Pelagia offers experiences both on the northern and the southern coasts and even night dives!
Omega Divers-located in Chania, in the NW of Crete, has a great diving experience for beginners.
Royal Blue Diving Centre-Rethymnon
Sea-Dream Divers-Located in Plakias.
Boat Trip to Dia Island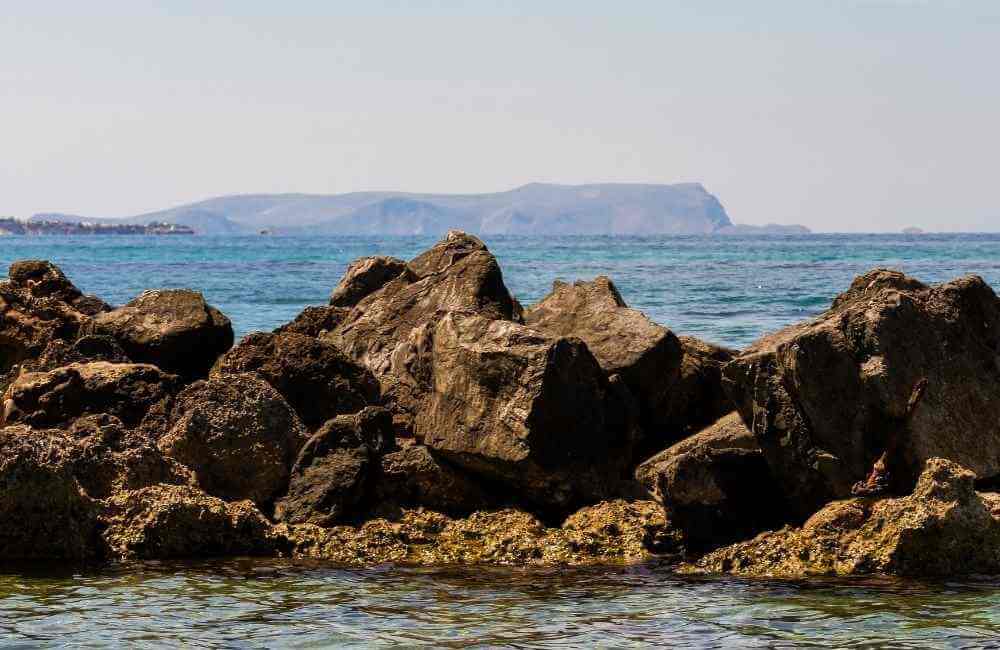 If you're interested in discovering a lesser-visited place off the coast of Crete, then you can plan a trip to Dia Island, in Heraklion. Choose this tour and set sail from the Venetian port of Heraklion to the uninhabited island of Dia.
Formerly a Minoan port during the Bronze Age, Dia was the main port of Crete for centuries. Among the things you can do during your day at Dia, you can fish, swim, and snorkel in the same spot where Jacques Cousteau found the remains of the ancient port. The organized tour includes a freshly cooked meal and local wine.
Boat Trips in Crete for the Family
There are different fun boat trips for all the family that you can take in Crete. One of the most popular options are the Pirate Trips that kids love… and parent too!
One of the most popular pirate boat trips in Crete is the one departing from the Old Port of Rethymnon. This sunset cruise on Captain Hook wooden pirate boat lasts about 2 hours and lets you enjoy the glorious views of the city and the Cretan mountains while the sun sets on the horizon. One refreshing drink is included in the already convenient price.
Another pirate boat trip is the one that departs from the south of Crete and takes you to discover the beautiful Koufonissi. This fantastic, secluded island is surrounded by the pristine waters of the Libyan sea and the whole experience is just perfect for all the family.
Little explorers can also have fun with this semi-submarine boat underwater experience, departing from the port of Chania. This modern version of a glass-bottom boat can accommodate up to 12 passengers and is great to enjoy the views of the sea bottom including loggerhead sea turtles and a variety of fish. The trip is about 35 minutes and very convenient for the whole family.
Boat Trip to Santorini
A day trip to Santorini can be a superb romantic escape if you're on a budget and cannot afford a whole week or a honeymoon in Santorini. Several companies sell one-day trips to Santorini from Crete, and some of these packages are real value for money.
Some of them depart from Agios Nikolaos (comfortable if you're staying in Elounda) or from Heraklion. There are also departures from the port of Rethymnon. Other tours include the transfer to Rethymno's port from Chania.
Still, if your budget limits you a bit, you can easily book a ferry ticket from Heraklion (in Summer, also from Rethymnon), and enjoy your self-made romantic Santorini escape.
From April until late September, both Minoan Lines and Sea Jet Ferries have daily departures from Heraklion.
Sea Jet also departs from Rethymnon as of April 18th, 2020, on Tuesdays and Saturdays. You can also contact a ferry ticket company to take care of all your ferry tickets in Greece. Check prices with FerryHopper.
Check ferry tickets to Greece here!
Boat Trip to Kythera Island
Kythira island is a small Greek island belonging to the Peloponnese region, it's not far from the coast of Crete, and it's easy to reach from the port of Kavonisi in Kissamos, about thirty minutes from Chania.
Although this is not really a trip that can be done in one day, you can easily spend 2 or 3 nights in Kythira if you have enough time to do so. The island offers unique landscapes, imposing hiking trails, and amazing beaches to enjoy some quite time too.
The island has very few inhabitants during winter and reaches a population of up to 500 in summer. For information about the ferry from Kissamos to Kythera, check this official schedule.
---
Are you planning to spend your Summer on an island?
Let me know in the comments below!
---
Read more:
Guide to Driving in Crete: Everything You Need to Know
Where to Stay in Crete: Insider's guide to the best areas on the island
Insanely Practical Tips to Plan a Trip to Crete
Discover + 45 Most Gorgeous Beaches in Crete (A guide by an insider!)
Discover the Most Beautiful Monasteries in Crete: Guide to Visit
Don't Leave Without Pinning! Pin this Guide to the Most Amazing Boat Trips in Crete For Your Next Adventure!
About the author of this blog: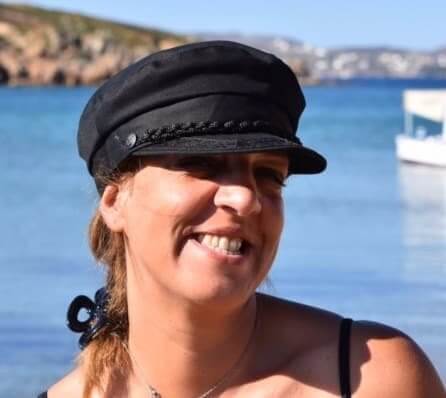 Gabi has been living in Crete for the last five years. Here, she juggles being a solo mom, hosting culinary tours in the summer, translating, and writing for The Tiny Book and her other blogs.
She's written for Greek Reporter, published three travel guides about Greece, and had more glasses of frappe than any regular person would be able to handle.
---
You might also want to read: