A delightful coastal village on the northern coast of the Rethymnon region, Panormos is a popular destination with a calm, laid-back atmosphere.
Boasting a picturesque harbor, beautiful winding alleys, and seaside fish tavernas, Panormos is surrounded by a scenic landscape and offers a more authentic Cretan experience if you compare it with bustling (and often overpriced) tourist resorts found in other parts of the island.
If you're planning to visit, keep this Panormos guide at hand to use during your trip!
---
Disclaimer: Posts include affiliate links to products or services. I might earn a commission if you make a purchase at no extra cost.
---
Things to Do in Panormos Crete
Basic Things to Know about Panormos
Panormos is a delightful coastal village on the northern coast of Crete, in the region of Rethymnon and about 22 kilometers east of Rethymno Town.
Panormo's harbor is the lively heart of the village, housing colorful fishing boats bobbing in the clear waters of the shore.
Essentially a tranquil and very traditional settlement, the place offers a limited but delightful range of activities to make your visit relaxing and memorable.
Panormos retains its authentic charm throughout the year, although it does become livelier during the summer months.
It's a popular destination for those seeking a peaceful and laid-back coastal retreat away from the larger tourist crowds.
Where is Panormos
The village is on the northern coast of Crete in the region of Rethymno. It stands about 55 km west of Heraklion, the capital of Crete, and 22 kilometers east of Rethymno town.
Its coastal location provides access to beautiful beaches while its somewhat central position on the island makes it a perfect base to explore the western region of Chania and the eastern regions of Heraklion and Lasithi, as well as the southern coast of Crete.
How to Get to Panormos, Rethymnon
You can get to Panormos from nearby Rethymnon town, from West Crete (Chania) or Heraklion by car, bus, or private transfer.
From Rethymnon town, the journey by car takes approximately 30 minutes along the National Road (E75) eastwards.
Public buses connect Rethymnon to Panormos regularly throughout the day and the journey takes around 40 minutes, buses leave from the main bus station in Rethymnon.
You can travel from Chania to Panormos by car, the journey is about 90 minutes (about 83 km).
There are no direct bus routes connecting Chania and Panormos, so your best bet is to take the bus to Rethymnon's main station and there change to a local bus to Panormos.
To reach Panormos from Heraklion, the most convenient option is to drive, the journey takes approximately 1 hour, (59 km) depending on the traffic conditions.
As always in Crete, renting a car gives you the flexibility to explore the area at your own pace.
Public buses operate between Heraklion and Panormos, providing affordable transportation. The service runs regularly throughout the day, but the frequency may vary depending on the season.
The journey takes around 1 to 1.5 hours. Buses depart from Heraklion's central bus station.
Which car rental service is the best to choose?
If you want to rent a car for your trip and look for the best service, then I am here to help you! Consider choosing Discover Cars, an international car rental booking service present worldwide. This way, you will find the best car for your trip wherever you are!
Best Things to Do in Panormos, Crete
Panormos is a great place to stay in Crete with a few interesting things to do. The place is quiet and relaxing, and you really don't need to do any of these if you'd rather spend the whole vacation by the sea!
However, if after a few days of total relaxation, you feel like exploring and moving around, you won't be disappointed. The region is rich in history, natural beauty, and cultural attractions. These are some of the things you should consider.
Panormos Beach
The main beach of Panormos is a sandy stretch located right in the village. It offers clear turquoise waters and a relaxed atmosphere.
The shore is quite shallow and the bay is sheltered, two ingredients that make it a great beach for families with kids.
Panormos Beach is organized with sunbeds and umbrellas, and there are tavernas and snack bars nearby where you can grab a refreshment or get everything you might need for a whole day by the sea.
The beach is a mix of fine, dark sand, and some pebbles, with crystal-clear waters, and is a good place to go snorkeling.
Other than featuring an organized area, you will also find some quiet spots along the shore to lay out your towel and unwind.
Check out Panormos Port
Small but incredibly picturesque, the small harbor of Panormos is another spot to visit.
Head to Panormos' harbor early in the morning for fantastic photo opportunities or simply to watch the fishing boats come and go.
Take a peaceful walk along the waterfront promenade at sunrise or sunset or sit at a waterfront cafe for a relaxing moment while taking in the beautiful views.
Watersports in Panormos
Although not as popular as on other coastal settlements north of the island, Panormos offers various watersports activities.
For instance, you can go jet skiing, paddle boarding, or take a boat tour to explore the coastline and nearby coves. Check out local tour companies to find out more.
Try Some Authentic Cretan Seafood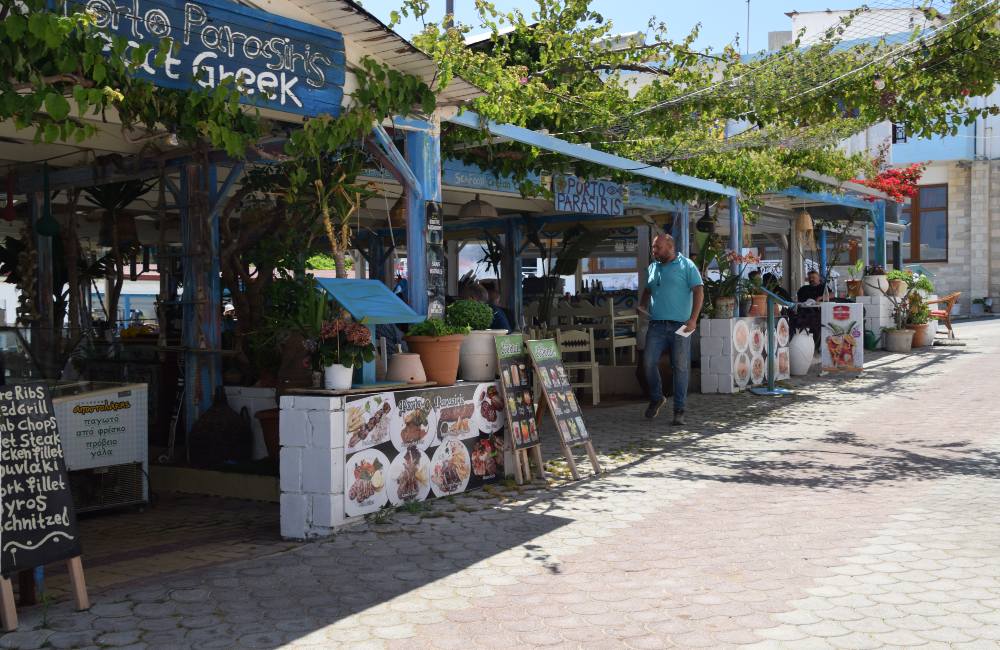 Although Crete's gastronomy puts its accent more on meat and vegetable dishes, Panormos is a great place to visit if you're looking to enjoy fresh seafood and fish.
In fact, when it comes to this kind of cuisine, the local restaurants and taverns deserve a special paragraph.
They specialize in super fresh seafood and fish. When you visit, do try the local sea bream, which locals call tsipoura, it's delicious.
They also have a wide choice of vegan and vegetarian dishes made with seasonal produce sourced from the area.
Seaside restaurants in Panormos are the perfect setting to soak in the coastal ambiance of the settlement.
Discover the Cretan Spirit of Panormos Village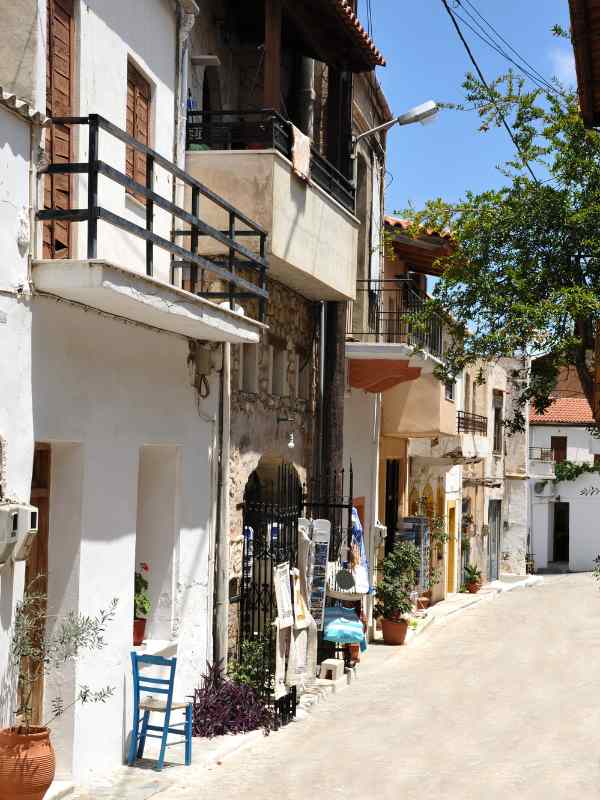 Panormos is truly picturesque, with winding alleys, some of them steep and heading down to the sea.
They feature old traditional houses that respect the architectural style of the island, with yards and balconies, Venetian arches, and built with local stone.
Most homes feature thick walls, which help keep the interior cool during the hot summers and warm in the winter.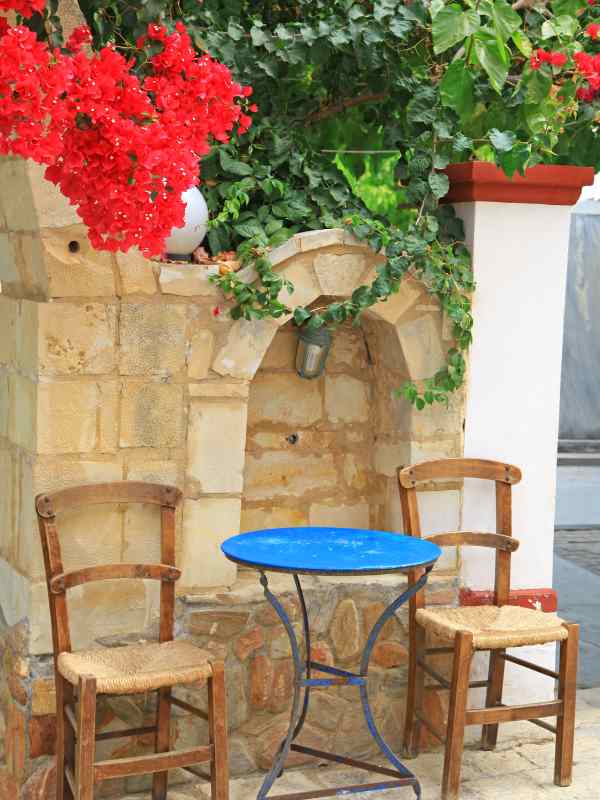 The houses often have two or three floors, with balconies and terraces or with enclosed courtyards or patios adorned with potted plants and herbs, flowers, and sometimes trees.
You will find that houses in Panormos are often painted in earthy tones with facades featuring colorful doors and shutters and other decorative elements like arches and stone carvings.
A walk in Panormos allows you to soak in the atmosphere of the village, with its typical sense of neighborhood and connection.
The proximity of the houses to each other fosters a close-knit community feel that's common in more secluded villages of Crete, often located in the mountains.
This unique atmosphere, not common in a seaside village, is enhanced by the common sight of neighbors sitting and chatting outside their homes or engaging in daily activities.
Overall, the village houses of Panormos exude a sense of history, tradition, and local character.
Their architecture and design elements reflect the cultural heritage of Crete while providing comfortable and inviting spaces for residents and visitors alike.
Experience Local Festivals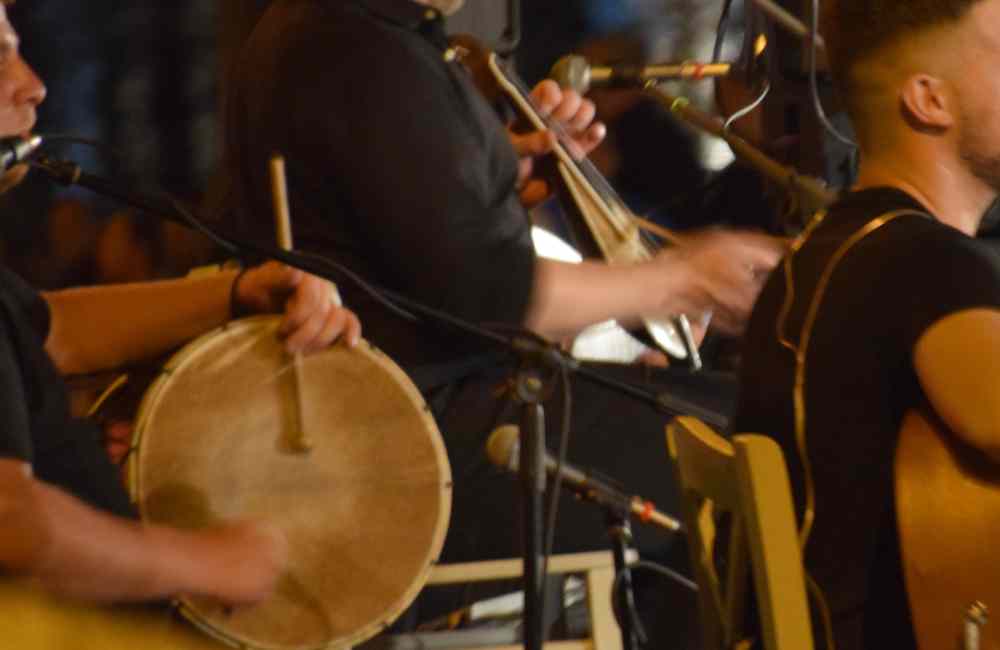 Especially if you visit during summer, you may have the opportunity to witness traditional festivals and cultural events that are the essence of the Cretan spirit.
These festivals often include music, dancing, and traditional costumes, as well as abundant local food and rivers of local wine.
These traditional celebrations (locally known as panigiri), prove a real glimpse into Cretan traditions and celebrations.
Purchase Cretan Souvenirs
Souvenir-hunting can also be fun in Panormos. Although there are just a few souvenir shops in the village, they mainly focus on local products including dry herbs, carob and carob-derived products, thyme honey, homemade jams, local cheese, and extra virgin olive oil.
Here, you can also purchase local ceramics and typical Cretal fabrics and embroidery.
Visit the Old Town of Rethymno
If you're discovering Crete for the first time and want to have a taste of its picturesque cities, then you cannot miss a visit to the Old Town of Rethymnon.
Rethymnon City is within easy reach from Panormos (Rethymnon is 21 km west of Panormos)
The small old town features a big pedestrian area with narrow cobblestone alleys, ancient Venetian and Turkish houses, and beautiful mosques.
In Rethymnon, you can explore the ancient Venetian Fortezza, the old port, and the lighthouse as well as the Archaeological Museum of Rethymnon (you can check out all Rethymnon's museums here) and some of the best restaurants on the island.
Explore Perama
Situated approximately 10 kilometers east of Panormos, Perama is a small town and an important commercial hub in Rethymnon serving the surrounding area. Besides, it has recently become a popular tourist village as well.
Here, you will find shops, and restaurants, but also convenient services including doctors, pharmacies, and banks. Perama is also home to the Historical Museum of Crete, an interesting place to visit during your stay.
Knossos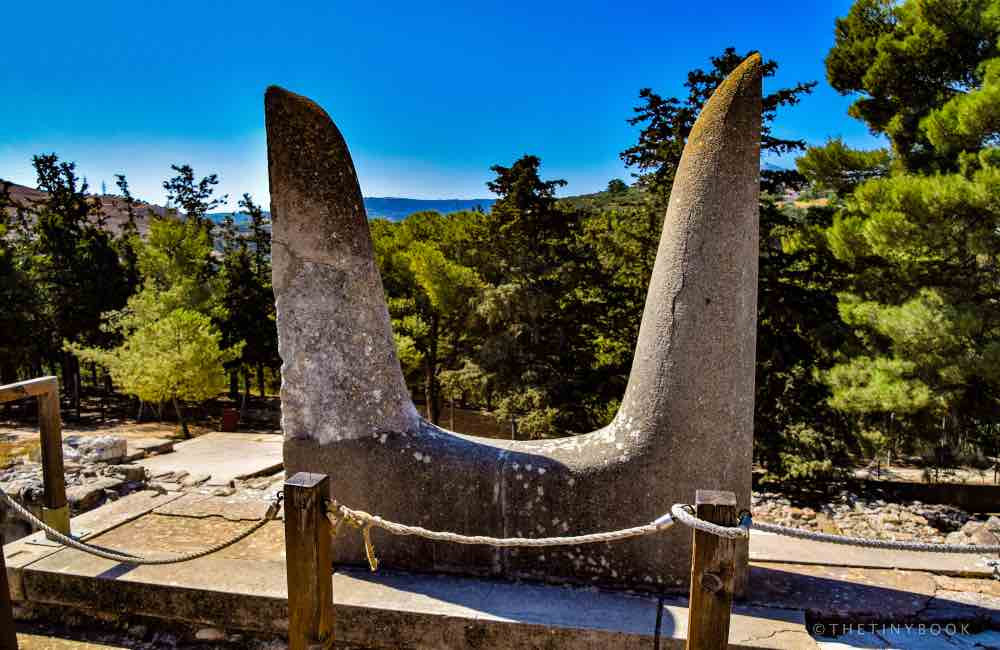 While this important archaeological site is located a bit further away (about 90 km east of Panormos) and can be considered a whole-day excursion, if this is your first visit to the island, I highly suggest visiting the ancient Minoan Palace of Knossos.
Visit the Early Christian Basilica of Agia Sofia
The Early Christian Basilica of Agia Sofia, also known as the Church of Agia Sofia, is a significant archaeological site in the southern area of Panormo.
Believed to have been built between the fifth and sixth centuries AD, the ruins of the ancient church are an important example of early Christian architecture in Crete.
The basilica was discovered during excavations in the 1940s. Considered one of the largest basilicas found in Crete, it was 54 meters long and over 20 meters wide.
Experts believe that it underwent violent destruction by a Saracen invasion in the seventh century, but it remained an active church for a few more centuries.
Day Trips and Excursions from Panormos, Crete
Enjoying a strategic central position on the northern coast, Panormos is a great base to explore the region of Rethymnon and the surrounding area.
Just a short distance from the village, you'll find scenic hiking trails for long walks among the olive groves and trees.
Alternatively, you can rent a car and venture further into the mountains to discover traditional Cretan villages.
These are some of the places close to Panormos that are ideal for a day trip.
Margarites
This is one of the most popular traditional villages in Rethymnon and the whole of Crete. Known for pottery craftsmanship.
The village is easy to reach since it's only 13 km inland from Panormos. Over here, you can discover the ancient pottery tradition of the island, visit old Byzantine churches, check out the Margarites Gorge, and taste some incredible Cretan food in the village's main square.
Spili
Another amazing place to discover in the Rethymnon area is the mountain village of Spili, famous for the unique central square where dozens of lion heads give life to one of the most beautiful fountain complexes ever made by the Venetians.
The traditional village is about 50 minutes from Panormos and is perfect for a mountain day trip and an excellent destination to purchase Cretan souvenirs such as embroidery, honey, and locally made tsikoudia.
If you're visiting Plakias or Preveli Beach in the region's south, make a stop in Spili along the way!
Bali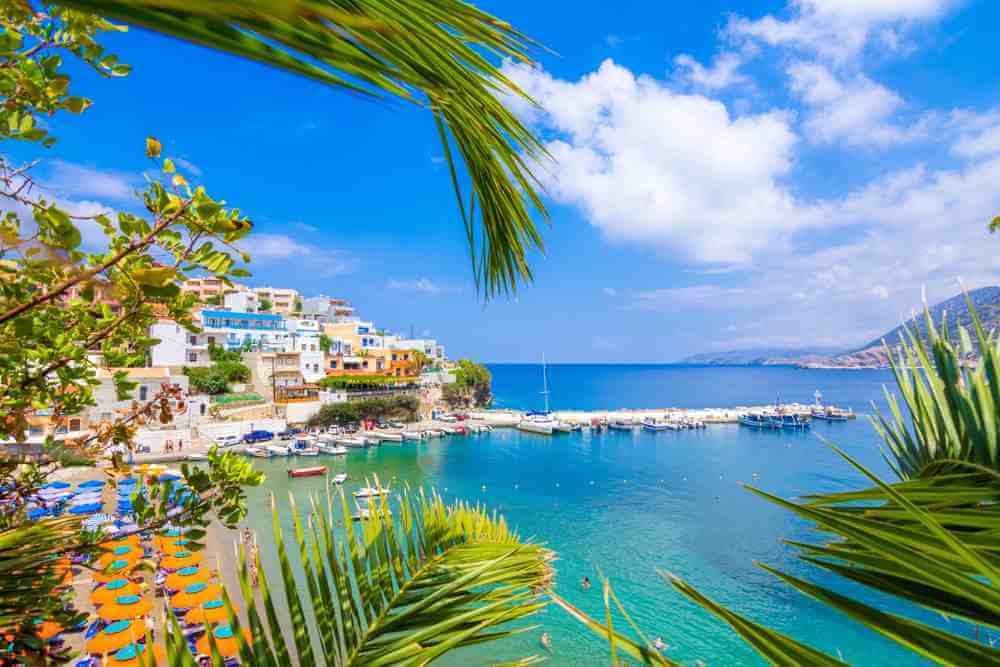 Not far from Panormos, Bali is a popular coastal settlement, home to several beautiful villages, which can be an excellent day trip from Panormos if you don't wish to travel far; in fact, Bali is only a ten-minute car ride from Panormos.
Preveli Monastery
Head south to discover one of the most beautiful beaches on the island (Preveli Beach) and the ancient Preveli Monastery, about 50 km south of Panormos.
The place, which played a vital role during all battles Crete fought for its final independence. For instance, during the Battle of Crete (1941) against the invading German forces, it functioned as a shelter for the Allied soldiers on the island.
Besides visiting the monastery, you can also hike to the palm tree beach and discover the unique beauty of the place where a mountain river meets the coast and reaches the sea.
If you want to learn about more excursions you can take from Panormos, head to this complete guide to the village of Bali, located in the same region.
Where to Eat in Panormos, Crete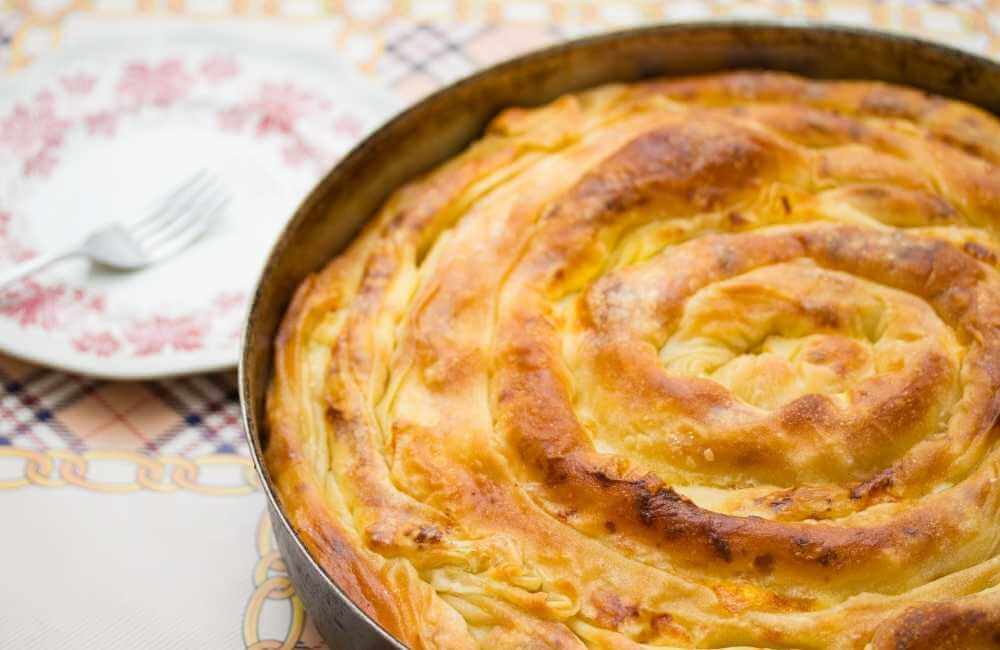 Since this is a popular place among visitors, you will find many places to eat in town. Panormos offers many different dining options that cater to all tastes. Here are some recommended places to eat in Panormos.
Kastro Cretan Cuisine: This is one of the most popular and best-reviewed places to eat in Panormos. This traditional taverna in the heart of Panormos serves authentic Cretan cuisine, focusing on fresh seafood. The menu features grilled octopus, stuffed vegetables, and many other local specialties. Check out the website and the reviews.
Breakfast and Bakeries in Panormos:
These are just a few suggested places to eat in Panormos. Exploring the village and trying different tavernas will allow you to discover more about the local cuisine!
Best Areas to Stay in Panormos
Since this is quite a small village, there are no distinct neighborhoods to pick from. However, there are some locations in the settlement that offer convenient access to the different amenities and attractions.
Panormos Beachfront
One of the most popular choices is to stay close to the sea, beachfront properties sell fast!
This part of the village offers easy access to the beach and features a wide range of hotels, resorts, and apartments for rent. Besides, a stay here will guarantee stunning sea views and proximity to beachside taverns and coffee shops.
Village Center
You can also pick a more central location in the heart of the village to be close to souvenir shops and popular tavernas.
The area features a more traditional atmosphere and gives you the chance to experience the authentic character of the village.
Port of Panormos
The harbor area is another good option for accommodation. This is a picturesque setting offering easy access to the village's waterfront tavernas.
The place is ideal for enjoying fresh seafood and watching the sunset over the harbor with the dozens of colorful fishing boats on the waterfront.
Surrounding Countryside
If you're seeking a more secluded experience, consider staying in the countryside surrounding Panormos.
There are lots of incredibly beautiful villas and apartments among olive groves and organ trees, offering peace and privacy yet within a short distance from the village center and the beaches.
Since Panormos is truly a small village, and no matter where you choose to stay, you'll likely have convenient access to the beach.
Where to Stay in Panormos Crete
There are many and varied places to stay in Panormos to suit all preferences and budgets.
Since the village is popular among visitors returning to Crete year after year, I recommend booking in advance to find the accommodation that best suits your needs.
These are some of the popular and best-rated properties available in town:
Read more about Crete's Villages
🛌 Suggested Accommodation in Rethymnon:
🗺️ More resources to book your trip to Crete
Pin this Complete Guide to Visit Panormos, Crete!
---
You might also want to read about these other places in the Rethymnon region:
---
About my blog: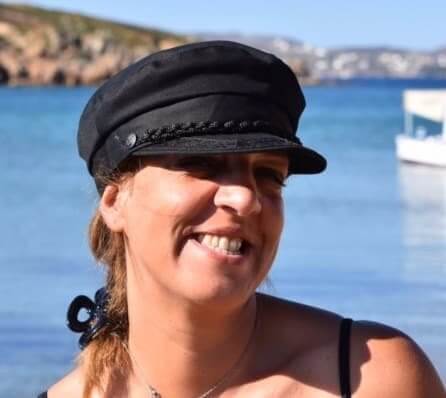 I moved to Crete in 2016. During these years, I learned much about the island.
In Crete, I juggle being a solo mom, hosting culinary tours, and writing for several travel blogs.
I've written for Greek Reporter, published travel guides about Greece, and had more glasses of frappe than any regular person could ever handle.