The tiny island of Gavdos, in south Crete, is one of the region's best-kept gems. Due to Gavdos isolation and remoteness, it's easy to forget to include this stunning pearl of the Libyan Sea in your Crete's itinerary. However, you shouldn't. Gavdos is unique for several reasons. There's a unique vibe to it, so much so that putting it on your to-do list of things to see in Crete can really make the difference between a good and a superb holiday. Not convinced yet? Let me show you why Gavdos, Crete is a must-visit spot when on holiday in Crete.
---
Disclaimer: Posts include affiliate links leading you to products or services, I might earn a small commission if you make a purchase. This has no extra cost to you but allows me to continue writing articles that are helpful for your travels. I only recommend things I use myself or that I believe will deliver value to you. 
---
LAST-MINUTE PLANS FOR CRETE?
– Use Ferryhopper and Skyscanner for the best ticket rates.
– Find great accommodation deals on Booking.com.
– Compare car rental prices with Discover Cars.
– Check the best tours with GetYourGuide.
– Visit Elafonisi, discover Balos Beach, hike Samaria, or explore Knossos.
– Pack the Lonely Planet Guide to Crete or get my digital guide to Chania.
A quick guide to the best hotels in Crete
Budget: So Young Hostel in Heraklio, Cocoon City Hostel in Chania, Matthias Hotel Apartments in Rethymnon, and Villa Galini in Agios Nikolaos.
Mid-range: Capsis Astoria Heraklion in Heraklion, Porto Antico in Chania, Archipelagos Hotel in Rethymnon, or Hotel Port 7 in Agios Nikolaos.
Luxury:  Galaxy Iraklio Hotel in Heraklion, Hotel OFF in Chania, Avli Lounge in Rethymnon, or Minos Beach Art Hotel in Agios Nikolaos.
Check more: Where to stay in Crete.
General Information About Gavdos, Crete
Location: Where is Gavdos
The Greek island of Gavdos is the southernmost place you can visit in Greece and Europe! It is located closer to Africa than to the capital of the country, Athens.
Gavdos belongs to the island of Crete and it's part of the Chania prefecture or regional unit. It's located a little less than 50 km from the city of Chora Sfakion, on West Crete.
And it's thanks to Crete's geographical position in the Mediterranean that makes it home to Europe's southernmost city (Ierapetra), but also to Europe's southernmost land: Gavdos.
The capital of the island is Kastri, while the port is named Karabe.
The Landscape of Gavdos, Crete
The small island of Gavdos is about 32 square m. In the area, there's another even smaller island, part of the same region, known as Gavdopoula, or little Gavdos.
The island is pretty small and it's not hard to explore it in a few days. Gavdos is 9 km long and 4.5 km wide. Its natural landscape is made of small shrubs, pines, and junipers, as many of the southern beaches of Crete.
Another unique feature of Gavdos is that the central Mediterranean position makes the place an ideal stop for birds migrating between Africa and Europe.
Despite the low levels of rainfalls that Gavdos experiences during the year, the landscape is quite green, at the beginning of summer.
A couple of rivers that are visible during winter have a dry course in summer since the regular average temperatures always reach up to 35 to 40 ° C.
You may also want to read: Gay Travel in Crete – Insanely Useful Guide to the Top Gay-Friendly Spots on the Island!
There's just one – rather low – high peak, Mount Vardia, which is just 345 meters high. Gavdos is home to some unique beaches, and a rather rugged landscape of coves and rocky bays carved by the sea and the winds.
One of Gavdos most famous landmarks is, in fact, the natural arch known as Tripiti, on a rather isolated corner towards the eastern coast.
Gavdos enjoys a Mediterranean kind of weather, with very hot and dry summers.
Winters are pretty mild, as all over the southern coast of Crete, thanks to the influence of the hot winds coming from the Sahara Desert.
Together with the southern city of Ierapetra, Gavdos has the highest number of sunny days per year in Europe, and it's also considered the sunniest spot on the continent.
Due to its unique natural scenario, Gavdos is part of the Natura 2000 program of protected areas.
Looking for a vacation home to stay on the island?
>>Check this article<<
A Bit of History About Gavdos Island
If we take a look at the myth, according to Homer it was in Gavdos where Odysseus shipwrecked on his way back from Troy, but also where he was held prisoner by Kalypso, the famous goddess residing on the island.
Looking at historical facts, and like the rest of Crete, the island of Gavdos has been permanently populated since very old times, according to researches, at least since the Neolithic period, at least over 3000 years before the dawn of the current era.
Archaeologists have found important evidence that the island was also part of the Roman empire.
In the north, there are traces of both the Roman and Byzantine civilizations.
Different occupants of Gavdos gave the island different names during the years. It was known as Clavdos and Clauda, while it was Gotzo for the Venetians and Gonzo for the Ottomans.
Pirate Barbarosa sought refuge in Gavdos during 1539, using the island as a hideaway. Like the rest of Crete island, Gavdos fell to Turkish domination between 1665 and 1895.
The name of the beach of Sarakiniko (which means Saracen) is a clear reminder of the Ottoman invasion and rule on the island.
Essentials For Your Trip to Gavdos, Crete
Gavdos is a rather isolated place, it's not weird to be stranded on the island because there was a delay in the ferry schedule due to high seas, wind, or other weather conditions.
So the first essential you should consider is an extra provision of any medication that you must take no matter what.
On the same line, those traveling with small children would want to consider their special needs regarding food and diapers.
There's a pharmacy on the island, but in August prices tend to be on the higher side. If you have small children, plan accordingly.
Sunscreen: As you've just read above, the sun gets pretty intense on Gavdos, it's the area with the highest solar radiation in Europe which makes it an ideal place for solar panels, but rather less for your skin.
Both I and one of my kids get dark pretty easily, with just a mid to low kind of protection, however, my eldest son needs extreme care when exposed to the Cretan sun, as early as in spring. For him, I go with a good 100 SPF lotion that takes good care of his skin.
For peace of mind, if you are not such a fan of pebbled beaches, a good pair of beach shoes are always a good idea. Kids love them and while some people enjoy the massage pebbles can do on your feet, others hate them.
So, keep those in mind. For more beach essentials, why not checking my what to pack for the beach in Crete?
>>Check this link to look for your Gavdos ferry<<
Other Useful Things to Have with You
Among the many things you can do in Gavdos, snorkeling is among the top activities.
Bring a good pair of goggles if you don't want to pay high prices on the island.
But most importantly, it's still a common practice to camp on the beach in Gavdos. Despite having rather good hotels, part of the magic of the island is in its unique hippie spirit.
Sleeping under the stars is part of that. Pack a good and practical tent, and do remember some water purification tablets or filters, water supplies are a known issue in Gavdos.
Being it an island, reaching Gavdos is only possible by ferry, so if you suffer from motion sickness, pills are always a good idea.
For kids, though, I prefer motion sickness wristbands.
Remember: In Gavdos there is no freshwater. Locals are known for collecting rainwater to drink.
Likewise, generators are the only source of energy on the island, and it's often limited or even shut off completely at night. Might be a good idea to pack a flashlight?
>>Check this guide to pack your beach bag to visit the most remote beaches in Crete<<
How to Reach Gavdos Island, Crete
To reach Gavdos you must take a boat. The departure points are either the city of Chora Sfakion or the coastal seaside villages of Paleochora and Sougia.
Sometimes it's also possible to leave from Agia Roumeli or Loutro.
All of them on the southern coast of Chania, in Crete. It's always a must to check the departure schedules because they tend to change often.
Please, do so before booking accommodation, a sudden change in the ferry schedule can make your trip to Gavdos difficult or impossible during the high season, forcing you to change destination or dates or even leaving you battling for a hotel refund.
The best place where to check the schedules is the official site of the local ferry line ANENDYK. (Keep also their phone number at hand in case of need: +30 (28210) 95 511).
The most common point of departure is Chora Sfakion because it is the port with more scheduled weekly trips to Gavdos, you can reach the city after you cross the White Mountains through the gorge of Imbros.
The roads are fairly easy by car and the panoramas are unique.
Buses from Chania's Central Station reach Chora Sfakion daily. Check their website for an updated schedule.
Buses also reach Paleochora, another departure point for Gavdos.
Plan Ahead to Visit Gavdos
Always, and I mean always, allow for a few extra days in Crete after your planned departure back home. It's a wiser move not to book your trip back to Crete a day or hours before your flight back home
You won't be the first nor the last tourist who cannot leave Gavdos due to bad weather conditions for sailing. Keep that in mind. Always!
The season starts right after season also for boat connections and lasts until October, running several boats per week.
However, during winter there is just a ferry every week, often delayed for weather conditions.
There are also a few private companies offering the transfer to Gavdos, however, if the weather affects sailing, it will affect all.
Unless you buy a complete package tour of Gavdos including private boat transport, accommodation, and the tour of the island, prefer the official ferry company ANENDYK.
It will save you money and it's efficient.
Places to See in Gavdos Island, Crete
Other than the local beaches, which deserve a paragraph on their own, Gavdos is a quiet island where nothing much happens.
There are just a few villages to discover, many of which don't count with more than 20 or 30 permanent residents all year round.
Some of the villages to visit are Vatsiana, in the south, and the capital Kastri.
In the summer the island gets pretty crowded if compared to its regular standard of about a hundred inhabitants, many of them are campers though since there are not many hotels and room facilities.
>>You might also want to read Insanely Practical Tips for Holidays in Crete<<
Best Beaches in Gavdos Island
In no particular order, check some of the great beaches that you can find on Gavdos…
Karabe Beach
Sometimes also spelled Karave, the port of Gavdos is also home to a beach. It is on the eastern portion of the island and also home to a beautiful shallow bay with pebbles.
As in many other beaches, there is no organization, however, it is a good place for swimming if you don't want to walk or take the bus.
In the area, it's also possible to find a few shops or rent a room to spend a few days on the island. Buses to more distant beaches and villages depart from here.
Sarakiniko Beach
The most popular beach on Gavdos is Sarakiniko, which received its name in memory of the Saracen pirates that once sought refuge on the island.
The beach can get crowded in the high season but remains one of the most beautiful -and comfortable to reach- beaches on the small island.
Probably also among the best beaches all over Greece. Barely 2 km away from the port of Karabe there's a local bus that will take you from Karabe to Sarakiniko, however, walking to this could not take you more than half an hour.
Sarakiniko is a sandy beach, fairly safe for kids due to its shallow waters, it's a bit hidden thanks to the dunes, trees, and bushes that cover the surrounding area.
Campers usually prefer this part of the island since it is spacious and every basic facility is provided or rather close.
Agios Ioannis Beach
Also known as Agiannis, this beach is about 4 km from the main beach on the island, Sarakiniko.
There's a bus leaving from the port of Karabe that takes you to Agios Ioannis, or, if you prefer, it's also possible to walk.
The hike from Sarakiniko lasts about an hour, but the landscape is worth the effort.
This stunning shallow beach with crystal clear waters has been ranked second in the world for its beauty by the Discovery Channel.
Ever since, hundreds of tourists make it to Gavdos only to visit this wild spot, more similar to the African landscape than to the European one.
In the area, it's possible to visit a small church, which gives the name to the beach as well as the rest of the buildings belonging to the Roman period.
Fetifes Beach
If you decide to reach Agios Ioannis giving a try to hiking before you reach the destination the small beach of Fetifes is a great place to stop for pictures or a swim.
Or simply to enjoy the bizarre landscape and some relaxing solitude.
Located at the exit of the usually dry stream of Agios Pavlos, the beautiful rock formations on the beach have been shaped by the action of the sea giving them strange forms that will definitely capture your attention.
Tripiti Beach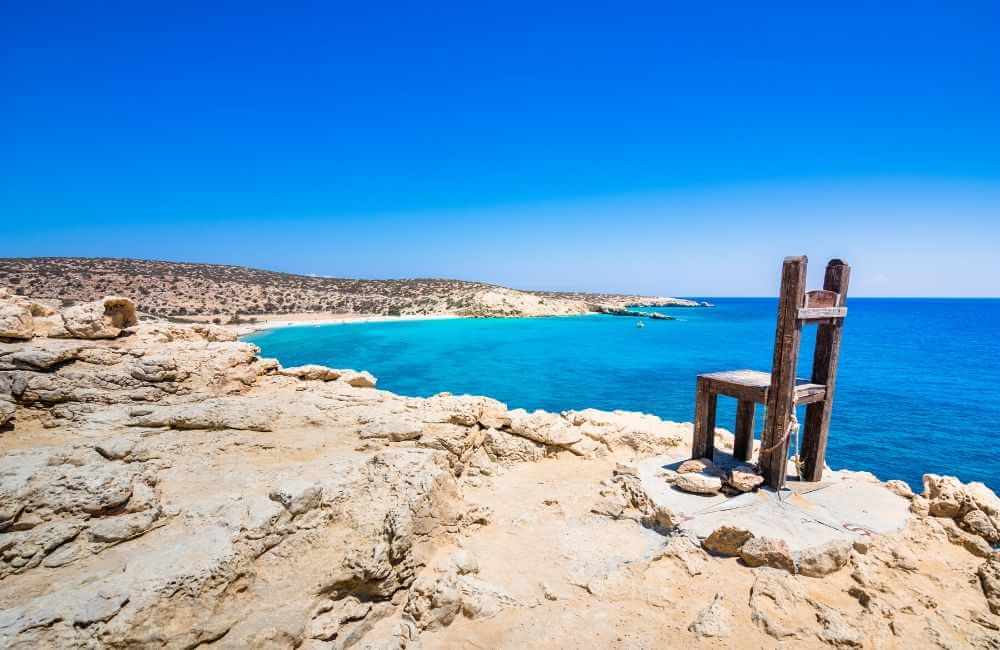 Tripiti's amazing landscape has made this place one of Gavdos and Crete's landmarks.
The rock formations on the coast sometimes form unique arches on top of the sea.
As a matter of fact, the name Tripiti comes from the Greek tripa, which means hole, this because it's possible to see three immense arches at the end of the formation and on top of the sea.
A concrete sculpture of a chair stands on the top of the Tripiti formation, this is a favorite place for tourists, where nobody misses to take a picture with their feet hanging from the edge of the continent.
The chair has an inscription reading "southernmost point of Europe".
Lavrakas Beach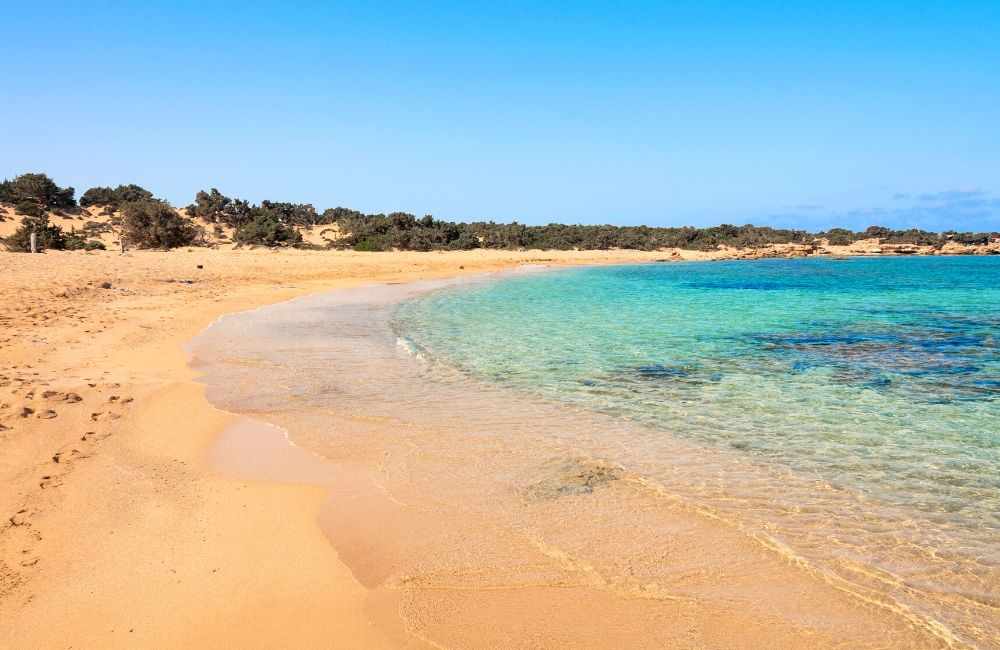 Only 2 km from Agios Ioannis, Lavrakas is on the northern coast of the island. It will only take you about half an hour to reach Lavrakas on foot from Agios Ioannis.
The bus that departures from the port can also leave you nearby, but remember that Lavrakas can be only accessed on foot.
This is a perfect place for those into naturism due to its isolated position and the complete lack of organization.
Lavrakas has historic importance on Gavdos since archaeologists found several Minoan caves in the area as well as other remains of ancient constructions.
Lavrakas is the perfect place for a relaxing day at the beach in complete loneliness.
Korfos Beach
This beautiful bay is not located far from the port of Gavdos, it can be reached both by walk (2 km) or with the bus that departs from Karabe.
Korfos is a beach mixing sand and small pebbles, and it is also a great place to rent a room during your stay.
It's conveniently close to other beautiful beaches as well as to the port of Gavdos, and there are cafés and tavernas in the village too.
Lakoudi Beach
Very close to Korfos (about 1 km), which can only be reached on foot, walking the same trail that also leads you to the famous Tripiti beach.
Potamos Beach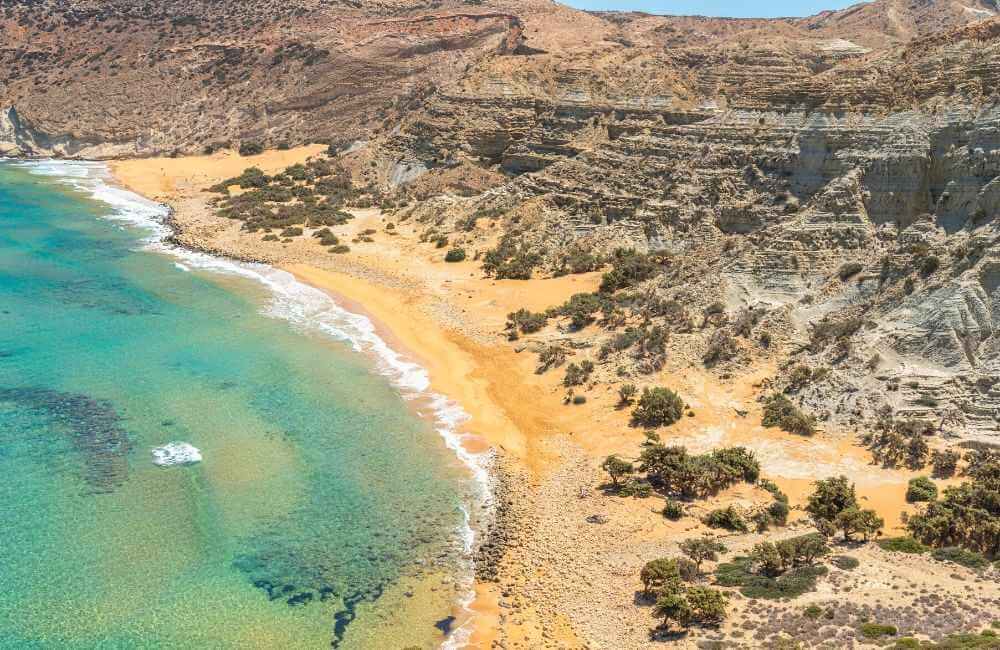 Potamos is another popular beach on Gavdos which nobody fails to recommend. It's next to Pyrgos beach and a favorite for families with kids thanks to its very shallow waters.
Not far from Karabe, about 7 km to the other, the landscape in Potamos includes a small canyon, lush vegetation, and beautiful cliffs.
Pyrgos Beach
Isolated and lacking organization, the two beaches of Pyrgos are ideal for a quiet day by the sea. The waters are tinted of an amazing turquoise color while due to its isolation, it's a favorite spot for camping.
Visitors can arrive in Pyrgos walking or hiring a boat.
The second is probably the best option since the walking path is rather long (up to 3 hours from the village of Ambelos) and can be steep and complicated at times.
Since it's far from any shop or taverna, if you plan a day in Pyrgos, remember to carry water and pack a lunch to spend the perfect day there.
Diana Beach
The place, accessible only by boat, is one of the most beautiful beaches on the island.
Completely isolated and lacking all kinds of organization, Diana beach is not far from Tripiti, always on the south coast.
It's a pebbled beach with beautiful clear waters, while there's also an impressive rock formation in the background.
Accommodation: Where to Stay in Gavdos
>>Read here everything about Villas to rent in Gavdos<< >><<.
I've been to Gavdos a couple of times, and I've always stayed at Gavdos Studios, which is -for me- the best option as far as location on the island is concerned.
The studios are simple accommodation with spectacular views and rather close to the beach.
General view of the studios (Photo courtesy of Gavdos Studios, Crete)
These units include a small kitchen with the necessary basics to make the stay easier.
Eating in Gavdos can be sometimes expensive, so having the possibility to prepare a quick dinner is always good.
The owners are also super friendly, but most importantly, they are flexible when it comes to changing ferry schedules and weather conditions.
This is a plus in Gavdos.
>> Check prices and availability for hotels on Gavdos, Crete <<
or
>>Read about Gavdos homes to rent<<
Best Things to Do on the Island of Gavdos
When visiting Gavdos, don't miss any of these…
Walk and Explore the Island
As you might have read so far, the best thing you can do in Gavdos is walking, hiking, and getting lost.
Multiple paths lead to discovering unique pine trees, juniper and cedar forests, and incredible isolated beaches.
Gavdos has been inhabited since ancient times, so it's possible to discover ruins easily on the island.
If you enjoy contact with nature, a non-polluted atmosphere, and stunning starry skies, Gavdos can be a magic place to disconnect from the rest of the world.
Don't expect nightclubs or lots of facilities. Nor more than a few crowds during the high season and just on the most popular beaches. Gavdos tends to be lonely for the rest of the time.
A visit after Easter, or late in September are perfect to enjoy the best of the island.
Snorkeling in the Libyan Sea
Gavdos' beaches are a gem in the Mediterranean. Unspoiled and with a wonderful seabed to explore, it can be a great location for snorkeling.
Facilities in the area are limited, so plan and bring all the necessary equipment for submarine activities on the island.
Snorkeling is a popular sport on Gavdos thanks to the local pristine waters and interesting underwater formations.
Visit the Lighthouse of Gavdos
The pretty lighthouse on the island is located very close to Ambelos, another village of Gavdos.
It dates back to the end of the 1800s and it's the work of the French Company for Lighthouses.
The lighthouse of Gavdos has 42-mile visibility. It's the second lighted sea distance in the world after the famous lighthouse of Tierra del Fuego, in South America.
Unfortunately, during the German occupation of Crete, the lighthouse was damaged back in the 1940s, while it was restored recently.
Today it is possible to visit the lighthouse and enjoy a cup of coffee in the lighthouse café. A little museum was also added to the premises.
Camping, Naturism, and Informal Holidays, in Gavdos
Gavdos has all the characteristics of an informal holiday or a romantic getaway.
Being fairly easy to reach but quite isolated, it's a Great island to spend a few days away from civilization.
Being bigger and populated as well as having more comfort and amenities than its sister southern island, Chrissi, Gavdos is simply a perfect destination.
Camping, naturism, and a stress-free lifestyle are the staples of Gavdos. Here life is informal and there's no need for elegant outfits to go around.
Gavdos has an atmosphere of its own, something that you will want to experience the next time you visit Crete.
---
What did you think about Gavdos Island?
Let me know in the comments below!
---
Pin this Guide to What to Do in Gavdos for Your Crete Adventures!
About the author of this blog: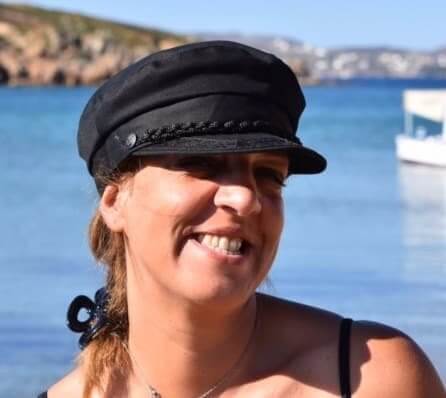 Gabi has been living in Crete for the last five years. Here, she juggles being a solo mom, hosting culinary tours in the summer, translating, and writing for The Tiny Book and her other blogs.
She's written for Greek Reporter, published three travel guides about Greece, and had more glasses of frappe than any regular person would be able to handle.
---
You might also want to read:
---