The Greek Islands are among the most popular holiday destinations in Europe. There are 227 habited islands and they all have 'something for everyone' including, gorgeous beaches, turquoise waters, tasty food, and interesting places to visit.
There is always an extra warm welcome for families, as the Greeks adore children! And of course, some of the Greek Islands are more suited to families than others… So read on to discover which are the best Greek Islands for families!
---
Disclaimer: Posts include affiliate links to products or services. I might earn a commission if you make a purchase at no extra cost.
---
The Best Greek Islands for Kids
The Best Greek Islands for Kids
Greece is one of the most amazing spots in Europe for a holiday filled with lots of sunshine, hours of lazy swimming in crystal clear seas, and tons of sandcastles.
For this reason, I've come up with this list including the top family-friendly Greek islands for you to choose where to go next to spend a memorable summer holiday.
Here we bring you our suggestions of the best Greek Islands for a family holiday with children:
Naxos for Families
Naxos is the largest island in the group of the Cyclades and it has some of the best beaches in Greece for kids.
And despite all that, it is yet somehow relatively underdeveloped as a holiday destination, which can work to our advantage.
On the island, kids will find plenty to do, they will love to spend time on some amazing (and safe) sandy beaches including Agios Georgios, Agios Prokopios, and Agia Anna.
In fact, all of them boast shallow, crystal-clear waters and enough organization for you not to pack the kitchen sink when heading to the beach.
If you have older children or teens, Plaka Beach is ideal since it offers windsurfing and lessons are available in different water sports centers.
And when it's time to go out and have some fun, the main town of Chora has white-washed Cycladic-style houses and old Venetian mansions and is overlooked by its 13th-century castle – Kastro – that perches on the hilltop.
All the small alleys in Chora are pedestrian, which makes it one of the best Greek islands for toddlers. Those who are just learning to walk will give momma some peace of mind!
If you head inland, instead, older kids and teens will be able to enjoy the many good hiking trails or tour the mountain villages for fun.
Want more? Naxos is also known for its excellent food that proves popular with children!
Click here to find family-friendly accommodation in Naxos or check this article with the best hotels and the most convenient areas to stay in Naxos.
Top Family-Friendly Tours in Naxos
Mykonos… A Lot More than Just a Party Island!
Although Mykonos is well-known as a party island, it is still a really fun family destination with the northern part of the island being very family-oriented. And in case you were wondering?
I myself chose Mykonos for a family holiday when my little kid was only 2 and the older 6… and they had a blast!
The island's capital town, often known as Mykonos Town or Chora, is one of the prettiest in Greece and is great fun to explore on foot.
There is the iconic row of old windmills on the hillside by the sea facing the picturesque seaside row of whitewashed houses known as 'Little Venice'. In town, winding streets with tavernas and the local character, Petros the Pelican will attract adults and children alike.
GOOD TO KNOW: If we had to compare the Chora of Mykonos with many other main towns on the Greek islands, it is quite safe to say that Mykonos is flat, therefore the most pushchair friendly of all. Keep this in mind if you're traveling with babies and toddlers!
protected from the island's winds.
If you have older children, teens, or even young adults, the winds of course mean good kite surfing and windsurfing opportunities…
Not to mention dozens of entertainment opportunities for those young adults interested in dancing the night away, something that puts Mykonos among the best Greek islands for teenage families.
Mykonos is popular with divers too as there are several wrecks off its coast. It is fun to take a short boat trip to the small nearby island of Delos (the mythological birthplace of Apollo) to see the archaeological site and learn about mythical gods and heroes!
Where to Stay in Mykonos with Kids
Click here to find more family-friendly accommodation in Mykonos.
Corfu: A Great Greek island for Families… and Solo Parents Too!
I've visited Corfu as a solo mom of a 4 and an 8-year-old and it was truly safe, keep this in mind if you're a solo parent traveling in Greece with kids!
The beautiful island of Corfu has hillsides, pretty villages, and plenty of lush green vegetation making the landscape varied and quite different from the rest of the Greek islands.
Besides, families in Corfu will find numerous things to do, as well as dozens of lovely beaches to enjoy.
On the west side of the island, Glyfada and Agios Gordios are huge sandy beaches with all the facilities a family would need for a perfect day at the beach.
The north coast is perfect for swimming and Canal d'Amour in Sidari is fun and such a gorgeous spot for a family snapshot! Canal d'Amour is a long creek where the sea has weathered the rock and you can swim through the tunnel!
My favorite ones, though, have always been the beaches in the village of Paleokastritsa. Here, you will find more than 5 different beaches all of them truly family-friendly and perfect for young children as the water could not be calmer or clearer (yes, the water is colder than on other beaches in Corfu.
However, my kids had so much fun playing on the shore that they really didn't notice!). Issos Beach on the south coast has reliable winds and attracts windsurfing enthusiasts too.
The island's capital, Corfu Town is a UNESCO World Heritage site with numerous kantounias (winding alleys) and Venetian architecture.
There are churches and monasteries to explore, including Vlacherna Monastery on an islet at the end of a jetty on the Kanoni Peninsula as well as the Byzantine monastery on Pontikonisi ('Mouse Island') that is reached by boat.
Click here to find family-friendly accommodation in Corfu or check out the best kid-friendly hotels in Corfu
Corfu Kid-Friendly Tours
Crete: My Favorite Place for the Best Family Holidays in Greece
Not only Crete is the best Greek island to visit, but it is also the perfect destination if you're visiting Greece with kids…
You might say I'm biased, and I might… but trust me, I know what I'm talking about, so much so, that we moved to Crete over 6 years ago and we just love it!
The island is huge and offers so much to explore and discover! In fact, Crete is the largest Greek island and it features a wonderful mixture of beaches, mountains, and archaeology.
Knossos, situated near Heraklion, is one of the largest archaeological sites in Greece and was once a royal Minoan palace in Europe's oldest civilization.
The ruins bring history alive for children, as do the many museums in Heraklion (Iraklio).
Chania on the east coast is a region with stunning three sandy beaches, while the old town boasts a pretty Venetian harbor. Elafonisi Beach on the southwest coast is definitely one of the island's best beaches.
There is a series of lagoons and when the tide is low, it is possible to wade out to the island which is a nature reserve.
For older children and teenagers, there are plenty of water sports, and hiking the Samaria Gorge (14 km) from its northern entrance (1,250 meters) down to the coastal hamlet of Agia Roumeli is a memorable experience.
Click here to find family-friendly accommodation in Crete.
Top Tours in Crete for Families
Rhodes: Fun for All Ages!
Rhodes is among the most popular family-friendly Greek islands. There are many beautiful beaches – especially along its eastern coast, that make Rhodes just perfect for the whole family.
Faliraki is one of the beaches that families love the most and not just because of the sandy beach and shallow waters, but also because there is a fun water park too for children to spend a really fun time.
Strolling along the cobbled and car-free streets of its medieval capital, Rhodes Town is amazing.
The old citadel is dominated by the Palace of the Grand Master of the Knights of Rhodes which was once the Commanderie (Headquarters) of the Crusader Knights of the Order of St John. Trust me, kids adore this magnificent Medieval castle!
Within walking distance of the main town is the harbor of Mandraki filled with luxury yachts, while further on lies the Rhodes Aquarium which reveals the area's rich marine life.
Inland there is plenty to see too including Petaloudes – the Valley of the Butterflies and several hiking trails to follow, perfect for those kids who love outdoor adventures.
On the island's east coast stands the village of Lindos with its clifftop acropolis. It takes about 20 minutes to walk up, but the view from the top is a great reward.
Click here to find family-friendly accommodation in Rhodes.
Best Rhodes Tours for the Whole Family
Skiathos, Venture Off the Beaten Track with Kids!
This small green island is a lovely family destination, perfect for those families that enjoy spending long hours at the beach. In fact, there are 60 beaches with fine, powdery sand and shallow waters which are ideal for young children.
Koukounaries is the island's most famous beach and has been voted the 7th best beach in the world. Other favorites include Troulos, Kolios, Agia Eleni, and Maratha.
And it's really fun to spend the days 'beach hopping' using the local water taxis.
There are scuba lessons for children aged eight years upwards as both scuba diving and snorkeling in Skiathos are brilliant.
If you prefer some outdoor exploration, there are numerous hiking routes to discover villages and monasteries, you can even walk to Bourtzi, a peninsula with an intriguing medieval fortress for kids to discover.
Family sailing trips are fun too in Skiathos, and for older children, a holiday in Skiathos is just super cool as it was the setting for the hit musical Mamma Mia!
Click here to find family-friendly accommodation in Skiathos.
⛴️  Check out ferry ticket fees and schedules
Santorini: Not Just a Romantic Island
Children love the dramatic and stunningly beautiful island of Santorini as it was created by a volcanic eruption and the Caldera.
The real marvel is to take a look at this water-filled crater and volcano, or even to explore the ruins in Akrotiri, preserved for centuries by the thick layer of ashes coming from the eruption.
Trust me, kids will enjoy Santorini more than you could even imagine because not everything on the island is only for couples… at all!
The island's main town is called Fira (Thira) and it is perched high on the crater cliffs. The harbor is situated at sea level and reached by a long path with numerous shallow steps.
As an alternative, you can hop in the cable car, an exciting experience for children.
On the island, you can choose one of the various boat trips that explore the Caldera and other small islands including Nea Kameni with its still active volcano where you can walk up to the rim of the crater!
We admit Santorini might not be the best Greek island for toddlers, but teens will certainly love this whitewashed paradise!
Many of the beaches on Santorini are quite different from the heavenly sandy beach you picture when thinking of the Greek islands.
In fact, they are made from red, black, and white colored lava stones – which do get hot underfoot in the afternoon, making beach shoes essential. The waters are crystal clear and there are water sports to enjoy including kayaking, waterskiing, and snorkeling too.
Click here to find family-friendly accommodation in Santorini.
Tour Santorini with Kids
Milos, a Different Greece Vacation with Kids!
eece with kids but you want to avoid overcrowded islands?
Then give Milos a chance! Milos is a beloved family holiday destination for Greek families, so it will probably be the same for you.
What you probably don't know is that, just like Santorini, Milos is another volcanic island and it has caves and dramatic rock formations that will fascinate those little explorers in tow.
The island has 70 beaches and among these, Paliohori is the most popular. In some places you can swim by some dramatic rocks and for older children this offers them the chance to try cliff jumping.
One particularly popular place is Kleftiko which used to be a refuge for pirates and today is excellent for snorkeling.
For fun moments away from the beach, Milos has catacombs in Plaka, a Roman amphitheater, and pretty hillside towns like Trypiti and Klima to explore.
Family-Friendly Places to Stay in Milos
Zakynthos Island (Zante) for Kids
many places to explore. Its main town is car-free (making it a great Greek island for toddlers) with rich Venetian architecture, pretty shops, and great tavernas for meals.
If you want a great view of the main town, a brisk walk up to the Venetian Kastro is required.
There are numerous mountain villages to explore and many of them are ideal for watching the sunset.
There are some amazing beaches on the island, with the best family beaches being on the eastern coast.
Tsivili is a popular beach for water sports, while the Blue Caves on the north coast simply offer an amazing opportunity both for swimming and snorkeling.
Some of the hidden bays are only accessible by boat and these include the iconic Navagio Beach (or the Smugglers Cove) with its shipwreck.
Zakynthos is a breeding site for the Loggerhead Turtle (Caretta caretta) and Daphni Nesting Beach in Zakynthos Town is where the turtle conservation program is located and also on the island of Marathonisi – well worth visiting as there are also plenty of dolphins to see… Is there anything that children won't love?
Click here to find family-friendly accommodation in Zakynthos.
Best Tours in Zakynthos for the Whole Family
Kos: One of the Best Greek Resorts for Families
Kos is a really great island for children. There are some lovely sandy beaches, including some with black volcanic sands while, more suitable for toddlers, the beaches along the south coast have fine golden sand.
One of the most popular beaches is Paradise Beach which is large and sandy with warm shallow waters, and plenty of opportunity for water skiing. 
The pebble beach at Agios Fokas is just a short distance from the warm waters of the thermal springs at Bros Therma. In the area, there are some beautiful coves with crystal-clear waters for snorkeling too.
There is much to do on Kos and this includes boat trips around the island or to Plati, a deserted islet off the coast at Pserimos.
There is the history of the Asklepieion to learn too, since Kos is considered the birthplace of medicine, and named after the god of healing.
The last working windmill at Antimachia is worth seeing too, while Zia Natural Park is a fun place to learn about the beauty of the island and perfect for children to enjoy feeding the animals.
Top Kos Resorts for Families
As you can see, there are plenty of great Greek islands for families, so all you have to do now is discover which of them will offer the best family vacation that better suits your family's needs!
Read more to plan the perfect Greek island holiday for the whole family:
Pin this Guide to the Best Greek Islands for Families for Your Next Vacation in Greece!
About my blog: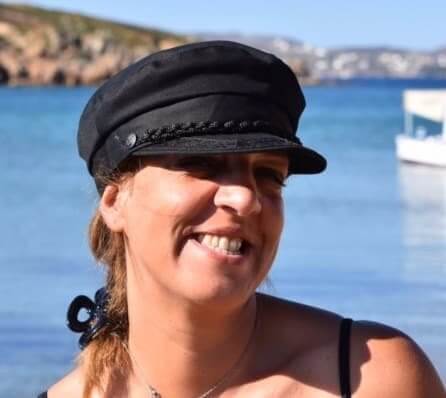 I moved to Crete in 2016. During these years, I learned much about the island.
In Crete, I juggle being a solo mom, hosting culinary tours, and writing for several travel blogs.
I've written for Greek Reporter, published travel guides about Greece, and had more glasses of frappe than any regular person could ever handle.