Santorini really should be on everyone's bucket list because it is a stunningly beautiful island, and who said Santorini won't be a good fit for families?
Santorini is an amazing destination for people of all ages, and I'm ready to show you why! Keep reading to discover some of the most amazing things to do in Santorini with kids!
---
Disclaimer: Posts include affiliate links to products or services. I might earn a commission if you make a purchase at no extra cost.
---
Great Things to Do in Santorini with Kids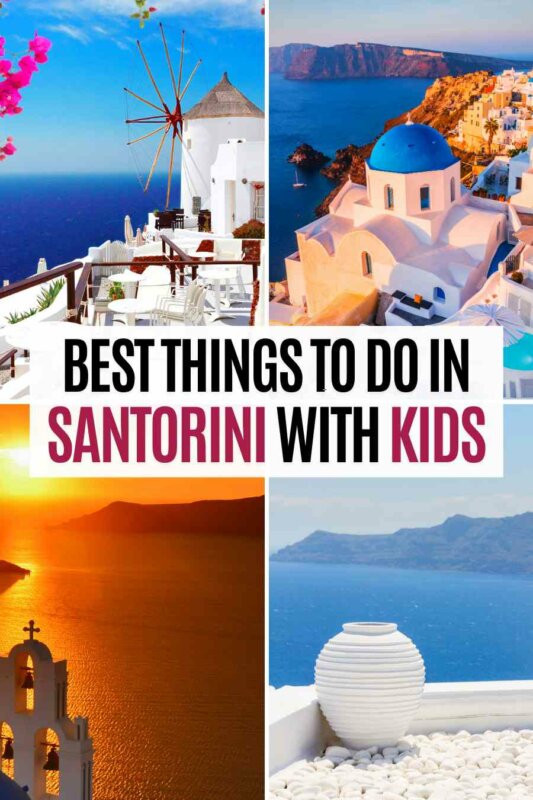 General Information about Santorini
Situated in the Southern Aegean, it was formed by a huge volcanic eruption in 1645 BC.
Five islands were left, with the Caldera (volcanic crater) in the center. Santorini, the largest island, has long had the reputation as a romantic island, perfect for couples, but it is an equally good holiday destination for families.
Best ways to travel to Santorini with the family
You can get to Santorini in a few different ways. Since it is one of the most popular destinations in Greece, you can easily reach Santorini both by ferry or plane almost in any season.
During summer, there are also direct flights from many cities in Europe too.
By plane: There are normally 3 daily flights from Athens (the trip takes around 45 minutes). There are also flights from Thessaloniki and from other Greek islands, including Rhodes and Crete.
Santorini International Airport is about 15 minutes from Fira. And there are car rental offices available as well as a taxi rank. Alternatively, you can also hire a transfer service.
By ferry: You can travel to Santorini by ferry from the port of Piraeus, about 30 minutes from the center of Athens. Ferries arrive at the port of Athinios which is about 20 minutes by car from Fira.
There are normally 3 to 5 daily ferries from Piraeus and the travel time can go from 4 to 8 hours according to the type of boat (regular line or fast ferry).
⛴️  Check out ferry ticket fees and schedules
Moving Around in Santorini with Kids
Getting around is relatively easy as the main town of Fira is the hub for the bus network and there are hire cars and taxis available too.
There are several buses connecting the different towns but I honestly prefer moving around by taxi or by car.
Buses tend to be overcrowded in summer, which turns the experience into a nightmare when moving around with small kids.
Buses are ok to move around with older kids and teens, but not so much during the peak months when the island sees a tourist invasion… keep this in mind!
Renting a car on the Greek islands is always the best way to explore, even more, if you're traveling with small kids. I've always rented cars well before my trip, for better fees, and after comparing fees online.
I use this car rental search engine to make sure that I can check the offers of every important local and international rental company available.
Which car rental service is the best to choose?
If you want to rent a car for your trip and look for the best service, then I am here to help you! Consider choosing Discover Cars, an international car rental booking service present worldwide. This way, you will find the best car for your trip wherever you are!
Here we bring you some great ideas of things to do on the island, including the best kid-friendly experiences in Santorini, take a look!
Check Out the Beaches in Santorini
What holiday will it be without some quality beach time? Worry not, although the island is not really famous for its beaches, a Santorini family vacation will also have some time by the sea!
Although the beaches on the island are not the best in Greece, there are beaches that kids can enjoy in Santorini.
The best beaches on the island are on its south and eastern coast. Monolithos on the east coast is a large sandy beach with shallow water.
There are beach chairs, sun umbrellas, and a playground at the far end. For older children, there is also a football pitch and basketball court.
Perissa and Perivolia are adjacent sandy beaches on the southeastern corner that are also ideal for children with calm, shallow water.
Santorini is well known for its black volcanic sand beaches and there are a number of them situated close to Megalochori.
The beaches look dramatic but it is important to remember that the black sand absorbs the sun's heat and by the afternoon is extremely hot.
Plastic beach shoes are essential for all the family (at all times!). You may decide it is best to visit the beach in the mornings before the sand gets too hot.
Mesa Pigadia has a lovely beach which is a mixture of sand and rounded pebbles. The beach is overlooked by a series of cave houses — varkadries — which are used as winter storage for fishing boats.
Kamari is a large sandy bay with sun loungers and umbrellas to rent and several cafés overlooking the beach.
The Red Beach (Kokkini Paralia) on the island's south coast is beautiful as it has dramatic red volcanic cliffs and a deep blue ocean.
There is good snorkeling but it is suitable for teenagers and adults, rather than younger children.
A little further on is White Beach which is quieter as there are no facilities but swimming and snorkeling for younger children are good there. The safest way to get there is by boat.
Remember!
Few beaches in Santorini are push-chair or beach buggy friendly and not many have facilities for all the family, so it's always essential to take plenty of water and snacks with you – plus high-factor sun protection cream, and even a hat for the kids.
When visiting the beaches in the south, remember that most black beaches in Santorini have volcanic pebbles that can get extremely hot in summer, packing swimming shoes is a genius idea!
Explore Fira with Kids, a Visit to Santorini's Capital
The island's main town of Fira is stunningly beautiful as it has developed along the upper rim of the Caldera.
It is typically Cycladic in style with narrow winding streets, white-washed buildings, and small churches with large bright blue domes.
The sides of the Caldera are steep, but there is a pathway with 600+ shallow steps that zig-zag down to the harbor of Skala Thira.
For those who would rather not walk, it is possible to get a lift on a donkey or in a small cable car.
Santorini Museums to Discover with Kids
There are two museums worth stopping by when discovering Santorini with your kids, they are quite easy to visit and kids will enjoy them a lot.
Archaeological Museum of Fira: The museum is located in the center of Fira, it is a small museum that you can visit in about an hour. Over here, kids can take a look at different artifacts found on the island, dating from the 3rd millennium BC until the Classical period. Check details for the visit here.
Museum of Prehistoric Thira: Another great museum to visit on the island, this exhibition houses objects found in the Ancient Site of Akrotiri. It clearly portrays the geology of the island from the Late Neolithic to the Late Cycladic period. Check more details here.
Museum of Minerals and Fossils: This fairly new museum is located in Perissa, and offers an impressive collection that includes plant fossils from olive or palm trees that come from the caldera, dating back 50.000-60.000 years from today.
The oldest exhibit that you will find dates back 1.5 billion years! Check more details here.
Wine Museum: Located in the small village of Vothonas, this museum is located in a natural cave, about 6 meters underneath the ground, and it showcases interesting details about the life and history of winemaking on the island.
After the audio-guided visit (in several languages), parents can have a wine-tasting opportunity while the kids sip a glass of orange juice.
We loved this visit and I can safely say that, for us, this was one of the top things to do in Santorini with my kids! Check all the information on this website.
You can also join an organized wine museum visit here.
Lignos Folklore Museum: Another fascinating visit, the museum is set in a Santorinian cave house. The museum is an old winery that also features workshops for carpenters, barrel makers, shoemakers, and tinsmiths.
There is also a garden that you can check out after visiting the museum with a gorgeous sitting area. Guided tours are available.
>>> The museum is located in Kontochori (Fira) and is open daily from 10 am to 2 pm.
Naval Maritime Museum: This Oia museum is set in a traditional restored mansion. Here, kids can marvel at rare figureheads, chests, old maritime equipment, as well as models of old Thiran vessels. Check more details for the visit here.
Tomato Industrial Museum: Located in Vlychada, this visit is one of the best things to do in Santorini with kids, children love this experience!
The museum features a characteristic chimney in an industrial environment, a flashback of the island's past, the history of the tomato factory, the island, and its inhabitants.
The visit will tell kids everything about the cultivation, processing, and production of Santorini's small-fruited tomatoes, a Protected Designation of Origin (PDO) product since 2006, and one of the most famous local products.
The visit includes an audio-guided tour, a tasting of tomato paste, and a memorable souvenir. The entrance ticket is €10, but kids up to 12 years old enter for free. Check more about the Tomato Industrial Museum.
Travel Back in Time Visiting Santorini's Castles!
There are five different castles and fortresses that the kids can visit when touring the island. These 5 fortified settlements made the history of the island.
The most famous of them all is the rock of Skaros, which you can visit when venturing into the most famous Santorini hike (see below).
This was Santorini's most important fortified settlement, inhabited in medieval times which offered protection from sea pirates.
However, there's also the Castle of Agios Nikolaos in Oia (probably the most famous sunset spot on the island), as well as the fortified Tower of Nimborio (in the village of Emporio), and the fantastic remains of the Castle in Pyrgos, and the ancient tower and castle in Akrotiri.
Is the Family into Hiking? Walk from Fira to Oia!
There is a great walk that goes from Fira to Oia. The walk follows a dirt track so is not ideal for pushchairs.
The walk is 9.5 km in length and takes 3-5 hours, so you will need to take plenty of water and some snacks with you. The good news is that it is easy to catch the bus back to Fira for the return trip!
The first part of the walk is along the upper edge of the caldera and has stunning views. The village of Imerovigli is on the route and the Skaros Rock, which is where the first castle was built in the fifteenth century.
Oia is a pretty village with plenty of good tavernas for a relaxing meal.
The Atlantis Bookshop is a fascinating place and is regarded as one of the best bookshops in the world with a huge selection of children's books in a variety of languages — it is lovely and cool so the ideal place to linger!
One great idea is to head towards Oia towards the end of the day as there are many tavernas there and it is definitely the best vantage point for the stunning sunsets.
Visit the Islands Near Santorini with the Family
Santorini is the largest of the five islands created by a huge volcanic eruption. It is fun to walk down from the main town to the harbor of Skala Thira to catch one of the boats visiting the other islands.
Nea Kameni is the ideal island for hiking and there is the chance to climb up to the volcanic crater. This island also gives visitors stunning views across Santorini.
There are no boat trips to this island, just organized tours – which are worth it!
Palea Kameni is known for its hot springs which are warmed by volcanic activity deep in the earth. The water averages 30 – 35ºC in temperature.
The volcanic mud on this island is said to be very beneficial to the skin which is fun to test out! Aspronisi is an uninhabited island and in contrast, Thirasia, the fourth island, has a population of about 300 people and several good tavernas.
It is a good idea to choose a tour like this one to visit some of these islands in one day!  
Discover the Highlights of Santorini
There are plenty of places to visit and this is easiest with a hire car although Santorini does have quite a good bus service.
At Akrotiri, there is a large archaeological site that is 6,500 years old and was a city during the Minoan civilization.
The excavations are undercover and give an amazing insight into this sophisticated civilization with its three-story buildings, indoor toilets, and beautiful frescoes.
The city was flattened by the volcano that broke up the island and its many artifacts were covered in thick volcanic ash which has preserved them amazingly well.
Exo Gonia is a pretty village situated on the southeastern coast that is well known for its island cuisine, while Vothonas is a small village that is situated in a steep gorge.
The architecture of the buildings is interesting and the village church of Agia Anna is well worth visiting as it has a carved wooden iconostasis (altar screen) that depicts stories from the Old Testament.
The hilltop village of Pyrgos is fun to explore with its castle perched on the top.
Kamari is an old fishing village with a lovely long shoreline. There is an archaeological site with the Sanctuary of Poseidon (god of the sea).
Recently, there was much excitement when archaeologists uncovered a second sanctuary – dedicated to Achilles. The modern architecture in the village is interesting as many of the houses are barrel-vaulted.
Do you Have Teens? Check Out these Teen-Friendly Things to Do in Santorini!
Taking a catamaran trip from Skala Thira is fun as there is the chance to go swimming and snorkeling from the boat. If your teenager is experienced, you can hire kayaks to explore the Caldera – experience is needed as there are some strong currents.
There is good kayaking along the coast onto the Akrotiri lighthouse as there are hidden coves and sea caves to explore along the way.
In the evening, a popular place to go is the open-air cinema in Kamari. The films shown are all Hollywood classics, usually in English with Greek subtitles.
For kids of all ages (although teens particularly love this), why not check this horseback riding at sunset in Santorini?!
The experience begins at the stables in Megalochori village, to then ride along the paths of the traditional village, out toward the Caldera cliff.
Santorini is a great family holiday destination and what makes it so special is that children of all ages are always given a warm welcome.
Are you visiting Santorini with the kids this summer?
Top Family-Friendly Hotels in Santorini
If you're wondering where to stay in Santorini with kids, well there are a few towns that are better than others.
When traveling with the family, the best places in Santorini for families with kids are Fira, but also the tranquil Firostefani, Imerovigli, and the black beaches villages of Kamari, and Perissa.
Although Oia can be super beautiful, most hotels are not kid-friendly or simply adult-only due to the proximity to the Caldera.
These are my top pick hotels in Santorini for kids:
Budget Place to Stay in Santorini for Families with Kids
San Giorgio
3 stars
Location: The hotel is well-located, on the main street of Fira, the capital of Santorini, close to many restaurants, bars, cafeterias, and the most fantastic sunset views.
The hotel, which has been recently renovated, is a family-owned property in the heart of Fira, on a cobbled road only 100 meters from the center. It is also close to the taxi station and the central bus station.
San Giorgio features family rooms and triple rooms that fit families well. There's also a family-friendly pool in a secondary building.
For small kids: Cots can be provided upon request. Kids have a special fee from 0 to 4.
For the whole family: Rooms are equipped with a TV and fridge. An electric kettle is standard, so you won't need to worry about preparing bottles to feed your baby.
Extras: Guests staying for 2 consecutive nights or more are offered free transfer from Santorini Airport from 08:00 until 20:00.
Top-rated, Budget-Friendly Hotel in Perissa, Santorini
Anezina Villas
Rated 4/5 on Booking.com
Location: Perissa, about a 5-minute walk from the beach.
A family-friendly property with top reviews, this is a great place to stay in Santorini on a budget. The hotel has a kid-friendly pool with a sun terrace while all accommodation is air-conditioned and offers a balcony. The apartments and studios feature a well-equipped kitchenette while a full English breakfast, with tasty options for kids, is also available. Along the pool, there's a snack bar offering sandwiches, smoothies, and other options throughout the day.
For kids: The property offers you books and DVDs for children, a special kids' pool, and children's cots upon request too. Kids' meals are also available upon request (additional charge).
For the whole family: The property offers strollers, board games, and puzzles, and there are safety gates throughout.
For mommy: Spa treatments and wellness!
Family-Friendly Hotel in Imerovigli
Dome Santorini Resort & Spa
Rating 9.0 on Booking.com
Location: Close to the main area of Imerovigli, on the road that connects Fira to Oia.
A beautiful family hotel in Santorini, featuring the stunning architecture of the Cyclades, minus the high price tag of the properties facing the Caldera. And truly child-friendly. The hotel is located in a strategic position to reach the best places on the island and is only 6 km from Santorini Airport. It features villas and suites, some of them specially designed for families. On the property, there is also a restaurant and a seasonal outdoor pool.
For kids: The property offers bike hire and babysitting services. During breakfast, there's a kid-friendly buffet while the restaurant also serves kid meals.
For mommies and dads: Spa and wellness center.
Certainly, this is one of the best places to stay in Santorini with kids!
🛌 Suggested Accommodation in Santorini
Pin this Guide to the Best Things to Do in Santorini with Kids for your Upcoming Family Adventures in Greece!
About my blog: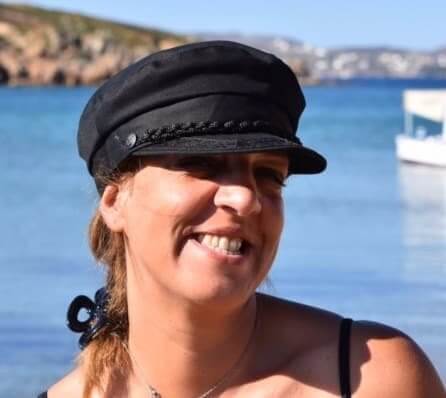 I moved to Crete in 2016. During these years, I learned much about the island.
In Crete, I juggle being a solo mom, hosting culinary tours, and writing for several travel blogs.
I've written for Greek Reporter, published travel guides about Greece, and had more glasses of frappe than any regular person could ever handle.