If you're seeking an escape to paradise, look no further than Ikaria. With a rare, untouched beauty and tranquil atmosphere, this Greek island is the perfect destination for relaxation, wellness, and adventure.
Want to know more? Here are ten irresistible reasons to visit Ikaria, one of the five Blue Zones on the planet.
---
Disclaimer: Posts include affiliate links to products or services. I might earn a commission if you make a purchase.
---
10 Irresistible Reasons to Explore Ikaria's Untouched Beauty
PLANNING A LAST-MINUTE TRIP TO GREECE?
Be sure to book accommodation and tours in Greece ahead of time to ensure availability!
🛥️ Book ferry tickets with Ferryhopper.
🛌 Find hotel deals on Booking.com.
🚘 Compare car rental prices with Discover Cars.
💳 In need of money? Use WISE as a digital card and top-up from the app.
Where is Ikaria?
Located in the eastern part of the Aegean, Ikaria belongs to the North Aegean region. It is situated to the west of Samos and the southwest of Chios.
Ikaria is known for its beautiful landscapes, traditional villages, and a relatively high number of centenarians, which has led to the island being associated with longevity and a healthy lifestyle.
Let's now discover the best reasons to visit Ikaria!
Longevity: Learn the Secrets of Longevity
Ikaria is the place to go for those desiring to live a long life.
After all, its inhabitants live surprisingly long and healthy lives. Staying on the island will allow you to taste the local way of life, learning valuable lessons for a healthier, more fulfilling lifestyle.
Ikaria is one of the world's Blue Zones, where people are known to live longer than anywhere else.
If you hear this for the first time, I urge you to watch episode 3 of the Netflix Documentary "Live to 100." There, you'll find all the reasons you need to visit Ikaria.
Hot Springs: Spend a Holiday of Relaxation in Thermal Baths
Picture yourself in warm, mineral-rich waters, surrounded by lush greenery and breathtaking views.
You'll feel lucky to be around Ikaria's natural hot springs, used for centuries for their therapeutic benefits. Therma Loumakia, for instance, is one of the springs with easier access on the island.
Soak away your worries, and let the healing waters rejuvenate your body and mind. Undoubtedly, Ikaria's thermal baths will be the highlight of your trip.
Wellness: Explore the Healing and Wellness Traditions of Ikaria
As you might have guessed by now, Ikaria is the place to be if you want to rejuvenate your mind, body, and soul.
The island even offers a range of wellness retreats focusing on holistic healing and rejuvenation.
For example, the Ikaria Longevity Retreat is a popular choice, where you can discover the island's healing traditions and learn from local experts.
From yoga and meditation classes to herbal workshops and spa treatments, this retreat offers a comprehensive wellness experience you will remember forever.
Nature: Explore the Stunning Natural Landscapes of the Island
Ikaria boasts some of the most spectacular natural landscapes in Greece. The island's rugged coastline, crystal-clear waters, and pristine beaches make it a paradise for nature lovers.
Whether you prefer sunbathing on sandy beaches or discovering rocky shores, Ikaria has it all.
Head to Seychelles Beach for a tropical escape, or visit Nas Beach for its unique rock formations. For a quieter experience, Livadi Beach offers peace and tranquility.
Whatever your preference, the beaches of Ikaria will leave you in awe of their untouched beauty.
History: Dive into the Ancient Wonders and Rich History of Ikaria
Ikaria is not just a haven of natural beauty but also a rich historical heritage. Dive into the island's past by exploring its landscape's ancient wonders.
Start your journey in Agios Kirykos, the capital of Ikaria, where you'll find the charming harbor and the island's Archaeological Museum.
From there, venture into the surrounding area to discover ancient ruins, including the Temple of Artemis and the Fortress of Koskina.
Such historical sites make the perfect setting to unravel the mysteries of Ikaria's past.
Food: Experience the Ikarian Diet and Get Tips for Your Dinner
One of the highlights of visiting Ikaria is experiencing its renowned food culture. The Ikarian diet is a culinary delight known for its health benefits and delicious flavors.
If you're wondering, it centers on fresh, locally sourced ingredients, such as vegetables, legumes, whole grains, and olive oil.
From the famous Ikarian longevity stew to fresh Ikarian juice and delicious handmade pitarakia, or small pies filled with greens, the island's cuisine will tantalize your taste buds and nourish your body.
So grab any chance to indulge in the traditional Ikarian dishes at local tavernas and learn the secrets of their preparation. You can even participate in cooking classes to bring a taste of Ikaria home.
Local Wine: Discover the Unique Wine Footprint of Ikaria with Wine-Tasting
No visit to Ikaria is complete without exploring its unique wine culture. The island is known for its indigenous grape varieties and traditional winemaking techniques that date back millennia.
Journey through Ikaria's vineyards and wineries, where you can sample various wines and learn about the island's winemaking traditions.
Each sip will transport you to the heart of Ikaria, from the earthy reds to the crisp whites.
Check out this video made by Afianes Wines from Ikaria about wine-making on the island:
Community: Interact with the Friendly and Hospitable Ikarians
One of the most remarkable aspects of Ikaria is its warm and welcoming community. The locals, known as Ikarians, are known for their friendliness and hospitality.
As you explore the island, you'll have countless opportunities to interact with them and learn about their way of life.
Don't be surprised if you're invited into someone's home for a cup of traditional Ikarian tea or a taste of their homemade raw honey.
Engage in conversations, listen to their stories, and experience the local culture. Your interactions and connections with the Ikarian people will leave lasting impressions for the rest of your life.
Events: Join Local Festivals and Panigiria
If you're looking to immerse yourself in the vibrant culture of Ikaria, attending local festivals and events is a must.
The island is known for its lively Panigiria, traditional celebrations that bring people together for a night of fun and plenty of dancing.
From music and dance performances to delicious food and drinks, these festivals offer a glimpse into the soul of Ikaria.
If you're not lucky enough to attend a Panigiri, head to Christos Raches. This charming village comes alive at night, with its tavernas and bars offering live music and entertainment.
Join the fun, let loose, and dance the night away with the locals. The energy and joy of these events will leave you with memories to cherish for decades.
Sustainable Tourism in Ikaria: Get Off the Beaten Path
To fully experience the essence of Ikaria, take the road less traveled and explore the remote corners of the island. Sustainable tourism is on the rise and a big reason to visit Ikaria.
Hike through the lush mountains and discover hidden trails that lead to breathtaking viewpoints.
Visit the remote villages and connect with the locals, who will welcome you with open arms. Engage in eco-friendly activities such as beach cleanups and nature conservation projects.
By embracing sustainable tourism, you'll leave a positive impact on the island and create memories that will touch you deeply.
Why Ikaria Should Be Your Next Travel Destination
In short, Ikaria is a destination that offers a unique and unforgettable travel experience. From its secrets of longevity to its stunning natural landscapes, this Greek island has something for everyone.
So, why wait? Start planning your trip to Ikaria and embark on a journey of a lifetime.
Suggested Accommodation in Ikaria
Check out these hotels and rental homes for a fantastic stay in Ikaria:
Are you visiting Ikaria this summer?
Read more about the Greek Islands
🛌 Suggested Accommodation in Athens:
🗺️ More resources to book your trip to Greece:
Written by Dimitrios Tsevremes
Passionate about travel, spirituality, and sports, I have lived in 5 countries and traveled to more places than I have counted. Writing, for me, is a way to express myself and my creativity. Whether I write for my blog or a freelancing gig, I always fall in love with the process and often lose my sense of time. If you want, you can check out more about me and my work here.
Pin it! Top Reasons to Visit Ikaria Island in Greece!
About my blog: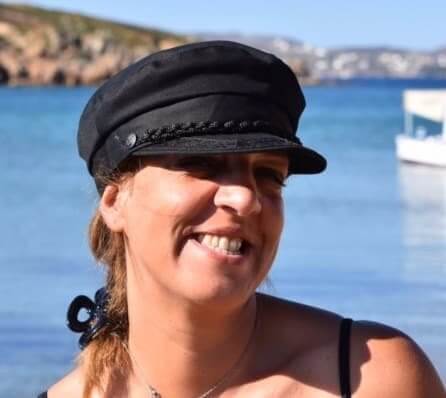 I moved to Crete in 2016. During these years, I learned much about the island.
In Crete, I juggle being a solo mom, hosting culinary tours, and writing for several travel media.
I've written for Greek Reporter, published travel guides about Greece, co-authored DK Eyewitness Top 10 Crete, and had more glasses of frappe than any regular person could ever handle.