If you're visiting Syros, the picturesque Greek island in the Cyclades, one crucial decision is selecting the ideal area to stay in. Thankfully, whether you crave the lively atmosphere of a coastal town or seek the tranquility of a fishing village, Syros has something to suit every taste.
So, let's explore where to stay in Syros and find out about those areas that offer unique charm and a gateway for an unforgettable holiday experience.
---
Disclaimer: Posts include affiliate links to products or services. I might earn a commission if you make a purchase.
---
Best Areas to Stay in Syros
ARE YOU PLANNING YOUR TRIP TO SYROS LAST MINUTE?
Be sure to book accommodation in Syros ahead of time to ensure availability!
🛌 Top picks for places to stay in Syros:
– Grammata Suites (this is the place where I stayed in Syros. I thoroughly recommend it for its comfort and super convenient location in the heart of Ermoupoli.)
– Ventoura Studios & Apartments (in the center of Galissas with a hot tub, family-friendly, and supper affordable!)
🚗 Looking for the best way to get around Syros? Check rental car rates for Syros now or discover convenient rates at a local car rental company!
💳 Use WISE as a digital card and top-up from the app no matter where you are. Wise is one of the best cards for overseas travel!
Whether you prefer staying in the island's capital or near the beach, this article includes the most popular areas to stay in Syros; check them out!
Ermoupoli
Ermoupoli, Syros' capital and main port, is undoubtedly one of the best areas to stay on the island. It is a vibrant town with a cosmopolitan vibe, beautiful neoclassical buildings, charming narrow streets, and a colorful seaside promenade.
Specifically, the picturesque architecture and historic landmarks, such as the imposing Apollo Theater and the beautiful Church of Agios Nikolaos, make Ermoupoli a visually captivating destination.
Furthermore, you can explore the town's many boutique shops, trendy cafes, and authentic tavernas, as well as attend lively cultural events and enjoy its bustling nightlife.
Lastly, the town serves as an excellent base for exploring other parts of Syros, making it a convenient and alluring choice for accommodation.
Recommended Hotel in Ermoupoli
Hotel Ploes: Located in a renovated 19th-century mansion, Hotel Ploes offers elegant and comfortable rooms with modern amenities. The hotel has a rooftop terrace with panoramic views of the town and the sea and is within walking distance of the main attractions, such as Ermoupoli Town Hall and Miaouli Square.
Click here for more information and the latest prices.
Galissas
Galissas is a haven for beach lovers and relaxation seekers. It features a long sandy beach with crystal-clear waters, making it the perfect setting for a peaceful and rejuvenating vacation.
Furthermore, the beachfront town boasts a range of accommodation options, from luxury resorts to budget-friendly apartments, ensuring there is something to suit every traveler's preferences.
Besides its natural beauty, Galissas is also home to charming tavernas and beach bars serving delicious traditional Greek cuisine and refreshing cocktails.
Recommended Hotel in Galissas
Hotel Benois: Located just a few steps away from the sandy beach of Galissas, Hotel Benois offers stunning sea views. Furthermore, it features comfortable and modern rooms with private balconies, an outdoor swimming pool and a poolside bar, a lush garden, and an on-site restaurant serving Greek and international specialties.
Click here for more information and the latest prices.
Foinikas
Foinikas (or also Finikas), a picturesque fishing village nestled on the western coast of Syros, is a hidden gem worth considering when choosing the best area to stay on the island.
It is a serene and charming village offering a peaceful ambiance, making it perfect for those seeking a tranquil and relaxing holiday.
Furthermore, Foinikas has a beautiful bay and a marina, where you can admire the traditional fishing boats and soak in the authentic maritime atmosphere.
Also, the village boasts a handful of quaint tavernas, cafes, and small shops, offering a taste of local culture and cuisine, while its sandy beach provides a calm and pristine spot for sunbathing, swimming, and enjoying the gentle sea breeze.
Recommended Hotel in Foinikas
Brazzera Hotel: This beachfront hotel has comfortable and spacious rooms with balconies or verandas, many of which offer breathtaking views of the Aegean Sea. Guests can enjoy the outdoor swimming pool, the on-site restaurant serving delicious Greek cuisine, and the friendly and attentive staff.
Click here for more information and the latest prices.
Ano Syros
Ano Syros is the oldest settlement on the island, towering over Ermoupoli. It's a captivating neighborhood that offers a unique and enchanting experience.
In fact, it is perched atop a hill, offering you breathtaking panoramic views of the town and the Aegean Sea.
Furthermore, its narrow cobblestone streets are lined with beautiful whitewashed houses adorned with colorful flowers, showcasing the traditional Cycladic architecture.
Exploring Ano Syros feels like stepping back in time, with its historical charm and preserved medieval atmosphere.
The neighborhood is also home to charming cafes, tavernas, and small shops selling locally made crafts and souvenirs.
Recommended Hotel in Ano Syros
Wind Tales: This small boutique hotel in the heart of Ano Syros offers a unique and authentic experience. It features spacious and beautifully decorated rooms with traditional Cycladic architecture, each with its own distinctive character and style.
Click here for more information and the latest prices.
Vari
Vari offers a tranquil and idyllic retreat for those seeking a peaceful, laid-back atmosphere.
Specifically, it's a quiet coastal village known for its beautiful sandy beaches and untouched natural landscapes, so it provides a serene and secluded setting, perfect for relaxation and privacy.
The village also boasts a few traditional tavernas and beach bars, where you can savor delicious Greek cuisine while enjoying the calming sounds of the sea.
Lastly, the sandy beach of Vari is ideal for sunbathing, swimming, and leisurely walks along the shore, allowing you to escape the hustle and bustle of crowded beaches and surround yourself with the beauty of nature.
Recommended Hotel in Vari
Syros Holidays: This hotel is just steps away from Vari Beach, offering guests easy access to the sandy shores and crystal-clear waters. The pet-friendly hotel features comfortable and modern rooms with private balconies or terraces and an outdoor swimming pool. The hotel also offers a shuttle service to reach the port or the airport.
Click here for more information and the latest prices.
Poseidonia
Poseidonia, also known as Della Grazia, is a charming coastal village on the island's south coast. Known for its elegant mansions and stunning gardens, Poseidonia offers a truly picturesque and sophisticated atmosphere.
Besides, it's only 10 km from Ermoupoli, making it a convenient place where to stay in Syros.
The village exudes tranquility and beauty with its long sandy beach lined with palm trees, making it an excellent choice for a peaceful stay on the island of unwinding and enjoying the warm Mediterranean sun. Agathopes Beach – one of the island's best shores – and Komitos Beach are two of the beaches closest to Poseidonia.
The village also offers upscale accommodation options and a selection of high-quality restaurants and cafes to relish in delectable local cuisine, allowing guests to indulge in luxury and comfort.
Recommended Hotel in Poseidonia
Poseidonia's Breeze: This is a two-bedroom house just 300 meters away from Poseidonia Beach. The holiday house features two spacious bedrooms with balconies and stunning sea views, a terrace and garden views, a cozy living room, and a fully equipped kitchen.
Click here for more information and the latest prices.
Kini
Kini, a quaint coastal village nestled on the western coast of Syros, is a hidden gem that offers a peaceful and picturesque retreat for travelers.
This charming fishing village boasts a scenic bay with crystal-clear waters and a beautiful sandy beach, making it a haven for beach enthusiasts. In fact, you can spend your holiday simply sunbathing, swimming, or indulging in water activities like snorkeling or kayaking.
Kini also has a small harbor where colorful fishing boats adorn the azure waters, adding to the village's authentic coastal ambiance.
Furthermore, Kini has a selection of traditional tavernas and cafes that serve fresh seafood and local delicacies, allowing you to savor the authentic flavors of Syros.
Recommended Hotel in Kini
Blue Harmony Hotel: This seaside hotel in Kini has panoramic views and excellent services. It features comfortable rooms with a private balcony or patio offering stunning sea views. In addition, the hotel serves delicious and fulfilling continental breakfasts every morning.
Click here for more information and the latest prices.
Azolimnos
A quiet seaside village that's easy to reach from the center of Ermoupoli, Azolimnos offers a truly convenient place to stay, close to nightlife and restaurants, while incredibly quiet and peaceful.
Along the pristine beach with fine sand, you will also find some great beach bars and tavernas offering great Greek dishes. Azolimnos is also a favorite place among families visiting Syros.
Azolimnos is also close to the airport, making the village one of the most convenient places to stay in Syros to move around with a rental car.
Recommended Hotel in Azolimnos
Aigaio Studios & Rooms: Simple but highly well-located, this property enjoys ravishing reviews! The studios are about 200 meters from Azolimnos Beach. It features accommodation with barbecue facilities, a garden, and free private parking. All units have a terrace or a patio with sea views, a picnic area, and an indoor playroom.
Click here for more information and the latest prices.
Getting Around Syros
Getting around Syros is relatively easy and convenient, allowing you to explore the island's best areas and attractions.
The most common mode of transportation is by bus. The island has a reliable and extensive network connecting its significant towns and villages, including Ermoupoli, Galissas, and Vari.
For those who prefer more flexibility and independence, renting a car or a scooter is a great option, as it allows for exploring remote areas and hidden beaches.
Taxis are also available, providing a convenient way to travel between destinations.
Which car rental service is the best to choose?
If you want to rent a car for your trip and look for the best service, I am here to help you! Consider choosing Discover Cars, an international car rental booking service present worldwide. This way, you will find the best car for your trip wherever you are!
As you can see, there are diverse options of areas and accommodations to choose from in Syros, catering to every traveler's preferences.
Ermoupoli offers a vibrant and cultural atmosphere, Galissas entices with its stunning beach, Ano Syros takes visitors back in time, while Foinikas offers a serene fishing village experience. While Azolimnos caters to families with kids, Vari promises a secluded and natural retreat.
Poseidonia showcases elegance and sophistication, and for those looking for a hidden gem, Kini offers a picturesque coastal escape.
Whichever area you choose, Syros promises an unforgettable holiday experience with its stunning landscapes, rich cultural heritage, and warm Greek hospitality.
So, take your pick and enjoy a memorable journey to the enchanting island Syros, a true gem in the Aegean Sea.
Read more about Syros
🛌 Suggested Accommodation in Syros:
🗺️ More resources to book your trip to Syros:
Pin it Now! Best Areas to Stay in Syros, Greece
About my blog: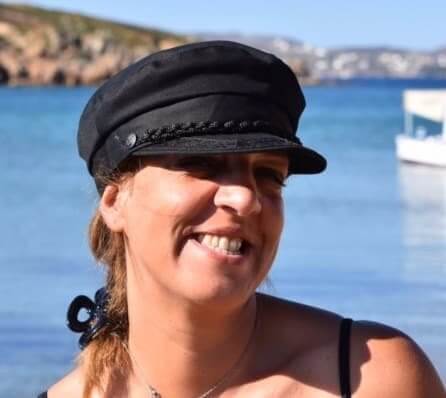 I moved to Crete in 2016. During these years, I learned much about the island.
In Crete, I juggle being a solo mom, hosting culinary tours, and writing for several travel media.
I've written for Greek Reporter, published travel guides about Greece, co-authored DK Eyewitness Top 10 Crete, and had more glasses of frappe than any regular person could ever handle.