Syros, a serene and picturesque island in the Cyclades, is not only known for its rich history and charming architecture but also for its stunning beaches.
Whether you seek a family-friendly beach with calm waters, a secluded cove surrounded by untouched nature, or a vibrant spot with water sports activities, Syros has it all.
So, let's explore the top beaches in Syros, where you can bask in the sun, swim in crystal-clear waters, and immerse yourself in the tranquil beauty of this Greek island paradise.
---
Disclaimer: Posts include affiliate links to products or services. I might earn a commission if you make a purchase.
---
15 Best Beaches in Syros
ARE YOU PLANNING YOUR TRIP TO SYROS LAST MINUTE?
Be sure to book accommodation in Syros ahead of time to ensure availability!
🛌 Top picks for places to stay in Syros:
– Grammata Suites (this is the place where I stayed in Syros. I thoroughly recommend it for its comfort and super convenient location in the heart of Ermoupoli.)
– Ventoura Studios & Apartments (in the center of Galissas with a hot tub, family-friendly, and supper affordable!)
🚗 Looking for the best way to get around Syros? Check rental car rates for Syros now or discover convenient rates at a local car rental company!
💳 Use WISE as a digital card and top-up from the app no matter where you are. Wise is one of the best cards for overseas travel!
In no particular order, these are some of my favorite beaches in Syros, Greece!
Galissas Beach
Galissas Beach is undoubtedly one of the best beaches to visit on the island. Located in the southern part of Syros, Galissas Beach offers natural beauty, convenience, and safety.
With its fine golden sand and shimmering turquoise waters, this beach is a paradise for swimming, a leisure stroll, playing in the sand, and sunbathing.
Families with kids will especially enjoy the shallow and calm waters. It has a safe and enjoyable environment for children to splash and play.
Galissas Beach is an organized beach with sunbeds and umbrellas and features beachfront taverns and cafes, ensuring comfort and convenience.
Kini Beach
Nestled on the western coast of Syros, Kini Beach offers a tranquil and idyllic retreat from the bustling crowds.
With its charming fishing village atmosphere and captivating beauty, Kini Beach is definitely one of the top beaches on the island.
Specifically, this picturesque beach features crystal clear waters, inviting eager travelers to take a refreshing dip or snorkel among the vibrant marine life.
Sun-seekers can lounge on the soft golden sand, soaking up the warm Mediterranean sun and taking in the breathtaking panoramic views of the Aegean Sea.
Then, after a long day of swimming and sunbathing, you can savor delicious seafood dishes at the traditional taverns lining the shore to immerse in the authenticity and charm of Kini Beach.
Finikas Beach
Located in the charming village of Finikas (or Foinikas), this beach is a hidden gem that should not be missed.
It offers a serene and laid-back atmosphere, away from the tourist crowds, allowing you to unwind and connect with nature truly.
The soft sand and clear turquoise waters create the perfect setting for a leisurely beach day. As you relax under the warm sun, take in the beauty of the surrounding landscape, which features lush vegetation and picturesque hills.
Don't forget to stay until the evening, as Finikas Beach is known for its spectacular sunsets that paint the sky in a myriad of colors.
Megas Gialos Beach
Situated in the southeastern part of Syros, Megas Gialos Beach is a lesser-known beach offering a peaceful and unspoiled coastal experience.
It boasts a pristine stretch of golden sand and crystal-clear azure waters, perfect for those seeking a peaceful setting and natural beauty.
In fact, surrounded by lush vegetation and rugged cliffs, Megas Gialos Beach provides a secluded atmosphere that allows you to escape the hustle and bustle of everyday life.
So, in other words, whether you're looking to enjoy the Mediterranean sun, take a relaxing swim, or have a peaceful stroll along the shore, Megas Gialos Beach offers a serene retreat that showcases the unspoiled wonders of Syros.
Agathopes Beach
Agathopes Beach is a true gem of natural beauty and excellent facilities for recreational experiences. Specifically, Agathopes is a sandy beach nestled in a picturesque bay with calm, shallow waters, making it a family-friendly destination.
Furthermore, whether you're lounging on the soft sand or dipping in the crystal-clear blue sea, Agathopes Beach provides a serene setting for relaxation and enjoyment.
Additionally, those seeking an adventurous beach day can indulge in various water sports activities, such as paddleboarding and kayaking, adding a splash of excitement to their beach experience.
So, with its scenic surroundings and tranquil ambiance, Agathopes Beach is a must-visit destination for a beautiful seaside retreat and a touch of adventure on the stunning island of Syros.
Delfini Beach
Delfini Beach is near the famous Kini, but it offers a more secluded and peaceful escape, making it perfect for those seeking a more intimate beach experience.
The beach is tucked away in a small cove and surrounded by rugged rocks, featuring a natural and untouched beauty.
Delfini boasts crystal-clear waters and soft sand, so it is a paradise for swimmers and snorkelers looking to explore the vibrant marine life beneath the surface.
Additionally, the tranquil atmosphere and breathtaking views make Delfini Beach an ideal spot both for relaxation and rejuvenation and capturing stunning photos as the perfect memento from your Syros trip.
Vari Beach
With its long stretch of golden sand and crystal-clear turquoise waters, Vari Beach offers a delightful coastal experience for beach lovers.
The calm and relaxed atmosphere makes it a popular choice for both locals and tourists looking to escape the crowds and enjoy a peaceful day by the sea.
The shallow waters are perfect for swimming, and the sandy shore provides a comfortable spot for sunbathing and picnicking.
Vari Beach also offers a range of amenities, including beach bars, restaurants, and sunbeds, ensuring a relaxing and enjoyable beach outing.
Kokkina Beach
Kokkina Beach offers a unique and stunning landscape that sets it apart from other beaches on the island. Its name, which translates to "red" in Greek, is derived from the vibrant reddish hue of the rocks that line the shore.
So, this pebble beach provides a rugged and natural experience, perfect for those looking to connect with the raw beauty of Syros.
Also, the deep blue waters offer an excellent experience to swimmers and snorkelers who want to explore the underwater world, while the surrounding cliffs feature breathtaking panoramic views.
Therefore, Kokkina Beach offers a tranquil and secluded ambiance, making it an ideal spot for those seeking a peaceful retreat on their visit to Syros.
Achladi Beach
This beach, shaped like a pear – which gives it its name, is between Vari and Megas Gialos in the southern part of Syros, about 8 km from Ermoupoli.
The scenic bay features calm waters, making it safe for kids. The beach is organized, and you will find a few tavernas along the coast, so packing a lunch won't be necessary
Azolimnos Beach
Another unmissable shore, only 5 minutes from the center of Ermoupoli, is Azolimnos. This small village features a family-friendly coast with fine sand and tranquil waters.
The beach is fully organized, although you won't have any problem finding long traits of free coast to spread your beach towel and enjoy a day swimming or sunbathing.
On the seaside promenade, you will find plenty of parking spots, a few good restaurants and snack bars, and a couple of convenience shops.
Komito Beach
Located near the village of Posidonia, Komito Beach is a pristine beach boasting a long stretch of golden sand and shallow turquoise waters, creating a peaceful and inviting atmosphere.
Whether you want to relax and bask in the sun or take a leisurely swim in the calm sea, Komito Beach provides the perfect setting for a tranquil seaside escape.
Surrounded by natural beauty and offering picturesque views of the Aegean Sea, this beach is also popular among nature enthusiasts and photographers.
So, the serene ambiance combined with the breathtaking backdrop makes Komito Beach a must-visit destination for those seeking a serene and relaxing beach experience during their time in Syros.
Other Beaches You Shouldn't Miss in Syros
Santorinioi Beach
Nestled in the northern part of Syros, this is a hidden gem with unique natural beauty and a tranquil ambiance. This secluded beach offers a striking landscape with volcanic rocks and deep blue waters reminiscent of the famous Santorini beaches.
The beach features unspoiled surroundings and a peaceful atmosphere, making it a perfect hideaway for those looking to escape the hustle and bustle of the more popular tourist spots.
With its serene and uncrowded ambiance, you can enjoy uninterrupted relaxation, sunbathing on the smooth pebbles or taking refreshing swims in the crystalline waters.
So, if you seek a calm and picturesque beach where you can truly immerse yourself in the beauty of nature, Santorinioi Beach is the ideal destination to discover on your Syros adventure.
Asteria
Perfect if you have only a couple of hours to devote to the beach and don't want to leave Ermoupoli,
Asteria is located at a calm bay at the far end of Ermoupoli seaside walk, in the Vaporia neighborhood. After climbing down the steps that reach the sea at the back of Agios Nikolaos Church, you will meet a diving platform, a fea umbrellas, plenty of ducks, and snack beach bar.
Ampela Beach
Arguably one of the smallest shores on the island, this turquoise bay stands a few minutes from Megas Gialos beach.
Although it's a relatively tiny beach, it offers organized facilities and activities, featuring accommofations, tavernas, and some convenience shops.
Armeas Beach
This is a small bay located right next to Galissas Beach, featuring a dreamy barren landscape made of coarse sand, rocks, and pebbles. The solitary shore stands behind a hill and offers an intimate seaside area where naturism is not odd.
You can easily walk from Galissas to Armeas, however access to the beach might need some hiking (leave the flipflops at home and carry trainers). The beach lacks organization, so pack fruit and drinks if you plan to spend the day.
As you can see, Syros is a hidden gem in the Cyclades, offering a diverse selection of breathtaking beaches that every type of beach lover will love.
Syros has everything from the famous Galissas Beach with its golden sand and family-friendly atmosphere to the secluded and picturesque Delfini Beach.
Furthermore, whether you prefer the vibrant watersports activities at Agathopes Beach or the untouched beauty of Kokkina Beach, the beaches of Syros have something to offer for everyone.
So, with their crystal-clear waters, stunning landscapes, peaceful ambiance, and adventurous activities, these beaches in Syros promise an unforgettable seaside experience that will leave you longing for more.
Read more about Syros
🛌 Suggested Accommodation in Syros:
🗺️ More resources to book your trip to Syros:
Pin It! Best Beaches in Syros, Greece
About my blog: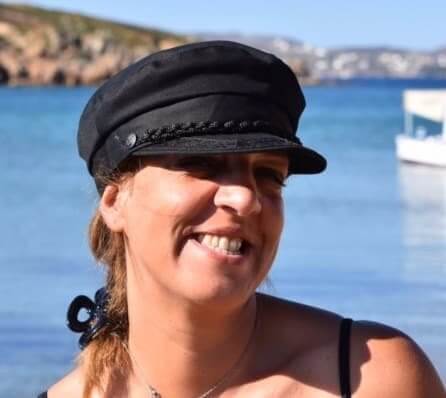 I moved to Crete in 2016. During these years, I learned much about the island.
In Crete, I juggle being a solo mom, hosting culinary tours, and writing for several travel media.
I've written for Greek Reporter, published travel guides about Greece, co-authored DK Eyewitness Top 10 Crete, and had more glasses of frappe than any regular person could ever handle.