Nestled in the heart of Chania's Venetian Harbor, a culinary gem beckons locals and travelers to embark on a tantalizing gastronomic journey.
With an enchanting blend of traditional Cretan flavors and modern culinary artistry, Lithos Restaurant is a must-go place for an unforgettable dining experience.
Don't miss a chance to discover this all-day restaurant with terrific views and delicious bites. Head to the Old Venetian Harbor in Chania and pick a seat at Lithos Restaurant. Here's why!
---
Disclaimer: Posts include affiliate links to products or services. I might earn a commission if you make a purchase.
---
Lithos Restaurant, Venetian Port of Chania
Lithos Restaurant and Cafe, Chania – Review
Right on the prettiest promenade in Chania, facing the ancient Egyptian Lighthouse and the waters of the Old Venetian Harbor, Lithos is a charming eatery that is a testament to the island's rich culinary heritage.
Offering a warm and welcoming ambiance that complements its exceptional menu, Lithos will take any dining experience to the next level.
From its stone walls to its carefully crafted dishes, Lithos Restaurant is a true embodiment of the spirit of Crete, inviting diners to savor the essence of our beautiful Mediterranean island.
Whether you're a food enthusiast or a curious traveler, Lithos Restaurant promises a memorable encounter with the flavors and traditions of Chania, Crete.
All Day Restaurant, Cafe, Brunch… and More
Dining is not just an event. Over here, it's mostly a way of life.
Transcending the boundaries of traditional dining, Lithos' versatile menu offers a lot more than just Cretan food.
All Day Restaurant
Lithos is more than just a restaurant; it's your go-to place for delicious treats… Throughout the day.
Whether you're seeking a leisurely lunch, a romantic dinner, or a late-night snack, Lithos caters to your culinary desires from sunrise to well after sunset.
The extensive menu ensures that you can enjoy a wide array of dishes, no matter the time.
Cafe Vibes
Lithos seamlessly transitions into a cozy café during the day, offering an inviting space to sip on freshly brewed coffee or a refreshing cocktail while the sun sets behind the sea.
The laid-back atmosphere and scenic views provide the perfect setting to relax, socialize, or simply unwind while enjoying your favorite brew.
Brunch Extravaganza
For those who adore the leisurely indulgence of brunch, Lithos has you covered. Experience the art of a leisurely late-morning or early-afternoon meal.
At Lithos, you will find an assortment of brunch delights that tantalize your taste buds and transform the moment into a memorable (and delicious) occasion.
…More
But Lithos offers even more than just dining. It's a place where food meets culture, where you can immerse yourself in the essence of Cretan traditions. As Lithos often reminds us, You have to taste a culture to understand it.
Lithos presents a world of gastronomic delights, from sunrise to late into the night.
Whether you're in the mood for a hearty dinner, a leisurely coffee, a delightful brunch, or a cultural experience, Lithos Restaurant in Chania, Crete, is your all-encompassing destination for a truly memorable dining experience.
Dishes That Have Bewitched Us…
During our last visit to Lithos, we tasted some of the best picks from the menu.
And even when the restaurant takes pride in featuring a seasonal menu that changes on a regular basis, that does not mean that you won't find something you'll love!
Salads at Lithos
Many years ago, when I first dined at Lithos, their creative salads. Imagine a delightful salad that's as visually stunning as it is delicious. This was a strawberry-infused masterpiece combining the vibrant colors and flavors of summer, offering a refreshing and creative twist on the classic side dish.
This time, instead, we started our dinner with a salad with fruits that not only included seasonal greens, nuts, and figs but also a selected array of fruits, including grapes, peaches, and pear… the most perfect summer dish!
Starters: Same but Different
Nobody visiting the Greek islands and loving cheese would ever dream of skipping a classic Saganaki Cheese as a starter.
At Lithos, this culinary delight is taken to a different level, featuring local cheese varieties wrapped in light tempura deep-fried in fragrant Extra Virgin olive oil… add a drizzle of orange marmalade. You'll be in Heaven!
Seafood is another staple of Greek cuisine, right? Then Lithos knows how to make it love seafood even more: Choose their Octopus Bruschetta with a spicy touch of wasabi. We were blown away by how good this was!
Serious Cretan Food
We chose two different main dishes that clearly echo Cretan cuisine. First of all, authentic pasta from the island, skiufikta, seasoned with plenty of stakoboutiro ((butter from sheep or goat) and fresh myzithra cheese. A dish that cannot get any more Cretan than this!
Our second main was a tender local beef stifado with a thick red sauce featuring baby onions and garnished with a super flavorful smoked aubergine purée. We loved it!
Luscious Pavlova
For dessert, Lithos'own Pavlova version.
Nothing short of an edible masterpiece, this sumptuous creation features a heavenly blend of crisp and delicate meringue, billowy clouds of whipped cream, and a captivating medley of fresh fruits offering a burst of sweet and tangy flavors.
A summery delight!
If you're visiting Chania from April to late October, then check out this gorgeous place by the sea.
You will find a delicious menu served at a refined place housed in one of the area's most beautiful and best-preserved buildings.
Promoting, supporting, and highlighting the best of local flavors, the restaurant features creative Greek cuisine paired with fantastic Greek wines.
Ready to book a table with a view? Contact Lithos:
+30 28210 74406
info (at) lithosrestaurant (dot) gr or check out their Facebook page
Address: 7-9, Akti Kountourioti, Chania Old Harbor
Chania City Break
Chania is a must-visit region in Crete… Hosting some of the most amazing beaches on the island, it also offers plenty of opportunities to find just the right entertainment.
Whether it is one of the many coffee shops in the old town, one of its incredible restaurants, laid-back bars, or exciting places to visit for night fun… there are tons of places you can discover in town.
Still, I think there's so much more that you shouldn't miss in this region. Home to incredible hikes, a dozen water sports, and seaside experiences, but also museums and unique areas to discover.
Parks, shops, impressive buildings, stunning examples of architecture, archaeological sites, and much more… there is a little bit for everyone in the Chania region.
🛌 Suggested Accommodation in Chania
🗺️ More resources to book your trip to Crete
Pin it Now and Read it Later!
Why You Should Visit Lithos Restaurant, Chania, Crete.
---
You might also want to read these posts about Crete's regions:
---
About my blog: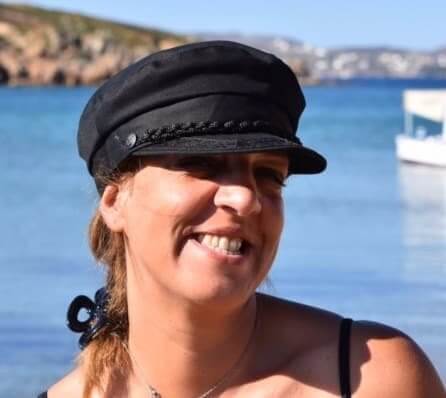 I moved to Crete in 2016. During these years, I learned much about the island.
In Crete, I juggle being a solo mom, hosting culinary tours, and writing for several travel media.
I've written for Greek Reporter, published travel guides about Greece, co-authored DK Eyewitness Top 10 Crete, and had more glasses of frappe than any regular person could ever handle.