Take your taste buds on a journey on these amazing food tours in Crete!
Check out the most interesting wine and food tours in Crete and decide which of them better fits your foodie needs!
Old Town Walking Tour with Meal & Phyllo Workshop in Rethymnon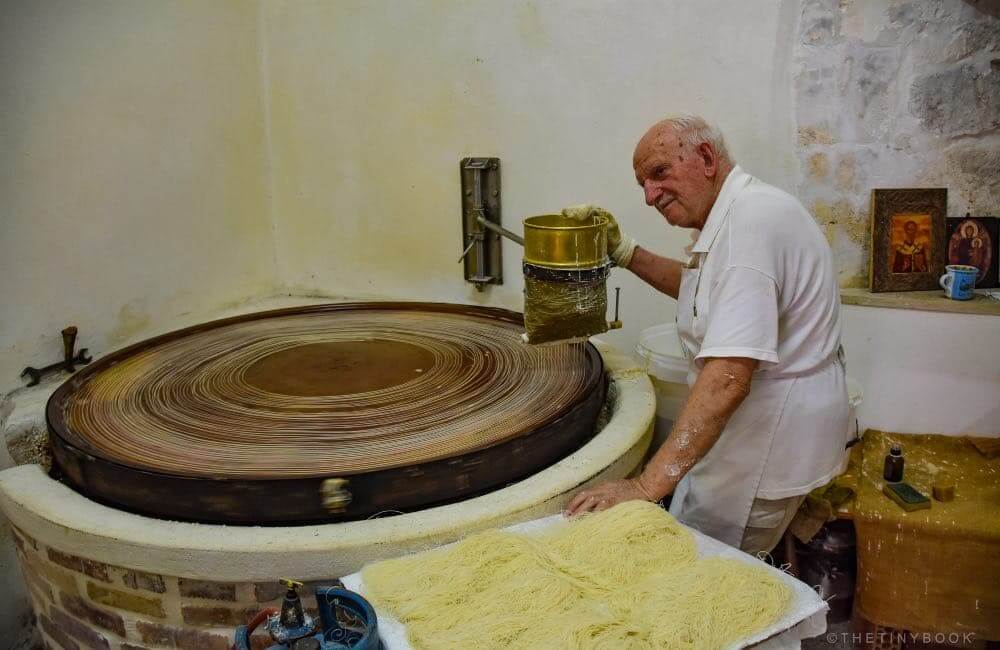 It's no secret anymore that one of the best places to visit in Crete for food tours is the city of Rethymnon, especially if you're interested in learning about the secrets of baklava, kataifi, and paper-thin phyllo pastry.
You can read about our experience doing this tour here.
This walking tour with a local guide takes you to explore the corners of Rethymnon's Old Town and its charming Venetian and Ottoman townhouses.
During the day, you will try a Cretan breakfast in a quaint café (or, better said, a Greek-style kafeneio), in the center of town, sharing a handmade Sfakian pita with cheese and honey.
Later on, watch how handmade phyllo is prepared at the seventeenth-century Venetian workshop of the last phyllo master on the island.
The Terra Creta Olive Oil Experience Tour in the Chania Region
This is the perfect activity to learn about olive oil production (from harvest to bottling!).
During the experience, you will visit one of the most prestigious mills in the region of Chania, Terra Creta, where you will taste 3 different types of olive oil and sample local appetizers.
Cretan Food & Sightseeing Walking Tour in Heraklion
Home to fantastic street markets in the capital and incredible wineries close to the mountains, the region of Heraklion is perfect to experience the best of our Cretan cuisine.
This experience takes you to discover the world-famous Mediterranean diet with deep roots in the Cretan diet.
You will also uncover the secrets of Cretans' longevity and have plenty of fun sightseeing in the historic center of Heraklion.
During the morning, you will be able to stop at a few different, hand-picked food stores for a taste of the most authentic products, including a family bakery to learn about traditional sweet and savory pies.
Lassithi Plateau Guided Truffle Hunting Day Trip, from Heraklion
This is a great tour to explore the stunning Lasithi Plateau.
A day to be amazed at the landscapes, villages, and eateries in the area while experiencing the satisfaction of sourcing your own ingredients on a Cretan black truffle hunt with a local hunter.
You will also stop at the traditional village of Krasi and find the best spots to take pictures of the iconic plateau's windmills, as well as venture into the heart of truffle country at the Lassithi Plateau with a guide.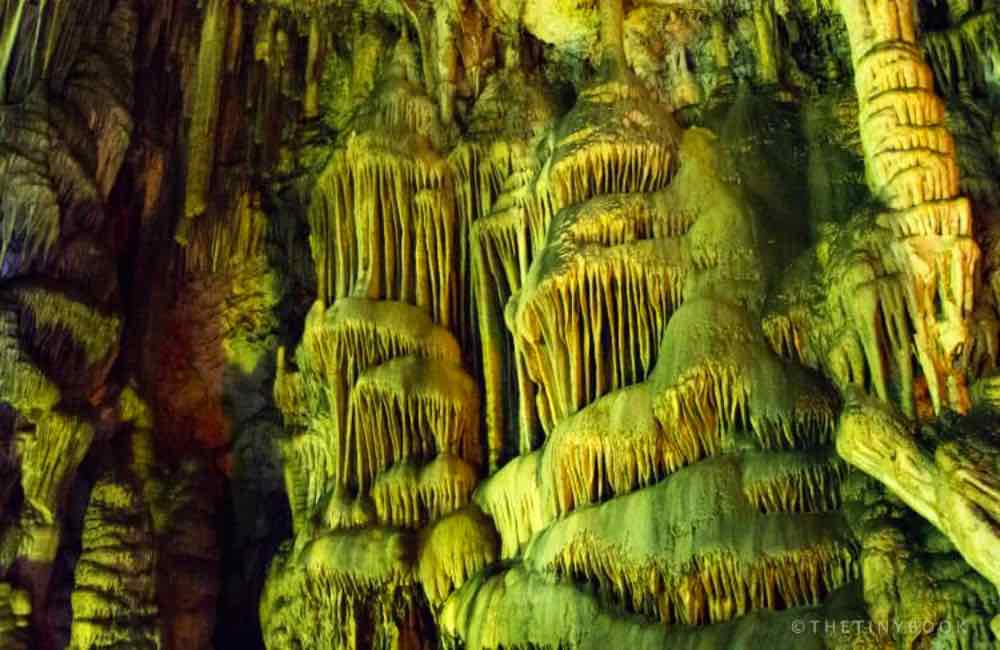 Right after, you can dive into local flavors with a cooking demonstration at a family-run restaurant, gaining a deeper understanding of the relationship between recipes, people, and traditions.
Later on in the day, also check out the Cave of Zeus, a family-run pottery shop, and an ancient monastery.
Wine Tasting at The Cretan House of Wine in Rethymnon
If you are in Rethymnon town, you can join this tour and learn about the local varieties of wine at the prestigious House of Wine.
Taste 11 native varieties, 9 whites (Vilana, Vidiano, Thrapsathiri, Plito, Dafni, Moschato Spinas, Malavazia Di Candia Aromatica), 3 reds (Liatiko, Kotsifali, Mantilari), and sweet wines from Liatiko grape while checking out different grape varieties by tasting various vintages.
You will also enjoy a pairing of traditional food with wine, including local dishes such as apaki (smoked pork), dakos (local rusks), tomatoes, cheeses, fried pork (tigania), dolmades (vine leaves stuffed with rice), and kalitsounia (traditional herb and cheese pies) among others.
Sightseeing Day Trip with Cooking Lesson and Lunch from Heraklion
The best idea to discover the traditional Cretan life is this day trip to visit a farm, take part in a ceramic workshop, cook like a Cretan, and eat a delicious lunch!
You will also be able to sample different types of olive oils at an olive oil factory and learn how locals have been extracting olive oil since the Minoan times.
During the day, you will sample 5 local wines, olive oil, and graviera cheese at Anoskeli village, and then explore remote destinations accessible only to four-wheel drive vehicles passing through dreamy olive, orange, and lemon groves.
The experience also includes an off-road drive through Sebronas Gorge, approaching the Omalos Plateau at 1000 meters of altitude where the shepherds attend to their sheep and goats all year round.
Then, there will be a traditional lunch ready to enjoy together with scenic views and experience the cuisine, history, and culture of the island.
Afterward, prepare for a more adventurous drive as your guide takes you on an off-road route. From Sebronas Gorge, approach the Omalos Plateau at 1000 meters of altitude where the shepherds attend to their sheep and goats all year round.
Stop for lunch and admire a magnificent view of Samaria Gorge and the highest summit of the White Mountains, Pachne Mount.
The experience includes enjoying a full meal with drinks and having fun chatting with the locals.
You will start by visiting a traditional home in Vatos Village, where your local Cretan host will share all the knowledge of her family and traditional Cretan home.
The tour includes tasting freshly baked bread from a traditional oven as well as some traditional Cretan meze snacks, wine, and Cretan raki.
Culinary Day Trip to the Lassithi Plateau with Dinner from Heraklion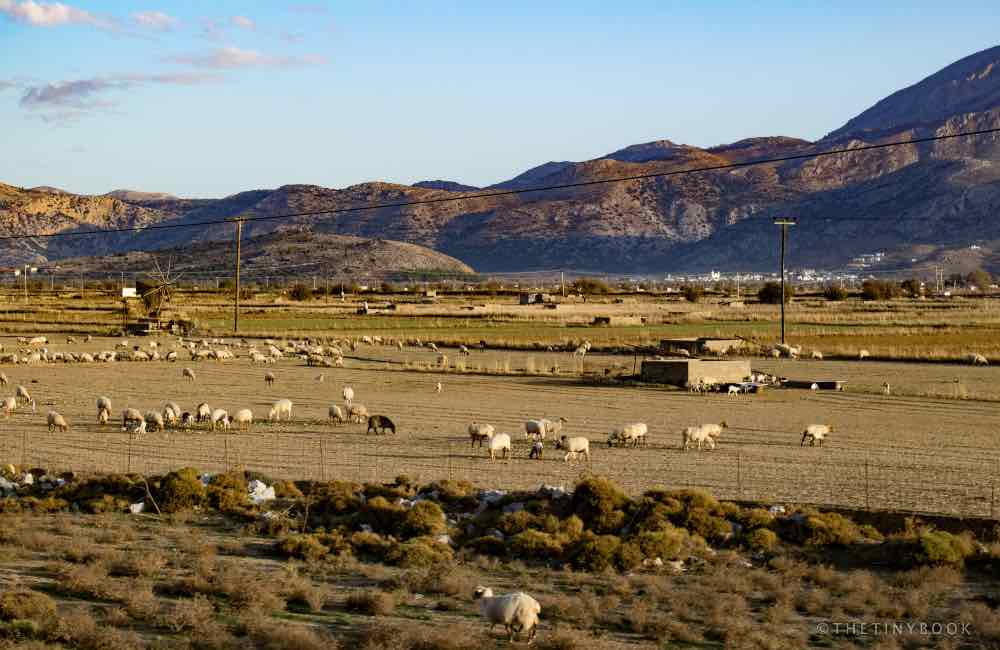 Set out on a private luxury day trip to Lassithi Plateau departing from Heraklion, a forgotten country with small villages, emblematic windmills, and spectacular views.
Along the road, you will pass stunning windmills and the plateau's fertile fields to learn about the archaic traditions of the area.
Olive Oil Factory Tour, Dinner & Traditional Dancing
Another great olive oil tour to spend a special evening with a local family on the grounds of their family-run olive oil factory to learn about Cretan olive oil, honey, and Cretan wine.
Then discover the origins of famous Cretan thyme honey with a beekeeping demonstration.
Organic Winery Tour with Tasting in Vatolakkos, Chania
Discover an organic winery in Vatolakkos, one of the most famous ones in the region, to delight your taste buds as you try 5 delicious local wines paired with Cretan rusks (bread) and olive oil.
You will also admire the Cretan vineyards where local grapes ripen in the sunlight to produce our traditional liasta (naturally sweet) wines.
The visit includes access to the wine cellars to learn the secrets behind the winemaking process, right after, you will spend some time sitting at a table in the lovely Greek garden while your host guides you through the hand-picked selection of regional wines with cheese and snacks pairing.
During the visit to the winery, you will discover about how grape varieties are selected and cultivated following strict guidelines.
Cruise to Spinalonga and Barbecue BBQ at Kolokytha from Agios Nikolaos
Cruise and enjoy a traditional barbecue in Agios Nikolaos during this fun-filled day trip that includes sunshine, swimming, and relaxation.
You will start by cruising to Spinalonga to learn everything about the tragic history of Crete's former leper colony and explore the Venetian fortifications and the old homes of the victims of leprosy.
Right after, go back on board to explore the fantastic Kolokytha Bay and its beaches where you will fall in love with the pristine, turquoise sea and learn more about the history of the area.
Here, you can relax, swim, and sunbathe while the boat crew prepares a hearty barbecue. The lunch includes delicious pork chops, Greek salad, feta cheese, bread, wine, and seasonal fruits.
Breakfast With The Nuns Private Wine Tour in Rethymnon
One of the most original food tours in Crete, this experience includes sharing a typical Cretan breakfast with the nuns of Agia Irini monastery, where you will also explore the nun's workshops and learn about their monastic life.
The Holy Saint Irini Monastery sits on the northern side of Mount Vrisinas, on top of a rocky hill.
Over here, the nuns lead a tranquil, spiritual life surrounded by the peaceful mountainous landscape.
During the morning, let the nuns show you around their monastery, including the chapels, the museum, and the workshops where they create icons and art.
You will then taste the breakfast that the nuns will specially make for you.
Authentic Cooking Class in the White Mountains, Chania
Are you willing to learn more about the culture and cuisine of Crete? If the answer is yes, this unique cooking class in the White Mountains is just what you need!
The experience is perfect to discover how to cook and prepare traditional recipes, unveiling the secrets of the Mediterranean diet, and sampling local cheese and wine during a delicious lunch.
The experience is also perfect for families with kids who love picking vegetables from a garden to take them to the kitchen and learn how to prepare them!
The tour is ideal if you want to taste the authentic foods of Crete and cook using only healthy organic ingredients, such as extra virgin olive oil, local meats, aromatic herbs, and freshly picked vegetables.
You will also go for a walk in the mountains and learn from the shepherds about olive harvests and other local traditions.
Wine and Olive Oil Tasting Tour with Village Lunch in Rethymnon
Why not taste your way through the island with this tour of wineries and olive oil mills? Going through the regions of Rethymnon and Chania, the tour teaches guests about traditional Cretan olive oil and wine.
You will start the day at the Kanakis olive oil mill to witness the process to make olive oil. making olive oil in an informal chat with the experts, and then tasting their exquisite products.
Then you continue on to one of the best wineries in the region of Chania, Dourakis Winery to have a short guided tour to learn about the history, tradition, and production of Cretan wine.
There're plenty of possibilities in Crete to taste the best local recipes.
No matter whether you're a vegetarian or not, the island is always ready to surprise visitors with its incredibly healthy and tasteful cuisine. Which of these food tours in Crete are you ready to experience?
Pin this Guide to the Best Food Tours in Crete to Spend a Super Tasty Day on the Island!
---
You might also want to read these posts about Crete's regions:
---