Mykonos, the jewel of the Aegean Sea and one of the most famous Greek islands, attracts travelers from around the world with its stunning beaches, vibrant nightlife, and charming Cycladic architecture.
It's an island with so much to see and do, so choosing the perfect area to stay in can make all the difference in your vacation experience. So, let's explore where to stay in Mykonos for your unforgettable summer adventure in Greece!
---
Disclaimer: Posts include affiliate links to products or services. I might earn a commission if you make a purchase.
---
Best Areas to Stay in Mykonos
PLANNING A LAST-MINUTE TRIP TO GREECE?
Be sure to book accommodation and tours in Greece ahead of time to ensure availability!
🛥️ Book ferry tickets with Ferryhopper.
🛌 Find hotel deals on Booking.com.
🚘 Compare car rental prices with Discover Cars.
💳 In need of money? Use WISE as a digital card and top-up from the app.
Best Areas to Stay in Mykonos
Whether you're seeking the energetic vibe of Mykonos, the laid-back atmosphere of a beach resort, or the tranquility of a secluded bay, the island has an area to stay in that will surely fit your needs and preferences.
Below are the most popular areas to book accommodation in Mykonos this summer!
Mykonos Town (Chora)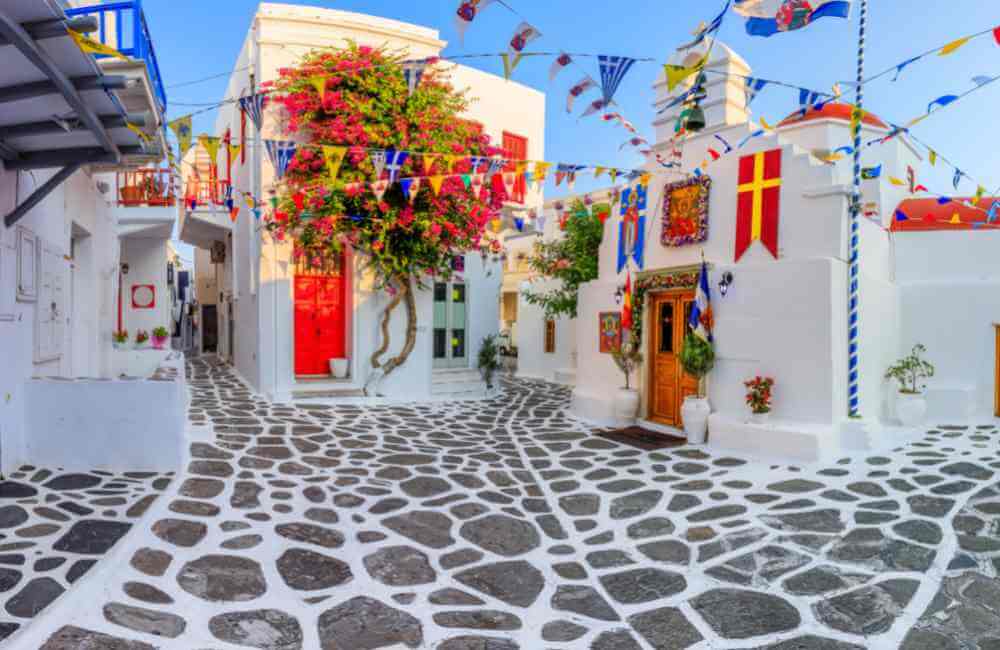 Mykonos Town, also known as Chora, is a must-visit area for anyone seeking an unforgettable experience on the island.
Mykonos Town is the core of the island. It is a vibrant and cosmopolitan town that blends traditional Cycladic architecture and a bustling nightlife scene.
Its narrow, winding streets feature whitewashed, traditional houses adorned with colorful flowers and dotted with charming boutiques, art galleries, and restaurants.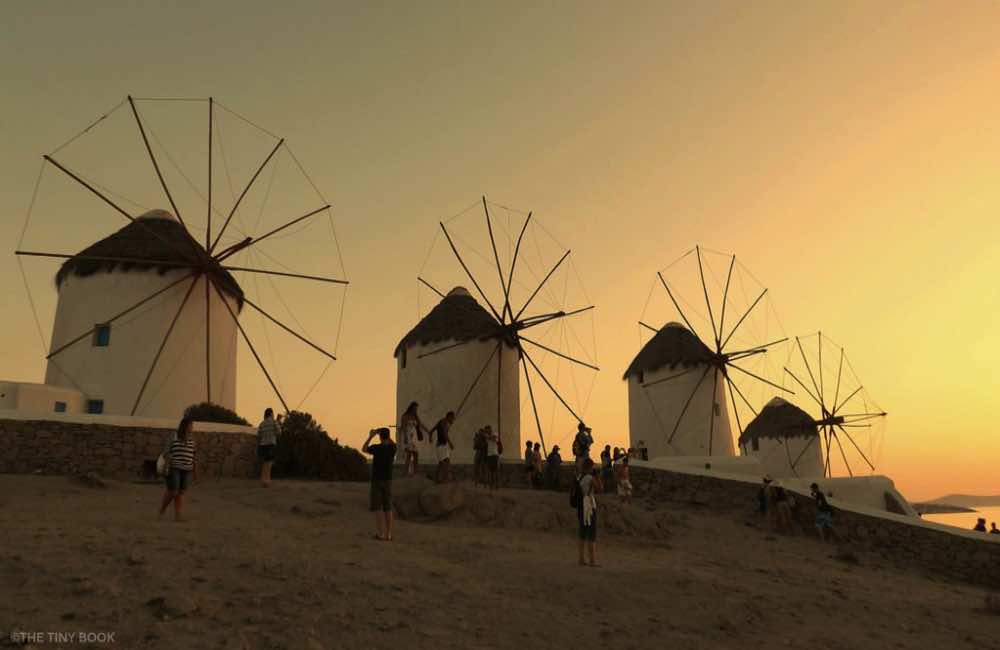 Mykonos Town is also perfect for those who crave a lively atmosphere, as it is home to some of the island's most popular bars, clubs, and boutique hotels.
Also, from iconic landmarks like the famous windmills and the Panagia Paraportiani church to its lively waterfront promenade lined with seafood tavernas and beach bars, Mykonos Town is an unforgettable destination showcasing the best Greek hospitality and culture.
Recommended Hotel in Mykonos Town
Ornos
Ornos is an idyllic beachside area offering a tranquil and laid-back atmosphere, making it a popular choice for couples seeking a relaxing getaway.
Located just a short distance from Mykonos Town, Ornos boasts a beautiful sandy beach with crystal-clear waters, perfect for sunbathing and swimming.
Arguably one of the most exclusive beaches on the island, you will find dozens of upscale beachfront hotels, restaurants, and shops, providing comfort for visitors.
At Ornos, you can spend your days lounging on the sunbeds, savoring delicious seaside cuisine at the waterfront tavernas, or exploring the local shops.
Ornos also offers easy access to boat tours, where you can explore other stunning beaches and nearby islands.
So, with its serene ambiance and picturesque surroundings, Ornos is the perfect area to unwind and enjoy the beauty of Mykonos.
Recommended Hotel in Ornos
Psarou
Psarou is a luxurious and upscale area in Mykonos that captures the essence of glamorous island living.
Specifically, Psarou Beach is renowned for its exclusivity and sophistication, which is why Psarou attracts celebrities and discerning travelers who seek a lavish vacation experience.
The highlight of Psarou is its stunning beach, known for its white sands mixed with colorful pebbles and crystal-clear turquoise waters.
Psarou is home to some of the most fashionable beach clubs on the island, where you can relax on plush sunbeds, enjoy refreshing cocktails, and soak up the exclusive Cycladic atmosphere.
Psarou also offers a range of high-end accommodations, including luxurious resorts and villas, ensuring that guests are treated to the utmost comfort and luxury throughout their stay.
So, with its chic vibe, glamorous beach clubs, and luxurious accommodations, Psarou guarantees an unforgettable and indulgent stay in Mykonos.
Recommended Hotel in Psarou
Platis Gialos
Platis Gialos (also Platys Gialos) is a vibrant beach resort area just 5 km away from Mykonos Town. It offers travelers relaxation and recreation along its long stretch of sandy beach, perfect for families, clear blue waters, and a lively atmosphere.
Generally, Platis Gialos offers a range of accommodation options, from budget-friendly hotels to luxurious resorts catering to various preferences and budgets.
During the day, you can soak up the sun on the beach, indulge in water sports activities, or rent a boat to explore secluded coves and other famous beaches. And then, venture to its plethora of beachfront restaurants and tavernas, serving mouthwatering Mediterranean cuisine right by the water's edge.
As the sun sets, the beach transforms into a vibrant nightlife hub, with beach bars and clubs that offer lively entertainment for those seeking a fun-filled evening.
Therefore, with its beautiful beach, abundant dining options, and pulsating nightlife scene, Platis Gialos is an excellent choice for those looking for a dynamic and memorable stay in Mykonos.
Recommended Hotel in Platis Gialos
Agios Ioannis
Agios Ioannis is a picturesque and serene area located on the southwest coast of Mykonos, offering a tranquil getaway if you want a peaceful and scenic stay.
The highlight of Agios Ioannis is its stunning beach, which boasts soft golden sand and crystal-clear waters, perfect for sunbathing and swimming.
Furthermore, the area has a few boutique hotels and villas that offer a tranquil and solitary retreat with breathtaking views of the Aegean.
Agios Ioannis is also famous for its mesmerizing sunset views, where you can witness the sun dipping below the horizon in a blaze of vibrant colors.
While Agios Ioannis offers a quieter vibe, it remains within convenient reach of Mykonos Town, allowing visitors to explore the island's lively atmosphere and attractions easily.
However, for those craving a serene location with natural beauty, unspoiled beaches, and unforgettable sunsets, Agios Ioannis is an ideal choice for a blissful Mykonos escape.
Recommended Hotel in Agios Ioannis
Elia Beach
Elia is a hidden gem nestled on the southeastern coast of Mykonos, offering a serene and secluded escape for travelers seeking a quieter beach experience.
Rocky cliffs surround the area, creating a sense of privacy and tranquility. At the same time, its long sandy beach and crystal-clear waters are a paradise for sunseekers and water enthusiasts.
Elia is home to a few beachfront restaurants where you can savor delicious Mediterranean cuisine while enjoying panoramic views of the Aegean.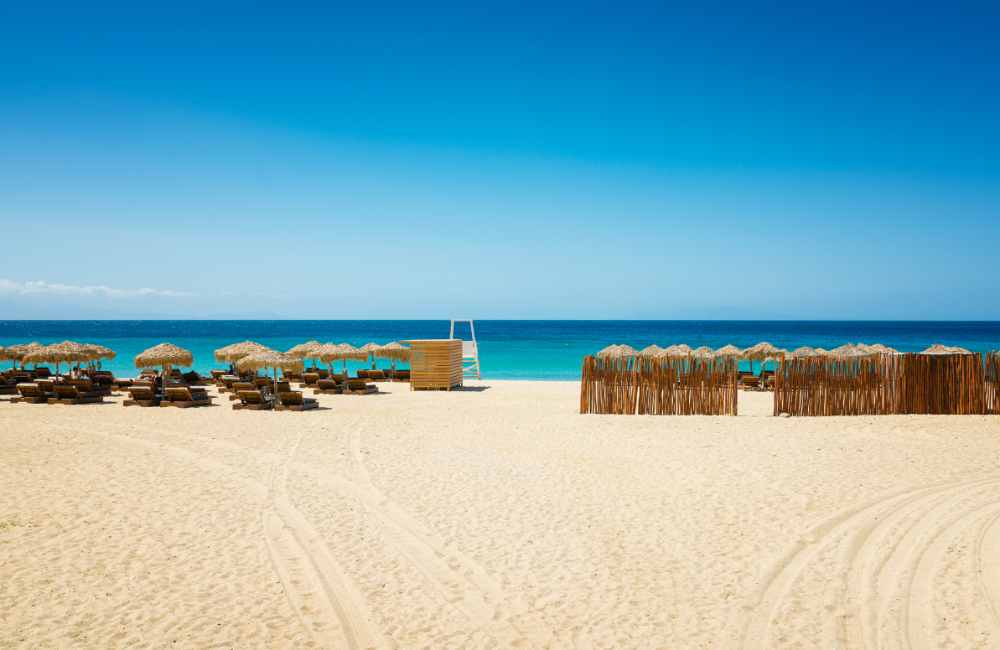 The area provides the perfect laid-back atmosphere and beautiful natural surroundings for relaxation and rejuvenation.
Whether you prefer lounging on the sunbeds, exploring the rocky coves, or unwinding with a refreshing swim, Elia offers a slice of paradise away from the crowds.
The beach also features an extensive naturist-friendly area.
Recommended Hotel in Elia
Panormos
Panormos is a captivating and exclusive destination situated in a stunning bay on the northern side of Mykonos.
This area provides a serene and secluded atmosphere, making it an ideal choice for those seeking a romantic and upscale retreat.
Panormos boasts a breathtaking sandy beach with crystal-clear waters, allowing visitors to relax and soak up the Mediterranean sun in tranquility. The beach is complemented by a few clubs known for their chic vibe and stylish lounging areas beside the sea.
In addition to its natural beauty, Panormos offers a range of high-end accommodations, ensuring that guests experience the utmost luxury during their stay.
With its unparalleled privacy, pristine beach, and elegant establishments, Panormos promises an exclusive and unforgettable holiday in Mykonos.
Recommended Hotel in Panormos, Mykonos
Agios Stefanos
Agios Stefanos is a charming coastal village just a short distance from Mykonos Town, offering a delightful and relaxing atmosphere for a memorable stay on the island.
Agios Stefanos is renowned for its peaceful ambiance and beautiful sandy beach with crystal-clear waters, making it an excellent choice for those seeking a more laid-back and tranquil beach vacation experience.
The village also offers a selection of hotels that cater to various budgets and preferences, ensuring a comfortable and enjoyable stay.
So, while in Agios Stefanos, you can enjoy leisurely walks along the waterfront promenade, savor delicious Greek cuisine at the seaside tavernas, and take in the breathtaking views of the Aegean Sea.
Recommended Hotel in Agios Stefanos
Paradise Beach
Paradise Beach is one of the most iconic destinations on the southern coast of Mykonos and the whole Mediterranean!
It's a haven for party enthusiasts and fun-seekers seeking an electrifying island experience.
Paradise Beach is known for its thrilling nightlife and energetic beach parties, making it the ultimate playground for those craving a lively and dynamic atmosphere.
By day, the beach offers soft golden sands, crystal-clear turquoise waters, and many water sports activities.
As the sun sets, Paradise Beach comes alive with renowned clubs and beach bars, hosting world-class DJs, pulsating music, and exhilarating entertainment until the early morning hours.
So, if you're seeking a vibrant and high-energy stay, Paradise Beach is the ideal choice to immerse yourself in the spirited vibe of Mykonos and create unforgettable memories.
Recommended Hotel in Paradise Beach
Ano Mera
Ano Mera is a charming village in the heart of inland Mykonos, offering a unique and authentic Greek experience away from the bustling tourist areas.
This traditional village, with its picturesque square, quaint white-washed buildings, and a historic monastery, allows travelers to get a look into the local way of life. It's not hard to understand why Ano Mera is the perfect choice for travelers seeking a peaceful and cultural retreat.
While in Ano Mera, you can wander through the village, explore its winding streets, visit the Panagia Tourliani monastery, and dine in the cozy taverns serving delicious Greek cuisine.
Also, here, you can stay in one of the boutique hotels or traditional guesthouses to fully immerse yourself in the tranquil ambiance of Mykonos.
Recommended Hotel in Ano Mera
Whether you're seeking lively nightlife, relaxing beaches, or cultural immersion, these ten areas showcase the diversity and beauty of the island, allowing you to find the perfect place to stay in Mykonos.
So, choose your perfect area, book your accommodations, and prepare for an unforgettable trip to the jewel of the Aegean Sea, Mykonos.
Read more about Mykonos
🛌 Suggested Accommodation in Mykonos
Pin it Now: Best Areas to Stay in Mykonos for Your Next Adventures in Greece!
About my blog: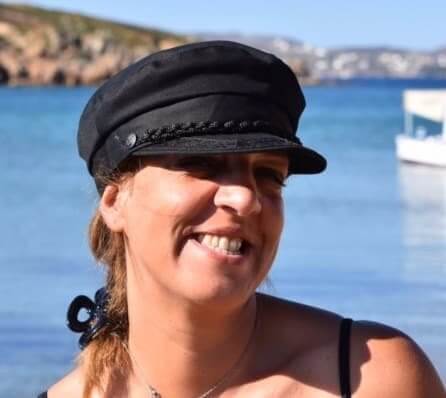 I moved to Crete in 2016. During these years, I learned much about the island.
In Crete, I juggle being a solo mom, hosting culinary tours, and writing for several travel media.
I've written for Greek Reporter, published travel guides about Greece, co-authored DK Eyewitness Top 10 Crete, and had more glasses of frappe than any regular person could ever handle.