Mykonos has a reputation for being a grand party island; after dark, its main town is transformed by bright lights and music.
The island does get busy in August, but having said that, the island's reputation, first and foremost, is that of an excellent destination for a family holiday.
There is a warm welcome for children everywhere, and it is easy for families to get around the island by bus. We bring you all the great ideas for doing things in Mykonos with kids.
---
Disclaimer: Posts include affiliate links to products or services. I might earn a commission if you make a purchase.
---
Best Things to Do in Mykonos with Kids
Best Beaches for Families in Mykonos
Mykonos is one of the smallest Cycladic islands, measuring just 12 km x 10 km. Yet, it is known for its gorgeous sandy beaches, shallow kid-friendly coast, and crystal clear waters.
There are 25 beaches on the island to choose from, and many of them are perfect for children because they feature soft golden sand, and the coast gently shelves with just small waves.
In contrast, beaches on the southern coast have a strong onshore breeze, making them popular for teens, young adults, and many water sports enthusiasts.
Just four kilometers from Mykonos Town is Platys Gialos, probably the island's most famous beach. It is ideal for families with older children as there are various water sports, including windsurfing, SUP, and wakeboarding.
Ornos Beach is just 3.5 km from the main town and is situated in front of a pretty fishing village. It has lovely calm water for young children, but there is also a diving school and windsurfing for older children.
Kalo Livadi is a famous family beach on the island's east coast, ten kilometers from the main town. This beautiful beach is the longest on the island and is perfect for small children as it has really soft sand and shallow waters.
A real bonus is that it has pretty waterfront cabanas that can be rented, perfect for taking time out of the sun. For teenagers, there are beach volleyball and other team games.
Another famous beach on the west coast is Agios Ioannis, which is fun for families. The place became well known as it was the setting for many of the shots in the film I Love Shirley Valentine. This is another excellent place to watch the sunset in Mykonos.
Nearby, Kapari Beach is another one to explore as it is a hidden gem and is usually deserted. Elia Beach on the island's south coast is another good choice for families as it has plenty of amenities, including a waterside taverna and playground at the far end of the beach.
Elia is one of the many gay-friendly beaches in Mykonos, but probably the quieter one. It has an area for naturism, but kids can have a great time since the shore is peaceful, shallow, and transparent. It is our favorite beach on the island, where there's a place for everyone!
The beach can be reached by boat from Ornos or Platys Gialos as well as by bus from Chora (this journey takes 30 minutes).
Discover Mykonos Town
Mykonos Town or Chora, is the island's main settlement and one of the prettiest on the Greek Islands.
The small whitewashed town is the perfect place to wander, buy souvenirs, and enjoy coffee while watching life go by after a whole day spent by the sea.
The town is ideal for children as cars are not allowed, so everyone walks or uses a bike.
The streets are narrow with cubic houses and a profusion of brilliantly colored plants growing in olive oil or feta cheese tins perched on window sills and staircases.
Standing on a hillside above the town stand the sixteenth-century windmills built by the Venetians to mill wheat and barley for bread. There were once 28 windmills on the island, but today, far fewer remain.
If you all enjoy sunsets, this is the best spot to watch the sun sink in the sky. The windmills located by the port are also the perfect backdrop for a great family photo!
If you all enjoy sunsets, this is the best spot to watch the sun sink in the sky. The windmills located by the port are also the perfect backdrop for a great family photo!
If you enjoy museums, the Aegean Maritime Museum and the Folk Museum are two places to stop by. The town's most famous resident – Petros the Pelican – can be found in the botanical gardens near Cine Mantro, the open-air cinema.
Go Mountain Biking
Cycling is a popular pastime in Mykonos. It is one of the best ways to venture to the lesser-known parts of the island to learn more about the traditional way of life of the inhabitants.
If you're curious about taking up this sport, you will find reliable places to hire bikes and helmets for the whole family in almost every coastal town.
All over Mykonos, there is a good network of roads and tracks and plenty to see as inland, there are rolling hills, white-washed villages, and forested areas.
Have Fun Kayaking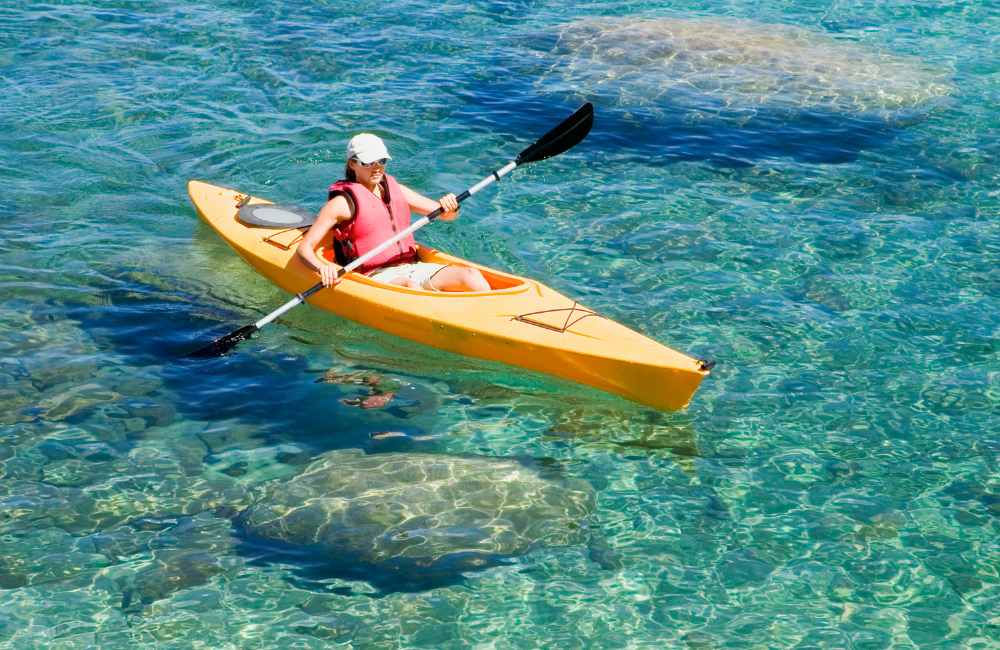 What a great way to discover the island's coastline!
Kayaking is ideal for families with older children. For groups of six or more, it is possible to book kayaks and a guide, which makes your exploration even more fun.
Go Island Hopping in the Aegean
When spending your vacation in Mykonos, there is also the chance to explore some of the other Greek islands; since Mykonos has quite a central position in the Aegean, checking out different Greek destinations is very simple.
What is better than hiring a catamaran in the main harbor if you fancy doing this in grand style?
Regular ferries leave the port and travel to other islands, with Santorini (about a 2.5-hour crossing) being the most popular. Other islands include Syros, Tinos, Naxos, Paros, and Andros.
Visit the Sacred Island of Delos
Top on the list of islands to visit just minutes off Mykonos' coast is Ancient Delos, which in Greek mythology is said to have been the birthplace of the twins Artemis and Apollo.
Today, the island, a vast archaeological site, is also a UNESCO World Heritage Site. Delos is considered one of the most important islands in Greece.
Visitors can see the ruins of the Temple of Apollo, the Sanctuary of Artemis, and the island's famous Avenue of the Lions.
Delos is just 9.5 km from Mykonos, while several boats leave from the main harbor four times a day during the summer months. The journey takes 30 minutes.
Down below, you can find some of the most convenient tours of Delos that kids will love!
Best family-friendly tours of Delos
Great Things to Do in Mykonos with Teens
There are excellent sporting opportunities for teenagers in Mykonos.
Known as the land of the winds, the island offers excellent windsurfing at Kalafatis Beach on the south coast while tuition and windsurfing equipment rental are available.
The beach has some good spots for snorkeling too.
If scuba diving appeals to your teens, the Anna 2 shipwreck lies not far offshore from Lia Beach on the island's eastern coast. Anna 2 was a cruise ship that sank over 20 years ago and is a great diving spot covered in different corals.
And in case you're not sure about it, several places on the island are ideal for lessons to learn how to dive before tackling the shipwreck.
>>> Check out this 2-Hour Scuba Diving Mini-Course for Beginners in Mykonos.
If you enjoy day trips, excellent rock climbing activities are available on the nearby Tinos Island. Free climbing is possible. However, most people go to the designated climbing areas with all the ropes in place at the ready.
There are boats regularly leaving from the island's main harbor in summer, offering incredible daily excursions with things to do for the whole family.
As you can see, There is so much to do in Mykonos that your teens will enjoy every minute of the stay!
There are always new ideas being introduced. These have recently included mosaic classes and family cookery classes where everyone can have a go at making some of the island's traditional dishes.
>>> Click here to discover this family-friendly Cooking Class with Food and Wine.
The island also features an organic animal farm, which children love as they can meet the animals and learn about the traditional farming methods used on this beautiful Greek island.
Best Places to Stay in Mykonos with Kids
These are some of the best accommodation options on the island; check them out to find the right place for your family escapes in Mykonos!
Best Exclusive Accommodation in Mykonos
Ornos Indigo
Location: Ornos, less than 2 km from the center and close to Mykonos Airport.
Featuring a gorgeous private pool, the property offers accommodation for up to 5-6 guests near the enchanting Ornos port, only 5 minutes away from all famous beaches, Nammos, Scorpios, Ornos, and Santanna.
The place features modern accommodation and a huge private garden.
For kids, babysitting services are available
Pets are allowed on request for a small charge.
Best Affordable Hotel in Mykonos Town for Families
Hotel Gorgona
Location: This place is in a privileged area in peaceful Tagoo, less than 10 minutes from Mykonos Town.
This hotel is perfect for families with small kids, as cots and other amenities are available upon request free of charge. The property features comfy family rooms with air conditioning and a private balcony with stunning sea views.
Perfect for families: The outdoor pool area has plenty of sun loungers and incredible sunset views.
Families enjoy free parking available near the hotel.
Best Rental Home in Mykonos for Families
Spilia Apartments Mykonos
Location: Abrari, less than 2 km from Agrari Beach, close to the marvelous Elia Beach, and about 5 km from Mykonos' windmills.
This is a family-friendly apart-hotel in Mykonos featuring family rooms with a fully equipped kitchen with a fridge, an oven, a coffee machine, and a kettle. The place has a patio, garden views, and a seating area.
Kids love the kids' playground!
You can find many more hotels, resorts and villas for families with kids in Mykonos here.
---
Would you like to visit Mykonos with your kids this summer?
You might also want to read these posts to prepare for a great holiday in Greece with the family!
---
Pin this Guide to the Best Things to Do in Mykonos with the Family for a Unique Vacation in Greece!
About my blog: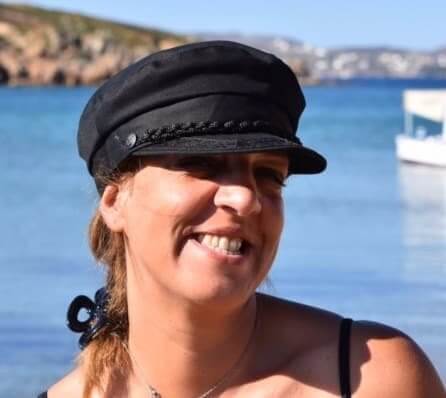 I moved to Crete in 2016. During these years, I learned much about the island.
In Crete, I juggle being a solo mom, hosting culinary tours, and writing for several travel media.
I've written for Greek Reporter, published travel guides about Greece, co-authored DK Eyewitness Top 10 Crete, and had more glasses of frappe than any regular person could ever handle.