High on the list of essentials for a family vacation in Greece or the Greek islands is a good child-friendly beach with a few key amenities such as sun shades, fun games, and somewhere to buy ice creams. In this article, I'm happy to bring you some of the best family beaches in Greece!
---
Disclaimer: Posts include affiliate links to products or services. I might earn a commission if you make a purchase at no extra cost.
---
Best Beaches in Greece for Families
Top Family-Friendly Beaches in Greece
With a 13,676-kilometer-long coast (about 8,500 miles), Greece can easily boast some of the best beaches in Europe. And contrary to what you might think, this is not just because of its many islands!
In fact, there are gorgeous shores both on the mainland and on many islands… some of them are quiet and secluded, some with large sea-smoothed stones, and others with great water sports facilities.
No matter where you decide to spend your next family vacation in Greece, finding the right beach, that's fun and safe for your kids is key for a relaxing time in full peace of mind, as I always say!
For that reason, I've created this post that includes some of the top beaches in Greece for families. They are safe and shallow enough for smaller kids, and some of them even offer activities geared toward kids.
So if you're still trying to decide where to go in Greece with your kids, the beaches on this list might give you the answer! There you go, then, the best beaches in Greece for families!
Elafonisi Beach, Crete
Although there is an incredible amount of family-friendly beaches in Crete, the most famous one is, undoubtedly, the pink sand beach of Elafonisi, in the western region of Chania.
This is a well-organized beach, big enough to find the right spot to spend the day and beat the crowds. Along the coast, you will find both areas with organization and solitary places (often with little shadow).
In Elafonisi, the sea is shallow and extremely clean, and the pinkish tone of the sand is one of the most attractive features in this area.
The bay is wide and safe even when it's windy, there are a few snack bars and a couple of taverns in the area as well. Water sports are also popular in Elafonisi.
Avithos Beach, Kefalonia
Considered one of the best kid-friendly beaches in Kefalonia, Avithos Beach is a gorgeous, tranquil shore with crystalline waters and golden (almost red) sand.
On the beach, the magnificent cliff backdrop adds an adventurous touch to the overall atmosphere… And kids love it!
In the area, there are enough facilities to make the beach day easy. The beach is safe and shallow, perfect for little swimmers.
There are just a few snack bars and fish taverns only a few meters from the coast, so packing a lunch won't be necessary.
Simos Beach, Elafonisos, Peloponnese
The best-known beach on the small island of Elafonisos, in the Peloponnese, Simos Beach features waters with incredible shades of blue, impressive natural sand dunes, and a gorgeous natural landscape surrounding the area.
The beach offers a unique combination of Caribbean-like hues that make you think of a heavenly shore more than a place on Earth.
You will find different shores in the area, some of them with organization, including the possibility to rent loungers and umbrellas. Access to the beach is not close to the nearby parking area (otherwise quite spacious), and is done through a sand path.
Drinks and snacks can be purchased on the beach but the organization is, in general, quite minimal.
Plaka Beach, Naxos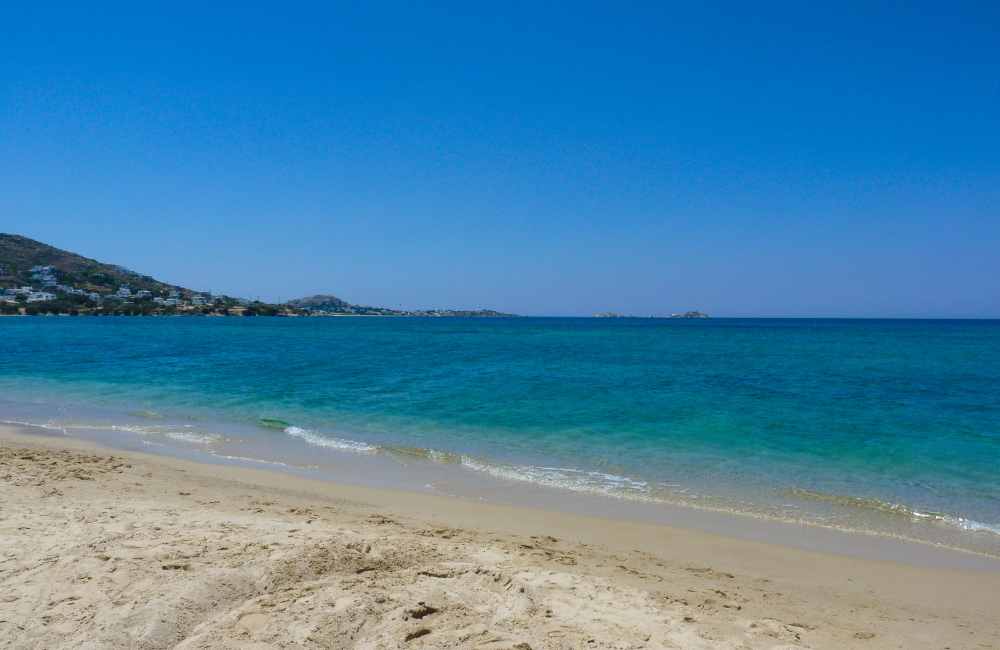 Wide, and calm, with shallow turquoise waters and fine white sand, the long Plaka Beach in Naxos is one of those Greek beaches that conquer you! Personally, this is one of my favorite beaches in Greece!
The beach is really wide and offers organized areas and other more solitary spots (over here, nudism is very common). So you can choose whether to stay on your own or to rent an umbrella and spend the day in a more crowded area.
Opposite the long beachside promenade, there are different restaurants, supermarkets, and even hotels and studios, so there is no need to pack food for the day.
Santa Maria Beach, Paros
Although it is one of the most popular beaches on the island, Santa Maria is so wide that it never feels too crowded. However, if you prefer a more secluded beach with organization and facilities for families.
The main Santa Maria Beach is a famous place for windsurfing and other water sports, therefore not as good for kids since the sea can be wavy.
However, there are several coves in the area, such as the one in the picture, Mikri (or Small) Santa Maria, all of them generally known as Santa Maria, which are really idyllic.
In the area, you will find different facilities, including toilets, restaurants, snack bars, and even water activities. Renting an umbrella is also possible on these beaches.
Paleokastritsa Beach, Corfu
Paleokastritsa is one of the best family-friendly destinations in Corfu. The village boasts six different shores on the northwestern area of the island.
Most of the beaches are well-organized and offer a variety of water activities for kids and families. The popular Agios Spyridon is probably the prettiest shore in the area.
There are several restaurants, taverns, bars, and shops, so you won't need to worry about packing a huge beach bag for the day.
Parents enjoy the facilities that also include a parking area and a taxi boat station. This is the only sandy beach in Paleokastritsa, while all the others feature small, white pebbles. For that reason, it is probably the most recommended for families.
Voidokilia Beach, Messinia, Peloponnese
Arguably one of the best beaches on the mainland, Voidokilia Beach is one of the prettiest shores in the Peloponnese.
Although there are no facilities or amenities to make the stay easier, the place can be fully enjoyed with a little organization beforehand. So, don't forget to pack your lunch, cold drinks, and carry sunscreen for the little ones.
The bay has a magnificent shape featuring very shallow waters, often not as cold as you would expect.
The beach has a position that makes it protected from winds, so the water is always calm and virtually waveless, ideal for little kids that are learning to swim.
Kalamaki Beach, Zakynthos
Although we are used to the stunning image of Navagio Beach in Zakynthos, the best family beach on the island is Kalamaki.
Featuring a secluded atmosphere and a shallow coast, the place is safe for small children. Kalamaki is located in the southeast of the island, is a more secluded beach, but with fine golden sand.
The beach, on the southern area of the island, is close to the popular Laganas Beach (better for families with older teens and young adults) and is part of the National Marine Park of Zakynthos.
This means that kids can be lucky enough to spot the protected sea turtles (Caretta-Caretta) that come to lay their eggs on this shore. Precisely for that reason, water sports are banned on this beach.
Tsampika Beach, Rhodes
Rhodes is a great island to visit with children and Tsambika is the perfect family beach too!
Situated on the east coast of the island about 26 km from Rhodes Town, this large beach has fine golden sand, calm water, and a sandy seabed making it really suitable for families with young children.
The facilities are really good with free parking right next to the beach. There are sunbeds and umbrellas available to rent, showers, and several beach taverns.
For older children, there are various water sports such as parasailing and jet-skiing. Views of the beach are dominated by the Monastery of Tsambika which stands 240 meters high on a rocky bluff and is a place of pilgrimage.
Elia Beach, Mykonos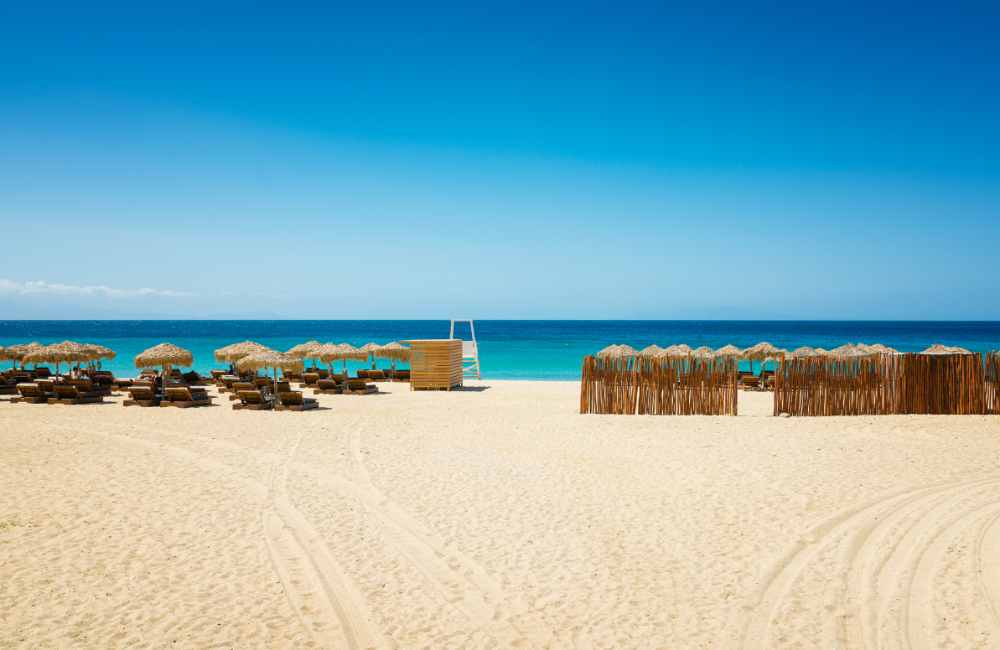 The atmosphere of Elia Beach is completely relaxing. Besides, the beach is wide enough to allow for different isolated areas. It has soft and fine golden sand and the shore is very shallow, ideal for small kids.
However, it must be said that maybe, not all families will feel 100% at ease since Elia Beach is a gay-friendly beach. I've visited with my kids and found it also truly family-friendly. 
Elia Beach is about 50 minutes from another great Mykonos Beach, Platys Gialos, by boat. To reach Elia Beach, you can catch the boat in Platys Gialos port as well as at the beach of Ornos, or you can jump on a bus in Mykonos Town.
This is one of the many southern beaches on Mykonos where naturism is allowed in some areas. P
---
Would you like to visit any of these Greek beaches with your kids this summer?
Let me know in the comments below!
You might also want to read these posts to prepare for a great holiday in Greece with the family!
---
Pin this Guide to the Best Family Beaches in Greece for a Unique Vacation in Greece!
About my blog: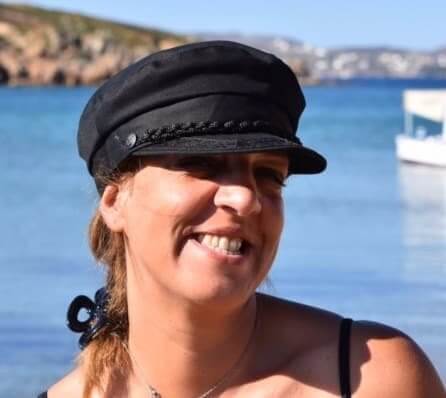 I moved to Crete in 2016. During these years, I learned much about the island.
In Crete, I juggle being a solo mom, hosting culinary tours, and writing for several travel blogs.
I've written for Greek Reporter, published travel guides about Greece, and had more glasses of frappe than any regular person could ever handle.