Looking for fun things to do in Rhodes with kids? You're in the right place! The beautiful island of Rhodes is a popular travel destination and an excellent choice for families with children of all ages.
There is plenty to discover in Rhodes, which has flat coastal areas, while inland, there are forests and craggy mountains. So, let's begin. Here, I bring you some great things to do in Rhodes with kids!
---
Disclaimer: Posts include affiliate links to products or services. I might earn a commission if you make a purchase.
---
Best Things to Do in Rhodes with Kids
General Information About Rhodes
Rhodes can prove a fantastic destination if you're traveling with kids.
If you're still uncertain about when to visit, keep in mind that the months between April and June, as well as September and October, are ideal as the temperatures are a little lower in these months.
The island's capital, Rhodes Town, is stunning as it has numerous cobbled streets and is dominated by the medieval Palace of the Grand Master of the Knights of Rhodes, one of the most beautiful castles in Greece.
The island's bus service makes it easy to explore from all the resorts, and cars for hire are reasonably priced, too.
How to Get to Rhodes
Getting to Rhodes by plane: The most comfortable way to reach Rhodes is to land at the island's international airport, Diagoras. Flights arrive in Rhodes from the most important cities in Greece, including Athens (about 50 minutes) and Thessaloniki. There are also several charter flights from European countries during summer, while several low-cost airlines fly to Rhodes from May to September.
⛴️ Check out ferry ticket fees and schedules
Getting to Rhodes by ferry: Ferries from Port of Piraeus in Athens reach Rhodes every week. It's a long boat ride, from 18 to 20 hours, as most ferries stop at other islands in the Dodecanese region. Ferries also leave from Sitia, in East Crete (stopping at the port of Karpathos) with a reduced frequency in summer (about three times per week).
Here, we bring you fun family activities to enjoy in Rhodes!
Discover the Most Amazing Beaches in Rhodes for the Family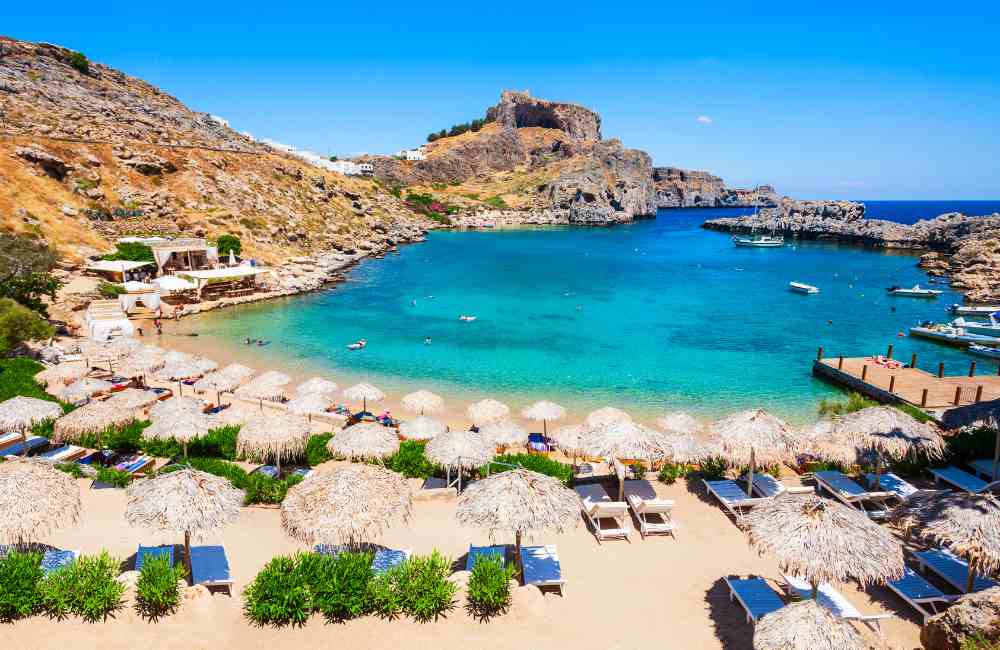 A lovely sandy beach with safe swimming is high on most families' holiday lists of things to do!
There are more than 40 beaches around the island; some of them are among the best in Europe, with fine golden sand fringed by the clear waters of the Mediterranean.
Faliraki is a popular resort 12 kilometers from Rhodes Town. Its fine sandy beach stretches five kilometers with lovely shallow water ideal for young children.
For teenagers, there are water activities, including banana boat rides and water skiing. For the whole family, there is a water park with numerous attractions, including particular areas for toddlers, water slides, and a wave pool for older children.
Three good beaches nest under the magnificent acropolis, topped by the pretty village of Lindos.
The beaches are Megalos Gialos, Mikros Gialos, and St Paul's – considered one of the best on the island.
The beaches all have gently shelving waters and are great for swimming, and their beach bars are ideal for a long, cool drink or ice cream.
Tsambika is in a protected bay with plenty of different water sports, while Kolymbia comprises three good beaches with some water sports.
The beach on the right is perfect for snorkeling, and I've included it in this list of the best beaches in Greece for families!
Afandou is another vast sandy beach with plenty of facilities. If you prefer quieter beaches, Agathi on the island's east coast is quieter, yet it does not offer the possibility to have fun with no water sports.
However, it is perfect for families with smaller kids for the clear shallow waters and good snorkeling opportunities for curious small kids. Several beach tavernas are ideal for snacks and cold drinks.
Walk in the Footsteps of the Knights (One of the Best Things to Do in Rhodes with Children)
Children of all ages find Rhodes Town (the UNESCO-listed capital of the island) fascinating as it feels as though you have stepped back into history.
Known as the Palace of the Grand Master or the Crusader Palace, it is well worth a visit as it tells the story of the island.
Rhodes Town is the world's oldest continuously inhabited medieval town and was once the Commanderie (Headquarters) of the Knights of the Order of St John.
A double row of defensive walls encircles the Old Town with a deep moat in between. There are numerous winding cobbled alleyways to explore, an archaeological museum (in what was the knights' hospital), and the Knights' Quarter.
After visiting the Palace of the Grand Master, why not climb onto the old city walls? Walking around them takes about 40 minutes, and there are great views of the city gates and towers.
>>> It's a good idea to join a private tour of the Grand Master's Palace in Rhodes Old Town. This option includes the entry ticket to see the historical home of the leader of the Knights of St. John, now a UNESCO Heritage Site.
Visit Lindos Beach and the Acropolis
One of the most beautiful villages to check out in Rhodes is Lindos, which stands on the side of a hill and beneath the impressive Acropolis of Lindos, one of the most remarkable archaeological sites on the island dating back to the Hellenistic times.
This ancient settlement is located 45 km from Rhodes Town, and it makes a fantastic day trip that packs cultural visits, gorgeous vistas, and fantastic hours by the sea.
The most curious kids will enjoy exploring the ruins of the ancient Propylaea of the Sanctuary, the impressive entrance gate. But also the Doric Temple of Athena and a Roman Temple.
>>> Get the tickets to Lindos Acropolis in advance here.
Check Out the Windmills in Mandraki
Mandraki is the harbor area close to the main town. It is dominated by a distinctive row of three iconic windmills, offering a magnificent background for family holiday photos.
There used to be many more windmills in the past. Once upon a time, these mills were used to mill the grain brought to the island by boats that docked in the port.
A little further along is the Venetian fort of Sanit Nicholas (Agios Nikolaos, in Greek), another place you can check out in the area.
At the entrance to the harbor, you will spot two columns with a bronze statue of a deer on each of them. The deer, one stag (elafos), and one roe (elafina) are Dama-Dama deer, a species endemic to the island and found in its cypress forests.
The statues are said to stand where one of the seven wonders of the ancient world was once located, the Colossus of Rhodes.
The Colossus is said to have been a 30-meter-high statue of the sun god Helios. This is a gorgeous place for a leisurely wander. Kids will love to admire the array of superyachts from all over the world that are moored there.
Rhodes Aquarium
Within walking distance of Rhodes Town stands the Aquarium, which is within the hydro-biological station.
On the premises, 40 tanks display the marine life of the Eastern Mediterranean, including sea flowers, octopuses, and clams.
The Aquarium is also a remarkable research center and cares for rescued aquatic animals treated and rehabilitated at the Aquarium.
Rhodes Aquarium is not massive, but kids love it, and it is a fun place to spend an afternoon learning some interesting facts about the Mediterranean. And if you have toddlers, the place is ideal to avoid spending the hottest hours of the day under the sun
>>> You can find more information on the Aquarium's official Facebook page.
Petaludes, the Valley of Butterflies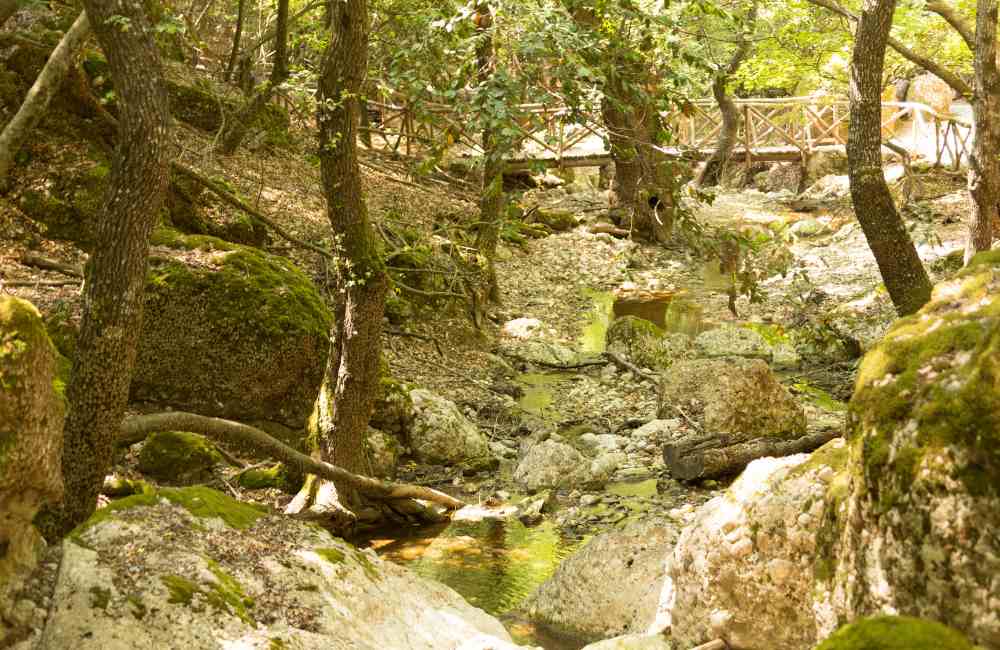 Children are enchanted by a visit to this valley called Petaloudes, meaning butterfly.
By the end of summer, thousands of Jersey Tiger butterflies, a distinctive black and yellow butterfly, can be seen in this natural park. There is only one similar place in Greece, although smaller, on the island of Paros.
Children of all ages enjoy a close-up view of the tiny insects and the fantastic paths and walkways with bridges leading over small rivers, crystalline streams, and surprising waterfalls.
The best time to see the butterflies is between August and September.
>>> You can find more details on the official website.
Monolithos Castle
If you are exploring the island's western coast, this 15th-century fortress perched on a 100-meter-high cliff is well worth a visit.
There is a well-marked walking trail, and the only way is up! Make sure you take plenty of drinking water and snacks to make it to the summit. And, of course, avoid hiking during the hottest hours of the day.
You will be well-rewarded for your effort, as the view from the top of the coast far below is impressive and ideal for some great family photos!
Rhodes Toy Museum
Another place ideal to spend a couple of hours is the Toy Museum in Archipoli, in the island's central area.
The museum is in a large stone house. Children find the exhibits fascinating as toys have changed so much in the last 100 years.
Parents, of course, find seeing some of the exhibits very nostalgic, and you often hear children being told proudly by their father that he had the same metal car when he was a lad!
>>> Check out the museum's official site here.
Prasonisi: Top Destination in Rhodes for Families with Teens
Prasonisi is a tiny island that lies just off the southern tip and is linked to Rhodes by a sandy causeway at low tide, which can be easily walked.
Two large sandy bays on each side of the causeway lead to the tiny lighthouse-topped island.
What makes Prasonisi unique is that during the summer months, there is always an excellent rolling surf on the western side of the island, making it perfect for surfing and other water sports.
All the kites can be quickly hired, and tuition is available.
Rhodes for families is a great choice as there are so many entertaining things to do for all children – regardless of their age.
As well as numerous shallow, sandy beaches and the activities mentioned here, there are riding schools, go-karts, bicycles, museums, and villages.
There is so much to enjoy in Rhodes. It is unlikely you will have enough time to do it all!
Looking for More Rhodes Experiences and Activities for Kids? Check out these Super Convenient Tours in Rhodes!
For smaller kids…
And for teens and young adults…
Best Places to Stay in Rhodes for Families
These are some of the best accommodations you can check out in Rhodes if you travel with children. Take a look!
Best Budget All-Inclusive Hotel in Rhodes for Families
Blue Sea Beach Resort
4 Stars
Location: Right on the sandy beach of Faliraki. The resort is 12 km from Rhodes Town and a 15-minute drive from Diagoras International Airport.
Located on the famous Faliraki Beach, the resort features indoor and outdoor pools for adults and children and free sun beds on the beach. It has spacious rooms with a minibar and gorgeous views. On the premises, you can enjoy a daily buffet breakfast while the on-site restaurant serves Greek dishes and offers themed nights. There is also a seaside snack bar
Kids love the mini club and the daily entertainment activities.
For parents: 2 tennis courts, a squash court, a gym, a hot tub, massage rooms, and a sauna for rejuvenation.
Best Family-Friendly Rental Home in Rhodes
Delfinia Resort – All Inclusive
4 Stars
Location: Kolymbia, on the east coast of Rhodes. The resort is 19 km from Lindos and 30 minutes from the airport.
Perfect for enjoying plenty of water sports on the beaches nearby, this hotel offers four swimming pools, some of which are for young guests. There are boat trips to other villages and beaches from the private jetty. Guestrooms have a balcony or veranda, a minibar, and a fridge. There is also a restaurant, a fitness center, and a mini-market.
Kids love the children's playground.
For parents: free parking and accessible facilities.
Visiting more Greek islands? Check out these guides:
Are you traveling to Rhodes with the kids this summer?

You might also want to read these posts to prepare for a great holiday in Greece with the family!
Traveling to Greece Soon? Pin this Guide to the Best Things to Do in Rhodes with Kids for an Amazing Vacation in Greece!
About my blog: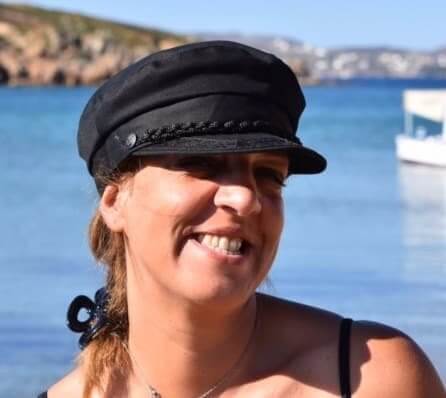 I moved to Crete in 2016. During these years, I learned much about the island.
In Crete, I juggle being a solo mom, hosting culinary tours, and writing for several travel media.
I've written for Greek Reporter, published travel guides about Greece, co-authored DK Eyewitness Top 10 Crete, and had more glasses of frappe than any regular person could ever handle.