Are you in love and want to treat your other half to the best romantic trip in Europe? Do you want to ignite that fire in your relationship once more? Either way, this article is all you need to surprise your significant other with the most dreamy and exclusive vacations. Keep reading to discover the top romantic European destinations off the beaten path!
---
Disclaimer: Posts include affiliate links to products or services. I might earn a commission if you make a purchase.
---
The Most Romantic European Destinations
In no particular order, these are some of the best romantic European destinations that you need to check out with your better half!
Aveiro: A Lesser-Known Venice in Portugal
Venice might be one of the most romantic places in the world, but it lags in seclusion.
Thankfully, Portugal's Aveiro is the perfect substitute that combines the charm of water canals with its quiet setting, not to mention its unique and colorful architecture.
When it comes to activities, you are again spoiled with choices. You can start by enjoying a boat ride through Aveiro's canals in a colorful and traditional Moliceiro boat.
Next up, go for a relaxing edxperience at spa in the salines, stroll the wooden walkways by the river, or taste the local cuisine.
And for some time in nature, hike the hills of the nearby reserve, or cruise the city onboard the traditional boats named Moliceiros.
Top Aveiro Experience: Cruise the canals of Aveiro aboard a traditional Moliceiro boat. Explore the city streets on a guided walking tour of the old Beira Mar neighborhood and the Aveiro Fish Market. Check out more details here
Seville: Where the Love Dance was Born
In neighboring Spain, Seville is one of the best European destinations for young couples.
Not only will you get all the privacy you need, but you'll enjoy plenty of options for entertainment.
Dining and bar-hopping are big here. And, of course, you have all the attractions, such as the lovely Santa Cruz district with its characteristic balconies full of flowers.
Declared UNESCO World Heritage Site in 1987, the beautiful medieval palace of the Royal Alcázar is another sight you don't want to miss. Check out the price for entry tickets here.
But if I had to choose one activity you cannot miss as a couple in Seville, that would be attending a traditional flamenco show.
Imagine a passionate couple dancing on a tiny stage of a slightly dimmed small room and hearing the echo of their shoes clapping harmoniously with the floor.
It is the sexiest dance you will ever see.
Check out these flamenco shows in Seville:
Oviedo: One of the Most Secluded Romantic Getaways in Europe
On the other side of Spain, Oviedo is an underrated yet exceptionally captivating destination for couples in Europe.
Especially if you are after relaxing holidays in a pristine environment, you are at a perfect location.
You'll be surrounded by tall mountains and lush vegetation, making you feel like you are in the countryside.
Factor in the city's charming plazas, lush parks, and winding streets, and you understand what makes Oviedo so unique.
And if that is not enough, the city is full of historical wonders and foodie spots that will keep surprising you every night.
…I don't mean only taste-wise; there is live music in several local restaurants almost daily! Now, that's a romantic experience worth remembering.
Champagne: The Name-Giver of Your Marriage's Favorite Drink
Whether you're married or not, chances are you have opened a bottle of sparkling wine for a special occasion.
Now, you can do the same at the place of origin with the real thing! You won't easily find any better sparkling wine in the world.
And you know what? Where there is good wine, there is good cheese. Put differently, you'll get to try one of the most delicious parts of French cuisine in its authentic form.
Still, Champagne is a lot more than the name implies. Think of a picturesque landscape with tons of greenery and colorful buildings of typical French architecture.
The region cries for a road trip! A romantic road trip, I may add.
Check out these champagne tasting tours for a perfect experience!
Menton: A Quieter Version of Cosmopolitan Nice
If you want to visit the French Riviera and avoid the crowds in Nice, the nearby coastal town of Menton is the perfect alternative.
The city has some of the most romantic hotels in Europe, with spacious balconies overlooking the Mediterranean Sea and the scenic neighborhoods of Menton.
Strolling along the beachfront and enjoying the spectacular city views will make you think you are in the most romantic city in the world. For a better experience, join a guided walking tour like this one to explore the city with a local!
And once you try the upscale restaurants and region's cuisine, you'll have all the confirmation you need.
Finally, to remember your trip here, reserve some time for shopping in the local designer shops- Menton is renowned for its artwork.
Ginosa: Romantic Heaven Hidden in the Mountains
I know when it comes to Italy, romance is equivalent to Verona and Venice.
But you won't get much privacy in those destinations, so do yourself a favor and visit the relatively unknown yet dramatically romantic settlement of Ginosa in southern Italy.
You'll be surprised by how much this cute little town offers.
Historical monuments of unparalleled beauty, natural landscapes that leave you breathless, and cave houses that still stand today are only some of the area's highlights.
Your beloved and you will love every moment of being here, especially when it comes to food and its authentic Italian flavors.
Plus, the local wine will be a great companion for a romantic evening!
Tromsø: the Paris of the North
Since Paris is too crowded for a quiet romantic getaway in Europe, why not try the Paris of the North: Tromsø?
Well, North, in this case, is to the colder lands of Norway. Don't worry about the low temperatures; you'll have each other to warm yourselves. That's romantic enough, right?
It is, but Tromsø is way too cool to ignore for memorable activities with your better half.
If it's summer, enjoy the endless sunshine with a fjord cruise or a romantic hike in the surrounding cliffs; the views and background will make for the perfect couple selfie!
And if it's winter, whale watching and sled driving are only some of the best things you can do in Tromsø with your dearest one.
You may even spot the Northern lights if you're lucky!
Top tours to discover the best of Tromø:
Český Krumlov: Where a Castle Will Make you Feel Like Royalty
Located in the South Bohemian Region of the Czech Republic, this is one of the best weekend getaways for couples in Europe. Although Český Krumlov may have a tricky name, it's worth every effort to explore.
The World War II bombings unexpectedly did not pass through here, so the city shines with a flavor of historical aura and dramatic medieval beauty.
Exploring the alleys with a private walking tour like this one is perfect for a deeper insight of the buildings and the history of the area.
Above all, the imposing 13th-century castle dominates the scenery and travels you back to another era, where you two could be queen and king!
Well, at least you can dream of it while exploring the site.
And once you are done walking and discovering, don't forget to treat yourself with a beer bath- a characteristic of the region you can't miss!
Wroclaw: a City of Colors and Affection
A few kilometers east of the Polish capital, Wroclaw is one of the most romantic cities in the world while still untouched by mass tourism.
Atmospheric cafes and lively restaurants make the perfect settings for romantic dates.
But if there is one place you need to visit as a couple in Wroclaw, that would be the famous Tumski Bridge, where you can seal your love with a lock and throw the key into the river.
Then, to celebrate your eternal bond, climb the steps in the nearby church of St Mary and kiss your partner at the 45-meter tower.
If you time it right, you can even witness the sunset from here! The spot is so mesmerizing that more and more marriage proposals happen here. I'm not suggesting anything, or am I?
Check out this Old Town walking tour that includes a visit to the marketplace, the Gothic Old Town Hall, the incredible Wroclaw Cathedral and walk along the edge of the River Oder.
Thassos: a Greek Island for Couples Away from the Tourist Crowds
Santorini may have all the spotlight of the world as the ultimate romantic destination in Greece, but you know the drill; way too touristy.
So, an excellent alternative? The idyllic island of Thassos in the North. Every year, more and more couples spend their holidays on this green island with its gorgeous beaches and mountains.
Think of sunset boat trips in the Aegean, long, quiet sandy beaches, romantic taverns with delicious food, cute little alleys in traditional villages, and endless strolling by the beachfront.
Not to mention spectacular hikes and a natural lagoon unique to the world.
In short, it is one of the most romantic places in Europe for a honeymoon during spring or summer.
Spend time in any place on this list, and you will have some of the best European vacations for couples!
Although the list could be endless, these are some of Europe's top romantic destinations. It now all boils down to you and your loved one: are you ready to make unforgettable memories together?
---
Are you planning a trip to any of these romantic European destinations?
Let me know in the comments below!
You might also want to read these blogs:
---
Written by Dimitrios Tsevremes
Passionate about travel, spirituality, and sports, I have lived in 5 countries and traveled to more places than I have counted. Writing, for me, is a way to express myself and my creativity. Whether I write for my blog or a freelancing gig, I always fall in love with the process and often lose my sense of time. If you want, you can check out more about me and my work here.
Pin this Guide to the Most Romantic European Destinations!
About my blog: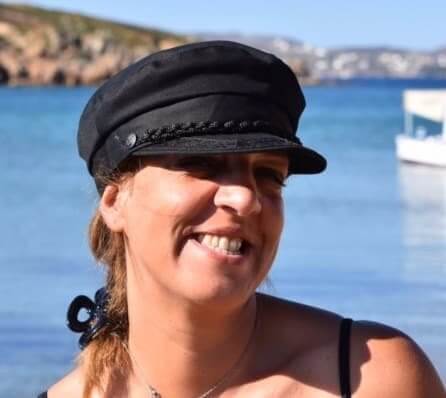 I moved to Crete in 2016. During these years, I learned much about the island.
In Crete, I juggle being a solo mom, hosting culinary tours, and writing for several travel blogs.
I've written for Greek Reporter, published travel guides about Greece, and had more glasses of frappe than any regular person could ever handle.