Italy is a dream destination for many. It is an ideal spot for honeymooners, family vacations, partygoers, and adventure seekers. In other words, Italy offers everything you might look for in a vacation destination.
Blessed with Mediterranean weather and unique beaches, the country is a perfect getaway combining excellent food, tons of cultural attractions, and unique days by the sea. In this article, you discover the best summer destinations in Italy to enjoy an unforgettable vacation in the Bel Paese!
---
Disclaimer: Posts include affiliate links to products or services. I might earn a commission if you make a purchase.
---
The Most Amazing Summer Destinations in Italy
RESOURCES TO PLAN YOUR TRIP TO ITALY!
Book your flight: I use Skyscanner to compare prices before booking a plane ticket.
Book your accommodation: I've tried many different platforms for accommodation, but none of them beats the advantages of Booking.com.
Book your car: The best way to find an affordable car to rent is to use a powerful search engine that compares all the rental companies in the market. I use Discover Cars.
Book your tours: Live unforgettable adventures and cultural experiences with Get Your Guide. For instance, you can visit the Colosseum, discover Milan's Duomo, explore Pompeii, or wander the streets of Florence.
Don't forget travel insurance: Things can go wrong at times, but travel insurance will protect you against illness, injury, theft, and cancellations. I recommend Safety Wing for peace of mind.
From North to South, Italy has incredible vistas and diverse landscapes. Furthermore, it is a country with a rich historical and cultural heritage, creating an even more unforgettable experience.
So, there is no better choice than Italy for a vacation. And although it is a fantastic destination all year round, it is especially favored in the summer.
After all, you can marvel at the lush Mediterranean islands and pristine beaches to the fullest, as well as explore breathtaking nature and beautiful historical sites in sunny weather.
Let's now see a list of the seven most beautiful places for an unforgettable summer vacation in Italy.
Rome
Rome can't miss on a list of Italy's best and most beautiful cities.
After all, it is a city packed with incredible historical and cultural attractions that all history lovers should visit.
In fact, while exploring and strolling around Rome, you might as well feel like you turned back in time. Perhaps, that's also why Rome is known as the eternal city.
Wherever you are in Rome, you will find Ancient Rome in front of you.
But the best and most essential historical attractions you should visit are the Colosseum, the Roman Forum, and the Pantheon.
These sites and others have been standing tall for over 2000 years, allowing visitors to experience how truthfully eternal Rome is.
Apart from must-visit historical sites, Rome is undoubtedly a paradise for foodies.
Food experiences in the capital include street food sampling and visits to food markets, incredible restaurants, and some unforgettable cooking classes.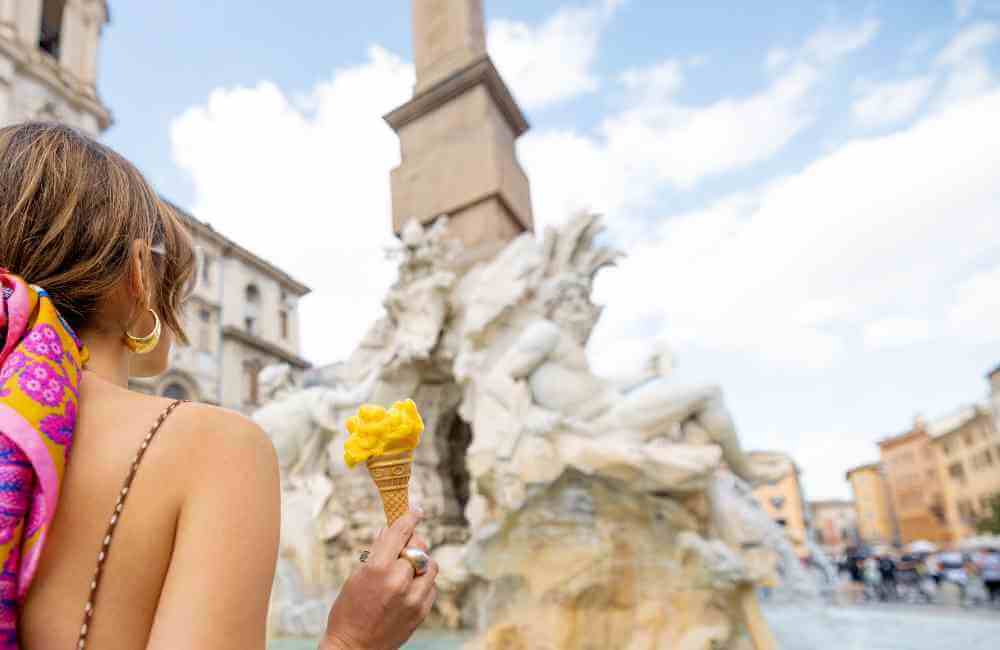 The bustling district of Trastevere is packed with fantastic places for dinner to taste notable Italian dishes, as well as cocktail bars, lounges, and pubs for drinks and buzzing nightlife.
Amalfi Coast
When talking of the best and most pristine coastlines, the Amalfi Coast is among the top. In fact, it is probably the most recognizable coastline in the world.
So, this is undoubtedly the perfect spot for a summer vacation in Italy.
Generally, the Amalfi Coast is a mix of buzzing towns and pebbly beaches with famous beach clubs.
But unlike other parts of Italy, it is the perfect place for couples looking for a glamorous, romantic getaway away from the hustle and bustle.
Also, the Amalfi Coast is the ideal place to wear your fanciest dress and capture beautiful pictures of some of the most mesmerizing sceneries in Europe.
Amalfi Coast's most notable towns are Positano and Sorrento. Both are romantic towns with stunning panoramic sea views, steep stairways, narrow alleyways, and beautiful colored houses.
Cinque Terre
One of the most beautiful areas in Italy is Cinque Terre on the Ligurian coast.
Each village has a unique charm. But overall, all five offer stunning scenic sea panoramas, picturesque landscapes of colorful houses, dramatic cliff views, and crystal clear azure waters.
The villages connect with a shuttle train, which runs on a regular daily schedule.
So it guarantees a relaxing visit while admiring the scenery and allows you to explore the charming alleys crossing the towns without being in a hurry.
Tuscany
Tuscany is a must-visit destination, and even though it is a year-round place, summer gives this magnificent area a unique charm.
After all, spending the summer in beautiful medieval cities, lush hills, and golden fields sounds like a dream.
Some of the most popular cities in Tuscany are Siena, Pisa, and Lucca. But undoubtedly the best city to check out in Tuscany is Florence, which is also the capital of the region.
It is a city right out of the stunning Renaissance period with some of the best art in the world. So, if you love history and art, this is the best place to visit.
However, Tuscany is also filled with mesmerizing natural beauty.
Visit the lush hills of Chianti and Val di Chiana or golden fields of wheat and rows of cypresses to relax and release all the negativity of a bustling city.
You can even embark on a day trip like this one and visit Siena, San Gimignano, Chianti, and Pisa.
Otherwise, go for a dip in the stunning beaches of Maremma, Elba Island, or Versilia.
Sicily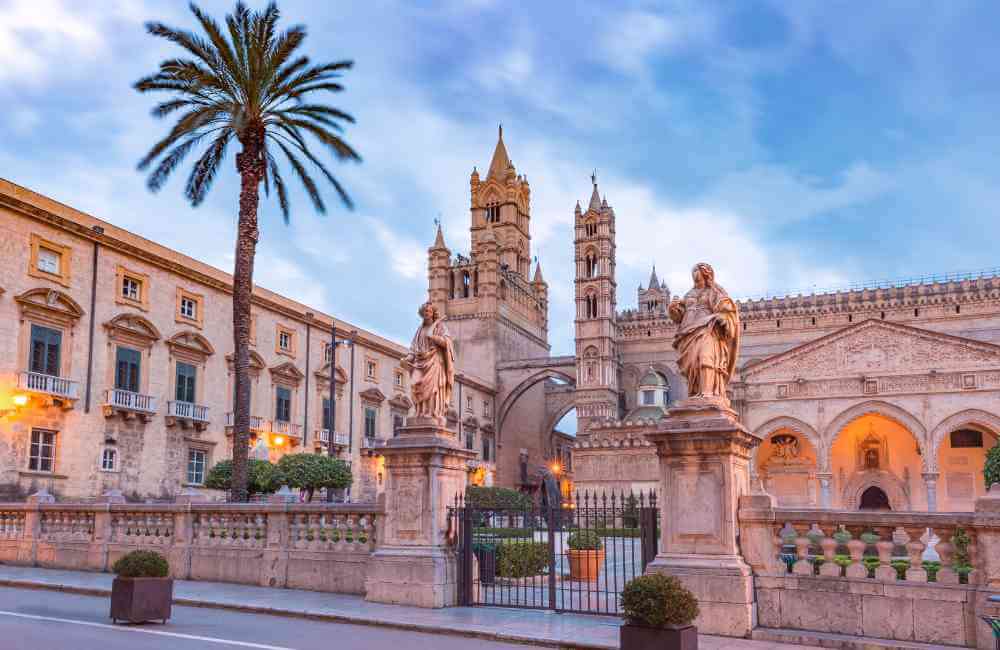 Sicily is Italy's and the Mediterranean Sea's largest island, so it hides many beautiful and must-visit gems.
The island might not be as popular as the Amalfi Coast or Tuscany, but Sicily is packed with beautiful beaches, historical and cultural landmarks, delectable local cuisine, and exciting nature reserves.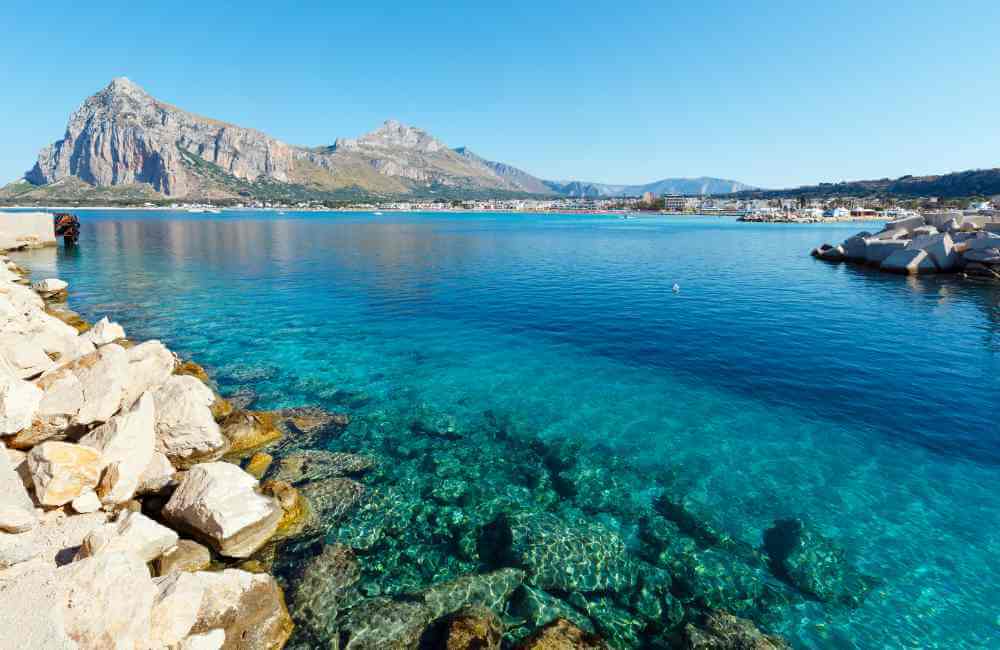 First and foremost, Palermo, Sicily's capital, is a vibrant city with some of the best restaurants in Italy, as well as exciting nightlife.
Furthermore, it is a charming city with a rich cultural heritage that will surely enchant you.
For nature lovers and brave adventurers, a spectacular sight you shouldn't miss is Mount Etna volcano, which is the most active volcano in Europe.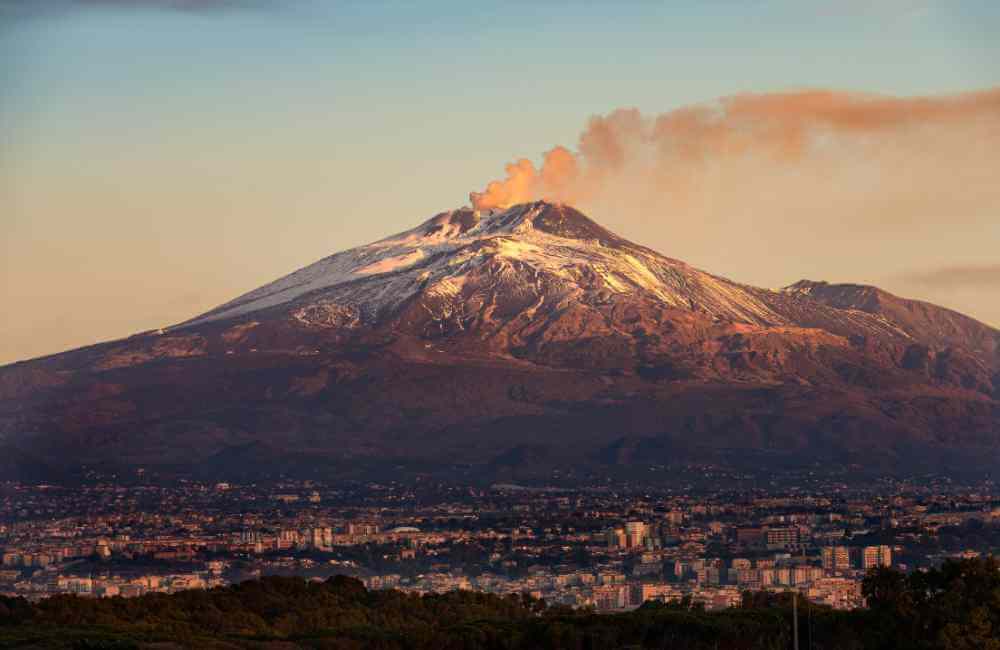 However, if you prefer summer vacations by the sea, Sicily's sea is a scuba lover's dream.
No matter where you vacation, every beach has plenty of water-based activities loved by adults and children.
Sardinia
Sardinia is Italy' second biggest island, and just like Sicily, it is a little haven on earth.
It is in the middle of the Mediterranean Sea, and it has stunning beaches, beautiful historical sites, and unique cultural heritage.
If you are looking for a luxurious stay and exciting nightlife, head to Costa Smeralda, a stretch of 10 km with famous beaches and glitzy resorts.
For those who prefer a rather adventurous vacation, head to La Maddalena Archipelago, a set of gorgeous islands protected as nature reserves.
If you prefer to explore historical sites, Sardinia is the best place to step back in time.
The island has Bronze Age towers, settlements, and tombs, allowing visitors to discover prehistoric lifestyles.
Puglia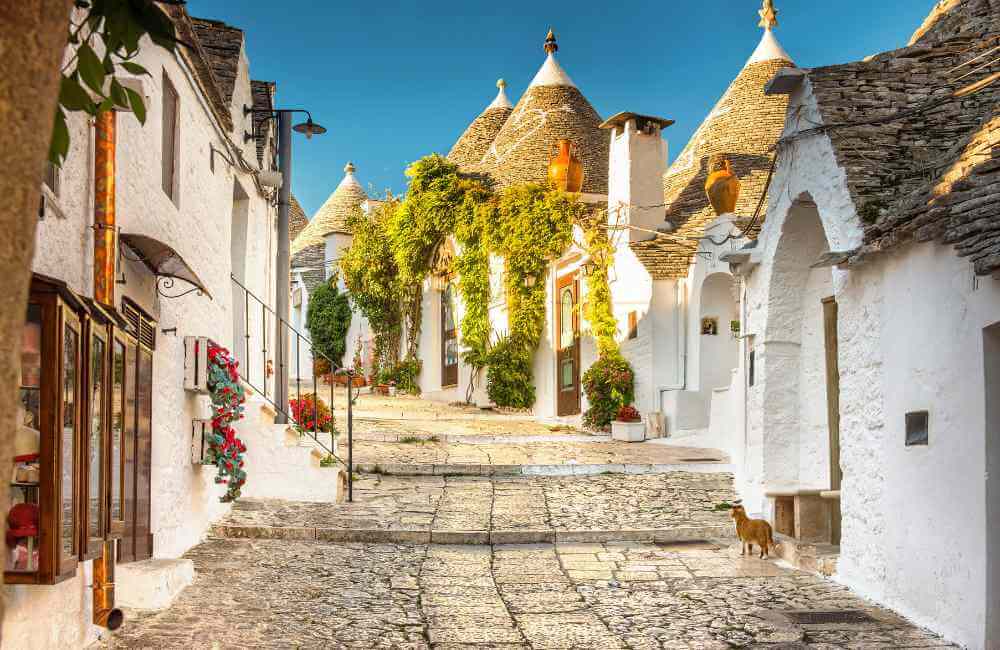 The once-poor area Puglia (Apulia), also known as Italy's heel of the boot, has recently become popular due to the adorable Trulli Houses, gorgeous beaches, and fantastic nightlife.
Head to Alberobello in the Itari Valley in Apulia to visit this fairytale-like Trulli Houses.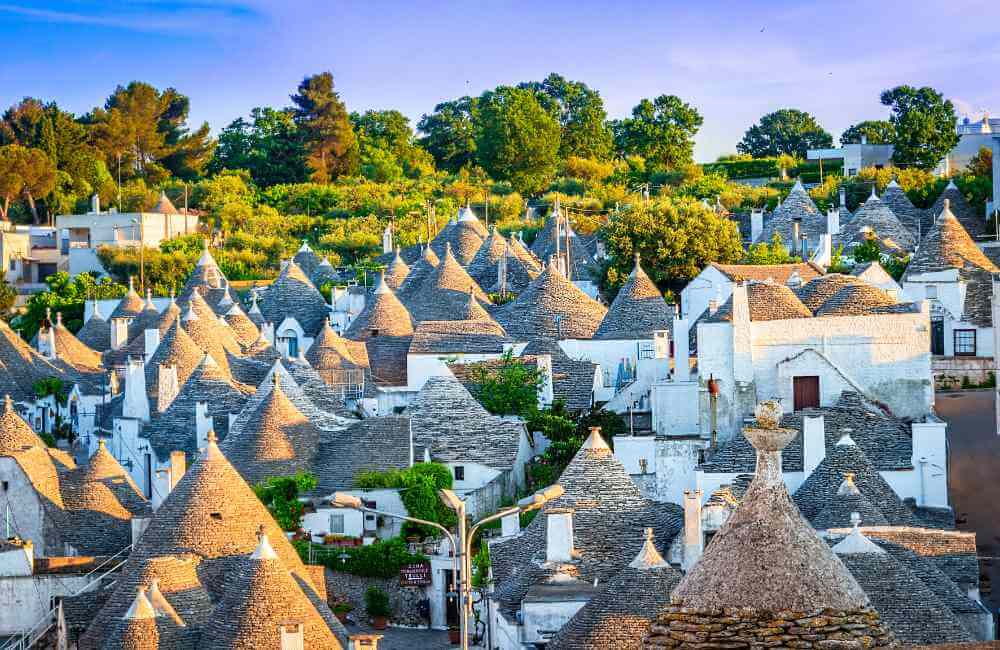 Due to their popularity, many converted into Airbnb dwellings. Staying in a Trulli is a lovely and authentic experience, so don't miss your chance.
Click here to check out this incredible place to stay in Puglia set inside a historic Trullo.
Another must-do activity in Puglia is a tour around the many beautiful beaches, including Baia Verde, Torre Lapillo, or the bays found in Salento Coastline.
Frankly, visiting Italy for summer vacations is like a dream. Italy offers endless opportunities for an unforgettable summer.
However, no matter where you decide to go, be sure you will have an absolutely fantastic time.
---
Are you planning to visit any of these summer destinations in Italy soon?
Let me know in the comments below!
You might also want to read these other articles:
---
Pin it! Pin this Guide to the Most Amazing Summer Destinations in Italy for Your Next Adventures!
About my blog: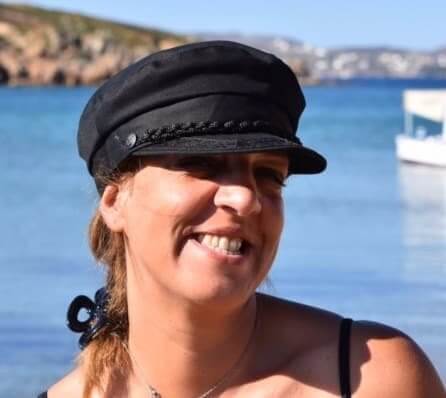 I moved to Crete in 2016. During these years, I learned much about the island.
In Crete, I juggle being a solo mom, hosting culinary tours, and writing for several travel media.
I've written for Greek Reporter, published travel guides about Greece, co-authored DK Eyewitness Top 10 Crete, and had more glasses of frappe than any regular person could ever handle.