Paris is undoubtedly the city for lovers but also for exceptionally good food! You can enjoy a crisp, freshly baked croissant or baguette with coffee or dine in style. It's fun to savor the classic dishes that have made French chefs world-renowned. A great way to get under the skin of French cuisine is to join one of the many food tours in Paris.
---
Disclaimer: Posts include affiliate links to products or services. I might earn a commission if you make a purchase.
---
Best Food Tours in Paris, France
ARE YOU PLANNING YOUR TRIP TO FRANCE LAST MINUTE?
Be sure to book accommodation and tours in France ahead of time to ensure availability!
📍 Top tours in France:
🛌 Top picks for places to stay in France:
🚗 Looking for the best way to get around France? Check car rental rates for France now.
💳 Use WISE as a digital card and top-up from the app no matter where you are. Wise is one of the best cards for overseas travel!
When joining one of the fantastic food tours in Paris, you'll experience the great fun of being a foodie in a city intrinsically linked with food, it is the ideal way to explore part of the city too… So make sure you wear comfortable shoes!
Gastronomic Walks, Cooking Classes, and Delicious Food Tours in Paris
Read on to discover what Paris' gastronomic tours you shouldn't miss during your next trip to the French capital!
Cheese, Wine, and Pastries in Montmartre
What better way to discover Montmartre, home to many artists, than by joining this wonderful three-hour tour?
You will discover the stories and legends of this historic part of the city walking along its cobble-stoned streets and checking out markets, bakeries, and colorful food artisans.
During the day, you'll have the chance to sample some excellent wines, cheese, and charcuterie as well as to enjoy some gorgeous French pastries and exquisite handmade chocolates.
You will also see all the famous Montmartre sights including the famous Mouli
n Rouge, the Sacré-Couer Basilica, and the beautiful mansions of this district.
The meeting point is right outside the Blanche Metro Station.
Explore a French Market… With Tastings!
French markets are famous the world over and what better place to enjoy the colorful bustle and see all the stalls piled high than in Paris! Marché d'Aligre is located in the 12th arrondissement.
This market began in 1895 and is one of the city's most popular marketplaces with indoor and outdoor areas plus a flea market
During this fun two-hour tour you will have the opportunity to meet several stall holders to learn about the history and production of their products and sample them! What better way to taste French cheese, wine, and chocolates?
Don't forget to bring your shopping bag!
Paris Wine and Cheese Lunch
Learn about French wine and cheese in a beautiful tasting room situated close to the Louvre.
This 1.5-hour event is led by an expert sommelier who tells you all about Champagne and how to identify the different French wine varieties such as Bordeaux and Loire.
The five excellent-tasting wines (including Champagne) you will enjoy are paired with different French cheeses and you will have the chance to sample charcuterie and saucisson from various parts of the country as well.
Learn to Make Macarons!
What about this incredible 2.5-hour Macaron Cooking Class for the whole family? Learn how to make the quintessential Parisian sweet that everybody loves for its taste and vibrant colors!
You will meet a local chef at her charming cooking school in Paris and learn how to make macaron – the iconic Parisian delicacy.
Enjoy the perks of learning from an expert who will guide you through the process and teach you how to cook two different macaron flavors.
The best part of it? You can take your creations and the recipes back home with you!
Food and Wine Tasting Walking Tour in Le Marais
Discover one of the most iconic districts in Paris, Le Marais with this Ultimate Food Tour while learning about local food and wines!
This tour starts by making you taste a flaky butter croissant made fresh by one of the city's best-loved bakers. On the spot, you can also enjoy a taste of homemade sourdough bread
During the second stop, you will visit a master chocolatier and, next up, it'll be time for a lesser-known but an equally delicious snack at a local food market: chickpea pancakes.
Afterward, you'll be guided through Paris' Jewish quarter on a short historical walk.
The tour includes sampling a delicious selection of cheeses and cured meats and then head to a restaurant you'll try some delicious French onion soup.
Of course, it wouldn't be right to finish without a glass of wine. Your last stop will take you to a spot specializing in natural wines.
In a nutshell, this tour includes 11 food tastings and 2 half glasses of wine across 8 family-run establishments in le Marais… don't tell me it ain't worth it!
Walking Food Tour in Saint Germain des Prés
Another neighborhood you want to check out in Paris is Saint Germain des Prés… why not do so while eating your way around?
During this day tour, you will taste the best food in Paris in the oldest neighborhood of the city, visit the best local master artisans and savor their products.
The tour lasts 3 hours and it's available both in the morning and the early afternoon.
The experience includes a visit to 3 different sweet shops, then discovering a hidden courtyard where the story of restaurants began, olive oil tasting, and a stop at one of the best pastry French chefs'.
To end the day, a longer tasting with wine including charcuterie, cheese tasting, and the best bread of Paris.
Bread Making Class in Paris
Roll up your sleeves and learn to make a classic French baguette! This is a hands-on cooking class in the center of Paris.
This experience will teach you how to make and shape croissants and you will also learn techniques to prepare typical French-style bread using tips from a master French baker.
The class includes the possibility to prepare two types of baguette; the classic French baguette, and "La Parisse," a special version for which the bakery you'll visit is famous throughout Paris.
Super Paris Gourmet Tour

During this gourmet tour, you will walk through the fascinating medieval parts of the Latin Quarter, one of the most famous neighborhoods in the world, the former intellectual heart of Paris, and home to Sorbonne University.
Here, you will visit a fantastic local market, well-known for the quality and variety of food.
You will then stop at an authentic French cheese shop to discover different tastes and textures that are perfectly complementary to delicious local wine.
Other visits included taking you to several bakeries and enjoying the amazing variety of French bread and pastries, from the baguette to the croissant.
Finally, the tour ends in a regional shop to taste the most luxurious French delicacy—the foie gras!
As you can see, the options for food tours in Paris seem to be endless… and it doesn't matter whether you're a foodie or not, any of these experiences will add an unforgettable touch to your trip to France!
Have you ever joined a food tour in Paris?
---
Pin Thins Helpful Guide to the Best Food Tours in Paris!
About my blog: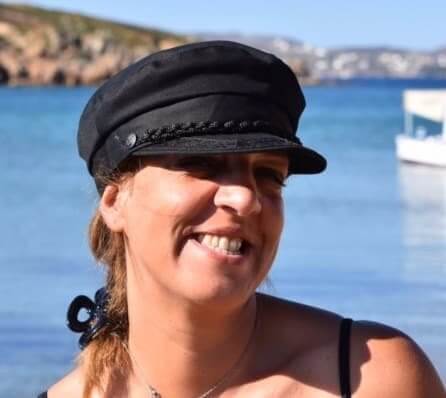 I moved to Crete in 2016. During these years, I learned much about the island.
In Crete, I juggle being a solo mom, hosting culinary tours, and writing for several travel media.
I've written for Greek Reporter, published travel guides about Greece, co-authored DK Eyewitness Top 10 Crete, and had more glasses of frappe than any regular person could ever handle.