Ever wanted to visit a traditional Greek taverna in Thassos? You are not alone. Food on the island is rewarding, just like the scenery you will have while enjoying your meal. So, if you are wondering where to eat during your vacation on the island, here are some of the best restaurants in Thassos, including the top taverns and bars on the island.
---
Disclaimer: Posts include affiliate links to products or services. I might earn a commission if you make a purchase at no extra cost.
---
Where to Eat in Thassos
PLANNING A LAST-MINUTE TRIP TO GREECE?
Be sure to book accommodation and tours in Greece ahead of time to ensure availability!
🛥️ Book ferry tickets with Ferryhopper.
🛌 Find hotel deals on Booking.com.
🚘 Compare car rental prices with Discover Cars.
💳 In need of money? Use WISE as a digital card and top-up from the app.
🛌 Suggested Accommodation in Thassos
There are plenty of amazing places to choose from on Thassos island when looking for a good restaurant.
The places on the following list have been tested by a local, and are, hand down, some of the best restaurants in Thassos, take a look and choose where you will have your next meal!
Best Seaside Restaurants in Thassos
Looking for a romantic setting for a great dining experience in Thassos? then you should eat by the sea! Check out these great restaurants on the island to eat with your feet on the sand… or almost!
Klisma
Location: Near Skala Kallirachi
Klisma is perhaps one of the most picturesque and unique locations to enjoy fresh seafood in Thassos.
You are sitting at a table on a pebble beach, one meter from the water. In front, the sun sets on the mainland while you hear the never-ending but captivating sound of waves.
The experience in Klisma is out of this world. Although the scenery is majestic and looks remote, access to the two taverns in the area is easy.
The main road of the island passes right by the location, two kilometers south of the fishing village of Skala Kallirachi. Once here, you will want to come back in no time.
Armeno
Location: Skala Marion
If you prefer a more cosmopolitan but still graphic setting for your Thasos restaurant… and enjoy fresh seafood, make sure to spend an evening at the seaside tavern of Armeno.
Located in the heart of the small bay and beach of Skala Marion, Armeno will surprise you with the deep taste and freshness of every dish.
The service here is also impeccable, while the waiting times are minimal. You will feel like a king the moment you step foot and sit at a table.
Ask the waiter what fresh fish is on the menu today, and order a variety. And don't forget to ask for some ouzo; it will make the fish taste even better.
Elia
Location: Limenaria
Another on-the-beach restaurant in the village of Limenaria is Elia. The place enjoys the natural shade of trees and promises an experience you will long remember.
All you have to do is visit the tavern and let the magic of the place captivate you. And the moment you open the menu, you will be spoiled with choices.
Elia offers a variety of gourmet dishes and traditional seafood with a modern twist. There is also a rotating dish of the day, for an extra element of surprise.
And don't forget to order a glass or bottle of white wine. This Thassos restaurant makes its wine labeled Tsitsianoudis in a nearby winery.
Pefkospilia (One of the Top Restaurants in Thassos!)
Location: Pachis
On the edge of the sandy beach of Pachis, Pefkospilia tavern is a perfect mix of elegance and tradition, all in one place.
As you enter the restaurant, you will notice the sitting areas on the left and a modern beach bar on the right.
Both are run by the same owner, which means you can dine in the restaurant and then relax in one of the sitting areas in the bar.
And when it comes to food, you can never go wrong with whatever you choose from the menu. The cooks pay great attention to details and strive for a result that will leave you breathless.
And if that is not enough, fast service, scenic environment, and reasonable prices make for a combination that will leave everyone happy.
>> Read Next: What dishes to try in Thassos<<
Akrogiali
Location: Golden Beach
On the other side of the island, the two-kilometer-long Golden Beach is home to tens of seaside taverns, some of the best taverns in Thassos.
However, none is as popular as Akrogiali. You will find it in the southern part of the beach, near the coastal settlement of Skala Potamia.
Its characteristic is a make-shift structure on top of the sand that provides extra shade in the sitting area.
The portions in Akrogiali will surprise you with how generous they are. And if you factor in the top quality, freshness, and fast service, you have all you need for a memorable meal by the water.
In case the generous portions leave you with a full stomach, you will appreciate a short walk by the beach towards the village.
Best Restaurants in Thassos for Meat
Longing for a succulent portion of beef? Thassos Island has the answer, check the following restaurants for the best meat dishes in Thassos.
Iatrou
Location: Theologos
If you are more of a meat fan, you will love visiting the mountain villages of the islands. There, tens of traditional taverns await you for a dining experience that you will remember for a long time.
Take the Iatrou Tavern, for example. Located in the heart of the mountain village of Theologos, Iatrou is famous for its meat dishes.
This is the best taverna in Thassos for excellent goat meat… No one beats them!
And that could not be any other way. The owner makes sure the meat is fresh, and the cooks know their way to prepare and serve it. All you have to do is sit, order, and enjoy. You will love every part of the experience.
Kostas Tavern
Location: Kastro Village
In the mountain village of Kastro, Kostas Tavern is a traditional Thassos Greek restaurant that will travel you back in time. The place is simple and rudimentary, yet has everything to make you feel at ease and one with nature.
You will be sitting in the middle of an almost deserted village, with views over the forest and mountains.
What you will love the most about the tavern is its owner, Kostas. Funny, entertaining, and eager to help at any moment.
Just show a sign of openness and let some of the most exciting conversations in your holidays begin. And when it comes to food, prepare for traditional and deep tastes.
Petsas
Location: Maries
Another tavern in the mountains is Petsas, in the small village of Maries. Although it's in the center of the island, driving here is easy thanks to the paved road that connects Maries to the coastal settlement of Skala Marion.
The traditional tavern is in the center of the village. It's a great stopover if you intend to visit Maries Lake or hike the mountains, and one of the best places to eat in Thassos.
The sitting area is small but has a unique style similar to no other.
Sitting under the trees, you will have the impression you are in a private yard of a house rather than in a tavern.
In the end, the different daily cooked dishes will be an invitation to come back.
Taverna Giannis
Location: Kazavitis
The mountains of Thasos will never cease to surprise you. This time, head to the tiny village of Mikros Prinos or Kazaviti for an authentic Greek experience you will never forget.
Taverna Giannis is a traditional restaurant standing on a small cliff, and featuring a balcony with breathtaking views over the mountains and the Aegean beyond.
When it is time to order, make no mistake and get the baby goat chops. They are so soft and delicious that one plate will not be enough.
Although most dishes take relatively some time to prepare, that is a sign everything is cooked on the spot. And with such magnificent views, you won't mind waiting a bit longer for the meal to start.
Best Bars and Restaurants in Thassos for a Light or Quick Meal
Not in the mood for a full meal? Then check these bars and cafeterias for brunch, a snack and a drink, or a light meal in Thassos.
Karnagio
Location: Limenas
If there is one bar that you must go to in Thassos, it is none other than Karnagio in Limenas. It might not be the best restaurant in Limenas, but, standing on the edge of a small peninsula on the northern part of the port, Karnagio is your doorway to a peaceful evening by the water amidst an elegant atmosphere.
From one side, you will have the mountain and a small chapel from where the sunrise is visible. On the other three sides, water surrounds the bar. There is even a tiny beach with small white pebbles. However, what you will love the most will be the rooftop, from where you will enjoy a panoramic view of the Aegean. There is no better setting to enjoy a light meal or an evening drink in Thassos.
La Skala
Location: Near Limenas, on the road Thasou-Limenarion
The moment you think Thassos cannot get any more elegant, you visit La Skala Bar, and you are speechless.
The luxury of the place will make you feel like a king in no time. Imagine standing in the middle of a sandy beach, in modern sitting areas with hammocks, sofas, and poofs all around sunbeds. Welcome to La Skala.
The service here is impeccable and royal-like. Once you order, the food or drinks come fast and always with the top quality such an establishment deserves.
Although your wallet may not be fond of the idea, make sure to spend an entire day in La Skala and let its scenery and vibe captivate you.
Black Aroma (Manos Bar)
Location: Skala Kallirachi
For a more traditional and quiet setting, make sure to head to the fishing village of Skala Kallirachi. Everything here seems to move at a slower pace.
Even in high season, you will see more locals than visitors around. If only people knew how beautiful this little village is… There is nothing like walking close to fishing boats and the biggest harbor on the island.
And you will also have a variety of options to drink or dine. For a light meal in a relaxed setting, head to Black Aroma, also known as Manos Bar.
This bar is right in the middle of the square, with comfy sofas, wooden chairs, upbeat music, and friendly waiters ready to serve you some of the best salty pancakes on the island.
Cafe Blionis
Location: Limenaria
If you love sweets, you have to pay a visit to Cafe Blionis. Here, you will find a rich selection of homemade sweets, with local recipes going back decades.
Above anything else, make sure to try the loukoumades with ice cream. They are fluffy sweet honey balls that many often consider the Greek version of donuts.
Sit in the air-conditioned interior or prefer the outdoor terrace and order an iced coffee. If you want to go Greek, try Freddo Espresso, a drink made of espresso blended with ice.
Once done, feel free to stroll in the picturesque port of Limenaria and let its lovely vibes surround you.
---
All in all, choosing a place to eat in Thassos may prove a bit more challenging than you imagined. The options are endless, and every restaurant or bar has a unique identity worth discovering.
To get out of the dilemma, try as many Thassos restaurants as you can, choose your favorite, and let us know in the comments.
Featured author: this article is part of the extensive Thassos Island Series, written and curated by our Thassian writer, Dimitrios Tsevremes.
---
So, where are you planning to eat in Thassos?
Let me know in the comments below!
---
This Belongs to a Board! Pin This Guide to the Best Restaurants in Thassos, Greece!
---
Written by Dimitrios Tsevremes
Passionate about travel, spirituality, and sports, I have lived in 5 countries and traveled to more places than I have counted. Writing, for me, is a way to express myself and my creativity. Whether I write for my blog or a freelancing gig, I always fall in love with the process and often lose my sense of time. If you want, you can check out more about me and my work here.
You might also want to read:
---
About my blog: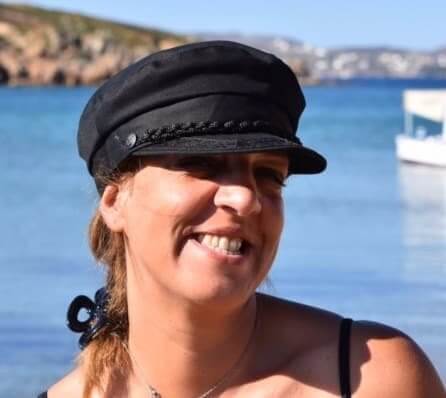 I moved to Crete in 2016. During these years, I learned much about the island.
In Crete, I juggle being a solo mom, hosting culinary tours, and writing for several travel blogs.
I've written for Greek Reporter, published travel guides about Greece, and had more glasses of frappe than any regular person could ever handle.