If you're getting ready to visit Crete for the first time, there are probably many things that you're wondering about the island. Some of you send me these questions via mail, others contact me via this page, and many others… simply don't ask! So, today, I've decided to write a different kind of article, it has many of your questions about Crete and the most reasonable answers I can offer. And if you still have doubts… just ask!
---
Disclaimer: Posts include affiliate links to products or services. I might earn a commission if you make a purchase, at no extra cost to you.
---
Frequently Asked Questions About Crete
These are the Questions about Crete* that you ask the most in your e-mails…
*All of these questions are authentic. So, if you don't find what you're looking for, that's because you still haven't sent me an e-mail!
Have more questions? Some have been answered in this guide to planning a trip to the island, and many more have been answered in this list of stunning facts about Crete!
You will also find a few more interesting things to know in these 20 secret travel tips about Crete and in these 20 common mistakes that you should avoid.
Do you have any other questions about Crete?
Let me know in the comments below!
You may also be interested in reading these articles:
– The Most Extraordinary Things to Do in Crete in Winter! – A guide to visiting Crete in December, January, and February.
– Heraklion or Chania: Which Cretan City You Should Visit – A guide to help you decide if you'd rather visit Chania or Heraklion.
– 20 Secret Travel Tips for Crete that Many Others Won't Share! – More things to know about Crete!
– Prices in Crete: Budget Guide for a Convenient Vacation in Crete! – A guide to help you budget your trip to Crete.
– The Most Instagrammable Places in Crete That You Need to See! – A guided to the best photo spots on Crete.
Let's Start by Getting Ready for Crete!
RESOURCES TO BOOK YOUR TRIP:
Book your flight: I use Skyscanner to compare prices before booking a plane ticket.
Book your ferry: When ferries are more convenient than air travel, I use Ferryhopper.
Book your accommodation: I've tried many different platforms for accommodation, but none of them beats the advantages of Booking.com.
Book your car: The best way to find an affordable car to rent is to use a powerful search engine that compares all the rental companies in the market. I use Discover Cars.
Book your tours: Live unforgettable adventures and cultural experiences with Get Your Guide. For instance, you can Visit Elafonisi, discover Balos Beach, hike Samaria, or explore Knossos.
Don't forget travel insurance: Things can go wrong at times, but travel insurance will protect you against illness, injury, theft, and cancellations. I recommend Safety Wing for peace of mind.
About the author of this blog: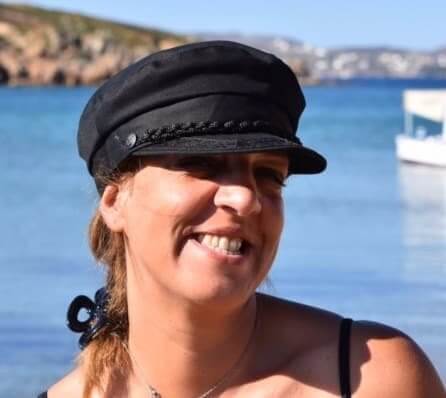 Gabi has been living in Crete for the last five years. On the island, she juggles being a solo mom, hosting culinary tours in summer, translating, and freelance writing.
She's written for Greek Reporter, published several travel guides about Greece, and had more glasses of frappe than any regular person would be able to handle.
COMING TO CRETE SOON?
Get in touch and let me know!