Crete is an island with which you will fall in love. And like in most love stories, you want to hold on to something that reminds you of the great you had. Cretan souvenirs can be the ideal match for a perfect reminder or a lovely gift. Keep reading to discover more than 20 of the most stunning and unique souvenirs from Crete.
---
Disclaimer: Posts include affiliate links to products or services. I might earn a commission if you make a purchase, at no extra cost to you.
---
Let's Start by Getting Ready for Crete!
RESOURCES TO BOOK YOUR TRIP:
Book your flight: I use Skyscanner to compare prices before booking a plane ticket.
Book your ferry: When ferries are more convenient than air travel, I use Ferryhopper.
Book your accommodation: I've tried many different platforms for accommodation, but none of them beats the advantages of Booking.com.
Book your car: The best way to find an affordable car to rent is to use a powerful search engine that compares all the rental companies in the market. I use Discover Cars.
Book your tours: Live unforgettable adventures and cultural experiences with Get Your Guide. For instance, you can Visit Elafonisi, discover Balos Beach, hike Samaria, or explore Knossos.
Don't forget travel insurance: Things can go wrong at times, but travel insurance will protect you against illness, injury, theft, and cancellations. I recommend Safety Wing for peace of mind.
Best Hotels in Chania
Affordable: Aelia Apartments or Polixeny's Suites in the old town.
Mid-range: Elia Estia in the old town and Civitel Akali Hotel in the new town.
Luxury: Casa Delfino in the old town or Domes Noruz by the sea.
Check also Chania Accommodation Guide and Boutique Hotels in Chania.
SMART STAY IN CHANIA: For business or a holiday, seasonal, or throughout the year, Dimitris City Break Apts is a cozy, peaceful, and sun-drenched place to stay in town. Get in touch with the code TinyBook for a 10% discount!
Best Souvenirs From Crete
Forget everything about impersonal fridge magnets and duty-free gifts, if you're traveling to Crete for your holidays, you'll discover a ton of objects that can be both a beautiful memory from your time on the island but also have a useful purpose too!
If you still have no idea what to bring back home with you after your travels, here are the best souvenirs from Crete to remember your time on the island!
Ceramics
Crete has a 12.000-year tradition in the art of ceramics. As a result, local experts create some of the most magnificent handmade pottery you can find in Greece.
Either it is for cooking, storing food, or decorating your home, you will love those earthly creations.
The materials that artists use to create ceramics are water and earth. At the right proportion, the mud can take any shape.
Then, the end product is left for a few days to dry. Finally, the artists bake the ceramic for more than 12 hours to increase its resistance.
Although a laborious process, the final result is worth the effort. You can see that from the first moment you enter one of the many pottery shops.
Leather Sandals
If you are looking for something to use during your day, leather sandals could be a stylish addition to your shoe collection.
You can wear these comfy sandals any time of the day, be it during work or for your night out. They are both super light and comfortable enough to wear for the entire day.
Fortunately, there are local stores that specialize in the production of leather sandals all over Crete. For example, the Road of the Leather (Skrydlof Street or Stivanadika, see down) in Chania is full of such specialized stores.
Feel free to visit one and even ask for a pair of custom-made sandals; they are more than happy to take custom orders and create a sandal with the perfect fit for you.
Leather Boots – Stivania
Sandals are not the only products that Cretans can make from leather. Inherited by the Arabs and Saracens, the skills of working with leather remain intact throughout centuries.
As a result, handmade leather boots are some of the finest Cretan products and souvenirs you can take home.
There is even a dedicated street to leather art in Chania. Skrydlof Street, also known as Stivanadika, is the center of leather artists in Crete.
Upon your visit here, you can notice the strong smell of leather lingering around this pedestrian-only street. Even if you do not want to buy anything, you will not regret strolling around Stivanadika.
Komboloi
Greece is famous for its worry beads, also known as komboloi. These traditional beads connect through a string which you can use with one or two hands.
Most importantly, moving the beads around can work as a stress reliever. Especially useful for someone trying to limit smoking.
According to local legends, apart from relaxation, komboloi can also bring good luck. No matter whether this is true or not, they can be a stylish decor to your room.
Finally, komboloi is an easy-to-package souvenir. As a result, it won't take much of your luggage space. Pretty handy if you want to buy multiple worry beads for your loved ones.
When shopping for komboloi, don't think only of the men in the house, ask to see the female version too, they are gorgeous!
Extra Virgin Olive Oil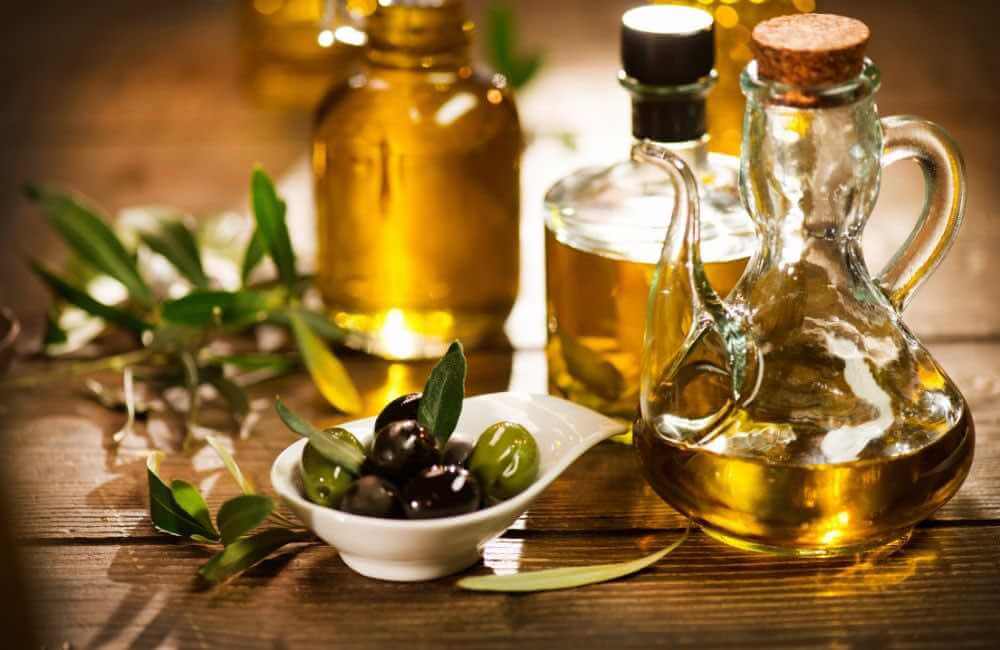 You do not need any persuading to understand how unique and tasty Cretan olive oil can be. Once you spend a few days in Crete, you will experience first-hand the quality of the local olive oil.
Every tavern and restaurant uses authentic olive oil for their traditional dishes.
Cretan olive oil is so abundant on the island that you can find it everywhere. Be it grocery stores, bakeries, or even souvenir stores.
After all, there are more than 30 million olive trees that grow in Crete. Wherever you drive, you will see the beauty of these ancient trees.
Olive Wood Products
Apart from virgin olive oil, olive trees offer top-quality wood that locals use to create durable kitchen utensils, such as bowls and cutting boards.
If you want to move away from silicon and plastic, olive wood products are a more eco-friendly alternative that can even last longer.
You can find such olive wood items in any souvenir store all around Crete.
You can discern their quality from the silky smooth surface and natural smell. After all, the artists use only Cretan olive oil to coat the final products; they apply no chemicals.
Artisan Jewelry
If you are looking for handmade and authentic Greek jewelry, you will be happy to know that there are plenty of jewelry shops in Crete. You can also find similar jewelry in souvenir stores.
There are even special workshops that dedicate their work to creating jewelry from silver. With enough search, you can find any quality you wish for your pieces.
Choose anything from recyclable materials, semi-precious stones to pure silver. No matter your choice, you will appreciate the uniqueness and creativity that Cretan jewelry makers put into their work.
Olive Oil Cosmetics
Not only is Cretan olive oil delicious, but it is also an ingredient for authentic and healthy cosmetics.
The locals have understood the health benefits of olive oil for your skin and the rest of your body. There are stories that tell how grandmothers used to make certain olive oil creams to treat different skin diseases.
Thankfully, locals have used this knowledge to open stores and workshops specializing in olive oil cosmetics.
Although you can find those products in most souvenir stores and pharmacies, it is best to visit a specialized cosmetics store. There, the variety is large while the prices are on the lower end.
Cretan Recipe Book
There is no doubt that tasting Cretan food should be among the first things to do in Crete. However, you do not always need to be on the island to enjoy the local cuisine. You can literally take the secrets of Cretan cuisine with you back home.
A Cretan recipe book could be the ideal companion for you, or your loved ones, during the cold days of winter. No matter how much time you have for cooking, you can find the right recipe to prepare and enjoy a Cretan meal wherever you are.
Prepare to travel back to Crete, even if it is only through its tastes and just for a few hours or minutes.
Tsikoudia (and Flavored Tsikoudia too!)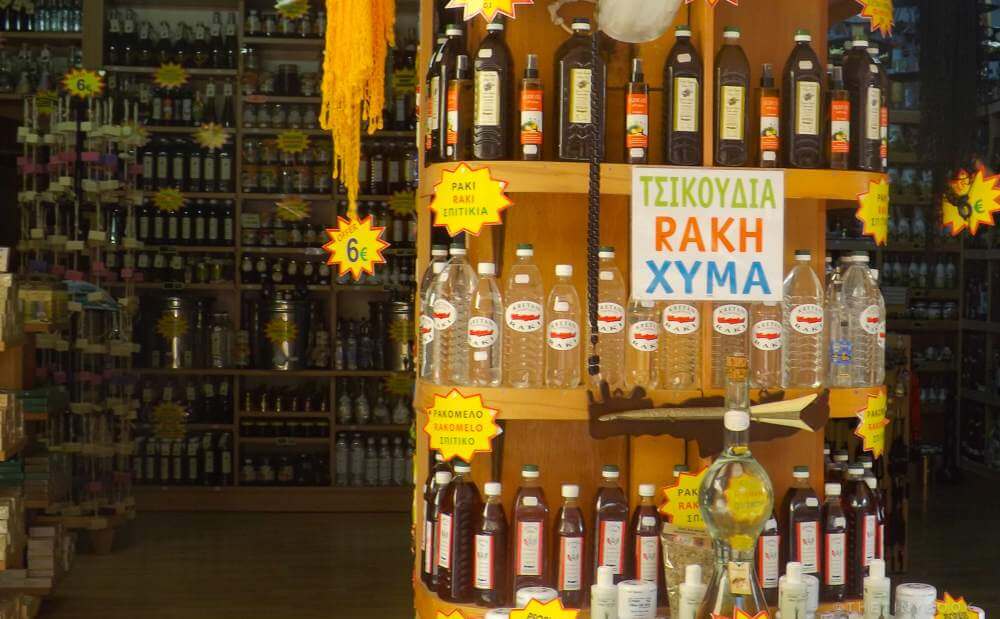 If you want to bring some authentic Cretan taste with you back home, a bottle of tsikoudia can be the perfect souvenir. Whenever you want to relax and remember your holidays in Crete, you can take out the bottle and have one or two shots of this delicious Cretan raki.
You can also find Cretan raki with honey (rakomelo), another traditional drink, and more touristic versions such as raki with coffee flavor, almond flavor, and more!
Although tsikoudia comes from byproducts from the wine-making process, the taste is always exceptional. It is a strong alcoholic drink with a clear and clean taste.
As a result, it can take you months until you finish a one-liter bottle. Use it wisely to keep you warm during winter and until your next visit to Crete for resupplies!
Turkish (well… Greek) Cotton Towels
Crete has a long history of life under Ottoman rule. During all this time, Cretan and Turks continually exchanged ideas and skills.
Therefore, there are now skilled Greeks who specialize in the production of Turking cotton towels While on the island… if you want to avoid an international diplomatic incident, don't call them Turkish!
These exceptional and renowned towels come from 100% cotton and are extremely durable. In addition, most workshops use only solar energy to make these towels ecologically friendly.
You can find them in many souvenir stores as well as other specialized shops all around Crete.
As a plus, they dry really fast, roll up easily and take almost no space in your luggage. Perfect to visit all the beaches in Crete.
Wooden Male… Parts
Crete is full of many things. There is history. There are beaches, gorges, bars, forests, mountains, taverns. Oh, and we forgot. There are plenty of male parts too! Wooden ones, at least…
Almost every souvenir store has a few of them on display.
You may wonder what their use is… Well, it's not the first idea that comes to your mind, for sure. Instead, they are often clever bottle-openers or even keychains.
At last! Phalluses are finally being put to good use in this world! So, here you have it, a unique opportunity for a special gift to your beloved ones. Or to the not-so-loved ones – what about surprising your mother-in-law?… You choose!
Thyme Honey
For a sweeter gift or souvenir from Crete, honey can be a healthy alternative. It is no wonder you can find a large pot of local honey in almost every Cretan house.
After all, honey is an indispensable part of the Cretan diet and a symbol of health and well-being.
The main reason the Cretan honey is so tasty and unique has to do with the climate. Because there are almost no rains throughout the year, the Cretan flowers become waterless and rich in flavor. As a result, the final nectar produced by bees is exceptional.
Also, since most honey made on the island comes from thyme, it's usually super fragrant too. Whether you consume it raw or use it to sweeten your tea, you will certainly notice its superb taste.
Herbs and Spices
Did you know there are more than 100 species of wildflowers and herbs unique to Crete? Since antiquity, locals have been using local herbs and spices both as medicines and as ways to add flavor to their meals.
Nowadays, you can find a rich variety of local herbs and spices in specialized shops, as well as souvenir and grocery stores.
If you use lots of basil, mint, or rosemary back home, you can consider visiting such a store to get some for the winter. You will notice their exceptional quality and fragrance from the first moment you taste them.
Malotira Tea
Among the hundreds of types of flora on the island, malotira, also known as Cretan mountain tea, stands out from the crowd. Grown only in western Crete, this unique tea is rich in antibacterial and antioxidants.
So, apart from a hot beverage, you can use it to treat gastrointestinal problems, colds, and inflammations of any kind.
Although Malotira is very rare to find in nature, many locals grow it in specialized fields, often close to the White Mountains.
Thanks to their efforts, everyone can buy this unique plant and bring it home with them. Like any tea, it is light to carry and won't make much of a difference to your luggage weight.
Briki
You cannot bring coffee back home the same way you would bring tea, but you can get yourself a briki, and either test your skills at brewing Greek coffee or use it as an original decoration in any corner of your house.
Since you won't probably be able to brew it on hot sand, as the authentic tradition requires, then get a metal one (instead of a ceramic briki) in order to be able to put it directly on the flame.
D.O.P. Cheese
Next to lush vegetation, Crete is also home to plenty of livestock living in the mountains. Goats, sheep, and the efforts of hard-working shepherds are the reasons behind the world-class and outstanding Cretan cheese.
Cretans adore dairy products and use them in most of their meals, either alone or inside their food recipes.
Although there are many variations of Cretan cheese, the quality and taste are always exceptional.
You do not want to miss the chance to get some of this renowned Cretan cheese with you back home… Therefore, pack some aged Graviera Kritis and enjoy it once you're back home… if you ever manage to make it last that long!
Artisan T-Shirts Made in Crete
If you are a fashion lover, you will adore the artisan t-shirts made in Crete. Cretan artists follow the global trends and add their own style and design to create authentic local t-shirts.
Most importantly, they only use materials and fabrics handwoven in Crete. As a result, the final product is of top quality and can last for years to come.
You can find such T-shirts all around the island. Just pay attention to the quality and the small writing on the label to make sure you have the right type.
Metal Wine Jar (Maybe my Favorite Souvenir of All!)
To all wine lovers out there, remember that Crete produces some of the finest wines in Europe. It is no wonder Cretans have been drinking their own wine since the Bronze Age.
Although there are as many wine varieties as there are vineyards in Crete, you will notice that the taste and smell of every wine are of top quality.
But when it comes to eating out in a taverna, you won't often find bottles, as you find in modern restaurants. Here, you'll drink wine house served in these cute metal jars which come in several different colors.
Most souvenir shops have them so pick the size right for you. And if you don't drink wine, use them on your desk to put pencils in them… memories from Crete will come to you even when you have to deal with everyday routine!
Cloth and Embroidery
If you are looking for stylish decor for your house, look no further than Cretan cloth and embroidery. No matter your personal taste and style, whether it's white or colorful, cotton or wool… You can find the perfect fit.
The cloth and embroidery industry in Crete carries influence from Asian, African, and European countries. You can find typically Cretan patterns in tablecloths, covers, and even shepherd backpacks (vagia).
But its' also possible to find Turkish, Egyptian, and Italian styles in every cloth store. Even if you do not buy anything, you will enjoy a visit to a local embroidered store.
Cretan Scarf – Sariki
This knitted scarf, part of the traditional Cretan dress, has been in use by men on the island during the 20th century, after the Turkish occupation It's usually worn wrapped around the head with the fringe known as tears.
According to locals, the sariki represent the years of Ottoman domination and it's also a memory of the holocaust in Arkadi. temples.
A sariki can be white or black, the first one used in happy celebrations, such as baptisms or weddings, while the black one on mournful situations.
A symbol of honesty and pride, the sariki can also be carried on the shoulders, with the extremes ending on the chest.
Cretan Knives
Finally, a souvenir list from Crete could not be complete without Cretan knives. These traditional knives have long been part of Cretan culture and life.
A few hundred years ago, every Cretan male had to carry two knives wherever he would go. One for food, another to defend himself.
Nowadays, there are only a few males who still honor this tradition. However, Cretan knives continue to be a symbol of gallantry and pride for the locals.
At the same time, it is an ideal gift for your loved ones. After all, according to Cretan tradition, offering a Cretan knife is often an indication of everlasting friendship and respect.
As you can see, there are plenty of ideas when you find yourself thinking about what to bring to your friends and family as a souvenir from Crete… you just need to make up your mind! Have you chosen your perfect gift?
---
What souvenirs from Crete are you planning to carry back home?
Let me know in the comments below!
---
Read more:
Bars in Chania, Pubs & Other Fun Venues For Your Nights Out in Crete!
Dreamy Boat Trips in Crete: Discover Crete by Sea!
Unique Things to Do in Ierapetra For An Incredible Trip to South Crete!
The Most Delicious Seaside Restaurants That You Should Visit in Crete!
How to Get from Heraklion to Matala, Crete without Getting Lost!
This Belongs to a Board! Pin This Guide to the Best Souvenirs in Crete For Your Next Adventures!
Written by Dimitrios Tsevremes
Passionate about travel, spirituality, and sports, I have lived in 5 countries and traveled to more places than I have counted. Writing for me is a way to express myself and my creativity. Whether I write for my blog or a freelancing gig, I always fall in love with the process and often lose my sense of time. If you want, you can check out more about me and my work here.
---
You might also want to read:
---
About the author of this blog: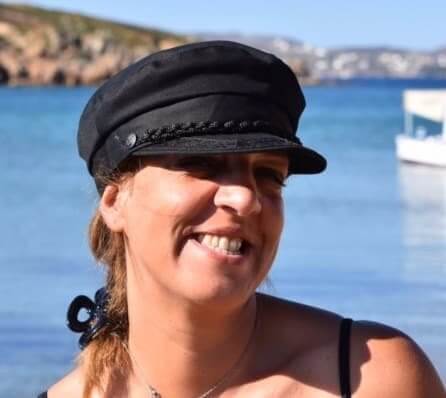 Gabi has been living in Crete for the last five years. On the island, she juggles being a solo mom, hosting culinary tours in summer, translating, and freelance writing.
She's written for Greek Reporter, published several travel guides about Greece, and had more glasses of frappe than any regular person would be able to handle.