Crete is considered to be a top vacationing spot for millions. If you love taking photos for Instagram, there are hundreds of instagrammable locations over here. Read on to discover some of the best Instagram spots on Crete.
---
Disclaimer: Posts include affiliate links to products or services. I might earn a commission if you make a purchase, at no extra cost to you.
---
Let's Start by Getting Ready for Crete!
RESOURCES TO BOOK YOUR TRIP:
Book your flight: I use Skyscanner to compare prices before booking a plane ticket.
Book your ferry: When ferries are more convenient than air travel, I use Ferryhopper.
Book your accommodation: I've tried many different platforms for accommodation, but none of them beats the advantages of Booking.com.
Book your car: The best way to find an affordable car to rent is to use a powerful search engine that compares all the rental companies in the market. I use Discover Cars.
Book your tours: Live unforgettable adventures and cultural experiences with Get Your Guide. For instance, you can Visit Elafonisi, discover Balos Beach, hike Samaria, or explore Knossos.
Don't forget travel insurance: Things can go wrong at times, but travel insurance will protect you against illness, injury, theft, and cancellations. I recommend Safety Wing for peace of mind.
Top Crete Instagram Spots
Do you walk the towns you visit with your phone or your camera in your hand?
Me too! And if you're traveling to Crete, you will be glad to learn that there're hundreds of great photography spots for an unforgettable capture.
In this guide, I bring you some of the most popular ones.
However, if you're curious enough, I invite you to explore Crete off the beaten path, you will find a magnificent photo corner with every step you take!
But first, check out these essential details:
A quick guide to the best hotels in Crete
Budget: So Young Hostel in Heraklio, Cocoon City Hostel in Chania, Matthias Hotel Apartments in Rethymnon, and Villa Galini in Agios Nikolaos.
Mid-range: Capsis Astoria Heraklion in Heraklion, Porto Antico in Chania, Archipelagos Hotel in Rethymnon, or Hotel Port 7 in Agios Nikolaos.
Luxury: Galaxy Iraklio Hotel in Heraklion, Hotel OFF in Chania, Avli Lounge in Rethymnon, or Minos Beach Art Hotel in Agios Nikolaos.
Check more: Where to stay in Crete.
The Venetian Harbor in Chania, One of the Top Instagrammable Places in Crete
The old port of Chania is a great place to snap some memorable photos for your Instagram followers.
You have a view of the Egyptian lighthouse, the Ottoman mosque by the sea, and dozens of pastel-colored Venetian buildings.
Owning a distinctive style, mixing Venetian and Turkish architecture, these buildings make for stunning photos.
Besides, the shape of the harbor gives an amazing view to the east and the west, making the Venetian port a great spot for sunrise and sunset photos.
If you get there before sunrise, you can also get a great photograph of the fishermen, with the lighthouse as a background.
Want more inspiration? Check my Instagram feed!
The Walls and Beyond
There are several walls surrounding different areas in the city of Chania.
Some of them date back to the Byzantine period, while others were built by the Venetians as protection against the Ottomans over 600 years ago.
And while they didn't stop an invasion, they make for an excellent place to snap wonderful Instagram photos.
You can use one of the fortification windows in the Fortress of Firkas to frame a sea shot.
Take your time when the sun is about to go down to catch a romantic shot full of sunset colors.
The Old Town of Chania
The settlement that today is Chania was established thousands of years ago and has been inspiring many Instagram photographers for years.
With its mixture of colorful architectural styles, it makes for impressive photos to wow your followers.
Get lost in the alleys of the old town, you won't be short of great instagrammable places to discover.
Elafonisi Beach
With its turquoise waters and the pink-white colored sand, this is one of the most famous beaches in Crete and is often compared to different Caribbean beaches.
It's wide, exotic, and …yes, often crowded, but that does not mean that you won't find a spot for a perfect photo.
This is a top place to snap some beautiful photographs. I mean, who doesn't want to have a picture on this one-of-a-kind beach?
Trust me, a snapshot of Elafonisi will certainly boost your social media following. Want a different picture? Then wait until it's sunset time for much more than only pink sand!
>> Want to get there but don't know how? Read this How to Get to Elafonisi road guide.
Balos Lagoon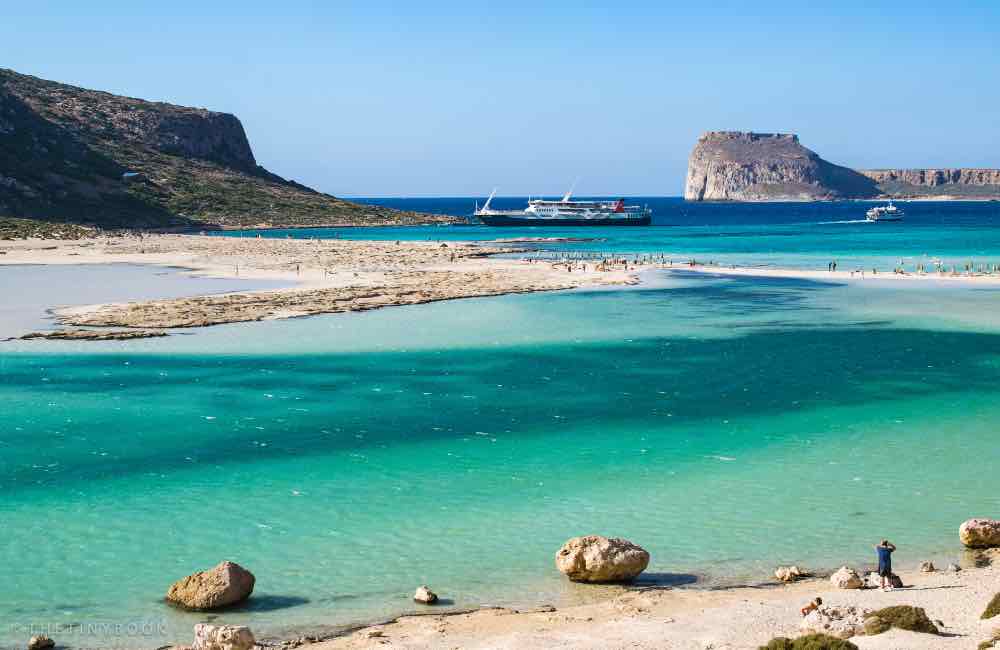 It is the ultimate destination of the island's northwestern shore. As you may have already read, Balos is a tropical beach with turquoise and calm waters that look like a pool.
Snapping a picture from the top of the nearby mountain, with a stunning view of Balos Beach and Lagoon in the background is a must-have Instagram picture.
The Roads on Crete
Although odd, the roads on the island make a great subject for interesting photos.
Surrounded by the White Mountains in Chania, or the Dikti Mountains in Lasithi, you will find breathtaking peaks and herbs and flower bushes.
Venture along less-traveled roads to explore the numerous quaint villages, sure to inspire many photographers.
And, remember, rent a car so you can stop wherever you like and take a photo of the many different scenes without any rush at all.
As you know, taking a great picture is often a question of timing and patience!
Triopetra and Plakias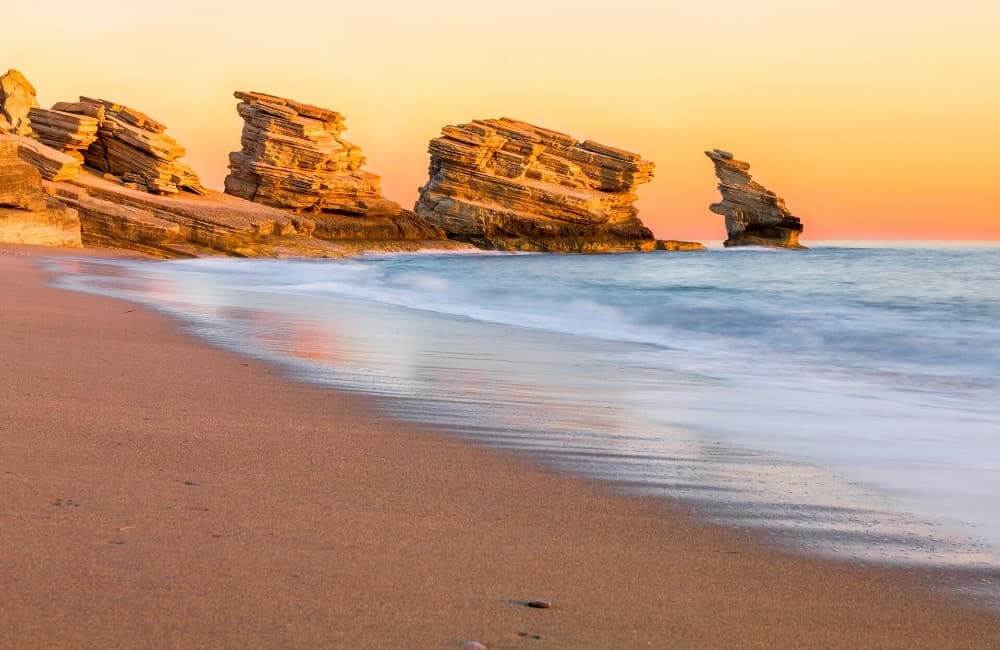 It's more the beautiful beaches that pique a photographer's interest.
Head south of Rethymnon for a fantastic seaside landscape with charming mountain scenes for idyllic background and colored stones as a foreground.
After crossing the mountains, the southern village of Plakias, a great photography spot on its own, is not distant from some of the most spectacular landscapes on the island.
Head to Tripetra to discover a quite curious beach.
Here, the rocks go all the way inside the water forming a maze surrounded by crystal-clear waters. This is a fantastic Crete Instagram spot that you really shouldn't miss!
Preveli Beach
Preveli Beach is not far from Plakias and Triopetra and it's one of the most popular places in the south part of Crete.
There are several spots to snap impressive photos for your social media followers, including a palm forest on the back of the beach.
Preveli is only a few kilometers long but it runs alongside a river, and into a canyon.
Plenty of good photo ops and tons of opportunities for a relaxing time surrounded by Crete's stunning nature.
The Historic Lakkos District in Heraklion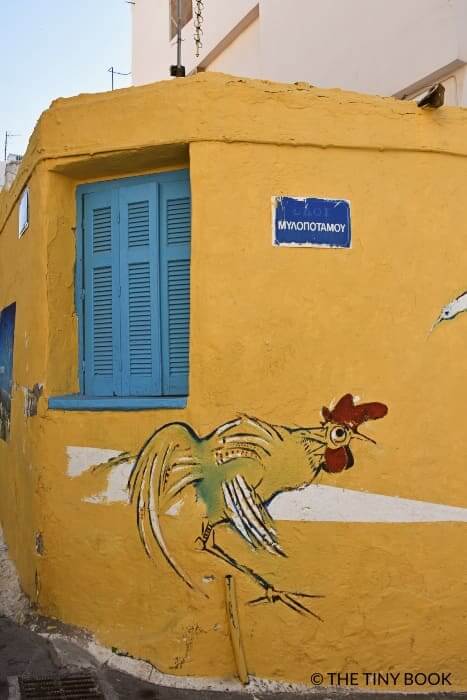 Lakkos is the former red-light district in Heraklion and it is a unique maze of abandoned alleys and picturesque buildings where you can get lost with your camera.
These days, Lakkos celebrates its heritage with an amazing display of street art and art projects.
Why not include some of these street art displays on your Instagram? Be sure to check out Lakkos Café and take a few pictures as well!
>> Want to read more about Lakkos? Check this weekend's guide to Heraklion Town.
Knossos Palace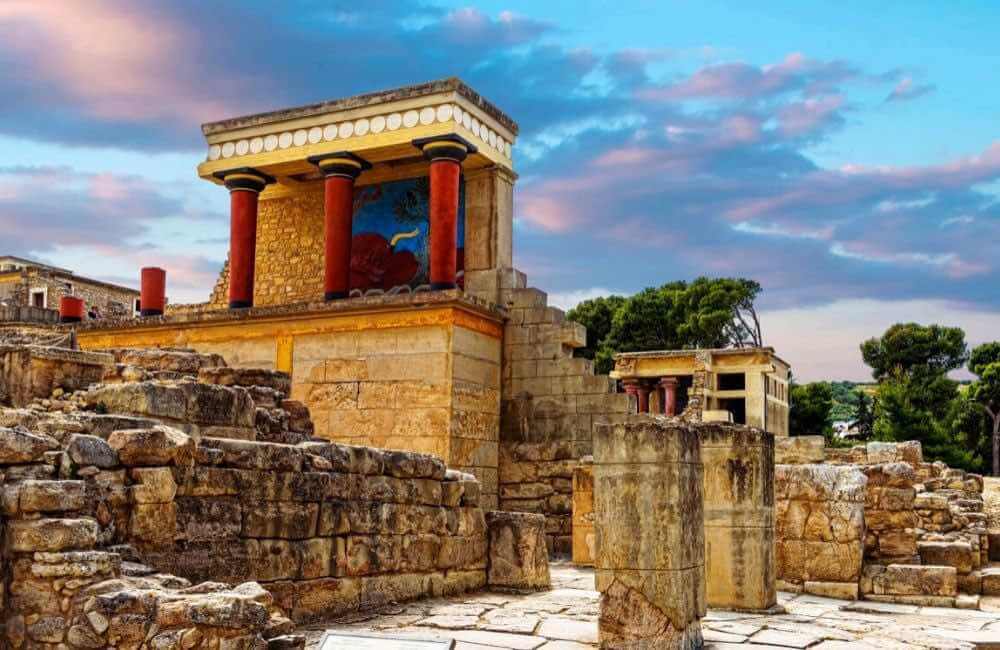 Knossos, also known as The Palace of King Minos, is an excellent attraction to visit when discovering Heraklion as well as a great Instagram photo opportunity.
Although the palace is also home to a few controversies regarding the restoration works, the colors of the palace are what make it an eye-catching place to snap some Instagram photos.
Make sure you get there early so you can take advantage of no crowds and good light. Sunset is also a great moment for great pictures of Knossos.
Matala, the Beach and the Village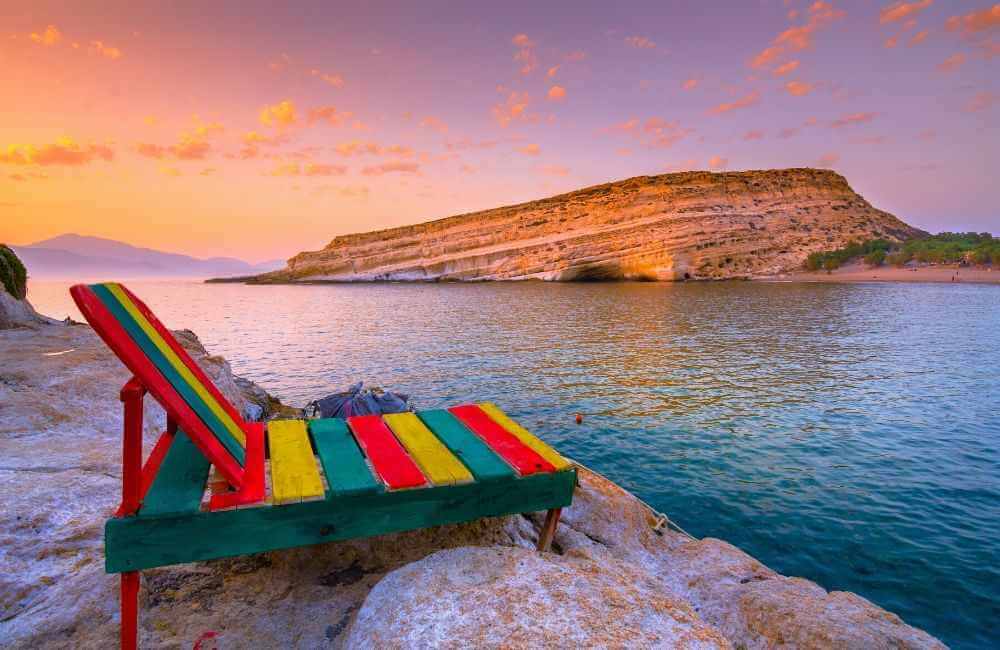 If you want great photos, don't miss Matala Beach! You will enjoy one of the most magnificent beaches on the southern side of Crete.
Next to the sea, tourists have the chance to see the famous and highly unique rocks and caves, a perfect place to snap several worthy Instagram photos.
If you are eager to read about Matala caves, head to this article.
>> Want to spend some time in Matala but not sure where to stay? Check this guide to the best places to stay in Matala.
Rethymno Old Town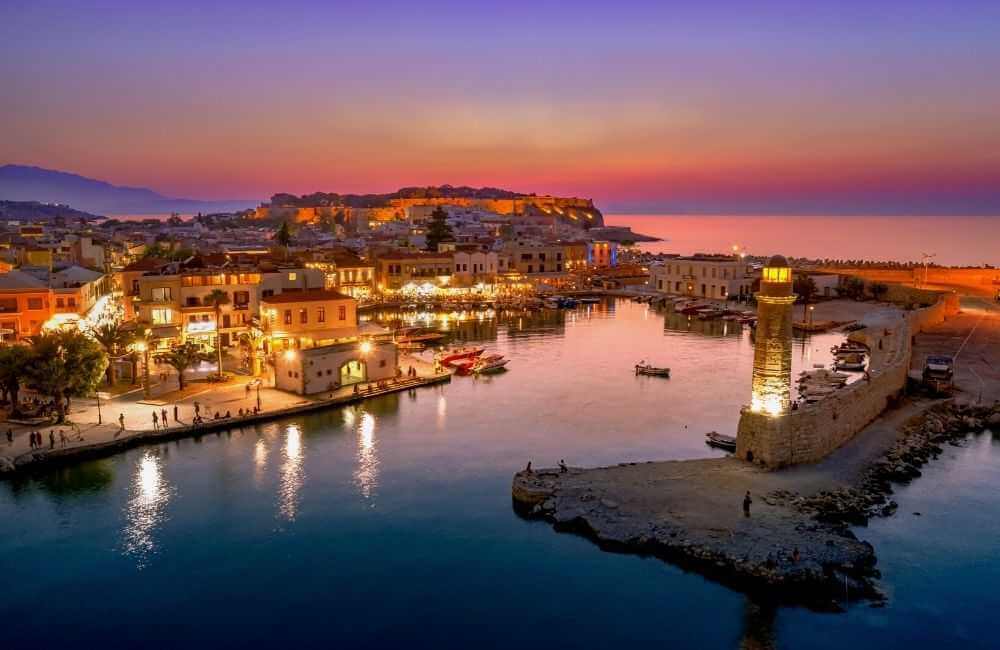 Your Instagram followers will love your pictures of the tiny, charming Venetian Old Harbor and the imposing Fortezza, the medieval Venetian castle rising high on the hill of Paleokastro.
In the heart of the old town, don't forget to check out the magnificent Venetian Rimondi Fountain and the elegant mansions hosting unique boutique hotels, to name a few.
This picturesque town is sure to boost your Instagram following.
Koules Fortress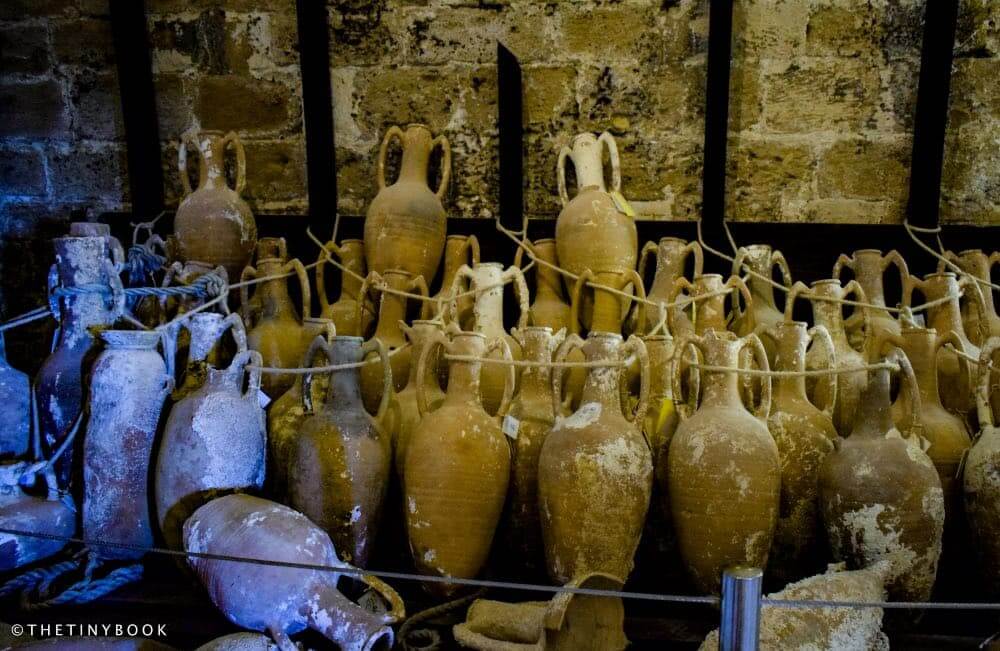 Crete was under Venetian rule for approximately four and a half centuries before it became ruled by the Ottoman Empire in the 1660s.
The Koules Fortress was built in the early 16th century when the town was still known as Candia, and the fort still looks like the way it was five hundred years ago, making it an impressive place to photograph.
The best part is that is located right by the sea and steps from the city center, so you don't have to leave Heraklion to visit it.
Samaria Gorge National Park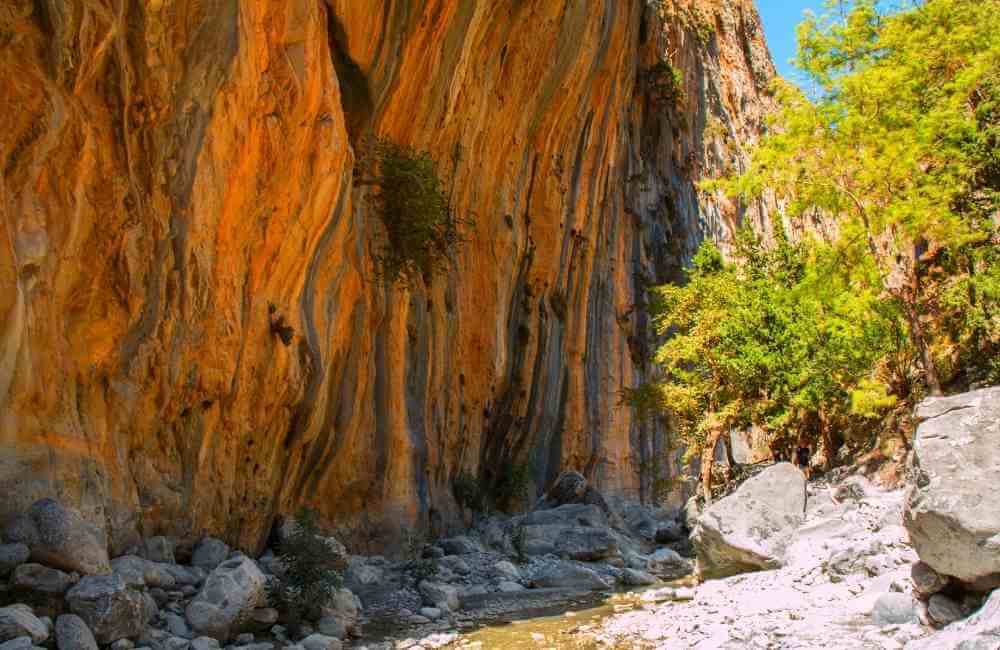 One of the most visited places in Crete, the breathtaking Gorge of Samaria is one of the longest in Europe and contains precious Cretan wonders that are sure to wow any Instagram following.
This trekking adventure can last for hours, so make sure to pack only your essential photography equipment.
The path eventually ends near the sea, in the village of Agia Roumeli, with its famous black pebbled beach which is sure to make a good photographic impression.
Spinalonga and Elounda
Take your Instagram audience on a journey back in time. Spinalonga is one of the most exciting places in Crete.
The small islet has been featured in documentaries, TV series, and even novels.
If you are planning a photo session, then you should plan to spend a night in one of Elounda's stunning hotels, or the picturesque fishing village of Plaka if you're on a more limited budget.
It takes only a few minutes from any of these two villages to cross the sea and get to the islet.
The Vineyards of Crete
One of the best things about Crete for your Instagram photos is the variety of scenes you can capture.
Why not visit a vineyard (or several of them) in Heraklion, the top wine region on the island, or even in Rethymnon and Chania and take some Instagram photos?
When in Chania, you can try the gorgeous set of Dourakis Winery.
You can either check their enchanting cellars next to the bottom of the mountain or stroll along the vineyards set against a backdrop of the imposing Wìhite Mountains near Skakia.
These settings give great photo opportunities, especially if you come to Crete in September.
The Venetian Loggia in Heraklion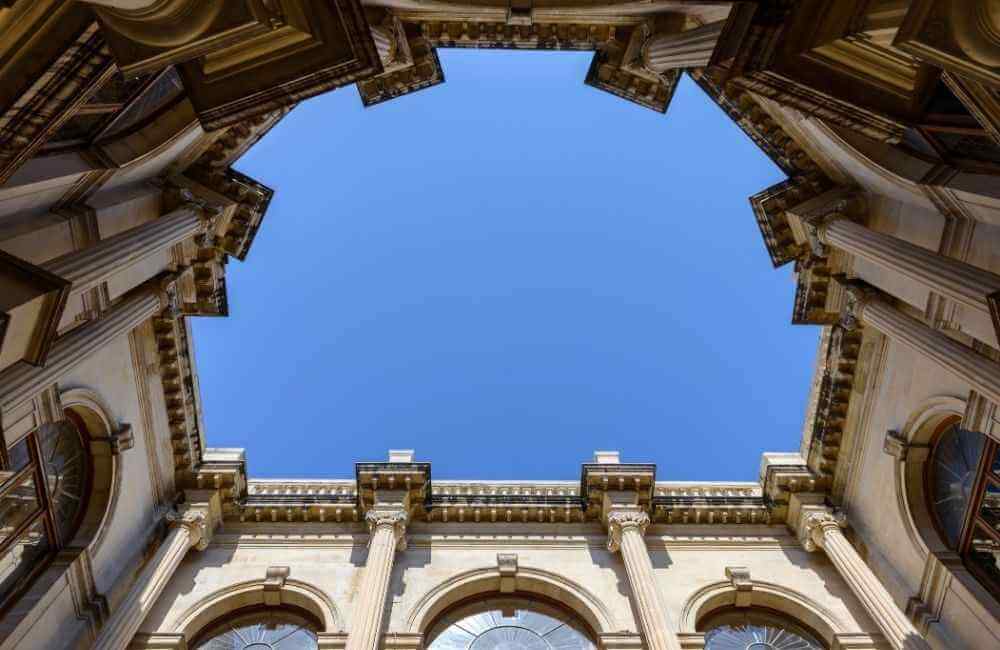 An example of typical construction of the Venetian rule has been renovated and holds the Town Hall of Heraklion.
This doesn't stop visitors from entering the courtyard, which you can do for free and snap some amazing Instagram photos.
Don't miss the unique architecture and the odd shape of the building, look up and down so as not to miss one single detail, you will love it!
These are just some of the top places in Crete to take perfect snapshots for your Instagram.
They will inspire you and might even help increase your followers on the square social media platform!
---
This Belongs to a Board! Pin This Guide to the Most Instagrammable Places in Crete For Your Next Adventures!
Written by Emily Henry
Emily Henry is a travel writer at Write My Essay. She writes about many different subjects, including traveling.
---
You might also want to read:
---
About the author of this blog: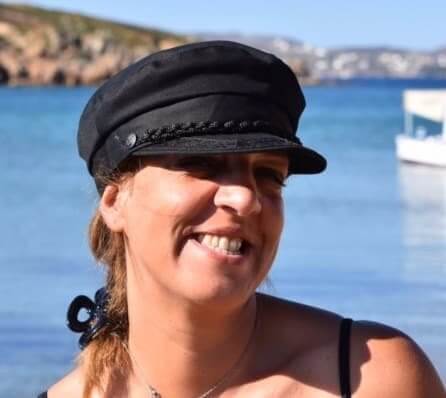 Gabi has been living in Crete for the last five years. On the island, she juggles being a solo mom, hosting culinary tours in summer, translating, and freelance writing.
She's written for Greek Reporter, published several travel guides about Greece, and had more glasses of frappe than any regular person would be able to handle.