"Life is today, tomorrow never comes" That's one of the many signs you can read when you reach Matala, a popular destination on the rather solitary southern coast of Crete. A visit to Matala is one of those things that every travel book will say that you have to do when visiting Crete. The place is really beautiful, and even just one day spent there is enough to feel its vibe and connect with the hippie side of Crete. So, let's discover which are the best things to do in Matala during your holidays in Crete.
This article may have affiliate links to products and services that I use. If you make a purchase through these links, it might earn me a small commission at no extra cost to you.
Include Matala in your Crete road trip
It's certainly a great trip idea to rent a car and visit Crete on the road, it offers great opportunities to explore leer-known areas and hidden spots virtually unknown, while it also lets you to just pack back and leave if you find that a certain place has not what you're looking for.
I find that car travel in Crete is the best way to go about and really know the most authentic side of the island. Road trips need at least a bit of planning, and planning comes with doubt at times.
If you are uncertain whether to make Matala one of your stops, first consider what you are expecting to see. If you are hoping to find spectacular, solitary beaches, then forget it. Set your GPS to another destination and go somewhere else. Matala is not the best beach in Crete, but there's definitely a lot to see there. Even if just for a day.
Map & distances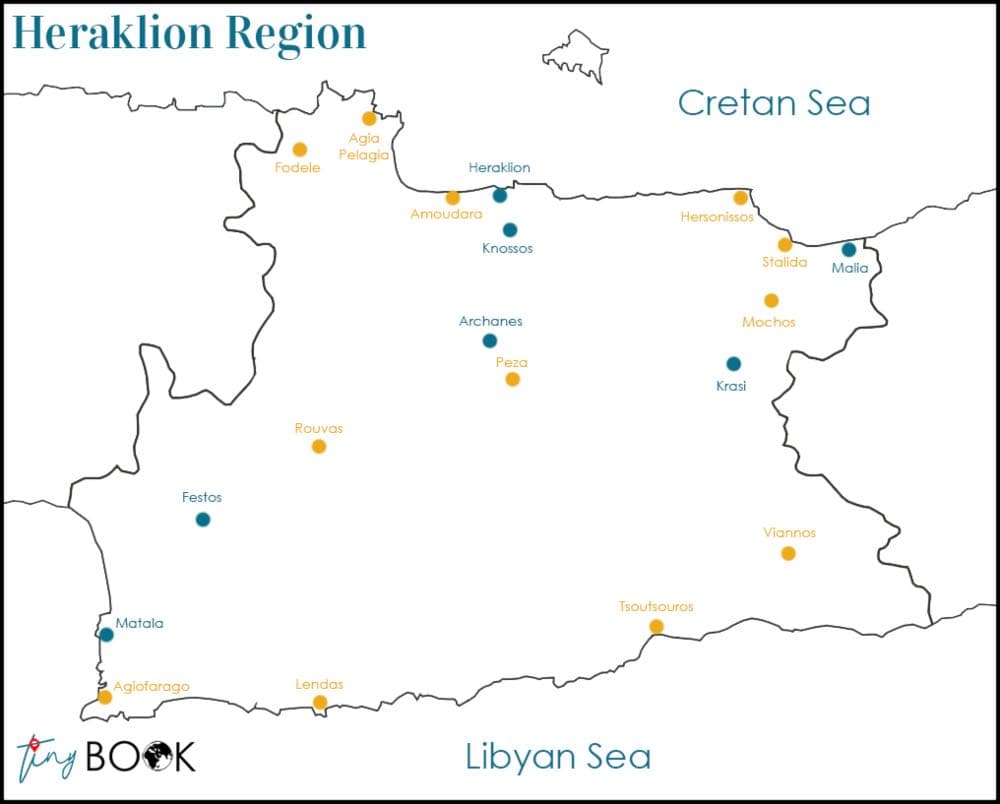 Sitia – Matala: 190 km, 3 h.
Agios Nikolaos – Matala: 124 km, 1 h. 50 m.
Ierapetra – Matala: 123 km, 2 h. 20 m.
Heraklion – Matala: 65 km, 1 h. 10 m.
Rethymnon – Matala: 80 km, 1 h. 45 m
Chania – Matala: 134 km, 2 h. 25 m.
INSIDER'S TIP: If you are in Heraklion, a visit to the hippie village of Matala is among the top things to do in the region.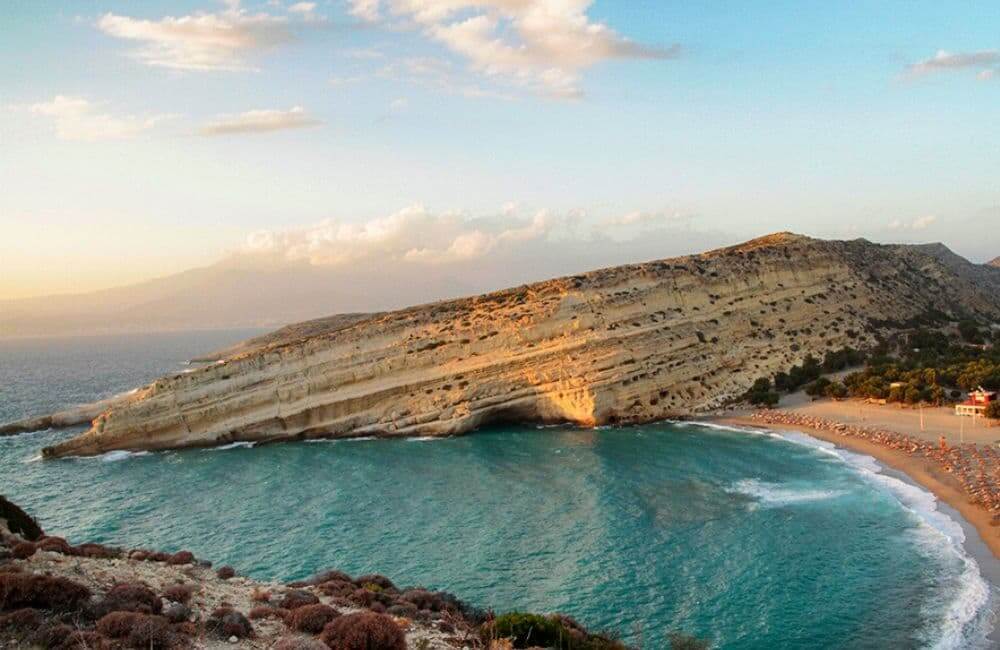 How to reach Matala from Heraklion
Getting to Matala if you depart from Heraklion is probably the wisest way to go. The road from the capital, on the northern coast, takes you to the opposite side of the island in a little more than one hour (about 66 km). From the center of Heraklion, you must head to the north up to Gazi, and once there, take the national road Heraklio-Festos.
The journey is pretty straight for the first 20 minutes or so until the village of Agia Varvara. Once there, keep going for about 15 minutes until you reach Moires. Here you can decide to first pay a visit to the Archaeological Site of Festos, you must keep traveling on that road until destination.
Instead, if you want to go straight to Matala, once in Moires, you need to turn left and take the road Miron – Pompias / Koraka. After no more than 5 minutes' drive, on the road Gortinas – Matalon, turn right and follow the road that will take you straight to Matala beach.
When planning a road trip to Matala, trust one of the local car rental companies for more competitive prices.
The road to Matala from Ierapetra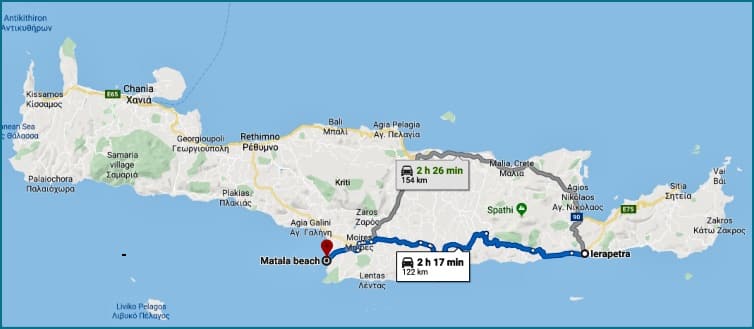 If you are coming from the southeast, it will take you a lot more. The trip from Ierapetra is about 3 hours, a bit bendier and tedious at times, but there are a few steps you can consider on the way.
During our trip, our first stop was Myrtos, about 15 km from Ierapetra. And it's worth a short visit if you are not on a hurry to arrive. The village is rather small but very characteristic.
The beach is sandy and grey in color but good for kids because it's protected from the winds. If you are not interested in the hustle and don't need an extreme intense nightlife, the is a quiet option for a holiday.
In Myrtos, it's possible to visit the Minoan settlement of Pirgo, reachable on foot and with a nice view of the sea.
If you keep going to Matala, after about a one-hour drive, you will see a very traditional Cretan settlement, Ano Viannos, about 560 meters a.s.l. There, the mountain landscape is made of colorful honey bee boxes, small bushes, and loads of olive trees.
Ano Viannos is divided in half by the main road. Locals are proud of their extra virgin olive oil and their honey, which you can taste in one of the few local shops.
Stop for a break, a glass of homemade orange juice and a cup of strong Greek coffee, stretch your legs, and get back in the car, there's still a long way to Matala.
Best things to do in Matala, Crete
Checking the local hippie art is another of the great things to do in Matala, Crete. Here, a carved tree at the entrance of Matala.
Discover the beach of Matala
The first thing you'll find in Matala is a parking nightmare, especially in August, but not only. The beach is fairly long and wide but tends to get very crowded too.
The beach is a mix of pebbles and sand and one thing that I found disturbing, maybe because I was not expecting it, is that once you are in the sea, there are no shallow portions. The sea is immediately deep, something you might want to consider if you travel with small kids.
On the positive side, being a rather deep bay, Matala is well protected from the strong winds, but there are currents as well. In a nutshell, it's not calm and shallow. All these make it a great spot for divers and for submarine experiences.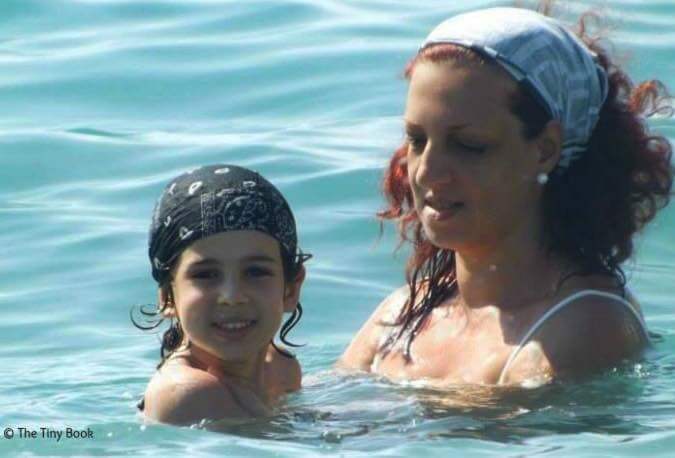 Finally, in Matala, we found a super crowded beach and lots of problems to park. When that was settled, our next priority was lunch. A tiny tavern on the beach with a superb view of the caves was the chosen place.
Explore the caves of Matala
Different sources agree that Matala's caves are work of men who caved them out of the cliffs on the north side of the beach, and they are thousands of years old.
They are believed to belong to the Early Christian period (others believe them even older, considering them tombs from the Roman times), but there is no fact proving any of these ideas.
However, there are some of them that are not just simply caves, they have windows, porches, and even carved seats and beds. For many, the caves of Matala were used as homes thousands of years ago.
It's possible to visit the caves, but it's not allowed to settle for the night. There's a protective fence and a small fee to visit.
Enjoy the laid-back hippie village
The town still lives on the fame gained during the sixties.
Back then, alternative rock singers such as Cat Stevens and Joni Mitchell lived in the caves for long periods, composing and enjoying this remote island still pretty much unknown to mass tourism.
DO YOU WANT TO READ A SOURCE FROM THE 70'S? CHECK THIS LINK TO AN ISSUE OF LIFE MAGAZINE DESCRIBING THE NOMADS OF THOSE TIMES LIVING IN MATALA!
Hippies all over the World overtook Matala in the '60s and '70s, a place and time when they could live a simple and natural life, made of love, peace… and probably other ingredients too.
The village is colorful, there are nice bars that come alive with music in the evening. There are also lots of craft shops as well as a few small churches along the main road.
Another interesting place to visit in Matala are bookstores, most of them sell curious books about the island as well as about Matala's glorious past and famous residents.
Some also sell old records and classic CDs. If you're into elephant pants, sarongs and hippie outfits, handmade leather sandals and crochet bags, there are a few special places to check in the main square.
Finally, and for families with kids – but also for the child still living in you – the colorful roads painted by visitors who especially gather for the occasion are really fun.
Where to eat in Matala Beach
There are a few picturesque tavernas by the beach, not heavily priced, nor truly memorable. Rather touristic and serving typical Greek food, nothing special, but fine by me, because I love Greek food in general.
We tried grilled octopus and dolmades (grape leaves, stuffed with a rice mix, shaped into little rolls and boiled) at Taverna Eleni, right on the beach.
The food was pretty good and kids eat without making any fuss… that's saying something. For dessert, the usual shot of tsikoudia came with great warm loukoumades with tons of local honey. The prices were affordable.
Despite the unique atmosphere and that feeling that time here has never gone by, we all know that, unfortunately, things have changed.
Things did change as time went by. However, I believe that something still remains. Not only here; all over Greece, but that's another story.
All in all, I liked Matala, the atmosphere and -a little less- the beach. Shops and bars have a bohemian touch, there are bookstores and pubs everywhere. Everything is colorful, cheerful, and stimulating to the senses.
It's a little fishing village where to spend a day, or many, that's up to you. I know I would have enjoyed it more had the sea been more child-friendly.
Matala in Greek mythology
According to Greek mythology, Matala played a key role in the development of Crete's history. The myth reveals that Zeus seduced princess Europa taking the form of a white bull and that, later on, he crossed the sea bringing her to the beach of Matala.
Once there, he changed his shape from the white bull into an eagle, flew her to Gortys where he had sex with her.
Europa and Zeus had three sons, Minos, Rhadamanthus, and Sarpedon. Later on, she married Asterios turning into the step-mother of his daughter, Crete.
Archaeological sites near Matala
The archaeological site of Festos (Φαιστός)
After about an hour (though it might seem much more!), seeing the sign of the Minoan Site of Festos will feel like a blessing. You can either pay a short visit or decide to spend the night in any nearby village and head to the archaeological site on the next day.
The Minoan Palace of Festos (Phaistos) is located in the so-called Messara plain, roughly in the south-central portion of the island, and a little more than 50 kilometers from the capital Heraklion. It's also quite close to another spectacular archaeological site, Gortys, and also fairly close to Matala too.
Phaistos is one of the most important archaeological sites in Crete, receiving many thousands of visitors annually, so get ready to queue also here, and not just in Knossos. Festos is "Φαιστός" in Greek and you may find it also written as Phaistos, Phaestos or Faistos, but you pronounce it Festòs.
The Minoan Palace of Festos corresponds to a flourishing city which arose in the fertile Messara Plain in prehistoric times, from 6000 BC to the 1st century BC, as archaeological studies have confirmed.
The history of the palace is, apparently, made of turbulent ingredients and legendary stories. The first palace of Festos dates its construction to about 2000 BC. King Minos is described as its mythical founder while his brother, Radamanthys, was the first king in the Palace.
The palace suffered from the consequences of a strong earthquake in 1700 but it was rebuilt immediately. The site has been the main religious and cult center of south Crete for ages and a visit to the ruins confirm the magnificence that the place still displays.
A few hundred years later, decadence took place when the neighbor Gortys took over and dominated the region.
Best Things to See in Festos
The unique architecture of the palace, defined as almost perfect, makes Festos the finest and most typical Minoan palace as well as the best-preserved of all.
Maybe the most beautiful characteristic of Festos is the impressive monumental entrance or West Propylon.
The palace is contemporary to Knossos if you already visited the first one you might either be stunned at the differences or recognize the similarities.
In fact, Festos did not undergo the same level of restoration of Knossos. On the other hand, there are certain construction traits shared by both sites.
Check the Palaces, both the old (protected by a shed) and the new one. They are spread on different terraces, completely built in blocks of stone (ashlar).
Also visit the storerooms, the workshops, and the royal quarters. Interesting is the court of the new palace, as well as the temple of the Great Mother Rhea, belonging to a more recent period in history.
Remember that you can see all the artifacts and findings from Festos in the Archaeological Museum of Heraklion, including the enigmatic Disc of Festos.
Hours, tickets, and special fees
The Archaeological Site of Festos is open with the following timetable:
Summer
On Mondays from 13.00 to 19.30
From Tuesdays to Fridays, from 08.00 to 19.30
Winter
From November 1st to March 31st, from 08:30 to 15:00
Ticket
Full price 8€, Reduced fee 4€. Reduced fees apply to:

Greek citizens and citizens of other European countries over 65 years old (ID card or passport needed).
Escorts on educational visits (primary schools)
University Students (high education institutes or equivalent, student ID card needed).
For free admission categories, check this site.
The Archaeological site of Agia Triada (Αγία Τριάδα)
Agia Triada is another imposing archaeological site located 4 km from Festos. The site is located on a scenic spot, overlooking the Gulf of Messara.
Despite the unique frescoes and vase findings, among the finest examples of Minoan art (and also exhibited in the Archaeological Museum of Heraklion), the site is thought to have been a royal villa. Others believe, instead, that the place was the home of some wealthy merchant or even a prince.
Agia Triada might not be as popular as Knossos or Festos, but that's what's special about it, there are no crowds or queues to visit, and the views are inspiring. The ticket full price is 4€ (2€, reduced), and more there's information about the site here.
Best places to visit near Matala
Red Beach (Kokkini Ammos)
The Red Beach has slowly turned into a legend in Crete both among locals and with visitors. There is no magic to it anymore because… everyone wants to hike to the Red Beach!
Famous for being a naturist spot, the only way to reach this secluded bay is through the mountains, you will need to hike all the way up, and then down to get there, but you will be definitely rewarded by the views, both of the sea and the inland.
As its name tells you, it has reddish-golden sand and waters are crystal clear, it's a good place for snorkeling thanks to the colorful seabed. The hippie spirit is a bit more authentic than Matala's.
Read about more naturist beaches in Crete here.
There's just one canteen on the beach. If you decide to hike, you need to just follow the white arrows signs, there are plenty in Matala. Don't forget to carry water with you, and a hat.
Kommos, the village, and the archaeological ruins
Kommos is worth visiting and not just to find accommodation. In the area, it's possible to visit the Ancient Kommos. Unfortunately, the archaeological site of Kommos, which looks pretty big, remains close to the public, but you can take a very good look at it from the perimeter fence.
If you decide to spend the night here, check Kritkies Elaia, a traditional Cretan house made of stone, the typical building material on the island. Studios have always been a cheap and popular option, but you can upgrade to a villa all to yourself for just a few euros.
Experts consider Kommos to have been a Minoan harbor town (probably the main port of Festos or Agia Triada. There is also a beach, maybe a little windy, but very pretty on days without wind. There's not worthy accommodation in town, the closest place to sleep is Kalamaki.
Where to sleep: Matala and other villages
Where to sleep in Matala
It's pretty difficult to find accommodation in Matala if you show up without a reservation, especially during the high season.
But if you plan to book in advance, some of the best places are Matala Caves, apartments located right opposite the legendary caves of Matala with a great view of the sea and the bay.
Also, another good option is Elektra, a great apartment with pretty decorations in the Greek style and superb views.
Where to sleep in Kalamaki
Not far from Matala, there is a good place where to spend the night if you are doing Crete on the road and want to avoid overpriced accommodation in Matala.
Kalamaki is a small town, we only found a few tourists and even fewer shops. If you plan to stay for more than a night, go for a guest house.
The atmosphere is more relaxed and solitary. The sandy beach is great for kids and the great landscape in the distance includes the wonderful mountains of Crete, as well as the village of Agia Galini.
It's a perfect place for sunset pictures. The place was truly magical, powerful, silent, and memorable. Maybe with a more hippie spirit than Matala.
Where to sleep in Kamilari
The village is located on a hill and has a rather decent and varied offer of tavernas and accommodation due to the expat community that lives in the place.
It's a good compromise if you don't want to stay in Matala but still want a place to have a drink at night with a bit more sophistication than the usual Greek taverna.
Villa Lemoni is a beautiful house that can accommodate smaller and bigger groups.
Where to sleep in Pitsidia
Many consider Pitsidia to be a great alternative to Matala in terms of accommodation opportunities. The place is only 5 km from the beach and it is, in fact, less crowded.
The village is quite characteristic and preferred by younger travelers, so the options for accommodation as well as for lunch and dinner are quite affordable too.
Click on the following links to read more about Crete's main cities: Heraklion, the capital, the beautiful Rethymno, and my current home, Chania. Instead, if you want to experience the pink sands of Crete, here is a detailed insider's guide about the most famous beach of Crete, Elafonisi, there you can read about the roads to get there, the beach, the nearby area, and other interesting information. You can also check 3-week itinerary or you can choose also to visit other southern beaches of Crete.
Have you heard about Matala before?
Let me know in the comments below!
ARE YOU LOOKING FOR MORE INFO ABOUT CRETE?
Go back to the complete destination guide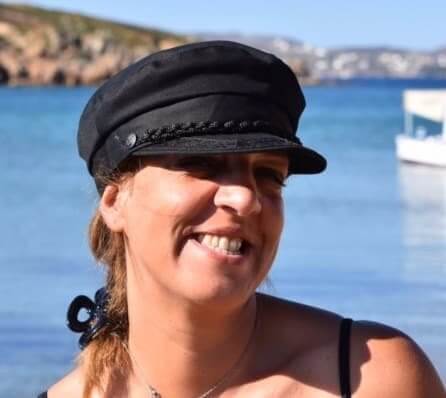 About the Author
Hola! I'm Gabi. Welcome to The Tiny Book – Crete Travel Blog! I moved to Crete to explore the island all year round. I love taking pictures and driving on the mountain roads of Crete. I'm a beach freak and on this island I've found heaven on earth!