Want to learn how to create a travel slideshow to share with friends and family?
If you're anything like me, you probably come back from your trip with tons of pictures. Once back home it's time to organize them, delete the ones that don't have much worth, and treasure the good ones. The ones that fly you back to your holiday just by going through them again and again. However, digital photography has brought the possibility of taking thousands of pictures and we often have no clue about what to do with them. A slideshow might be a good way to organize and enjoy your travel pictures.
---
Disclaimer: Posts include affiliate links leading you to products or services, I might earn a small commission if you make a purchase. This has no extra cost to you but allows me to continue writing articles that are helpful for your travels. I only recommend things I use myself or that I believe will deliver value to you. 
---
5 Tips to Learn How to Create a Slideshow From Your Travel Photos
Do you have tons of photos and maybe even a couple of video clips from your last trip? Do you want to use them to create a memorable travel slideshow that really captures the sights, sounds, and emotions of your trip?
I have a few tips if you don't know what to do with your travel photos, these ideas will walk you through the basic steps to create a travel slideshow
Although creating a slideshow may sound easy – there is actually quite a bit involved in creating one that is actually good.
If you want to make sure that your travel slideshow has an impact on viewers… Here are a few useful tips that could help.
You might also want to read: Over 30 Beautiful Travel Coffee Table Books About Crete, Greece, and the World!
1. How to Create a Travel Slideshow: Get Ready and Make Sure it's Not Too Long
Nothing is worse than a long slideshow that meanders through photos over the course of 10 or even 20 minutes. After the initial interest wears off, boredom will set in – and most viewers will stop watching. The best travel slideshows all share one thing in common: They are short.
Try to shoot for a slideshow that is a minute or two long and you'll find that it is much more compelling as it will force you to be more selective about what you put in it too.
It can help to estimate the number of photos that you need based on that duration. For example, a 60-second slideshow with each photo shown for 3 seconds will require 20 photos.
2. Focus on the Story You Want to Tell
If you want to reel in viewers and get them interested in your slideshow you should focus on the story.
Don't just use your slideshow to showcase a collection of photos in no coherent order. Instead, use it to knit together your travel photos into an actual narrative. Tell people what happened and what you experienced.
In some cases, you may even want to focus the story on a specific part of your trip – such as an activity, a location that you visited, or an event that took place.
3. Be (Very) Selective with the Photos you Include
Only include the very best of your travel photos (these are my favorite) in your slideshow.
If the quality of the photos isn't good, it will drag down the entire slideshow and make it much less engaging.
Try to avoid photos that have any issues, and avoid using duplicates or photos that look similar to one another.
Gauge the impact of each photo's composition too, and if it isn't up to scratch it should not be in your slideshow.
You might also want to read: Where to Take the Best Pictures in Santorini: Photography Guide.
4. Set the Mood of Your Slideshow: Use the Right Music
Music is a great addition to any slideshow. You should use it to set the mood and drive an emotional reaction.
For that to be successful you need to choose the right background music.
Make sure its tone and pace fit your slideshow like a glove.
In some cases, you may want to try setting your slideshow to local music sourced from the place that you visited. Alternatively, you could try browsing royalty-free music websites for ideas. Be prepared for the fact that in some cases you may need to edit the music track to fit your slideshow better – by trimming out some parts and looping others.
5. Make it Elegant: Avoid Excessive Visual Effects
Visual effects may seem like a good way to make your travel slideshow look more interesting – but in general, they are not.
If you start to add visual effects just to make your slideshow look interesting, that means that it probably wasn't so interesting. And all the visual effects are likely to do is make it look tacky. As a rule, you should only use visual effects when there is a reason for them – such as an animated transition to show movement or reveal something new or simple filters to color grade the photos in your slideshow.
Conclusions on How to Create a Travel Slideshow
If you're ready to start, you may want to go over slideshow software reviews to find a good option. Ideally, you should look for software that produces the type of travel slideshow you want.
Finally, be sure to use the tips listed above when you create your next travel slideshow. Then, see how much of a difference it makes. It should turn out to be much more engaging and will let you impress viewers with your experiences during your trip.
How do you organize your travel photos?
Let me know in the comments below!
LAST-MINUTE PLANS FOR CRETE?
– Use Ferryhopper and Skyscanner for the best ticket rates.
– Find great accommodation deals on Booking.com.
– Compare car rental prices with Discover Cars.
– Check the best tours with GetYourGuide.
– Visit Elafonisi, discover Balos Beach, hike Samaria, or explore Knossos.
– Pack the Lonely Planet Guide to Crete or get my digital guide to Chania.
This Belongs to a Board! Create a Travel Slideshow to Organize Your Travel Photos for Great Memories!
About the author of this blog: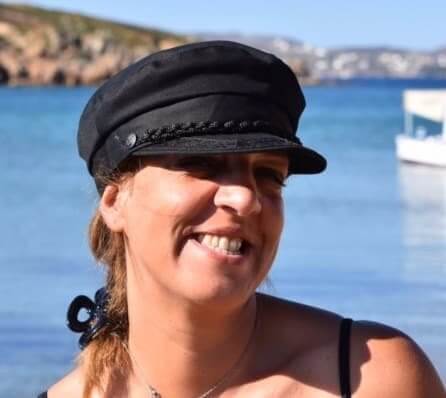 Gabi has been living in Crete for the last five years. Here, she juggles being a solo mom, hosting culinary tours in the summer, translating, and writing for The Tiny Book and her other blogs.
She's written for Greek Reporter, published three travel guides about Greece, and had more glasses of frappe than any regular person would be able to handle.
COMING TO CRETE SOON?
Get in touch and let me know!