The most primal way of traveling happens through imagination. And reading is the best way to imagine. As soon as we start reading, our travels begin. So here's a challenge, choose 10 books for your travels, and put them wherever you want. Backpack or e-reader. Which ones will you be packing with you?
---
Disclaimer: Posts include affiliate links to products or services. I might earn a commission if you make a purchase.
---
Best Books About Travel: Travel and Reading!
You don't need much to guess that I love to read: Enough to look at the name of my Tiny Blog. It's a statement.
I carry books in my purse, in my Kindle, in my heart. Always! So, I decided to create this challenge.
There's just one rule, a very simple one, and it goes more or less like this: Make a list of ten books you would take with you to a Siberian shelter… and think:
Why those and not others?
Let's say it as it is, I would never go to a Siberian shelter. I hate cold weather, snow, skiing, and all that's in any way related to Winter. Yeap, I do. Yet, that's more or less the idea of this challenge, you're isolated, have free time… and 10 books with you.
Preparing the Travel and Reading list
Choosing only 10 books was hard. There are at least 10 only by my favorite author… it was torture. I had to think it over, and very carefully. I think I somewhat managed (I did cheat, though, you'll see).
1. Gabriel García Márquez, One Hundred Years of Solitude
I first read this one when I was fourteen. And since then it has become an annual must. I read it once a year, every year, no matter what.
It's a perfect structure, a circle that opens and closes without a flaw. It has that strange magic, heat, and aura of the Colombian atmosphere.
One Hundred Years of Solitude makes you travel without moving. In a slow-motion trip. You'll travel in time, but also into conflict and in human emotions. And you'll never know what can happen next.
What I love the most about this book:
There are always new details, even when you read it for the hundredth time. My favorite book!
My favorite quote from this book:
"What does he say?' he asked.
'He's very sad,' Úrsula answered, 'because he thinks that you're going to die.'
'Tell him,' the colonel said, smiling, 'that a person doesn't die when he should but when he can."
Gabriel Garcí­a Márquez, One Hundred Years of Solitude.
2. Jorge Luis Borges, The Aleph
This book is one of the most incredible pieces of art I've ever read. It's a series of short stories, each of them opening a universe of awe and inspiration.
Borges' idea of writing was simple: Why say something in 500 pages when you can say so in just 5?
He mastered short stories and gravitated around transcendental themes of life. I admire his work so much he was the subject of my Doctoral Thesis. I chose this book in particular since it has two of his best short stories:
The House of Asterion is a wise game around the Cretan myth of the Minotaur.
Averroes' Search is a labyrinth of words. If you are a freak about rhetoric, you'll love it!).
Why Borges:
He was from Argentina, like me. I used to study in the same library where he worked when he was young. There's something undefined I can share with him. I feel his prose intimate, full of my history. It's like taking a part of my homeland everywhere I go.
A quote from Borges that I love (but it's not in this book):
"I have always imagined that paradise will be some kind of library."
Jorge Luis Borges, Poems of the Gifts.
3. J.R. R. Tolkien, The Lord of the Rings
This is the travel book, I guess… What's more travel-like than four friends without a fixed travel plan and no booked shelter? On an unknown adventure.
Just the road ahead, and the intention of arriving. As in life.
What I love the most about this book:
The Lord of the Rings is made of layers, and it's up to you and your state of mind to find what you're looking for. Make it courage, strength, or simply life.
My favorite quote from this book:
"Fantasy is escapist, and that is its glory. If a soldier is imprisoned by the enemy, don't we consider it his duty to escape? If we value the freedom of mind and soul, if we're partisans of liberty, then it's our plain duty to escape, and to take as many people with us as we can!"
J.R.R. Tolkien, The Lord of the Rings.
You might also want to read: Best Books About Crete: Discover Crete from Home.
4. Antoine de Saint-Exupéry, The Little Prince
I believe that this book is a travel book. An example of travel and reading.
Just for children? No way! Leaving the safety of one's home to explore the unknown is something not everyone dares to do. Mostly when you don't even know if you'll ever find the means to return.
If more adults were able to read this book over and over, life would be easier, simpler, and a bit more honest. This book never fails to remind me a hat is not always a hat.
And that elephants can hide in the most unthinkable places.
What I like the most about this book:
Whenever I'm a bit down I open The Little Prince looking for innocence to ease the distress of adulthood. It always works.
My favorite quote from this book:
"But eyes are blind. You have to look with the heart."
Antoine de Saint-Exupéry, The Little Prince.
5. Nikos Kazantzakis, Zorba the Greek
This book represents a turning point in my life, a learning experience. It taught me to look for awe in everyday things because beauty lies in the simplest experiences.
I learned that a human becomes a person only by being free because freedom is its natural state. The leading character, Zorba, teaches that inaction is a waste of life and that life must be lived with extreme passion.
What I like the most about this book:
Its most valuable lesson is that it's never too late to make a change.
My favorite quotes from this book:
"…there is only one life for all men…there is no other…all that can be enjoyed must be enjoyed here."
"You have everything but one thing: madness. A man needs a little madness or else – he never dares cut the rope and be free."
Nikos Kazantzakis, Zorba the Greek.
6. Tiziano Terzani, A Fortune-Teller Told Me
Terzani was an intrepid journalist. Full of courage and an open soul.
This is a book that you read with your heart first, and then with your eyes.
His real stories of war and despair seem less harsh through his smile.
What I liked the most about this book:
This book enhanced your thirst for travel. But it added a different purpose and a new perspective to my road.
My favorite quote from this book:
"Every place is a goldmine. You have only to give yourself time, sit in a teahouse watching the passers-by, stand in a corner of the market, go for a haircut. You pick up a thread – a word, a meeting, a friend of a friend of someone you have just met – and soon the most insipid, most insignificant place becomes a mirror of the world, a window on life, a theatre of humanity." Tiziano Terzani, A fortune-teller told me.
7. Sujata Maasey, The Sleeping Dictionary
When I bought this book I had low expectations and a few dollars to spare on my Kindle account.
It turned out to be a surprise.
The book is a trip into the history of India through the desperate life of a girl who grows into a woman with a thousand names and a thousand terrible stories.
What I liked the most about this book:
The Sleeping Dictionary broke my heart but opened my eyes at the same time. I also loved it for its excellent prose. It's a book that leaves you wanting to know more.
My favorite quote from this book:
"Remember this! It is never an entire people who is cruel; it is merely individuals who exert their will on others."
Sujata Maasey, The Sleeping Dictionary.
8. David Lodge, Small World
This book is the second in a trilogy, and I believe it's the best one by David Lodge.
If you've been part of the academic world, this book is a blast! It's fun, smart, and so well-written you can laugh for hours.
If you also had the pleasure to belong to the funny, little world of Literary Critics, pour yourself a glass of wine and simply enjoy it.
What I like the most about this book:
David Lodge sees it all and portrays it with outstanding irony and amazing wording. Lots of travel involved. If your backpack still has room, or your Kindle has some empty bytes, just buy all his work. For me, David Lodge is one of the greatest writers of our time.
My favorite quote in this book:
"It's the only thing that keeps me going these days, traveling. Changes of scenes, changes of faces."
David Lodge, Small World.
You might also want to read: Over 30 Beautiful Travel Coffee Table Books About Crete, Greece, and the World!
9. Stephen King, On Writing, A Memoir of the Craft
I don't enjoy horror books, movies, or stories.
However, in this book, Stephen King shows the other side of the story, his own.
It's his journey to becoming a published author and his experience wrestling with words.
What I liked the most about this book:
I loved his wisest piece of advice, if you don't have time to read, then you can't have the tools to write.
My favorite quote about this book:
"Books are uniquely portable magic."
Stephen King, On Writing: A Memoir of the Craft.
10. Lonely Planet, The World: A Traveller's Guide to the Planet
Such an ambitious title!
That's the first thing I thought when I saw its cover: A Guide to The World..!
However, I got it as a present a few Christmas back, and it's a book every traveler should keep at hand, even to play a stupid game when you're bored.
Open randomly on any page and tell me where we are heading next... page 623, We're off to Niger!
What I liked the most about this book:
This is an inspirational book to keep at home, to decide which is your next destination.
It's jam-packed with concise but useful information about almost every place in the world. Plus maps and pictures.
It even suggests literature and movies for further inspiration.
Final words… (and here is where I cheated!)
When writing this list, leaving the Harry Potter series out broke my heart. But it's secretly hidden in my Kindle, so it always comes with me.
They are not the only hidden books. Honestly, I cannot travel just with ten books. But whether you have to take ten books or ten thousand, you need to remember to pack your trusty reading glasses!
If you are using this experience as an opportunity to buy a new pair, there are hundreds of styles that you can choose from to elevate your reading experience so you will enjoy your One Hundred Days of Reading Solitude!
Which of them have you read? Let me know in the comments below!
Read more about Books
Pin This Guide to The Best Books to Take With You on a Trip!
About my blog: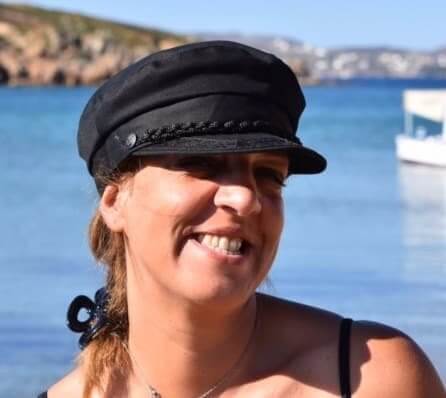 I moved to Crete in 2016. During these years, I learned much about the island.
In Crete, I juggle being a solo mom, hosting culinary tours, and writing for several travel media.
I've written for Greek Reporter, published travel guides about Greece, co-authored DK Eyewitness Top 10 Crete, and had more glasses of frappe than any regular person could ever handle.