Are you thinking about moving to Crete? A lot has been written about moving to the island! Books by people who have left everything behind to start a new, and often adventurous, life on Crete. These are some of my favorite books about moving to Crete. They're stories full of expectations, funny moments, hilarious misunderstandings, musings, and deep introspection that you shouldn't miss reading if moving to Crete is a solid project, a bashful idea, or a lifelong dream.
---
Disclaimer: Posts include affiliate links to products or services. I might earn a commission if you make a purchase, at no extra cost.
---
RESOURCES TO BOOK YOUR TRIP TO CRETE:
FLIGHTS: Use Skyscanner to compare prices before booking a plane ticket.
FERRIES: Check out Ferryhopper for convenient ferry tickets.
ACCOMMODATION: Look for hotels and rental homes on Booking.com.
PRIVATE TRANSFER: Welcome Pickups offers local English-speaking drivers, flight monitoring, and a very convenient (flat) pre-paid fee
CAR RENTAL: Use Discover Cars to find an affordable car to rent.
TOURS: Live unforgettable adventures and cultural experiences with Get Your Guide.
INSURANCE: If things go wrong, you'll get coverage against illness, injury, theft, and cancellations. I recommend Safety Wing for peace of mind.
A quick guide to the best hotels in Crete
Budget: So Young Hostel in Heraklio, Cocoon City Hostel in Chania, Matthias Hotel Apartments in Rethymnon, and Villa Galini in Agios Nikolaos.
Mid-range: Capsis Astoria Heraklion in Heraklion, Porto Antico in Chania, Archipelagos Hotel in Rethymnon, or Hotel Port 7 in Agios Nikolaos.
Luxury: Galaxy Iraklio Hotel in Heraklion, Hotel OFF in Chania, Avli Lounge in Rethymnon, or Minos Beach Art Hotel in Agios Nikolaos.
Check more: Where to stay in Crete.
The Best Books About Moving to Crete
Have you ever been on holiday in Crete? If you've never been to the island and you're planning to visit soon, then you'll find tons of useful information on this blog. From things to do in Chania, to where to sleep in Agios Nikolaos… To which Airbnb is better located in the Rethymnon area.
Many of those who visit the island over and over dream about retiring on Crete. They love to imagine how it would be to spend their lives in this Mediterranean paradise. How they would enjoy the great weather (even in winter!), the fantastic food, and the friendly character of the locals.
It might not be the right time to move to Crete for you yet. Or maybe you've still haven't made up your mind… Or it could be simply a dream that you don't consider seriously.
It doesn't matter where you're standing, I'm certain that some of these books will offer a different insight about moving to Crete. They will entertain you, puzzle you, and even open a whole new world that, so far, you've only imagined. Here are some of the best books about moving to Crete, take a look!
Are you a step ahead and planning to move now to Crete?
>>Check this article<<
Check these Great Books About Moving to Crete
These are some of my favorite ones…
A Small House in Crete
Geoff Dendle
A brave story about buying a small holiday home in a Cretan village and taking on a project of renovating a place lacking water supply, drains, and even electricity. The book paints a colorful portrait of a transition from regular holidaymakers to homeowners, including a gradual and extra amusing immersion in Greek everyday life.
>>Get on Amazon<<
Still Life in Crete
Anthony Cox
Although it does not technically deal with the logistics of moving to Crete, the book is a vivid portrait of local life and habits. It's a perfect gift for those dreaming about retiring to Crete and it's great for those who want to see the island in deep
Face up the challenge of the author's unduly early retirement on Crete where he discovers an unspoiled corner he manages to make his own.
>>Get on Amazon<<
Uniquely Crete: Life Redefined on a Greek Island
Melanie A. Crane
Life Redefined on a Greek Island is probably one of the funniest and most enchanting books about moving to Crete I've ever read. And it's one of my favorites!
The story takes place in the same place where I live which makes it closer to my experience… besides, that the author depicts the oddities and perks of her adventure with extreme wit and a special eye to observe and take in how life really goes about in Crete.
>>Get on Amazon<<
Pomegranate Years
Sara Kafatou
Defined as "A Journal of Aging, Art, Love, and Loss on a Greek Island", Pomegranate Years, an intimate account of three years lived on the island of Crete. The book documents a turbulent, stressful time of economic and political crisis in Greece.
During the author's long walks in the Cretan mountains, she not only discovers hidden aspects of the island but develops a rich sense of belonging. The book is about how to live well at any age, but especially as one grows older and a beloved life draws almost imperceptibly nearer to its end.
>>Get on Amazon<<
For Now, This is Forever: Crete
Elena Baum
Written by the German author, Elena Baum, For now, this is forever is a complex book about moving to Crete, it's beautifully written and it makes you think about your own life journey.
In this book, the author discusses her own time spent on the beautiful island and also tells us what a new love can be all about.
>>Get on Amazon<<
Second Wind: Journey to a New Life in Crete
Philip Mann
Discover the life and the adventures of two English townies slowly finding themselves wooed by more and more remote Greece. Exploring coincidences and sometimes unnerving omens, the book covers the positives and negatives of both the move and new life and hopefully explains some of the subtle seductions of the islands, especially Crete.
Super inspiring reading for anyone thinking of starting a life abroad, this is an entertaining book about moving to the island of Crete and facing all odds.
>>Get on Amazon<<
Do you want to explore the island before making your big move?
>>Check this article about driving in Crete<<
---
Have you ever thought about moving to Crete?
Let me know in the comments below!
---
Read more:
Over 35 fun facts about Crete
Great movies about Crete
Where to stay in Crete
Airbnbs in Agios Nikolaos
Unique things to do in Crete in Winter
Stop Everything and Pin Now! Save this Guide to Books about moving and Living in Crete!
About the author of this blog: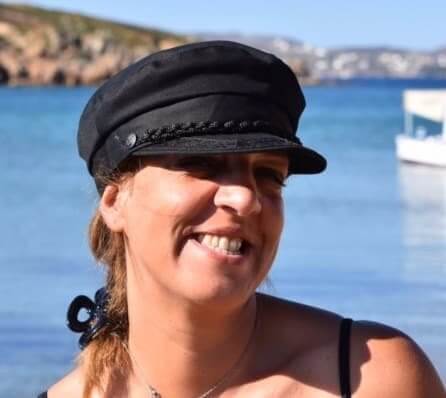 Gabi has been living in Crete for the last six years. On the island, she juggles being a solo mom, hosting culinary tours in summer, translating, and freelance writing for several travel blogs.
She's written for Greek Reporter, published several travel guides about Greece, and had more glasses of frappe than any regular person could ever handle.
---
You might also want to read:
---