Are you moving to Crete? Have you been thinking about it for a long time now? If you're looking for some quick tips to move to the island, read on and discover is this the right time to go to Crete… and never come back!
This article may have affiliate links to products and services that I use. If you make a purchase through these links, it might earn me a small commission at no extra cost to you.
Moving to Crete
If you are someone who loves to visit Crete, and you are wondering how you can make it, even more, a part of your life, one possibility worth considering is simply moving there for good.
A lot of people do this each year, and there are many great reasons why you might want to do it. Want an example? Me!
But what should you bear in mind when you are about to undertake such a move? In this post, we will help you to work out how to approach this so that you can get the most out of it possible and truly enjoy it.
Finding A Place
First of all, you will want to make sure that you are actually able to find a place to live, for obvious reasons. This should not be too much of a challenge, but you need to make sure that there is somewhere you are going to be happy with, or else you are simply not going to enjoy living in Crete at the end of the day.
You have a few options here. Firstly, you could build your own place. That would require the help of an architect, some land you have permission to build on, and a vision.
Or if you prefer, you can simply buy or rent somewhere, which might be easier at first but might not be the absolute dream. In either case, the important thing is that you find somewhere you love.
Looking for the right region for you to stay (or live)?
>>Check this article<<
Making A Living
If you are going to live in Crete full time, you need to make sure that you have some kind of possibility for making a living there – unless you happen to be retiring.
You might be taking a freelance job with you, but even then you need to make sure you can actually do it from Crete, which is not always the case.
If you are going to look for a job out in Crete, you should probably do that before moving, to ensure you have prospects to go for.
There is plenty of information online about making a living in Crete, so it's a good idea to seek that out and make use of it before you make any rash decisions.
All being well, you should be able to find decent work in Crete, as with anywhere else. If you want more tips on this, feel free to get in touch with me, I have a full time job in Crete, even not speaking enough Greek, that I do from home (yay!!), I host my food tours in Summer, and I also write this blog.
Leaving It All Behind
Remember that moving to another country is a huge undertaking. You need to consider not just what is ahead of you, as above, but also what you are leaving behind.
If you are anything but one hundred percent happy with the idea of leaving your normal life behind, you should make sure that you are thinking it through before you do anything in a rush. Try some long time rental and a 6-month work contract. Get used to the way locals live and make really, really sure it's your cup of tea!
The last thing you want is to be disappointed, which happens a lot more than people tend to think it does.
As you can see, there is much to gain from moving to Crete, and also some things to consider, so make sure that you are doing so carefully before you do anything else.
Are you ready to explore Greece? It can be the trip of your lifetime. Get in touch if you need extra help to plan your itinerary. If you happen to also tour West Crete, check this guide. You'll find detailed info about where to go, what to see, where to eat, and more!
Want more? Join my Private Facebook Group to connect with like-minded travelers who love Crete as much as you do!
Coming to Crete any time soon? These resources will help you organize the trip!
Start by reading these helpful tips to plan a trip to Crete, which covers details such as when it's best to travel, what documents you need, or how to get a SIM card. Check family holidays in Crete if you travel with kids.

To visit Crete's heavenly beaches, check my guide to the best beaches in Crete. Discover what region is best to stay or check what things you can do in Crete.

For updated information about the island, join my private group on Facebook, or get my West Crete Guide!
Finally, make sure you've got everything you for a hassle-free trip!
I never move around Crete without my Osprey backpack, a sturdy, light, roomy, and super comfortable travel partner I just love. To visit villages, sites, and museums instead, I carry this little crossbody bag.

When driving around, I pack my Crete Michelin map and my Nikon D7200. In Summer I also carry good sunscreen lotion, the sun on the island can be pretty aggressive.

Airfares to Crete can change from one airline to the other, make sure to compare prices with a powerful search engine. Planes are fast, but nothing like the romantic experience of traveling by sea in Greece. With Ferry Hopper, you can book your ferry tickets in advance at the lowest price.

If I need to book accommodation, I personally use different search engines. Booking.com
and Hotels.com are my go-to options.
Sometimes, the best way to make the most of your time on Crete is to join an organized tour. GetYourGuide has top-rated tours to save time and money. From cooking lessons to archaeological site tours, skip-the-line attractions, and airport transfer!

Do you have everything you need? Then you just have to get ready to discover Crete, Greece's most beautiful island!
Check these articles written especially for you!
If you're curious about traveling on Crete and all the things you can do on the island, check the 50 unmissable things to do in Crete. For a better way to discover all those things, simply head to the 3-week itinerary on Crete, it can be easily adapted for 2 or even just 1 week on the island. Those wanting to explore more the Rethymnon region, it would be a great idea to check the best things to do in Rethymnon or to discover one of the best day trips in Rethymnon: Arkadi Monastery. If road trips are your thing, then check out this stunning day trip around the Lasithi Plateau, in East Crete, it tells you all you can do in the area.
Matala makes a great road trip if you're staying in Heraklion, so why not check all the things to do in Matala? On your way there, don't overlook the beautiful villages in Crete you could discover. Heraklion is known for being the capital of the island, but also for hosting Crete's most important archaeological site, the wonderful Knossos Palace.
Have you ever thought about moving to Crete?
Let me know in the comments below!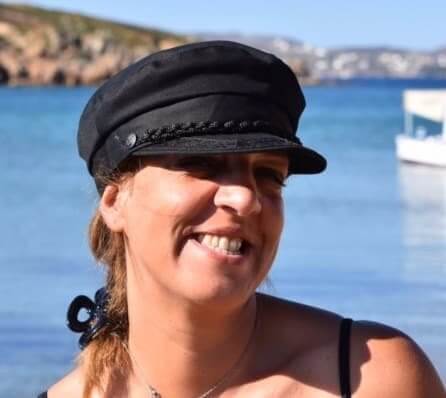 About the Author
Hola! I'm Gabi. Welcome to The Tiny Book – Crete Travel Blog! I moved to Crete to explore the island all year round. I love taking pictures and driving on the mountain roads of Crete. I'm a beach freak and on this island I've found heaven on earth!
---
You might also want to read:
---