Koh Tao (also Ko Tao, เกาะเต่า in Thai «Turtle Island») is an island of the Chumphon Archipelago, close to the occidental shore of the Gulf of Thailand. It's about 21 km² and it belongs to the Surat Thani Province. Out of the famous trio, part of the Thai Banana Pancake Trail (Koh Tao, Koh Phangan, and Koh Samui), this is the smallest gem, and traveling to Koh Tao with kids can be a perfect opportunity for a heavenly vacation.
---
Disclaimer: Posts include affiliate links to products or services. I might earn a commission if you make a purchase.
---
Amazing Things to Do in Koh Tao with Kids
Resources to Book Your Trip
Book your flight: I use Skyscanner to compare prices before booking a plane ticket.
Book your ferry: When ferries are more convenient than air travel, I use Ferryhopper.
Book your accommodation: I've tried many different platforms for accommodation, but none of them beats the advantages of Booking.com.
Book your car: The best way to find an affordable car to rent is to use a powerful search engine that compares all the rental companies in the market. I use Discover Cars.
Book your tours: Live unforgettable adventures and cultural experiences with Get Your Guide.
Don't forget travel insurance: Things can go wrong at times, but travel insurance will protect you against illness, injury, theft, and cancellations. I recommend Safety Wing for peace of mind.
The stunning island of Koh Tao is a perfect destination to enjoy with the whole family.
Originally a prison, the island now has a tourist-centered economy, mostly depending on scuba diving schools and PADI certification facilities.
If you want to experience some bubble training, this is a must-go place in Thailand.
It is possible to schedule activities for the very expert and first-time divers, even children get their share (older than nine).
FAQ about Koh Tao with Kids and Family Travel in Thailand
How to get to Koh Tao, Thailand?
It's possible to arrive by plane; there is no airport on the island but it is connected to the airports of Koh Samui, Surat Thani, and Chumphon by a network of buses and high-speed catamarans. Or you can do as we did: take the night train from Bangkok and have fun!
Accommodation in Koh Tao
Accommodation fits almost all budgets, from cheap hostels to standard bungalows with sea views, as well as luxury resorts. It is up to you.
You might also want to read: Essential Tips to Go Backpacking in Southeast Asia.
About Koh Tao
Tao means Turtle. For me, it means Paradise. In full honesty, I clearly remember spending time trying to make up my mind on how to divide the time between these three islands…
I searched, asked, and had virtual conversations with travelers and ex-pats. Everyone had an opinion and nobody offered us a convincing argument to book a longer stay in Koh Tao.
There were long-time Thailand lovers who urged us to only visit Samui, they argued it concentrates the best of every island. This argument just did not feel right (if that's true, it must also concentrate the worst, mustn't it?).
For some reason, my idea about Samui was that it had become a destination too beaten by mass tourism (the time would prove me right).
Other Thai lovers, instead, played on team Phangan: Fullmooners, Halfmooners, and No-mooners agreed: Koh Phangan offered both extreme fun and relaxation.
A pity that both options were offered on opposite geographical extremes of the island.
Our Koh Tao Experience with Kids
I went with my instincts. A smaller island had a higher appeal to us, and higher risk as well if it was boring.
I planned our itinerary the opposite way most travelers do. Instead of starting from Samui with a train arriving at Surat Thani, we would travel to Chumphon, and there catch a ferry to Koh Tao.
This place was everything, except boring!
More days in Koh Tao meant great comfort options to work both on my blog and my translations (no other island visited after Koh Tao offered us so many stable free wi-fi points, not even the massive Koh Samui!).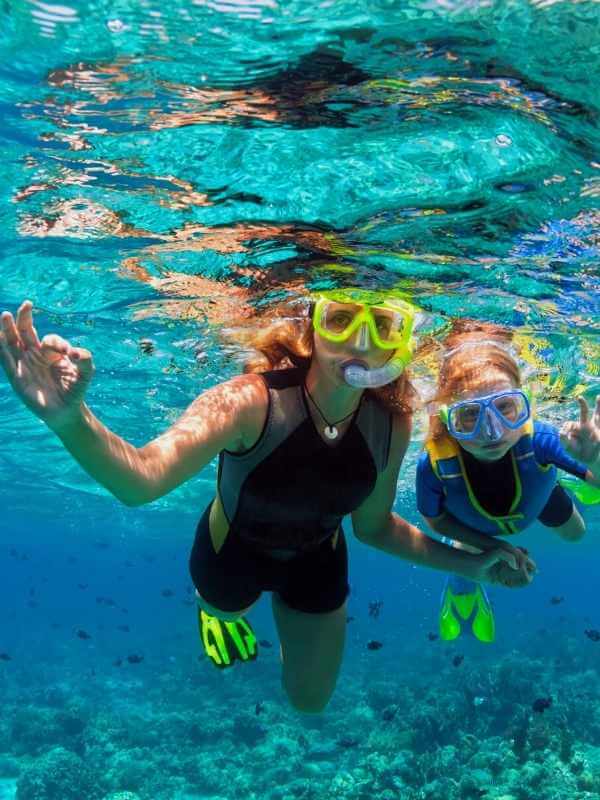 Koh Tao meant perfect weather, sea excursions, snorkeling with kids, and sailing around the island.
Koh Tao was entire days spent on beaches made of wonderfully white, soft sand, connecting with nature, listening to exotic birds singing, watching the soothing movements of waves from eight in the morning till nine in the evening, and even later.
Children would leave the sea… way after the sun had gone down. It was arriving on the beach and never leaving, just being there for good.
Get ready to take the one (hundred) picture of the perfect sunset the Turtle has to offer.
Things to Do in Koh Tao with Kids
The nightlife was simple, just made of little bars and restaurants on the beach, with exceptional Thai fragrances and tastes.
Sweet and sour, spicy wonders you can only dream of if you've never tried them before. And a Singha beer… always.
This stay also allowed us to meet people from Spain (mostly divers) and from England (the guy who sold us the snorkeling equipment), people happy to help you in exchange for a smile, and people who have lived on the island for long years.
By listening to their stories we could learn much about the local culture from a different perspective as well.
Staying there was also the possibility to hire a private longtail boat for a very small fee and sail around.
You can normally arrange this with agencies, but in that case, you have to adapt yourself to their schedule and, even if you found colorful fish to play with (you will!) when it's time to go… you must go.
Instead, if you go to the pier early in the morning, you will be approached by many boat sailors. Get your deal.
We wanted something child-friendly. We didn't care much about stopping at every single touristic spot. I wanted some safe open water experience for my kids and a quick visit to Nangyuan.
Finally, we wanted some sandy, empty, calm beach (we spontaneously decided to stop in a desert area at the beginning of Sairee beach just saying There, there, can you take us there? Mr. Sailorman did!)
The sea ride was a heavy dance as it was a bit windy, we had our life jackets on as well as lots of wet fun! It was a relaxing experience.
Next up, we move to Koh Phangan, where you can get total madness (Haad Rin) or total relaxation (Bottle Beach)… what do you think we are up to?
Where to Stay in Koh Tao with Kids
These are some other places we recommend in Koh Tao for those traveling with their family:
Sunrise Koh Tao: Located 300 meters from Mae Haad Beach, this hotel offers accommodation with a shared lounge, free private parking, a terrace, and a bar. The accommodation provides transfers, while a bicycle rental service is also available. Selected rooms also offer a sea view.
CLICK HERE TO BOOK NOW
DD Hut Koh Tao: Boasting an outdoor pool with unobstructed views of Sairee Beach, the hotel features bungalows with a private balcony and sea view, 700 meters from Mae Haad Pier. IBungalows are fitted with a refrigerator and safety deposit box and free private parking is possible on site. Thai and Western cuisines are served at DD Hut Restaurant or the Seaside Bar.
CLICK HERE TO BOOK NOW
Koh Tao Relax Freedom Beach Resort: One of the best-rated properties on the island, this hotel offers air-conditioned accommodation with a private balcony, a private beach area, and a restaurant. It has rooms with views of the sea and cozy wooden furnishings. Guests can go snorkeling, diving, or fishing. With a 24-hour front desk, staff at the resort can assist with ticketing and shuttle arrangements.
CLICK HERE TO BOOK NOW
Are you planning to visit Koh Tao with the kids? Let me know in the comments below!
Read more about Thailand
Pin this Guide to Koh Tao with Kids for Your Thailand Adventures!
---
You might also want to read these travel articles:
---
About my blog: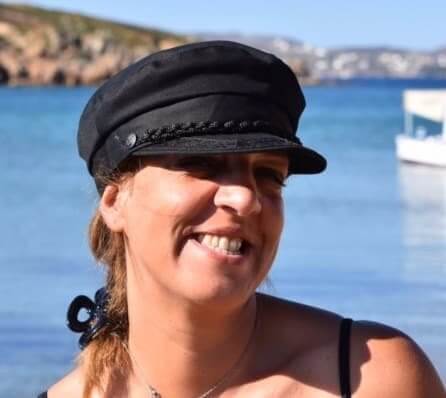 I moved to Crete in 2016. During these years, I learned much about the island.
In Crete, I juggle being a solo mom, hosting culinary tours, and writing for several travel media.
I've written for Greek Reporter, published travel guides about Greece, co-authored DK Eyewitness Top 10 Crete, and had more glasses of frappe than any regular person could ever handle.