Easy, basic, and quick, this is the essential list of tips to go backpacking on this quintessential nomadic trail. You don't need a huge packing list, you don't have to over-plan. Keep it simple to go Backpacking in Southeast Asia!
---
Disclaimer: Posts include affiliate links to products or services. I might earn a commission if you make a purchase.
---
Backpacking in Southeast Asia: Is this a way to feel free?
Resources to Book Your Trip
Book your flight: I use Skyscanner to compare prices before booking a plane ticket.
Book your ferry: When ferries are more convenient than air travel, I use Ferryhopper.
Book your accommodation: I've tried many different platforms for accommodation, but none of them beats the advantages of Booking.com.
Book your car: The best way to find an affordable car to rent is to use a powerful search engine that compares all the rental companies in the market. I use Discover Cars.
Book your tours: Live unforgettable adventures and cultural experiences with Get Your Guide.
Don't forget travel insurance: Things can go wrong at times, but travel insurance will protect you against illness, injury, theft, and cancellations. I recommend Safety Wing for peace of mind.
It's an enduringly popular destination for many reasons, and that's why backpacking around Southeast Asia has become a right of passage for so many.
The scenery, the people, the culture, and the many other travelers congregating for the same reason. It all adds up to an unforgettable experience that is irresistible to many, including families!
There's a reason why many people talk about backpacking around in terms of escape. However, it's undeniable that travel itself can also be stressful – logistically, financially, and emotionally.
Although travel articles more commonly focus on the hugely positive side, knowing how to deal with stress and anxiety caused by travel is also hugely important.
The common pattern among travelers (and our usual behavior too) is to tend to consider only the nicer aspects of exploring the world, but it's perfectly natural to feel apprehensive about things.
What are the key things to know if you're about to take on this new challenge? How can you feel your freest in this thrilling part of the world? Take a look at the following essential tips
What to Pack: Essentials for Backpacking in Southeast Asia
The simple answer is, go lighter than you think you should!
If you're used to having a lot of creature comforts around you, the idea of living out of a rucksack for months can be daunting. You will need a good dose of organization.
Therefore, pick your tech gadgets wisely, and make minimalism your new way of life. Do try it at home before departure, it will be easier to know what you're ready to sacrifice.
There's so much that minimal living has to teach you about yourself.
Don't be tempted to pack every little thing. Learn how to pack light and aim to take just a single carry-on rucksack, here's a review of what I use (and I love it!). You'll be surprised at how much you can fit into a 40l backpack.
Another great invention? Packing cubes will help you maintain organization, and will even maximize the space in your luggage.
As far as clothing, go for light layers that you can combine for colder weather – things like this ultra-light down jacket (which I own myself) and light jersey layers which don't need ironing are ideal.
Add a swimming suit and a night dress (shirt if you're a man) for the evening.
A couple of shorts and then, do yourself a favor: whatever else you need, buy it once there!
Tips to Pack Shoes and Toiletries
Shoes? The magic number is three when it comes to the essentials for Southeast Asia. Wear the heaviest while in transit and add a pair of versatile sandals to your backpack.
Regarding the third pair of shoes, well… flip-flops don't really take up so much space. And it will be even easier to buy once at your destination.
Keep your liquids to a minimum. In Southeast Asia, you will find the same things you find a home.
Ditching Electronics, the Painful Task
I feel you, I also hate to leave electronics at home. Photography is my passion and I'm a translator, so both my professional camera and my laptop are two no-negotiable items.
As far as my camera, I stopped packing both my cameras and as many lenses as possible. The one-backpack-only philosophy does not fit this rule.
So, I've put my hands on a good travel lens (18-300 mm) and I add a prime one (35 mm) only if there's extra room for it.
Regarding my laptop, traveling does not mean a holiday for me. I still cannot afford to travel without working, and since my job allows me to work online, it's not unusual to find me translating at any given beach bar.
Both are also possible on a phone, to be honest. When it comes to the rest of my electronics, I've (and you should too) streamlined everything else to my phone – everything from a Kindle app to any airline tickets can be accessed digitally.
Since carrying a backpack can be stressful and put extra strain on my back, I even use my phone as a stress-relieving hobby.
Don't Over Plan It
There is just so much to see and do in Southeast Asia, such a fascinatingly diverse region! Of course, you want to make the most of your trip and see key sights in each country but don't over plan.
Although a loose travel itinerary for Southeast Asia is a great thing, trying to schedule every single minute is overwhelming.
Part of the pleasure of travel should be just soaking up the atmosphere. Just take in the sights, smells, and sounds of your new location.
Make time for new adventures. There's a risk of missing that entirely if you're endlessly hurrying from one thing to the next.
Don't be afraid to change your initial plans to enjoy cultural happenings. Or to spend time with new friends. Go where the wind takes you!
There aren't many times in life to experience this freedom, make the most of it in the here and now.
So, other than the usual what-to-pack, what-to-do & where-to-go information, which are your essentials?
Which are your easy, quick, and basic tips to backpack Southeast Asia… or any other region? Let me know in the comments below!
Are you looking for cool places to see in Western Europe? Check out this amazing list of Western Europe Countries.
Read more Travel Articles
Pin this guide to go backpacking in Southeast Asia and read it later!
About my blog: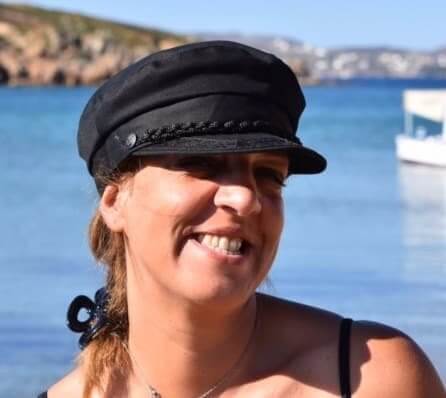 I moved to Crete in 2016. During these years, I learned much about the island.
In Crete, I juggle being a solo mom, hosting culinary tours, and writing for several travel blogs.
I've written for Greek Reporter, published travel guides about Greece, and had more glasses of frappe than any regular person could ever handle.