Do you want to discover a hidden part of marvelous Crete? The relatively unknown Cretan waterfalls testify to the island's natural beauty!
From secluded falls to village fountains and easy-to-reach waterfalls, Crete keeps surprising everyone willing to dig a bit further.
Curious? Here are some of the best waterfalls in Crete, Greece.
---
Disclaimer: Posts include affiliate links to products or services. I might earn a commission if you make a purchase at no extra cost.
---
Waterfalls in Crete, Greece
The 4 Best Waterfalls in Crete with Water All Year Round
The following waterfalls and hikes can be enjoyed from early spring to late autumn.
Kourtaliotiko Gorge Waterfall Crete
If I had to choose Crete's best waterfall, Kourtaliotiko would win hands down. Think of a breathtaking, easy-to-access 25-meter-high waterfall that falls into a deep gorge below your feet.
Then, imagine the water hugging the side walls from multiple sides, making it seem like the canyon has curtains.
It is no wonder that according to legend, the nearby springs are said to result from a miracle when Saint Nickolas touched the rock with his five fingers.
Whether you believe the story or not, the location is a true wonder that captivates your hearing with its characteristic sounds.
To top it all, you can access the bottom of the waterfall, where a small pool forms. The only caveat? You have to swim in freezing cold water for about five meters.
Although the temperature may discourage you in the winter, a refreshing dip is a treat in the summer. In short, Kourtaliotiko is one of the best waterfalls in Crete for swimming, thanks to its significant and relatively constant flow of water.
To reach this stunning location, also known as River of the Giants or Big Waterfall in Crete, you must drive toward the church of Saint Nickolas in the region.
Park your car in the designated location and follow the hiking trail toward the chapel.
Once you reach a crossroad in a few minutes, the left path leads you to the church with views over the fall, while turning right takes you to the bottom of Kourtaliotiko waterfall.
If you feel adventurous, you can continue your hike further down and reach the scenic Preveli Beach, a natural extension of the gorge and one of the best beaches in Crete.
Richtis Waterfall Crete
Richtis Waterfall is probably one of the best-known waterfalls in Crete. And it's certainly another worth-visiting fall that runs around the year and is the highlight of Richtis Gorge.
The rich vegetation in the area and the small pool the waterfall forms make you think you are in a subtropical climate, which you can enjoy under plenty of shade.
There is also a table with two benches at the waterfall's base, although you may need to come early to find it empty.
There are two ways to reach Richtis waterfall; both require some effort. The hiker's longer path takes you from the stone-arched bridge of Lachanas in Lasithi and continues downhill for about 90 minutes.
The second shorter option starts from the parking in Richtis Beach and gets to the waterfall within 30 minutes.
However, to reach Richtis Beach, you must drive down a winding, narrow road, which you may want to avoid if you're not skilled in driving on the island! If so, you can visit Richtis with this convenient tour.
Milonas Gorge Waterfall
For one of the tallest running waterfalls in Crete during summer, visit the Mylonas Gorge. There, you'll find an imposing 40-meter-high fall, forming a small pool of water ideal for a cool bath.
In winter, you'll often come across a second waterfall opposite the main fall, next to three other waterfalls that are only accessible with climbing equipment.
However, the main fall is the highlight of them all, and to reach it, you only have to hike for 20 minutes. Before that, you'll drive on a dirt road 18 kilometers east of Ierapetra.
Argyroupoli Crete Waterfalls
Northern Rethymnon region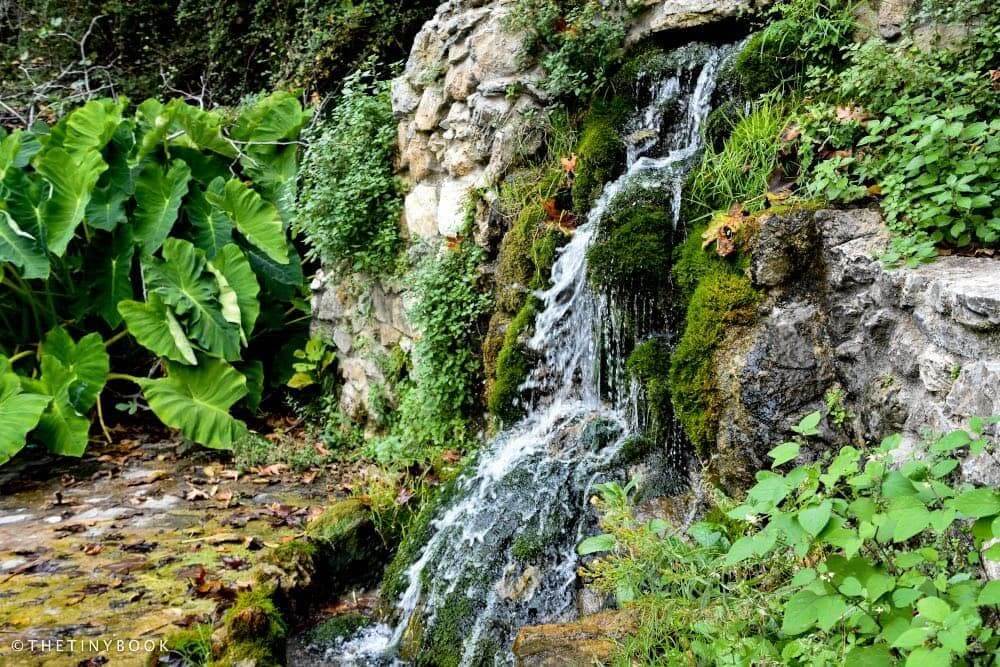 Did you know there was such a thing as a waterfall village in Crete? Argyroupolis is precisely that hidden paradise, only 20 minutes from Rethymno town.
As you step into this remarkable location, you'll hear the sound of water dropping all around you.
The locals have done an excellent job preserving the natural beauty while building their village among all those springs and waterfalls.
And although you won't find the privacy you'll have in other Cretan waterfalls, the surrounding taverns and bakeries will make up for everything.
There is nothing like tasting local delicacies, such as Antikristo meat, in such a superb location.
7 Impressive Cretan waterfalls you have to visit in the winter
Since most rains on the island come in the first months of the year until the end of spring, many waterfalls in Crete dry up in the summer months.
However, that's all the more reason to visit the island off-season and experience it like never before.
If you do, these six Cretan waterfalls will leave you in awe!
Mastoras Waterfall
Mount Thrypti, Southern Lasithi region
Located in the incredibly wild gorge of Ha, Mastoras Falls is one of Greece's tallest and most famous waterfalls, reaching an impressive height of 215 meters.
You can watch this wonder of nature from the gorge's exit while going to its base requires some canyoneering, equipment, and skills.
Ambas Gorge Waterfall
Asterousia Mountains, Southern Heraklion region
The Ambas Gorge is home to a unique 145-meter-tall waterfall that takes its water from the springs of Paranymfi at 700 meters altitude.
This is arguably one of the most impressive (and lesser-known) waterfalls on the island in the region of Heraklion.
Whereas the stream flows smoothly on the fertile plateau of Amygdalos, it starts its unexpected free fall at the rocky fault of Asterousia, creating one-of-a-kind imagery.
Lichnistis Fall in the Achendrias Gorge
Asterousia Mountains, Southern Heraklion region
In the wet season, you'll find another picturesque waterfall at the exit of Archendrias Gorge, about 50 kilometers south of Heraklion. The gorge is about 6 km long, ending at Maridaki Beach on the Libyan Sea.
Achendrias is the easternmost gorge of the Asterousia Mountain range, and it features the gorgeous Lichnistis Fall, the tallest of five waterfalls in a row, forming two ponds ideal for a cold bath in spring.
Sarakina Waterfall
Located in the magnificent Sarakina Gorge, in the southern area of the Lasithi region, the gorge, also known as Myrtos Canyon is located about 15 km west of Ierapetra and not far from the small and picturesque Myrtos village.
The canyon features imposing high walls, climbing up to 150 meters. Most of the gorge is accessible even if you're not a highly experienced climber. However, some experience and equipment will be needed to pass certain points.
For this reason, it's always better to take part in an organized tour like this one, led by expert guides, to make the most of your day in total safety and explore the impressive waterfalls and ponds that form along the trail.
Rechtara Waterfall in Platanes
Mount Kedros, Rethymnon region
In sensational Mount Kedros, Rechtara waterfall will fascinate you with its wild beauty and stunning surroundings.
Mount Kedros is located southwest of the Ida (or Psiloritis) massif, and together, they shape the two flanks of the Amari Valley in Rethymnon.
The fall is made of two parts of about 35 meters each, giving the impression of a larger waterfall. If that's not enough, walk downstream, and you'll soon come across more than a dozen smaller waterfalls, plus a Minoan sacred cave.
Gre Dafni Waterfall in Krya Vryssi
Again, in the mountain of Kedros, Gre Dafni Waterfall is one of the many falls in Krya Vryssi, also called a Park of Waterfalls.
At 100 meters in height, this fall and its surroundings deserve a visit if you're in the area.
Selinara Falls
Southern Rethymnon region
Finally, Kedros Mountains is home to yet another scenic fall near the small village of Orne in South Rethymno.
Although the main waterfall is only 20 meters tall, hiking here will reward you with unparalleled views of the area and the tens of other smaller yet wild waterfalls.
Overall, if you love spending time in nature, waterfall hunting in Crete will create lasting memories, especially if you visit in the wet season or after heavy rains (please do not attempt hiking these canyons or checking out the gorges during heavy rains; only after!).
The scenic views, waterfalls' characteristic sounds, and peaceful surroundings will give you goosebumps.
Remember: Avoid putting on sunscreen if you swim in ponds or rivers near waterfalls, as the chemicals inside the sunscreen hurt the flora and fauna of the stream.
Read more about Crete
🛌 Suggested Accommodation in Crete:
🗺️ More resources to book your trip to Crete
Written by Dimitrios Tsevremes
Passionate about travel, spirituality, and sports, I have lived in 5 countries and traveled to more places than I have counted. Writing, for me, is a way to express myself and my creativity. Whether I write for my blog or a freelancing gig, I always fall in love with the process and often lose my sense of time. If you want, you can check out more about me and my work here.
Pin this Guide to these Amazing Waterfalls in Crete!
---
You might also want to read these posts about Crete's regions:
---
About my blog: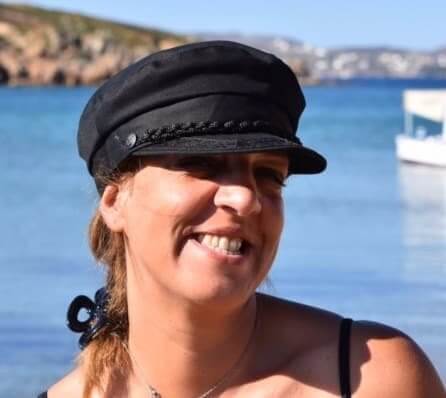 I moved to Crete in 2016. During these years, I learned much about the island.
In Crete, I juggle being a solo mom, hosting culinary tours, and writing for several travel blogs.
I've written for Greek Reporter, published travel guides about Greece, and had more glasses of frappe than any regular person could ever handle.