Thessaloniki is a captivating city in Greece that truly comes alive during winter. Known for its vibrant culture and historical landmarks, it offers various activities that make winter an exceptional time to visit.
So, if you're planning to visit Thessaloniki in winter, read this post to discover the best things to do to ensure your visit to this enchanting city is nothing short of memorable.
---
Disclaimer: Posts include affiliate links to products or services. I might earn a commission if you make a purchase at no extra cost.
---
Best Things to Do in Winter in Thessaloniki
PLANNING A LAST-MINUTE TRIP TO GREECE?
Be sure to book accommodation and tours in Greece ahead of time to ensure availability!
🛥️ Book ferry tickets with Ferryhopper.
🛌 Find hotel deals on Booking.com.
🚘 Compare car rental prices with Discover Cars.
💳 In need of money? Use WISE as a digital card and top-up from the app.
Let's discover the magic of Thessaloniki in winter with these things you can do in town…
Explore the White Tower
One of the must-visit attractions in Thessaloniki, especially during winter, is the iconic White Tower. Located on the city's waterfront, it is a historic landmark offering a fascinating glimpse into Thessaloniki's past.
In the winter, the tower is like an enchanting postcard-like picture as it stands against the snowy landscape. Furthermore, as you step inside, you'll travel back in time as you explore the museum housed within its walls.
Admire the exhibits that showcase the city's rich history and learn about its significance as you ascend to the top of the tower.
From the observation deck, you can also marvel at breathtaking panoramic views of Thessaloniki, adorned in winter's beauty.
>> This White Tower Self-Guided Audio Tour is super affordable! It's a genius activity for those on a budget who wish to explore Thessaloniki's most iconic landmark.
Stroll Along the Waterfront
A leisurely stroll along the waterfront is a lovely way to experience the charm of Thessaloniki in winter.
The city's promenade, stretching along the Thermaic Gulf, offers a picturesque setting with stunning views.
As you walk, admire the city's architectural gems, such as the iconic Umbrella sculpture, and explore the vibrant cafes and restaurants that line the waterfront.
Whether you're up for a romantic stroll or simply seek a peaceful moment by the sea, Thessaloniki's waterfront is a captivating destination that should not be missed during your winter visit.
Visit the Archaeological Museum
For history enthusiasts and culture seekers, visiting the Archaeological Museum in Thessaloniki is a must during winter.
This renowned museum houses a remarkable collection of artifacts showcasing Greece's long and rich history. The museum features a wealth of treasures, from intricate sculptures to intricate mosaics and ancient pottery.
Wander through the museum's galleries, immerse yourself in the stories of ancient civilizations, and gain a deeper understanding of Thessaloniki's rich heritage.
What makes the museum an excellent destination in the winter season is the quieter and more intimate atmosphere, allowing you to appreciate the exhibits without the crowds.
Winter hours: The museum is open from 8.30 a.m. to 3.30 p.m. in winter (November 1 – March 31)
Location: 6 Manoli Andronikou Street.
Ticket: The reduced ticket price (€ 4) applies to all guests in winter.
More information on the official website.
Explore Thessaloniki's Churches
Thessaloniki has numerous stunning churches, each with a unique architectural style and historical significance.
So, if you want a captivating experience to immerse in the city's religious and cultural heritage, opt for exploring churches such as the awe-inspiring Church of Agios Dimitrios, dedicated to the city's patron saint, and the ornate Church of Agia Sofia featuring exquisite mosaics.
Additionally, the winter season brings a sense of tranquility to these sacred spaces, allowing you to appreciate their architectural splendor and religious importance and escape from the bustling city streets.
Discover the Rotunda of Galerius
Initially, the Rotunda of Galerius was a mausoleum for the Roman Emperor Galerius. But later, this impressive cylindrical structure transformed into a church and then a mosque, making it a perfect example of the city's rich history and architectural evolution.
Rotunda is known for its soaring dome adorned with intricate mosaics. So, take a moment to admire the well-preserved mosaics depicting religious scenes and portraits.
In winter, the quiet and serene atmosphere of the Rotunda provides an ideal opportunity for reflection and appreciation of the historical significance that permeates its walls, making it a must-visit attraction for history and cultural enthusiasts.
>> If you'd like to discover this and other historic gems in town, you can join this Historic Private Walking Tour. If you're traveling with kids, Thessaloniki's Museum of Illusions offers an excellent way to spend a cold afternoon in town.
Stroll Around Aristotelous Square
A leisurely stroll around Aristotelous Square, the heart of Thessaloniki's vibrant lifestyle, will allow you to immerse yourself in the city's wintery atmosphere.
Specifically, the iconic square, named after the ancient Greek philosopher Aristotle, is a hub of activity and the central point of the city's social life.
So, as you wander through the square, you'll notice the twinkling lights and festive decorations during the winter season, and you'll be captivated by its grandeur and charm.
Take in the majestic architecture, browse through the shops, or simply find a cozy spot in one of the cafes to enjoy a warm beverage while people-watching.
Explore Ano Poli
Exploring Ano Poli, the upper town of Thessaloniki, is a perfect winter adventure that offers a unique blend of history, charm, and breathtaking views.
Ano Poli, or Upper Town, is a picturesque neighborhood of maze-like narrow stone-paved streets lined with traditional houses, Byzantine walls, and historical landmarks.
A significant spot is the Eptapyrgio Fortress, whose walls have protected the city for centuries.
Furthermore, it features panoramic vistas of the city and the Thermaic Gulf, which are even more enchanting in winter due to the glittering layer of snow.
Additionally, winter brings a quieter and more serene atmosphere to Ano Poli, allowing you to immerse yourself in its timeless beauty and soak up the cozy vibe of its tavernas and cafes.
Warm Up with Traditional Cuisine
One of the best ways to embrace the winter season in Thessaloniki is by indulging in its delectable traditional cuisine.
For instance, warm up your soul with a feast of hearty and comforting dishes, such as a steaming bowl of traditional Greek bean soup, known as fasolada, the flavorful moussaka, a rich baked dish layered with eggplant, meat, and béchamel sauce and many more of Thessaloniki's culinary delights that are sure to satisfy your cravings.
But be sure to try the warm and fluffy bougatsa, a pastry filled with semolina cream or cheese sprinkled with powdered sugar and cinnamon, and a local koulouri with sesame seeds!
Additionally, don't forget to pair your meal with a glass of local wine or sip a cup of traditional Greek coffee to complete the experience.
And if you're not sure where to begin, joining a Thessaloniki food tour can be the best idea!
You will embark on a culinary discovery with a local, visit Thessaloniki's traditional markets, and immerse in the mouthwatering Greek food culture, tasting the most delicious local specialties.
Enjoy Thessaloniki's Nightlife
When the sun sets and the city lights up, Thessaloniki's vibrant nightlife comes alive, offering many entertainment options during winter.
From trendy bars and clubs to cozy pubs and live music venues, there's something for everyone to revel in.
For instance, you can experience the lively atmosphere in Ladadika, a historic district transformed into a bustling hub of bars and restaurants.
Sip on craft cocktails, dance to the rhythm of live music, or unwind with friends in a cozy tavern.
In other words, the winter season brings a cozy and intimate vibe to Thessaloniki's nightlife scene, allowing you to mingle with locals and fellow travelers, creating unforgettable memories.
Relax at Thermal Baths
A visit to the city's thermal baths is necessary for the ultimate relaxation and rejuvenation experience during the winter season in Thessaloniki.
Used since Roman times, these ancient healing waters are famous for their therapeutic properties. So, immerse yourself in the warm, mineral-rich waters to soothe away the winter chill and revitalize your body and mind.
These two Byzantine baths offer a unique way to live a therapeutic experience in places continuously used for centuries. They are the Mygdonia and Justinian Bath, the latter dating from 900 AD!
Visiting the Lagada Baths – Loutra Lagada is one of the best things to do in Thessaloniki – combining history, luxury, and health. It's a great way to experience local culture.
Loutra Lagada offers a relaxing therapeutic water experience! In fact, Thessaloniki has a history of bathing culture!
Thessaloniki's thermal baths offer a unique atmosphere and range of amenities. They are located just outside of Thessaloniki in the suburb known as Lagada (about 30 minutes; you can drive or get there by bus) and are the perfect thing to do in Thessaloniki on a rainy day.
You can find more details about the baths on their Facebook page.
If you're willing to drive a bit more, you can easily escape to one of the most stunning thermal experiences in Greece by discovering the hot springs of Loutra Pozar.
No matter where you plan to go for a thermal experience, take a break from the chilly weather and treat yourself to a blissful escape for a genuinely relaxing winter experience.
Getting Around Thessaloniki
Getting around Thessaloniki is a breeze with its well-connected transportation system and compact layout.
First and foremost, the extensive bus network, including city buses and intercity coaches, provides easy access to different neighborhoods and attractions.
Alternatively, taxis are readily available for quick and hassle-free journeys.
For a more leisurely experience, you can rent a bicycle and navigate the city's bike-friendly streets to enjoy the scenic views along the waterfront.
Additionally, walking is a lovely way to discover Thessaloniki's hidden gems, from its charming narrow streets to its lively squares.
Where to Stay in Thessaloniki
When it comes to finding the perfect place to stay in Thessaloniki, numerous options cater to every traveler's preferences.
The city center is ideal for those seeking a vibrant atmosphere, with its bustling streets, historic sites, and proximity to popular attractions like Aristotelous Square and the White Tower.
On the other hand, if you prefer a quieter and more serene setting, the charming neighborhood of Ano Poli offers picturesque views, traditional architecture, and a sense of local authenticity.
Additionally, the trendy area of Ladadika is known for its lively nightlife scene, making it an excellent option for those seeking entertainment and a vibrant atmosphere.
But no matter where you choose to stay, with a wide range of accommodations available, Thessaloniki ensures that every visitor can find the perfect place to stay and make the most of their time in this captivating city.
Recommended Accommodation in Thessaloniki:
Thessaloniki's rich history, vibrant culture, and captivating charm offer many activities to make your winter visit truly memorable.
From exploring ancient ruins adorned in a blanket of snow to indulging in cozy cafes and experiencing the city's festive spirit, Thessaloniki has something for everyone.
So, embrace the winter season and embark on a journey that will leave you with unforgettable memories of Thessaloniki!
Read more about Greece
Pin it! Best Things to Do in Thessaloniki in Winter!
About my blog: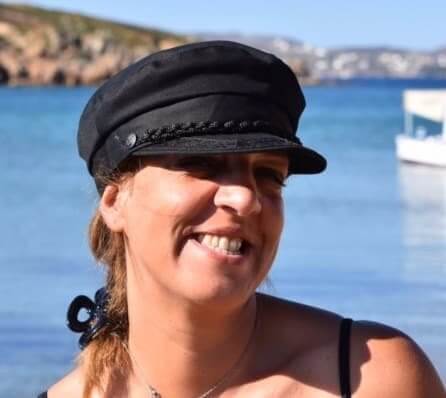 I moved to Crete in 2016. During these years, I learned much about the island.
In Crete, I juggle being a solo mom, hosting culinary tours, and writing for several travel blogs.
I've written for Greek Reporter, published travel guides about Greece, and had more glasses of frappe than any regular person could ever handle.