Are you up for an adventure that will leave you breathless? Look no further than the Kourtaliotiko Gorge in Crete! This natural wonder is a must-visit for any traveler seeking stunning views, exciting hikes, and refreshing dips in waterfalls.
In this guide, you'll read everything you need to know for a trip to Kourtaliotiko Gorge. So whether it's how to get there or what to pack, we've got you covered!
---
Disclaimer: Posts include affiliate links to products or services. I might earn a commission if you make a purchase.
---
Get Ready to Be Blown Away: Exploring the Jaw-Dropping Kourtaliotiko Gorge in Crete!
Kourtaliotiko, Crete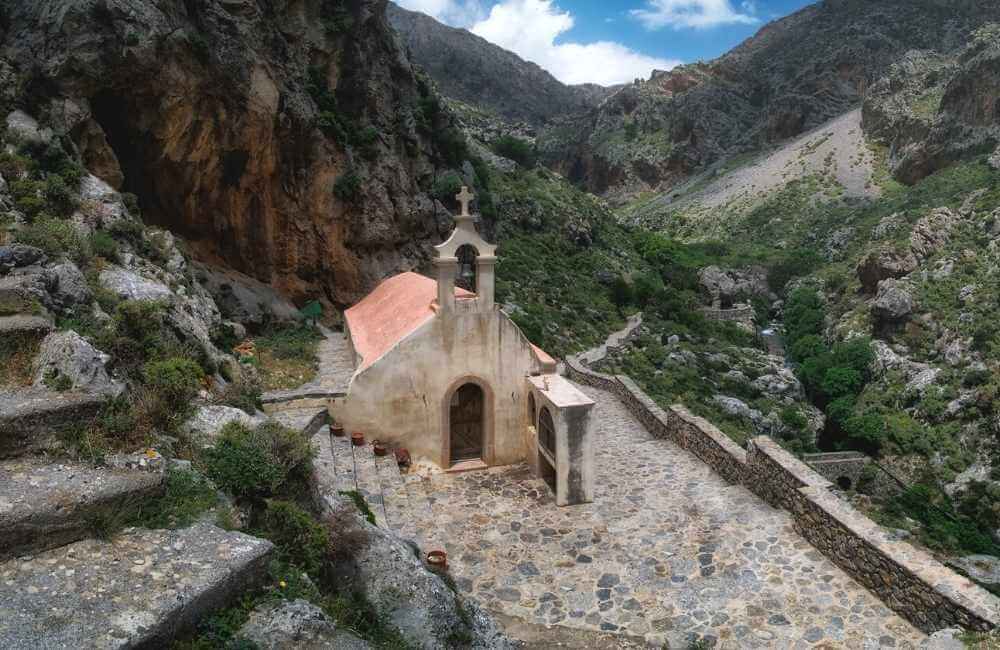 The largest of the Greek islands features several beautiful gorges formed by Crete's rugged terrain. They are popular destinations for hikers, nature enthusiasts, and tourists.
Some of the most notable gorges in Crete include Samaria, Imbros, Agia Irini, and -of course- the fantastic Kourtaliotiko!
Why Kourtaliotiko Gorge is a Must-Visit in Crete
Kourtaliotiko Gorge is a true natural marvel, adored and sought out by many. Its expansively deep and narrow shape sets it apart as it stretches from the Kouroupa and Xiron mountains in the southwest of Crete.
Once in the canyon, you'll instantly notice towering cliffs rising on either side, some reaching as high as 600 meters.
Just outside the gorge, the valley is also home to the Kourtaliotiko River, which winds through the canyon and creates superb waterfalls.
Let's see some essential details to help you explore the gorge better!
How to Get to Kourtaliotiko Gorge
Getting to Kourtaliotiko Gorge is simple by car or bus. If you're driving, you can park at one of the three Kourtaliotiko Gorge parking lots, just off the main road.
From there, it's a short walk to the bottom of the gorge.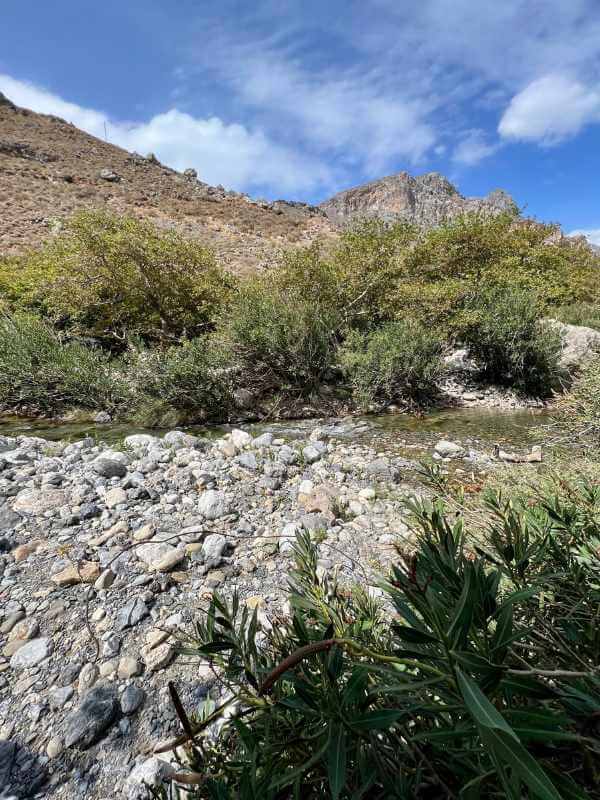 If you're taking public transport, it can be a bit trickier. After catching a public bus from Rethymno or Plakias to the village of Koxare, you can take a short-drive taxi to Kourtaliotiko Gorge.
There are also two direct bus routes to the gorge from Monday to Saturday.
Best Time to Visit Kourtaliotiko Gorge
The best time to visit Kourtaliotiko Gorge is in the spring or fall when the weather is mild and there are fewer visitors. During summer, temperatures are pretty high, and the gorge gets too crowded.
If you visit in the high season, try to come as early or as late in the day as possible. That's the best way to avoid the crowds.
Kourtaliotiko Waterfall Crete
One of the highlights of the canyon is the Kourtaliotiko Waterfall. This supreme location is at the end of a short hike from the first parking lot you'll see on your way from Rethymno.
In Google Maps, it's mapped as Kantina, and often, you'll see a vendor selling snacks and drinks.
Once you find a free parking spot around the vendor, prepare to descend into the gorge and find the main waterfall.
The hike is easy and takes about 15 minutes. However, decide beforehand if you want to see the waterfall from above or if you want to swim into it.
To admire the unique waterfall from above, you must turn left once you see the path splitting into two. If you instead fancy swimming in the cold freshwater, go right and follow the steps.
In the end, you'll need to climb a wooden stair to reach the swimming area, but other than that, getting to the bottom is easy.
Remember, the first parking lot is small, so you might not always find space.
Don't worry, though. You'll see another parking space if you drive further down the road.
From there, a dirt path leads you to the waterfall if you go left or to the hike if you turn right.
Hiking the Kourtaliotiko Gorge
I promise Kourtaliotiko Gorge is a dream come true for any hiker out there. Several hiking trails start at the canyon, offering thrilling views and challenging terrain. Just open AllTrails and you'll be surprised by the various hiking options.
However, the most popular trail is the Kourtaliotiko Gorge Hike, which starts at the parking lot and takes about three hours to complete.
Along the way, you'll pass by several viewpoints with stunning views of the gorge and the surrounding mountains.
Because most people get confused about the whereabouts of the starting point, remember you need to reach the base of the gorge.
You'll see a building on your left and lush vegetation with a river on your right. That's where you want to be.
The Kourtaliotiko Gorge starting point for hiking is right after you cross that river. It's not straightforward how to get past the water, but it's certainly lots of fun trying to figure it all out without getting your shoes wet. Still, you must be fit and balance well to attempt the crossing and begin trekking.
BEST ORGANIZED ACTIVITIES IN KOURTALIOTIKO GORGE:
Day Trip to Sfakia, Plakias, and Kourtaliotiko Gorge: This day trip explores the rugged and remote mountainous region of Sfakia, fertile plateaus, beautiful beaches, and breathtaking vistas on a day trip with an expert guide that includes descending 200 steps into the impressive Kourtaliotiko Gorge.
BOOK HERE
Kourtaliotiko Gorge to Preveli Beach
You can go from Kourtaliotiko Gorge to Preveli Beach if you're up for a long hike. If you come to the gorge by public transport, I recommend that route so that you can spend a night in Preveli Beach.
This trek takes about six hours and is more challenging than the shorter Kourtaliotiko Gorge Hike. The beautiful landscapes and incredible flora and fauna will leave you breathless.
I suggest sticking to the gorge if you come to Kourtaliotiko Gorge by car.
Hike as far down as you feel comfortable and get back. As you do, embrace the beauty of this geological wonder formed over millions of years by the Kourtaliotiko River.
Speaking of the river, I loved the small pools of water we came across on the trek. We even got to jump into one. Although the water was less cold than the waterfall, it was still refreshing.
What to Bring for Kourtaliotiko Gorge Hike and Tips for Visiting Kourtaliotiko Gorge
When hiking the Kourtaliotiko Gorge, you'll need sturdy hiking shoes, sunscreen, a hat, and plenty of water. Bring also a camera to save your memories and remember the experience.
Something to remember: you must cross the river multiple times and get over several rocks, so make sure you are only bringing able hikers along for the day's adventure.
On the other hand, if you only want to view the waterfall, the path there is well-maintained and reasonable for children.
Things to Do Near Kourtaliotiko: Nearby Attractions and Activities
There are several attractions and activities that you can explore after you visit Kourtaliotiko Gorge.
These include visiting the beaches of Preveli and Plakias, the canyoning adventures in the area, and the region's charming villages.
Remember that Plakias is one of the most famous centers in Crete for scuba diving, and it features several diving clubs offering other water sports.
Horse riding is also available near Kourtaliotiko.
Plakias is an important village, the right place to find everything for your daily needs. There are supermarkets, shops, numerous tavernas, an ATM, and doctors.
Plakias is also the starting point for many boat excursions to Preveli Palm Beach and Hora Sfakion.
Other nearby beaches include Ammoudi, Schinaria, Damnoni, Souda, Rodakino, Triopetra, and Ligres. These are all beaches located on the southern coast of Rethymnon.
You can also explore Preveli Monastery, one of the most impressive religious centers on the island.
Where to Stay Near Kourtaliotiko Gorge
These are some of the nearby places to stay that I suggest you check out when booking accommodation near Kourtaliotiko Gorge in the Rethymnon region:
Conclusion: Why Kourtaliotiko Gorge Should Be on Your Travel Bucket List
Kourtaliotiko Gorge is one of our planet's most breathtaking spots that offers something for everyone.
Whether you're a hiker, an outdoor junkie, or simply looking for a refreshing swim, this gorge is a must-visit.
So pack your bags, grab your hiking shoes, and get ready to be blown away by the beauty of Kourtaliotiko Gorge in Crete!
Read more about Rethymnon
🛌 Suggested Accommodation in Rethymnon:
🗺️ More resources to book your trip to Crete
Written by Dimitrios Tsevremes
Passionate about travel, spirituality, and sports, I have lived in 5 countries and traveled to more places than I have counted. Writing, for me, is a way to express myself and my creativity. Whether I write for my blog or a freelancing gig, I always fall in love with the process and often lose my sense of time. If you want, you can check out more about me and my work here.
Pin This Guide to Explore Kourtaliotiko Gorge in Rethymnon, Crete!
---
You might also want to read these posts about Crete's regions:
---
About my blog: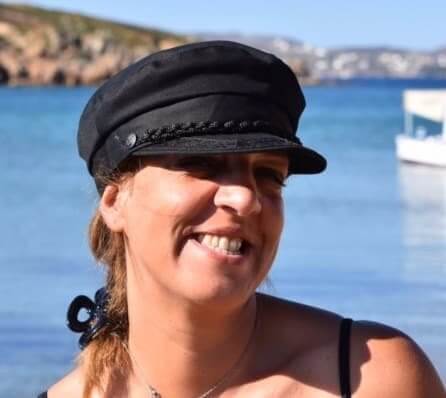 I moved to Crete in 2016. During these years, I learned much about the island.
In Crete, I juggle being a solo mom, hosting culinary tours, and writing for several travel media.
I've written for Greek Reporter, published travel guides about Greece, co-authored DK Eyewitness Top 10 Crete, and had more glasses of frappe than any regular person could ever handle.