For an unforgettable summer vacation, the Mediterranean Sea offers countless fantastic spots for glamorous, adventurous, or relaxing beach vacations.
Cyprus may not be as famous as other Mediterranean countries, but it should be part of your bucket list. This beautiful island, also known as Venus Island, offers gorgeous sandy beaches, colorful pebbly beaches, and stunning coves surrounded by high cliffs.
So, check out this guide to discover the best beaches in Cyprus!
---
Disclaimer: Posts include affiliate links to products or services. I might earn a commission if you make a purchase.
---
Top Beaches in Cyprus
ARE YOU PLANNING YOUR TRIP TO CYPRUS LAST MINUTE?
Be sure to book accommodation and tours in Cyprus ahead of time to ensure availability!
🎟️ Top tours in Cyprus:
🛌 Top picks for places to stay in Cyprus:
🚗 Looking for the best way to get around Cyprus? Check rental car rates for Cyprus now!
💳 In need of money? Use WISE instantly as a digital card and top-up from the app no matter where you are!
Where is Cyprus and How to Get There
Cyprus is located in the southeast portion of the Mediterranean Sea, and southwest Asia. The country stands facing the south of Turkey and the Middle East.
It is just a few hours away from many European cities while several low-coast companies have year-round flights to Larnaca and Paphos, two of the most important cities on the island.
While Larnaca International mostly receives commercial flights from the rest of Europe and is active all year round, Paphos International mostly caters to charter flights during the high season (although there are some commercial flights arriving in Paphos also in winter.
Moving Around in Cyprus
If you're bold enough to drive on the left (or you already do it in your country), then get ready for a stunning adventure! Driving in Cyprus is certainly a stunning experience that will take you to discover the best of the island.
We did it and enjoyed several towns at our own pace as well as amazing landscapes that we were really not expecting.
Which car rental service is the best to choose?
If you want to rent a car for your trip and look for the best service, I am here to help you! Consider choosing Discover Cars, an international car rental booking service present worldwide. This way, you will find the best car for your trip wherever you are!
When moving around in the city, remember that bike rental is an affordable and healthy way to move around.
To reach more distant places and in case driving is not what you want, then the local bus network, as well as taxis, are all good alternatives.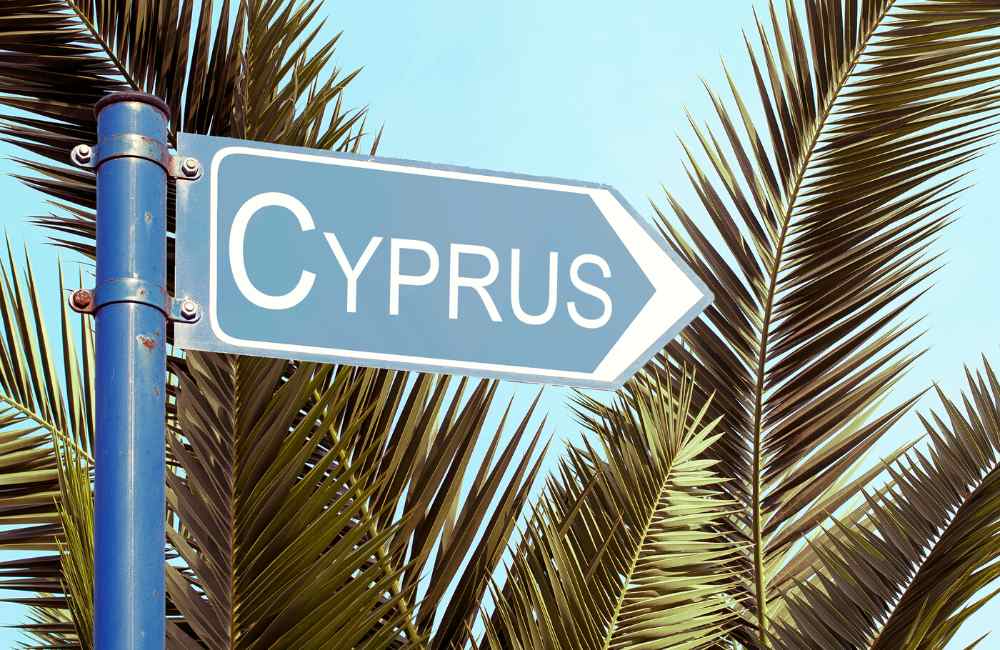 There are no trains or metros on the island, so these are about all the options available to move around. Of course, to visit specific sites and attractions, joining tours and excursions is also a good idea if you want to avoid renting a car.
What Beaches You Should Visit in Cyprus
Yearly, Cyprus' beaches are voted as some of the best in the world. Moreover, since there are many blue flag-awarded beaches, the shores of the island are simply perfect for swimming and family holidays, making it a must-visit vacation spot in Europe.
If you are not convinced yet, let's see seven of the best beaches in Cyprus that will leave you awed.
Nissi Beach
Located in Ayia Napa town, Nissi is one of the island's most popular and prettiest beaches.
It stretches approximately a half kilometer and is a blue flag-awarded beach meaning its waters are of high environmental and quality standards. In other words, it has stunning pristine azure waters and is perfect for swimming.
Nissi Beach is well-known for its tiny uninhabited islet across the beach's shore, which visitors can visit either by swimming or even walking. When the tide is low, people can walk to the islet to explore and relish the resort's view from a different angle.
This beach is probably the busiest in Cyprus. It features a beach bar that always has music on, creating the best summer vibes for all. So, this is undoubtedly the best place for a fun beach vacation.
Lara Beach
Vacationing at a crowded beach resort is certainly a must during summer vacation. But sometimes, visiting a beach away from the highly organized resort-style shore can help us to release all our daily worries.
Lara Beach is within the protected nature reserve on the wild Akamas Peninsula, allowing people to experience the true meaning of a stunning, pristine beach.
But due to this, no chairs or sun-lounger furniture are allowed. Furthermore, there isn't any infrastructure nearby. That's why access to the beach is by navigating the track with a vehicle, preferably a 4WD.
Lara Beach is also the natural habitat for the Mediterranean's green and loggerhead turtles. Therefore, certain sections of the beach are fenced off to protect the turtle nesting sites.
Makronissos Beach
Makronissos is another favorite shore in Ayia Napa. Similarly to Nissi Beach, it is a glittering white sandy beach with beautiful azure waters and is popular among young travelers who prefer fun summer vibes.
However, it is also preferred by those who love exploring the colorful seal life. The area was formerly a reef making it perfect for the curious and adventurous people who love snorkeling.
Another fascinating sight is the ancient tombs of Makronissos. So, if you are interested in learning more about Cyprus' history, Makronissos offers a blend of natural beauty and history.
The graves are from the Hellenistic and Roman eras, and there are a total of 19 rock-cut tombs, a sanctuary, and a quarry.
Aphrodite's Beach
As already mentioned, Cyprus is also known as Venus Island, and that's because Cyprus is, according to the legend, the birthplace of the Greek goddess Aphrodite.
According to mythology, Aphrodite emerged from the foam of the sea near Aphrodite's Beach, also known as Petra Tou Romiou.
Aphrodite's beach is pebbly and surrounded by stunning cliffs. It has relatively wild waves, but it is still a fantastic spot for swimming. Since Aphrodite was the goddess of beauty, locals believe that if you swim here, you will gain eternal beauty.
Since the beach's location is between Paphos and Limassol, it is an excellent stop-off point for scenic coastal views. Particularly, it is a popular sunset spot.
Konnos Beach
Konnos Beach is a lovely isolated cove, surrounded by tall cliffs with pine trees and just a few minutes away from the Cape Greco National Park.
Along with its gorgeous views, Konnos Beach has soft white sand making it a top destination for a full day devoted to beach time.
Furthermore, refreshments and full meals can be found at the cliff-top restaurant, accessed by a staircase from the beach.
Konnos Beach is a favorite among families due to its crystal-clear shallow waters. Also, it is an organized beach, so it offers solid facilities such as sun loungers, umbrellas, lifeguards, bathrooms, showers, and even water sports.
However, the best thing to do at Konnos Beach is to walk across the rocky landscape of Cape Greco and marvel at the magnificent Mediterranean views.
Fig Tree Bay
Located in the area of Protaras, Fig Tree Bay is a sheltered beach loved by vacationing families, young travelers, and snorkelers.
Fig Tree is at the edge of a coastal promenade that allows you to walk the length of Protaras and admire the area's sandy strip and crystal-clear blue waters.
Thus, while at Fig Tree Bay, you can enjoy the summer breeze, stunning sea views, or even adventurous water sports and beach volleyball.
Furthermore, the beach features a tiny islet across its shore where you can swim and explore its bountiful fish life, flora, and fauna.
Also, since Protaras is one of the busiest beach resorts, you will find plenty of cafes and restaurants nearby.
Blue Lagoon – Akamas
Situated in the UNESCO World Heritage National Park, Akamas, Blue Lagoon is one of the most isolated beaches in Cyprus. Yet, it is one of the most beautiful places, offering magical views.
The beach is a shielded bay with warm, pristine waters, allowing visitors to see the sea depths. It is a sandy beach with shallow water, making it a natural swimming pool.
However, access to this bay is only by boat or a 4WD car since the road can be a bit dangerous. You can arrive at the bay by the coastal road of the Baths of Aphrodite or take the long road through the villages of Latsi, Neo Chorio, and Peyia.
Nevertheless, if you love adventure, this beach is the perfect destination.
Undoubtedly, Cyprus offers beautiful beaches to immerse in the Mediterranean lifestyle. Surely, the main coastal cities of Paphos, Limassol, and Larnaca offer fantastic long sandy strips for endless hours of sunbathing and swimming.
But the best sandy beaches with crystal-clear blue waters and adventurous activities are found further from the bustling cities.
Read more about Cyprus
🛌 Suggested Accommodation in Cyprus:
Pin this Guide to the Best Beaches in Cyprus for Your Next Vacation!
---
Read more articles about Cyprus:
---
About my blog: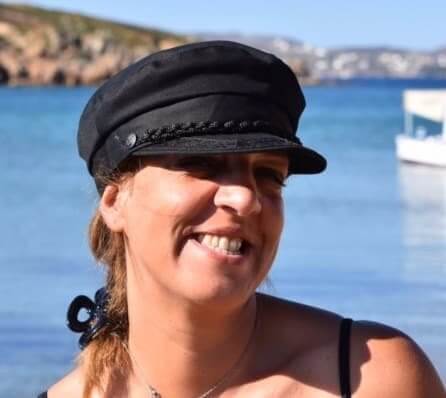 I moved to Crete in 2016. During these years, I learned much about the island.
In Crete, I juggle being a solo mom, hosting culinary tours, and writing for several travel blogs.
I've written for Greek Reporter, published travel guides about Greece, and had more glasses of frappe than any regular person could ever handle.