Cyprus is a beautiful island nation located in the eastern Mediterranean, known for its gorgeous beaches, rich history, and vibrant culture.
And while there are many ways to explore this wonderful country, driving in Cyprus can be an exciting and rewarding experience, allowing you to explore the island's stunning landscapes, charming villages, and historical sites at your own pace.
So, let's see everything you need to know about driving in Cyprus.
---
Disclaimer: Posts include affiliate links to products or services. I might earn a commission if you make a purchase at no extra cost.
---
Renting a Car and Driving in Cyprus
ARE YOU PLANNING YOUR TRIP TO CYPRUS LAST MINUTE?
Be sure to book accommodation and tours in Cyprus ahead of time to ensure availability!
🎟️ Top tours in Cyprus:
🛌 Top picks for places to stay in Cyprus:
🚗 Looking for the best way to get around Cyprus? Check rental car rates for Cyprus now!
💳 In need of money? Use WISE instantly as a digital card and top-up from the app no matter where you are!
Driving in Cyprus as a Tourist
As a tourist, driving in Cyprus can be a great way to explore the island and its many attractions. However, it's important to be aware of the unique driving conditions and regulations in Cyprus to ensure a safe and enjoyable journey.
Firstly, tourists must have a valid driver's license from their home country or an international driving permit. For instance, you are eligible to drive in Cyprus if you have an EU driver's license.
It's also important to note that in Cyprus, driving is on the left-hand side of the road, which may take some getting used to for those accustomed to driving on the right.
Additionally, many roads in Cyprus are narrow and winding, so drivers should exercise caution when driving.
Also, although you can use GPS to navigate in Cyprus, it is recommended to have a physical map too as a backup in case of GPS signal loss or inaccuracy.
Rules of the Road
When driving in Cyprus, it's essential to be aware of the rules of the road to ensure a safe and legal journey.
Firstly, the speed limit in urban areas is typically 50 km/h, while on highways, it's 100 km/h.
Also, it is important to remember that seat belts are mandatory for all passengers in the car. And the use of mobile phones while driving is strictly prohibited, and drivers caught doing so can face hefty fines.
When it comes to parking, you might find it a bit challenging, especially in busy areas. So, it is important to pay attention to parking signs and regulations to avoid fines.
Some areas have designated parking lots and garages where tourists can park their rental cars. But if there aren't any parking lots, avoid parking on sidewalks or areas marked with yellow lines.
Finally, be sure to be aware of local customs, such as the use of headlights during the day and the requirements to carry a reflective jacket in the car at all times.
Road Safety
Road safety is a critical aspect of driving in Cyprus. Of course, drivers must be aware of the rules and regulations of the road and adhere to them at all times.
But there are many other things you need to be cautious about. For instance, Cypriot drivers are known for their aggressiveness and impatience, so always be mindful of your surroundings.
Furthermore, even though it is common for drivers to use their horn to alert others about a situation or as a warning, excessive use of the horn is considered impolite.
Also, generally, be sure to maintain a safe distance from other vehicles on the road and obey traffic signals and signs. Similarly, drivers need to yield to emergency vehicles and give way to pedestrians.
Another tip to remember is when driving on narrow roads, you should be prepared to slow down and give way to oncoming traffic. It is also important to be aware of pedestrians and cyclists, particularly in urban areas.
Finally, you should be prepared for unexpected situations, such as sudden weather changes or road closures.
Renting a Car in Cyprus
Renting a car in Cyprus is the most popular option for tourists who want to explore the island at their own pace.
To rent a car, drivers must be at least 21 years old and have a valid driver's license. It is also important to have a credit card for the rental deposit.
When choosing a rental car, drivers should consider the size of the vehicle, the type of transmission, and any additional features such as GPS or child seats.
It is also important to check the rental agreement carefully and understand the terms and conditions, including any insurance coverage and the fuel policy.
So, by renting a car and driving responsibly, you can enjoy the freedom and flexibility to explore the island's many attractions and beautiful countryside.
Which car rental service is the best to choose?
If you want to rent a car for your trip and look for the best service, then I am here to help you! Consider choosing Discover Cars, an international car rental booking service present worldwide. This way, you will find the best car for your trip wherever you are!
Exploring Cyprus by Car
Cyprus may be a small island, but it is filled with diverse landscapes and many cultural and historical spots to explore. So, let's see some of the best scenic roads you can take to discover the island's beauty.
Troodos Mountain Range
The Troodos Mountain range is located in the center of the island and offers stunning views of the pine forest, vineyards, and traditional villages.
The road twists and turns through the mountain, providing drivers with an exhilarating driving experience.
Along the way, you can stop at Troodos Square, visit the Kykkos Monastery, and explore the picturesque village of Omodos.
Coastal Road from Limassol to Paphos
The coastal road from Limassol to Paphos runs parallel to the sea, providing panoramic views of the coastline.
Along the way, you can stop at small fishing villages, sandy beaches, and ancient ruins. Highlights include the Kourion archaeological site, Aphrodite's Rock Beach, and the Paphos Archaeological Park.
Akamas Peninsula
If you head northwest on the island, you'll reach the Akamas Peninsula, one of the most unique areas in Cyprus. To explore the Peninsula by driving, you will need a 4×4 vehicle, so be sure to rent the right car.
Limassol to Troodos
The road from Limassol to Troodos offers a scenic drive through the countryside, passing through traditional villages and stunning landscapes.
The route includes the picturesque village of Platres, the Caledonia Waterfalls, and the picturesque village of Kakopetria.
Other highlights you can include on your road trip are the Kouris Dam and the ancient village of Alassa.
Nicosia to Kyrenia
The road from Nicosia to Kyrenia offers a scenic drive through the northern part of Cyprus, passing through olive groves, citrus orchards, and traditional villages.
Highlights include the Bellapais Abbey, the Kyrenia Castle, and the Kyrenia Harbour. However, be aware that this route includes crossing the borders between the two parts of Cyprus, meaning it is necessary to have your passport and insurance.
Nevertheless, this route is a great opportunity to see the differences between the two parts of Cyprus.
Cyprus is definitely a beautiful destination with plenty of magnificent scenic roads to explore. However, driving in a foreign country can be intimidating, so it is important to be aware of the rules of the road and driving customs in Cyprus.
By following the guidelines outlined in this guide, you will surely have a safe and enjoyable driving experience while exploring the island's many attractions.
Whether you're driving through the winding roads of Troodos, exploring the coastal highways, or navigating the narrow streets of traditional villages, driving in Cyprus is a memorable and exhilarating experience.
Just remember to stay alert, be patient, and enjoy the journey!
Where is Cyprus and How to Get There
Cyprus is located in the southeast portion of the Mediterranean Sea, and southwest Asia. The country stands facing the south of Turkey and the Middle East.
It is just a few hours away from many European cities while several low-coast companies have year-round flights to Larnaca and Paphos, two of the most important cities on the island.
While Larnaca International mostly receives commercial flights from the rest of Europe and is active all year round, Paphos International mostly caters to charter flights during the high season (although there are some commercial flights arriving in Paphos also in winter.
Why You Should Visit Cyprus
The legendary birthplace of Aphrodite, Cyprus offers a lot more than just a summer destination made of long sunny days and luxury resorts.
Even when you can also enjoy some beach days way into November, the island has a lot more to offer than the popular towns of Larnaca, Limassol, or Paphos.
Incredible hills, mountain pine forests, breathtaking gorges, traditional old towns and lush vineyards, incredible churches or ancient monasteries, and timeless history are just some of the ingredients.
Home to a mysterious Middle Eastern feel you can also learn about Cyprus' recent history.
You only need to cross the border (do bring your passport) and venture into the northern territory occupied by Turkey.
Over here, check out ages-old churches turned into mosques and fascinating street markets.
Read more about Cyprus
🛌 Suggested Accommodation in Cyprus:
Pin this Guide to Driving in Cyprus for Your Next Adventures!
---
You might also want to read these other Cyprus articles:
---
About my blog: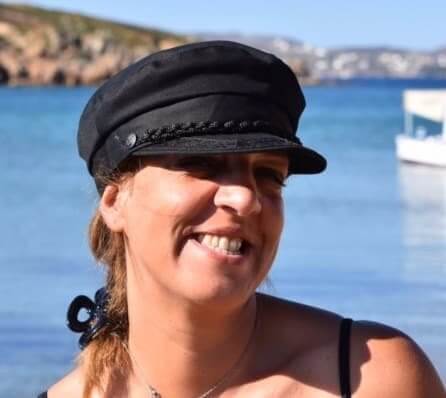 I moved to Crete in 2016. During these years, I learned much about the island.
In Crete, I juggle being a solo mom, hosting culinary tours, and writing for several travel blogs.
I've written for Greek Reporter, published travel guides about Greece, and had more glasses of frappe than any regular person could ever handle.