Limassol, the second-largest city in Cyprus, is a perfect blend of ancient history and modern culture.
Known for its stunning beaches, vibrant nightlife, and rich cultural heritage, Limassol is a popular tourist destination that attracts visitors from all over the world.
So, let's take a closer look at the best things to do in Limassol, from exploring ancient castles and strolling along the marina to relaxing on the beach and sampling the local cuisine.
---
Disclaimer: Posts include affiliate links to products or services. I might earn a commission if you make a purchase at no extra cost.
---
The Best Things to Do in Limassol, Cyprus
ARE YOU PLANNING YOUR TRIP TO CYPRUS LAST MINUTE?
Be sure to book accommodation and tours in Cyprus ahead of time to ensure availability!
🎟️ Top tours in Cyprus:
🛌 Top picks for places to stay in Cyprus:
🚗 Looking for the best way to get around Cyprus? Check rental car rates for Cyprus now!
💳 In need of money? Use WISE instantly as a digital card and top-up from the app no matter where you are!
Where to Stay in Limassol
Since we already went through the best things to do and see in Limassol, let's see the best areas to stay and have easy access to everything you might want to experience.
The city offers a range of accommodation options to suit different budgets and preferences. The Old Town is one of the best areas to stay, over here, you can soak in the city's rich history and culture.
This area is dotted with charming boutique hotels, guesthouses, and apartments, all within walking distance from the Limassol Castle and the Limassol Marina.
For those seeking a more luxurious experience, the beachfront area of Germasogeia is an excellent choice, with its upscale hotels and resorts, stunning sea views, and easy access to the beach.
What to Do in Limassol
Located on the southern coast of Cyprus, Limassol (also known as Lemessos), is known for its beautiful beaches, vibrant nightlife, historical sites, and as a major business and commercial hub in Cyprus.
In no particular order, let's see some of the best things to do in Limassol for an unforgettable holiday.
Visit the Limassol Castle
One of the top attractions in Limassol is the Limassol Castle, a medieval fortress dating back to the 14th century. The castle was built by the Byzantines and later expanded by the Lusignans and the Venetians.
Today, the castle houses the Limassol Medieval Museum, which showcases the city's rich history and culture through a collection of artifacts, weapons, and armor.
>> The museum is open every day from 9 am to 5 pm and from 10 am to 5 pm during the weekends. The ticket is €4,50, and there's more information on the website of the museum.
Visitors can explore the castle's various chambers and towers, including the chapel of Ayia Napa, which features stunning frescoes from the 15th century.
The castle also offers panoramic views of the city and the sea, making it a perfect spot for taking photos.
Explore the Ancient City of Kourion
Located just a short drive from the city center, Kourion was one of the most important city-kingdoms in Cyprus during the Hellenistic and Roman periods.
Today, visitors can explore Kourion's well-reserved ruins and learn about its fascinating history.
Highlights of the site include the impressive Greco-Roman theater, which offers stunning views of the Mediterranean Sea, and the House of Eustolios, a beautifully restored Roman villa with intricate mosaics and frescoes.
Visitors can also see the remains of the city's public baths, the early Christian basilica, and the impressive stadium, which once hosted athletic competitions and gladiator games.
Stroll around the Old Town
One of the best things to do in Limassol is to take a leisurely stroll around the charming old town.
The historic area is filled with narrow streets, traditional houses with colorful shutters, and quaint shops selling local handicrafts and souvenirs.
The old town is also home to numerous excellent restaurants and cafes, where visitors can sample delicious Cypriot cuisine and enjoy a refreshing drink.
Visit Kolossi Castle
Kolossi is a 13th-century castle only just a short drive from the city center, offering a fascinating glimpse into Cyprus' history during the Crusader era.
Here, you can explore the castle's many rooms and corridors, including its impressive grand hall and beautiful chapel. The castle also features a beautiful courtyard and gardens, which are perfect for a leisurely stroll or a picnic lunch.
Also, apart from its historical significance, Kolossi Castle offers stunning views of the surrounding countryside, making it a fantastic spot for photography enthusiasts.
The castle is open every day from 8.30 am to 7 pm. The entrance fee is € 2,50. There's more information on the official website.
Go for a Drink at the Limassol Marina
Limassol Marina is a modern and luxurious marina offering stunning views of the Mediterranean Sea. Its beauty and ambiance will make anyone feel like a celebrity.
Visitors can choose from a variety of bars and restaurants, each with its own unique atmosphere and menu.
Whether you're in the mood for a refreshing cocktail, a glass of wine, or a cold beer, there's something for everyone.
In addition to drinks, you can also enjoy live music and entertainment, making it the perfect spot for a night out with friends or a romantic evening with a loved one.
Taste the Local Cuisine
Cyprus is known for its delicious and unique dishes, and Limassol is no exception.
Here you can try traditional dishes such as souvlaki, halloumi cheese, and moussaka, as well as seafood specialties like grilled octopus and fresh fish.
Many restaurants in Limassol also offer a variety of vegetarian and vegan options, making it easy for everyone to enjoy the local cuisine.
In addition to the food, you can also enjoy the warm and welcoming atmosphere of the local restaurants, many of which are family-owned and operated.
Relax at the Governor's Beach
Governor's Beach is a beautiful and secluded beach located just a short drive from the city center. It offers a peaceful escape from the hustle and bustle of the city.
The beach features crystal-clear waters, soft sand, and stunning views of the Mediterranean Sea. Also, it is known for its unique rock formations, which provide a picturesque backdrop for photos.
In addition to swimming and sunbathing, you can enjoy various water sports, such as snorkeling and paddleboarding.
There are several restaurants and cafes nearby to enjoy a refreshing drink or a delicious meal.
Enjoy a Day at Fasouri Watermania
If you're looking for a fun and exciting day out in Limassol, Fasouri Watermania is the perfect destination.
This water park is located just a short drive from the city center and offers a wide range of attractions for visitors of all ages, from thrilling water slides and wave pools to relaxing lazy rivers and children's play areas.
The park also features several restaurants and snack bars, as well as plenty of shaded areas and sun loungers for those who want to take a break from the water.
So, whether you're traveling with family or friends, Fasouri Watermania is a great way to beat the heat and have some fun in the sun.
To get the ticket and find out more about opening hours, check out the official website here.
Swim at Aphrodite's Rock Beach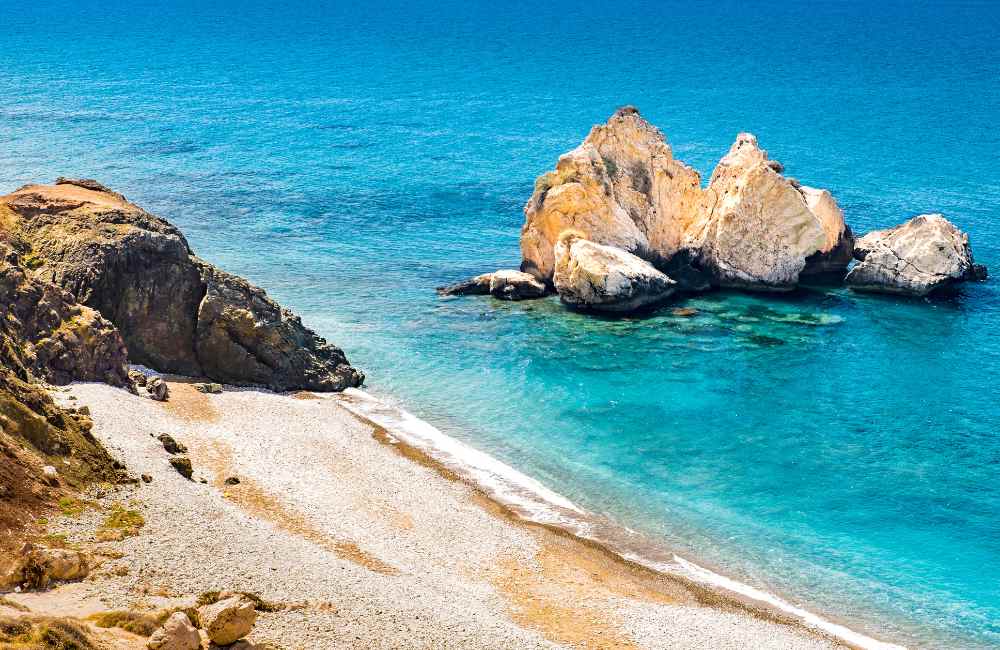 If you're looking for a beautiful beach to relax and soak up the sun, Aphrodite's Rock Beach is the perfect destination.
This stunning beach is named after the famous Greek goddess of love and beauty Aphrodite, who is said to have emerged from the sea foam of the beach.
The beach is a long stretch of golden sand with crystal-clear waters that are perfect for swimming and snorkeling.
The surrounding cliffs and rock formations add to the beach's natural beauty, making it a popular spot for photographers and nature lovers.
There are also several beach bars and restaurants nearby, where you can enjoy delicious local cuisine and drinks while taking in the stunning views.
Take a Day Trip to Kykkos Monastery
A day trip to Kykkos Monastery is a must-do activity for those looking for a cultural and historical experience.
Located in the Troodos Mountains, this stunning monastery is one of the most important religious sites on the island. In fact, the monastery, which is dedicated to the Virgin Mary, is home to a beautiful icon of hers that is said to have miraculous power.
The monastery's architecture is also magnificent, with intricate frescoes and mosaics adorning the walls and ceilings.
Visitors can take a guided tour of the monastery to learn about its history and significance or wander around the grounds and take in the peaceful atmosphere.
The surrounding Troodos Mountain is also a popular destination for hiking and outdoor activities, making Kykkos Monastery a great starting point for a day of adventure.
If you don't feel like heading there on your own, you can join a guided experience that also includes a visit to the small mountain village of Kakopetria.
Visit Alassa
Video courtesy: All About Limassol
If you are interested in history and archaeology, a visit to Alassa ruins is a must-do activity when in Limassol.
The ruins are located in the village of Alassa and are believed to date back to the Hellenistic period. Visitors can explore the remains of an ancient settlement, including a theatre, a temple, and a number of houses with beautiful mosaics.
Additionally, you will find the ruins of a Byzantine church dating back to the 11th century, located just right next to Kouris Dam. The ruins are in a beautiful natural setting, with stunning views of the surrounding countryside.
In addition to the ruins, visitors can also enjoy the village and wander through narrow alleys, admiring traditional stone houses, quaint churches, and the surrounding olive groves and vineyards.
In conclusion, Limassol is a city that truly has it all. From beautiful beaches and rich history to delicious food and exciting nightlife, there is something for everyone.
Whether you are a history buff, a foodie, or simply looking for a relaxing holiday destination, Limassol is the perfect place. With so many amazing things to do and see, it's no wonder that it's one of the most popular cities in Cyprus.
So, if you're planning a trip to Cyprus, make sure to add Limassol to your itinerary. You won't be disappointed.
Best Hotels in Limassol, Cyprus
These are some of the hotels I suggest checking out when looking for the best places to stay in Limassol:
Harmony Bay Hotel: Located right by the sea, this hotel features an outdoor pool and a sun terrace, accommodation with balconies, and views of the Mediterranean Sea. Other facilities offered at the property include a garden, luggage storage, a children's playground, and a vending machine. Restaurants, cafes, and bars are just meters away.
BOOK NOW
Avgi's Home: Located in the heart of Limassol, the units offer carefully preserved accommodation with a private entrance, and a modern kitchenette. Breakfast is also offered. The property is within 10 km of MyMall and Kolossi Castle.
BOOK NOW
Parklane, a Luxury Collection Resort & Spa, Limassol: Offering 1 indoor and 3 outdoor pools this gorgeous hotel is surrounded by landscaped gardens and features tastefully decorated accommodations with views of the garden or the Mediterranean Sea. The venue also offers a playground and a variety of children's activities including a park, a 2-level castle, and a pirate ship with water slides.
BOOK NOW
Niki's House: This family-run, traditional boutique hotel offers affordable, country-style accommodation, in the center of Agios Athanasios village, near the center of Limassol. This former farmer's house offers self-catering studios and apartments surrounded by a large courtyard.
BOOK NOW
Basic Things to Know about Cyprus
Where is Cyprus and How to Get There
Cyprus is located in the southeast portion of the Mediterranean Sea, and southwest Asia. The country stands facing the south of Turkey and the Middle East.
It is just a few hours away from many European cities while several low-coast companies have year-round flights to Larnaca and Paphos, two of the most important towns on the island.
While Larnaca International mostly receives commercial flights from the rest of Europe and is active all year round, Paphos International mostly caters to charter flights during the high season (although some commercial flights arrive in Paphos also in winter).
Read more: Prices in Cyprus: How Much Will it Cost to Go on Holidays in Cyprus?
Moving Around in Cyprus
If you're bold enough to drive on the left (or you already do it in your country), then get ready for a stunning adventure! Driving in Cyprus is certainly a stunning experience that will take you to discover the best of the island.
We did it and enjoyed several towns at our own pace as well as amazing landscapes that we were really not expecting.
Which car rental service is the best to choose?
If you want to rent a car for your trip and look for the best service, then I am here to help you! Consider choosing Discover Cars, an international car rental booking service present worldwide. This way, you will find the best car for your trip wherever you are!
When moving around in the city, remember that bike rental is an affordable and healthy way to move around.
To reach more distant places and in case driving is not what you want, then the local bus network, as well as taxis, are all good alternatives.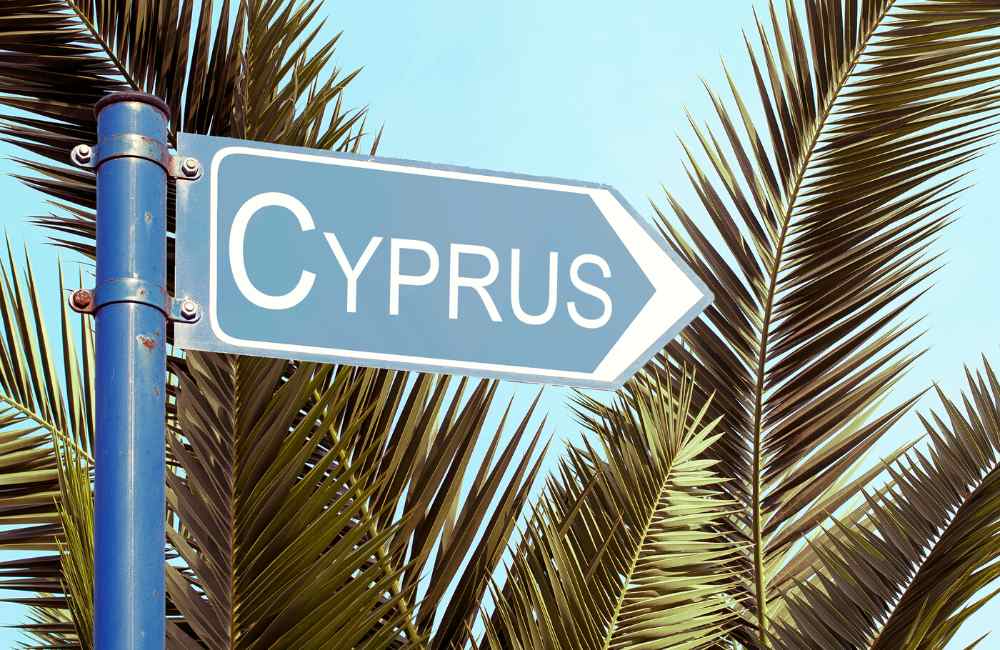 There are no trains or metros on the island, so these are about all the options available to move around. Of course, to visit specific sites and attractions, joining tours and excursions is also a good idea if you want to avoid renting a car.
🛌 Suggested Accommodation in Cyprus:
Pin this Guide to the Best Things to Do in Limassol for Your Upcoming Adventures in Cyprus!
---
You might also want to read these Cyprus travel blogs!
---
About my blog: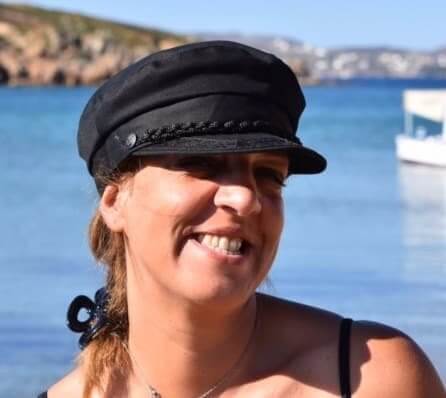 I moved to Crete in 2016. During these years, I learned much about the island.
In Crete, I juggle being a solo mom, hosting culinary tours, and writing for several travel blogs.
I've written for Greek Reporter, published travel guides about Greece, and had more glasses of frappe than any regular person could ever handle.