Cyprus is a true Mediterranean gem and an irresistible summer destination for many. It is an island with gorgeous beach resorts for endless hours at the beach sunbathing and swimming and crystal-clear water. But who says Cyrpus is only a summer destination?
With plenty of things to do, Cyprus in winter promises an unforgettable experience with mild weather and stunning natural scenery. So, keep reading to discover how to have the perfect laid-back winter vacation in Cyprus.
---
Disclaimer: Posts include affiliate links to products or services. I might earn a commission if you make a purchase, at no extra cost.
---
Fun Things to Do in Cyprus in Winter
Basic Things to Know about Cyprus
Get Ready for Cyprus!
RESOURCES TO PLAN YOUR TRIP TO CYPRUS!
Book your flight: I use Skyscanner to compare prices before booking a plane ticket.
Book your accommodation: I've tried many different platforms for accommodation, but none of them beats the advantages of Booking.com.
Book your car: The best way to find an affordable car to rent is to use a powerful search engine that compares all the rental companies in the market. I use Discover Cars.
Book your tours: Live unforgettable adventures and cultural experiences with Get Your Guide. For instance, you can Visit the best landmarks of Ayia Napa and Protaras, discover Trodoos Mountain, explore the ghost town of Famagusta, or relax at the Blue Lagoon.
Don't forget travel insurance: Things can go wrong at times, but travel insurance will protect you against illness, injury, theft, and cancellations. I recommend Safety Wing for peace of mind.
Where is Cyprus and How to Get There
Cyprus is located in the southeast portion of the Mediterranean Sea, and southwest Asia. The country stands facing the south of Turkey and the Middle East.
It is just a few hours away from many European cities while several low-coast companies have year-round flights to Larnaca and Paphos, two of the most important cities on the island.
While Larnaca International mostly receives commercial flights from the rest of Europe and is active all year round, Paphos International mostly caters to charter flights during the high season (although there are some commercial flights arriving in Paphos also in winter.
Moving Around in Cyprus
If you're bold enough to drive on the left (or you already do it in your country), then get ready for a stunning adventure! Driving in Cyprus is certainly a stunning experience that will take you to discover the best of the island.
We did it and enjoyed several towns at our own pace as well as amazing landscapes that we were really not expecting.
Which car rental service is the best to choose?
If you want to rent a car for your trip and look for the best service, then I am here to help you! Consider choosing Discover Cars, an international car rental booking service present all over the world. This way, you will definitely find the best car for your trip wherever you are!
When moving around in the city, keep in mind that bike rental is an affordable and healthy way to move around.
To reach more distant places and in case driving is not what you want, then the local bus network, as well as taxis, are all good alternatives.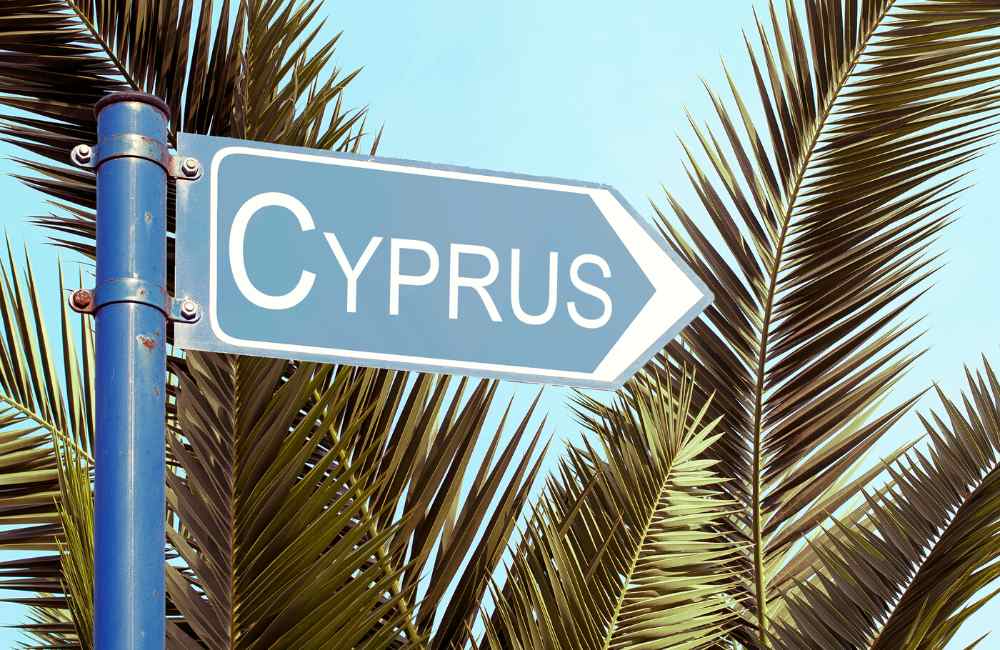 There are no trains or metros on the island, so these are about all the options available to move around. Of course, to visit specific sites and attractions, joining tours and excursions is also a good idea if you want to avoid renting a car.
Why You Should Visit Cyprus
The legendary birthplace of Aphrodite, Cyprus offers a lot more than just a summer destination made of long sunny days and luxury resorts.
Even when you can also enjoy some beach days way into November, the island has a lot more to offer than the popular towns of Larnaca, Limassol, or Paphos.
Incredible hills, mountain pine forests, breathtaking gorges, traditional old towns and lush vineyards, incredible churches or ancient monasteries, and timeless history are just some of the ingredients.
Home to a mysterious Middle Eastern feel, you can also learn about Cyprus' recent history.
You only need to cross the border (do bring your passport) and venture into the northern territory occupied by Turkey.
Over here, check out ages-old churches turned into mosques and fascinating street markets.
Cyprus Winter Weather
The country has a gorgeous Mediterranean climate, mild and pleasant, featuring long summers with quite high temperatures, from late May well into October.
Winters in Cyprus tend to be short and wet, not very cold during the day, with nights slightly chillier. There are several sunny days but quite a few showers too.
Snow is common in the mountains but not in coastal towns.
Spring and autumn are ideal seasons to explore the mountains and enjoy outdoor adventures, you really won't really need to pack heavy coats as you will be able to enjoy quite a few hours of sunshine during the day.
Where to Stay in Cyprus
Before we go through the list of the best wintery things to do in Cyprus, check these suggestions for where to stay.
Limassol
Limassol is the second largest city in Cyprus but is the most cosmopolitan and touristic on the island. It offers accommodation from luxury five-star hotels by the sea to budget-friendly hostels.
Similarly, it has various Airbnbs you can choose from all near the city center, making it easy to explore the city. I recommend checking out this place:
Ajax Hotel
This is a 4-star hotel located in the heart of the city offering easy access to the city's main attractions, the main shopping streets, the archaeological museum, the Old Town, and Limassol's Medieval Castle.
Click here for more information and to get the latest prices.
Nicosia
Nicosia is the capital city and the only one situated in the island's center. Therefore generally, Nicosia is an unpopular destination.
However, Nicosia has many places to visit and is the perfect spot for exploring Cyprus' rural and mountainous areas.
Also, like Limassol, Nicosia has many choices for accommodation, from elegant hotels to budget-friendly inns.
Hilton Nicosia
Quite a convenient 5-star hotel with excellent reviews, the Hilton Nicosia is located in the center of Nicosia City, offering a delicious restaurant on-site, private parking, stylish suites with pool or city views, Hilton Serenity beds, cozy armchairs with ottoman and black-out curtains, and luxurious bathrooms.
Click here for more information and to get the latest prices.
Larnaca
My favorite winter destination in Cyprus, Larnaca (also spelled Larnaka) is situated on the island's eastern coast and hosts Cyprus' biggest international airport, so it is a convenient choice for those traveling to Cyprus via Larnaca.
Also, it is a great choice for those looking for a relaxing vacation away from the big crowds. Here, you can find beautiful beach hotels, cheap hotels, hostels, inns, and rental apartments.
Les Palmiers Beach Boutique Hotel & Luxury Apartments
Boasting a perfect seafront location, only steps from the center of town, this beautiful family-run hotel has personalized service, and offers free private parking and modern suites with views of the Mediterranean Sea.
Click here for more information and to get the latest prices.
Cyprus Winter Holidays
I've never been to Cyprus in winter, instead, this has always been one of my favorite places to visit in December, when the weather is still warm enough to walk by the sea at sunset, even if there are amazing Christmas decorations all over the main towns.
Cyprus in winter has the best to any south Mediterranean destination, including longish sunny days that will easily trick you into spending a gorgeous spring vacation by the sea.
What to Do in Cyprus in Winter
So, if you're spending this upcoming winter in Cyprus, then check out the following things you will certainly enjoy during your winter break on the island!
Explore Nicosia's Old Town
Nicosia may not be a coastal city, but it is as much beautiful. As the capital, it has a vibrant lifestyle offering various entertainment venues for everyone.
The city has a rich history, grand museums, cathedrals, and cultural centers. Furthermore, Nicosia is the world's last divided capital, making the city even more fascinating.
To experience this tragic part of the island, go to Ledra Palace Crossing Point to visit Cyprus' occupied part.
Or, walk along the UN Buffer Zone to see the remnants of the war.
But the best way to enjoy the city is just to wander around Nicosia's Old Town narrow streets with traditional Cypriot architecture.
It is a place full of traditional taverns and shops with souvenirs, folk art, and crafts.
Follow the Aphrodite Cultural Route
Aphrodite is perhaps one of the most famous goddesses among the ancient Greek gods. But what many people don't know is that she was originally from Cyprus.
So, if you want to learn more about the goddess, the Aphrodite Cultural Route is an excellent way to do that. Because it allows you to follow in the footsteps of Aphrodite and wander through layers of history, culture, and mythology.
Specifically, this cultural route is connected to various archaeological sites dedicated to her ancient cult, as well as museums that display unique and rare artifacts.
Kouklia in Paphos, the UNESCO world heritage site, Amathus near Limassol, and Kition in Larnaca are the three main exploring sites of the Aphrodite Cultural Route.
Join Stunning Hiking Tours
Troodos is the largest mountain range in Cyprus, with its highest peak at 1,952 meters, called Olympus. The terrain on the mountain is very diverse, thus offering various hiking routes.
Whether you are looking to immerse in stunning nature views of pine tree forests, breathe in fresh air or go for an exciting hiking activity in Cyprus' incredible nature, Troodos is the right place for you.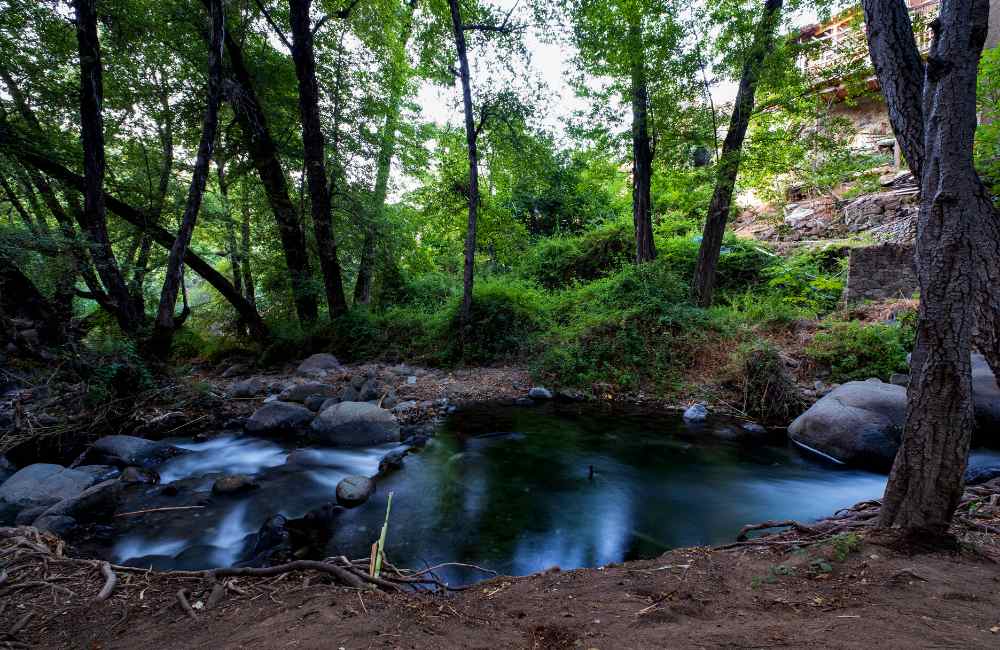 You may think the cold winter weather won't allow you to pleasantly hike. But you will be surprised by Cyprus' relatively mild winter, especially in December.
In fact, it has a welcoming atmosphere that gives breathtaking views of wintery Cyprus.
There are many hiking trails to relish in panoramic views of Cyprus' coastlines and lush mountainous scenery. But some of the best trails are the Kaledonia Nature Trail and Asinou – Agios Theodoros Trail.
Try Skiing on Troodos Mountain
You can't have a winter holiday without experiencing sparkling snow. So, if you don't want to miss the opportunity to see snowy Cyprus, go for a day trip on the snowy slopes of Troodos.
On the top of the mountain, Olympus, you will find Zeus, Hera, Aphrodite, and Hermes. These are ski slopes for skiing and snowboarding, named after the Olympic gods.
Skiers of any level of training can conquer the slopes of Olympus. However, Hera and Aphrodite are for beginners, while Zeus is only for professional skiers.
Besides skiing and snowboarding, you can also go sledding and take a ride on the lift, which is a perfect opportunity to see an alternative beauty in Cyprus.
Spend a Day in Cape Greco
One of the most beautiful places in Cyprus is undoubtedly Cape Greco. Located near the beach resort Ayia Napa, it is mainly known as a summer destination.
And indeed, in the off-season, Ayia Napa turns into a quiet town with most restaurants and clubs closed.
However, Cape Greco is an absolutely unique and beautiful place all year round. It is worth devoting a whole day to this wonder.
Cape Greco has a dozen beautiful bays and lagoons with aquamarine water. Furthermore, it has many kilometers of cycling routes and hiking trails along the path with panoramic views.
Lastly, Cape Greco is home to one of the most beautiful and secluded beaches, Konnos Beach. As well as the beautiful chapel, Ayioi Anargyroi, which features stunning sea views.
Immerse in Omodos' Traditional Lifestyle
Sometimes, the best way to understand a country's lifestyle and culture is by visiting the countryside. Cyprus has many picturesque villages hidden along the central mountain range.
And no matter which season you choose to visit Cyprus, these remote villages will leave you breathless with their stunning ambiance, gorgeous streets, and traditional food.
To taste some of the world's best wines, head to Omodos, a small village in Limassol's district. But generally, Omodos is probably the most beautiful village in the region.
After all, Omodos features pretty cobblestone alleys, a beautiful square, and traditionally built houses, as well as the imposing and majestic Monastery of the Holy Cross, locally known as Timios Stavros.
Marvel at Limassol's Beauty
Located on the south coast, Limassol is the second largest city on the island, offering visitors the opportunity to experience both an urban and coastal vacation.
Limassol's old town is famous for its nightlife scene. There are various venues in cool bars and clubs hosted in traditional buildings, making them even more unique and elegant.
Furthermore, Limassol's new marina is a fusion of traditional and contemporary architecture, offering fantastic spots for perfect, memorable vacation photos.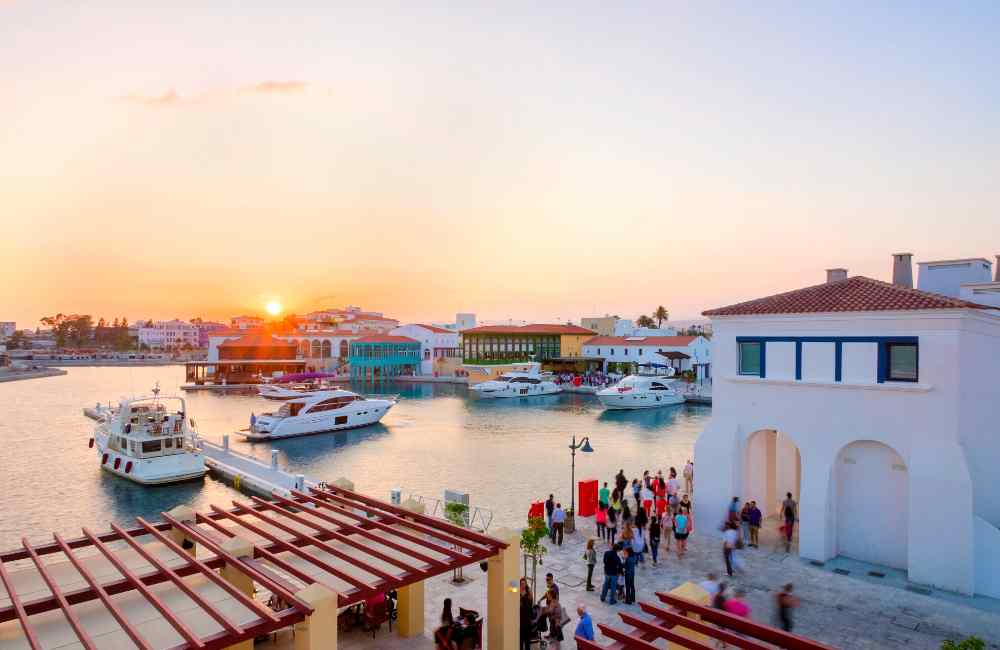 Lastly, Limassol has many archaeological sites to visit, such as Kourion, an ancient Roman city, and Kolossi, a medieval castle.
The best way to discover the city is to walk its streets with a local. This Private Tour of Limassol with a Local Guide is great to get an insider's perspective on the city attractions, meet locals and discover the best places to eat, drink, shop, and play!
Indulge in Cyprus' Delicious Cuisine
When in Cyprus, you must try the local cuisine. It is one of the most distinctive cuisines in the world, with diverse flavors influenced by Greek, Turkish, and Arabic cuisine.
Specifically, visit a local tavern and order meze. And then, indulge in Cyprus' unique and delicious flavors. Be assured that your taste buds will be delighted.
Meze is a selection of small plates that are shared with everyone at the table. On the island, meze starts with a salad, bread, traditional dips, and other appetizers. Then, various main and side dishes, and lastly, dessert.
Other must-try dishes are the souvlaki, and keftedes, a type of meatballs served with bulgur wheat and oven-baked pasta.
And, of course, don't miss out on the traditional, strong Cypriot coffee or the sweet and incredibly delicious Commandaria wine!
If you're interested in learning more about the local cuisine, then check out these activities:
Mountain Towns and Cheesemaking Day Trip with Brunch: Learn how to make traditional halloumi and anari cheeses with a Cypriot family on this full-day trip into the mountain villages of Cyprus. Meet true locals and enjoy an authentic Cypriot brunch. Click here to learn more and book this tour.
Grape Escape – Troodos Mountain Wine Tour with a Local: Discover the Troodos Mountains with a local guide on a small-group tour. Enjoy food and wine tastings. Explore a quaint village and visit a family winery. Click here to learn more and book this tour.
In winter, Cyprus is still a warm and vibrant holiday destination, offering diverse experiences. It is a beautiful island with many things to do and see.
But what makes it a unique winter destination is that you can experience both snow and the beach at the same time! So, what are you waiting for? Prepare your bags and let Cyprus mesmerize you!
Are you visiting Cyprus this winter?
Let me know in the comments below!
You might also want to read these other winter guides!
Pin this Winter Guide to Cyprus for your Next Adventures!
About the author of this blog: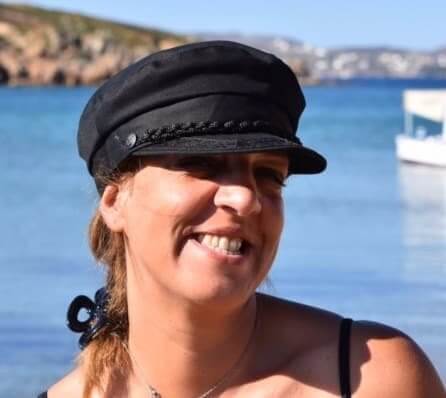 Gabi has been living in Crete for the last six years. On the island, she juggles being a solo mom, hosting culinary tours in summer, translating, and freelance writing for several travel blogs.
She's written for Greek Reporter, published several travel guides about Greece, and had more glasses of frappe than any regular person could ever handle.