Prague is known as one of the most romantic cities in Europe, so can you imagine how stunning it turns in winter? Let me tell you, a winter holiday in Prague is the perfect fairytale story.
So, keep reading to find out everything you need to know about this destination when the temperatures go down. Explore the best things to do in Prague in winter for a fairytale-like holiday in this magical European city.
---
Disclaimer: Posts include affiliate links to products or services. I might earn a commission if you make a purchase.
---
Best Things To Do in Prague in Winter
Basic Things to Know about Prague
RESOURCES TO PLAN YOUR TRIP TO CZECHIA!
Book your flight: I use Skyscanner to compare prices before booking a plane ticket.
Book your accommodation: I've tried many different platforms for accommodation, but none of them beats the advantages of Booking.com.
Book your car: The best way to find an affordable car to rent is to use a powerful search engine that compares all the rental companies in the market. I use Discover Cars.
Book your tours: Live unforgettable adventures and cultural experiences with Get Your Guide. For instance, you can skip the line to visit Prague Castle or sail along the Vltava River. You can also enjoy an authentic Medieval dinner, or explore the Old Town and access the Astronomical Clock.
Don't forget travel insurance: Things can go wrong at times, but travel insurance will protect you against illness, injury, theft, and cancellations. I recommend Safety Wing for peace of mind.
PRAGUE CARDS & PASSES: There are a few convenient passes that allow you to save time and money, and see the sights at your own pace. You will also enjoy discounts on tours and shows and get free entry to different monuments.
You can buy the official Pass with public transport or check out this Prage CoolPass with access to over 70 attractions.
Where is Prague
The Czech Republic is a gorgeous country located in central Europe. The capital but also the most important city in the country is Prague.
Prague is also the historic capital of Bohemia province. It lies next to the important Vltava River. The country is located in Central Europe, bordering Slovakia, Germany, and Poland.
Why You Should Visit Prague
There are countless reasons to visit Prague, first of all, the city is small, compact, and very easy to discover in just a couple of days. It is very pedestrian-friendly and a perfect destination for a European weekend away.
But there is more to Prague than that… The city owns a unique history, partly because it had a leading character during the Habsburg Monarchy and the Austro-Hungarian Empire.
The city was also a key protagonist during the Thirty Year's War and the Protestant Reformation that took place in several European countries.
Prague was also the capital of former Czechoslovakia during the post-war Communist years.
However, the thing that will strike you the most about Prague is its cultural atmosphere. Personally, I love to describe it with just one phrase: Prague breathes art!
Art is everywhere in town, through its architectural styles, including a strong Gothic influence, but also Romanesque, Renaissance, Baroque, and even Liberty.
You will also be able to marvel at its cultural wonders, including Prague Castle, the Klementinum, the unique Jewish Quarter, and a lot more.
Finally, don't forget that Prague's historic center is included in the list of UNESCO's World Heritage Sites.
Good to Know: The Czech Republic is also known as Czechia. In fact, in 2016 the country adopted the name "Czechia" as a shortened, informal name for the Czech Republic.
How to Get to Prague
Located in the center of Europe, getting to Prague is quite easy, meaning that you will only need a short flight from almost any city on the continent. However, you can also reach Prague by train.
The city's Vaclav Havel Airport is the most important in the country and it is located about 15 minutes from the center.
It receives flights from most European cities from low-cost carriers including Easyjet, Ryanair, Vueling, and WizzAir. Direct flights from the U.S. (Delta, KLM) or Canada also exist.
✈️ Find cheap flights with Skyscanner.
Getting to Prague by train and bus is also possible. There are several affordable connections between Prague and Vienna, Bratislava, Budapest, and other Central Europe countries. You can find more details here.
How to Move Around in Prague
Upon arrival at the city airport, you can get to town by taxi or private transfer, something still quite affordable.
Another alternative is to take bus 119 and get off at Nádraží Veleslavín Station (Line A of the city metro) that, with the same ticket, takes you to the old town district.
You can save some money and still travel comfortably by booking a shared shuttle from (or to) Václav Havel Airport.
To move around in the city, you can use Prague's efficient public transport network which includes metros, trams, and buses, as well as very affordable taxis and even the Petřín Funicular Railway which takes you to the top of Petřín Hill.
Passes and tickets for public transport can be purchased at any metro station and all tickets must always be validated before the trip.
Prague in Winter Weather
Although temperatures start going down from the end of September, really cold weather can be felt from December until the end of February with temperatures ranging from 4 °C to -1 °C.
Even when I believe that Prague is simply amazing in summer, if you're not bothered by cold weather, winter is the best time to visit Prague if you enjoy the Holiday season.
Christmas in Prague is perfect for those who love markets, mulled wine, trees, and decorations!
Prague in the Snow
Although it does not snow a lot at the beginning of December or in February, be certain that you might encounter occasional snowy days in the last week of December (perfect for that magic Christmas vibe, right?) as well as in January in Prague.
Where to Stay in Prague
There are many great places to stay in Prague, even if you wish to stay in the historic center.
I've always chosen the Malá Strana district (also known as Lesser Town) to stay in. I love its tranquil vibes despite being just steps from the historic center. Check out this gorgeous flat where we stayed in Malá Strana.
We did not use much public transport as everything was within a short distance. However, we did travel on the so-called tourist tram (Line 22) which passes through this district.
There is also a metro stop (Line A) in the area, Malostranska.
Malá Strana is located on the left bank of the river, but still very quiet and residential. It is part of the area known as Prague 1 which also includes the old district (Staré Město).
Before we go through the list of the best wintery things to do in Prague, check these suggestions for where to stay.
Convenient: Sophie's Hostel
Sophie's Hostel may be a budget-friendly lodge, but it features a modern design and luxury amenities. But unlike a hotel, it is less expensive and has dorms. It is ideal for solo travelers and young adventurers.
Click here for more information and to get the latest prices.
Mid-range: Malostranská Residence
Located in Prague's Malá Strana neighborhood, this is a romantic place to stay with stunning views. Furthermore, it is only a few minutes away from Charles Bridge, making it perfect for exploring Prague's fairytale-like center on foot.
Click here for more information and to get the latest prices.
Luxury: Golden Well Hotel
Located close to Prague Castle, Golden Well Hotel is a 16th-century royal villa that once was Emperor Rudolf's home. It is a small complex with only 19 guest rooms and suites, all regal and elegant, transporting you to a different era. Other amenities include a restaurant that provides room service for breakfast, lunch, and dinner, as well as a lovely rooftop terrace.
Click here for more information and to get the latest prices.
Top Things to Do in Winter in Prague
In no particular order, these are some of the best things you cannot miss in Prague when the temperatures go down!
Visit Prague Castle
No matter what season you plan to visit Prague, you must visit this beautiful and enormous castle. After all, it is a UNESCO-listed site.
A lot more than just a castle, the complex features stunning palaces, the imposing Saint Vitus Cathedral as well as other churches.
You will marvel at unique towers, gatehouses, gardens, and tons of cultural treasures. Probably the most incredible place of all is Golden Lane, where Frantz Kafka's house is still open to the public.
However, winter indeed has its advantages. First of all, during winter, there are shorter lines because generally there are fewer tourists.
Be aware that it is required for everyone to pass a security check.
That means you will need to open your bags to show their contents and pass through a metal detector frame.
During winter, Prague Castle is undoubtedly even more magical.
Starting on November 23 and until the first week of January, the castle hosts two Christmas Markets, one at St. George's Square and another one in the Stables Yard.
Like most Christmas markets, they feature numerous stalls selling everything from handmade wooden toys to glass ornaments and many hot foods and drinks.
You can visit Prague Castle by taking advantage of these tickets and tours:
Explore the Old Town Square
Prague's most famous tourist attractions are all conveniently located at the fairytale-like Old Town Square.
It is the heart of the city and is surrounded by several beautiful Gothic buildings, such as the Church of Our Lady, the Baroque Church of St Nicholas, and the Old Town Hall with the magical Astronomical Clock.
In the wintertime, especially during the Christmas period, the square is beautifully decorated with vibrant lights, red-roofed market stalls selling hot chocolate and mulled wine and a giant Christmas Tree.
In other words, during winter, the square is a real-life fantasyland. To fully enjoy this charming spot, be sure to watch the procession of the Twelve Apostles as the Astronomical Clock strikes every hour. It is a unique ceremony that is even more magical on New Year's Eve.
These tours can help you discover a different side to the Old Town and the rest of Prague:
Discover the Jewish Quarter
The Jewish Quarter, or Josefov as it's known in Czech, is a must-visit in Prague in winter. It features a maze of lanes with beautiful colorful buildings and quite a horrific history.
To experience the area's history, be sure to visit the museum, which is a symbol of the life and survival of thousands of Holocaust victims.
Furthermore, the area features monuments such as the Maisel Synagogue, the Pinkas Synagogue, the Spanish Synagogue, the Klaus Synagogue, and the Ceremonial Hall.
Another spooky yet beautiful spot you should visit is the Old Jewish Cemetery. It is the oldest surviving in Europe, with around 12,000 stones jumbled together atop approximately 100,000 graves.
You will certainly learn more about this fascinating corner of town by joining a walking tour of the Jewish Quarter that also includes admission tickets.
Catch the Sunrise from Charles Bridge
Charles Bridge is probably one of the most famous bridges in Europe and for a good reason. It is a stunning 14th-century bridge that inspired many artists, writers, and photographers.
Usually, Charles Bridge is overcrowded with overzealous tourists wanting a photo of the stunning scenery.
Furthermore, at the bridge, you will often find street artists or stalls selling art, crafts, and handmade jewelry.
So, to avoid the crowd, the best time to visit the bridge and take stunning photos is at sunrise. And you don't really need to set up the clock that early after all!
I got there just a little before 7 am and I was able to catch the first sunrays without a soul around.
During winter, the bridge is surrounded by thick, cotton-like fog creating an eerie, magical atmosphere.
Also, even though Charles Bridge is gorgeous from every angle, head to the Old Town Bridge Tower to get a shot with a snowy Prague Castle in the background.
Tour Prague's Museums and Galleries
There is a certain beauty to exploring Prague's narrow streets, colorful buildings, and cityscape vistas from Charles Bridge in snowy winter.
But it might be more appreciated to escape indoors and discover the city's culture and history through museums.
Whether you're a history enthusiast or more interested in bizarre exhibitions, Prague surely has a museum to satisfy your curiosity.
To experience the city's culture, visit Franz Kafka Museum, which exhibits the writer's original letters, photos, diaries, and manuscripts.
If you're more interested in odd sculptures but are not particularly crazy about art galleries, check out the spectacular main Post Office Neo-Renaissance building near Wenceslas Square (Jindřišská Street).
Alternatively, look out for Lucerna Gallery, a covered passage with a unique upside-down horse statue (61 Štěpánská Street).
Similarly, the Museum of Communism offers an insight into post-World War II life with a school classroom, interrogation room, and propaganda posters.
For a historical tour, the National Museum is a must-visit. It features a large collection that covers everything from puppets to medieval art and weapons to zoological and anthropological displays.
The following original tours and activities in Prague will guarantee that you do something completely different while exploring the best of the city in winter:
Watch a Seasonal Show
You can't have a European winter holiday without watching a seasonal performance at one of the many theaters, opera houses, or even churches.
Prague has numerous spots for concerts, musicals, and other special performances.
However, in December, the whole city turns into a large stage. Dance shows, chorus presentations, and orchestras perform special Christmas concerts all around the city.
Look for special classical music performances at the Basilica of St. George at Prague Castle or the Mirror Chapel at the Klementinum Library complex, where Mozart once played the organ.
Or, check the schedule at the majestic Smetana Concert Hall at the Municipal House for orchestras, operas, and gala concert venues.
My favorite, and definitely my kids' favorite was an exhibition at the Black Light Theater (Srnec). They enjoyed it immensely and laughed from the beginning to the end.
We booked the tickets in advance here and arrived a bit earlier so as to also visit the nearby Museum of Communism (which was not necessary to book).
>>Spending time in Prague in New Year? Listen to live jazz music while taking in gorgeous views of the city. Ring in the New Year with a glass of prosecco and fireworks at Charles Bridge. Check out this New Year's Eve Cruise.
Go Ice-Skating
Unlike other European countries, the Czech Republic is passionate about ice hockey. So, it is no surprise that the locals also love ice skating.
The city hosts a range of ice skating rinks on postcard-pretty backdrops. For instance, you will find ice rinks near the Estates Theatre, the river, the iconic Zizkov TV Tower, and Galerie Harfa Shopping Mall's rooftop.
When winter is very cold and the river's water freezes, you can see Czechs ice-skating on the Vltava River or the Slapy dam, about an hour outside Prague.
The Exhibition Grounds Holesovice and Ice Arena Letnany offer indoor ice rinks if you prefer to avoid Prague's cold winter.
Relax in a Sauna
What's a better way to avoid the cold winter wind than warming up in a sauna? In the Czech Republic, saunas are a centuries-old tradition, so they are often found at spas, wellness centers, public swimming pools, and even water parks.
In Prague, you will find large places offering several sauna options. Some types are the Russian banya saunas, Finnish saunas, and steam rooms, with very high humidity and combination systems.
You will also find Roman baths, a type of semi-private steam cabin where temperatures reach 65 degrees Celsius, and warm swimming pools with ionized water kept at 30 degrees Celsius.
It is definitely worth trying a sauna. However, be aware that saunas are usually mixed, and nudity is a common practice, so be prepared.
As you could see, in winter, Prague turns into a snowy, vibrant fantasyland, making you feel like you traveled in a romantic Disney movie. Overall, it is a majestic city. But in winter, it has an unparalleled vibe that you don't want to miss!
---
Are you visiting Prague in winter this season?
Let me know in the comments below!
You might also want to read about these other magic winter destinations in Europe:
Pin This Guide to the Best Things To Do in Prague in Winter!
About my blog: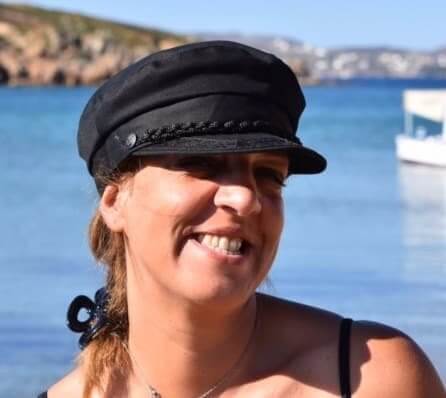 I moved to Crete in 2016. During these years, I learned much about the island.
In Crete, I juggle being a solo mom, hosting culinary tours, and writing for several travel media.
I've written for Greek Reporter, published travel guides about Greece, co-authored DK Eyewitness Top 10 Crete, and had more glasses of frappe than any regular person could ever handle.