European cities have always been a favorite destination thanks to their magical and fairy-tale vibe. No matter what season you visit, they offer a beautiful ambiance, perfect for stunning pictures and incredible memories. But undoubtedly, Christmas in Europe brings out a charm and beauty that no one can resist.
The cobbled streets, vibrant markets, colorful lights, tasty Christmas snacks, and mulled wine are just a few things that make Europe a must-destination at Christmas. Read below some of the best European cities for Christmas to spend an unforgettable merry season!
---
Disclaimer: Posts include affiliate links to products or services. I might earn a commission if you make a purchase, at no extra cost.
---
Top European Destinations for Christmas
if you're looking for the perfect European Christmas destination, check out the ideas in the following lines!
Prague, Czechia
Prague is one of the most romantic cities in Europe, so Christmas in this fantastic city is undoubtedly magical. The city turns into a spectacular Disney movie set that will make you fall in love.
The Old Town Square hosts an impressive Christmas market with several stalls selling local arts and crafts, Christmas ornaments, and tasty local food and desserts. A must delicacy you shouldn't miss is trdelník, a traditional hot sugar-coated pastry.
Furthermore, the square is decorated with bright holiday lights, a stable full of donkeys, goats, and sheep, and there are music concerts by local artists daily.
Apart from the Old Town Square, you will find many other Christmas markets around the city and at most tourist attractions such as Wenceslas Square, Prague Castle, and Náměstí Míru. This post tells you more about all the things you can do in Prague during winter!
Vienna, Austria
Vienna is a charming city with an elegance you rarely find. It has spectacular castles and numerous museums to immerse in the city's history and culture and is known for its gorgeous music halls and operas.
During Christmas, all this charm and elegance reaches the maximum. The city is decorated with myriad bright lights and hosts beautiful Christmas markets providing a festive mood.
The best thing to do while in Vienna is to head to Viennese Christkindlmarkts for tasty traditional sausages and hot chestnuts.
Markets can be found at most palaces. such as Schönbrunn and Belvedere, at Stephen's Square and Rathausplatz.
But you can't visit Vienna on Christmas without indulging in its music culture.
Every church and palace hosts several music concerts in a Baroque grandeur ambiance, and the Opera House hosts fantastic performances that shouldn't be missed.
Munich, Germany
Munich's Christmas markets are famous for being the largest in Europe and for their unique character and theme.
The largest market is at Marienplatz, beneath the Neo-Gothic city hall. Here, you'll find sparkling decorations and handcrafted art and crafts in stalls ornate with lights and frosted gingerbread hearts.
Nearby you will also find the Kripperlmarkt, which mainly sells figurines of the Oberammergau and Alpine villages in Bavaria. These can either be mass-produced, beautifully hand-modeled, or delicately carved wooden figures.
However, the most beautiful Christmas market is the cluster of cabins inside the courtyards of Residenz palace and Wittelsbacher Platz. It is known as the Medieval Christmas Market and is filled with arts of the Middle Ages, including blacksmithing, leatherwork, fine bookbinding, and calligraphy.
London, England
London is undoubtedly a top destination all year round. It is an exciting city with various things to do and see. And during Christmas, this fun vibe expands exponentially.
Specifically, London becomes a vibrant light fair. For instance, department stores feature magical scenes, museums turn into ice rinks, and parks become winter wonderlands with Bavarian-style villages serving gluhwein.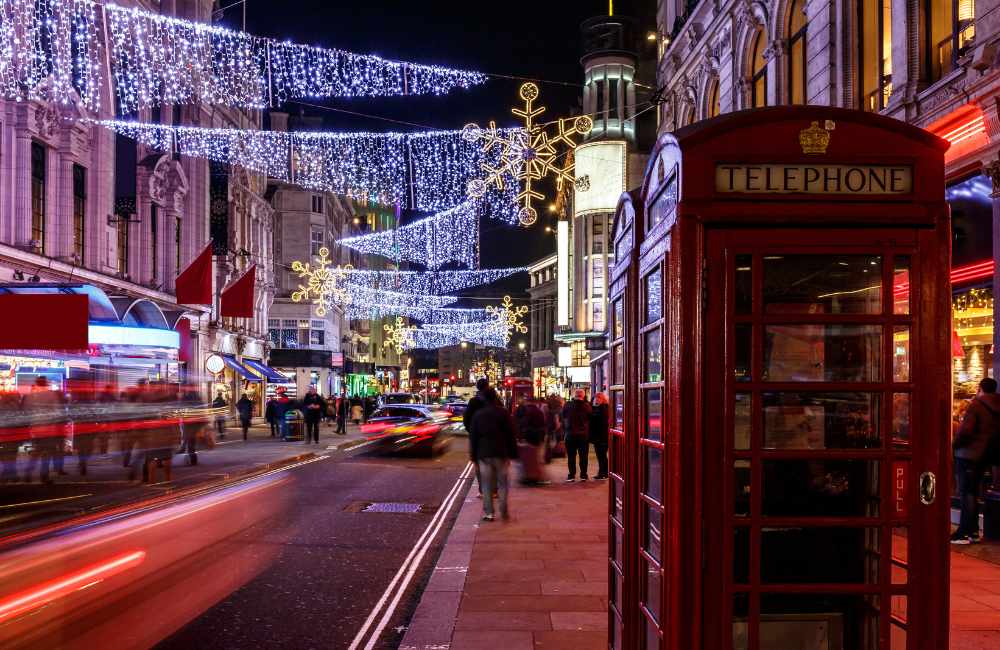 For a Christmassy experience, visit the Christmas Market at Tate Modern. It offers handmade wooden toys and festive snacks such as gingerbread and mulled wine.
Also, drop by Harrods to see its Christmas lights and fantastic imaginative window displays.
Lastly, make sure to visit the Tower of London, which returns to 1284 by recreating scenes from the court of Edward I during its medieval Christmas at the end of December.
Colmar, France
Colmar is one of the most stunning well-preserved 13th-century towns in the region of Alsace, about an hour from another amazing Christmas destination in France, Strasbourg!
Colmar is often called Little Venice due to its waterways that flow through medieval streets, and it undoubtedly looks like it came out of a storybook.
Surely, Colmar is a beautiful destination year-round. But this hidden town is one of the most magical Christmas spots in the world. In fact, here, the Christmas spirit can be experienced in its purest form.
The town features several Christmas markets linked with beautiful illuminations and lights through the labyrinth of narrow streets lined with century-old half-timbered houses.
Furthermore, nestled in the town squares, the markets are like mini villages, featuring stalls by passionate and enthusiastic artisans exhibiting unique products.
There are also Christmas-themed guided tours, wine tastings, traditional toy exhibitions, concerts, and other performances.
Rovaniemi, Finnish Lapland
If you ever wished to visit Santa Claus' home and workshop, Rovaniemi can make your dream come true. After all, since 2010, it has been honored with the title of Official Hometown of Santa Claus.
Located 6.4 kilometers inside the Arctic Circle, Rovaniemi offers a North Pole Christmas experience, featuring an outpost of St. Nick's workshop and the Santa Claus Village.
It's a fantastic destination for people of all ages. You can marvel at this spectacular winter wonderland of deep snow and pine forests.
And children can indulge in many activities, including Elf's Farm Yard Zoo, Elf's Hat Academy, snowmobiling safaris, dog sledding, reindeer sleigh rides, ice-skating, and sledding.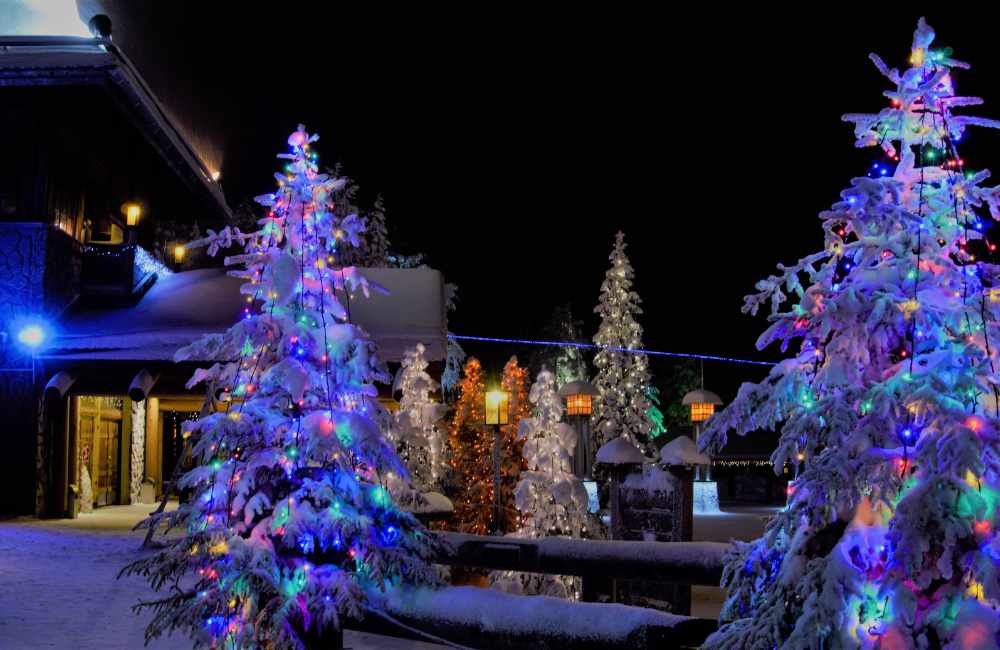 Additionally, there is an excellent guided tour to explore the village and Rovaniemi. It includes a sleigh ride, a meet-and-greet with Santa, and admission to the Arktikum Arctic Museum and the Arctic Snowmobile Museum.
>>Looking for other great experiences out there? Check out the Santa Claus Village Handmade Workshop Tour to live the magic of the season!
Click here for more details and to book this tour.
Tallinn, Estonia
It is said that Tallinn's Christmas Market is one of Europe's most charming and authentic. It offers various stalls selling wooly hats and handcrafted wooden ornaments.
Although Tallinn is an underrated destination, it features a UNESCO-protected Old Town with medieval architecture, reminding of a fairytale-like setting.
Visiting Tallinn in winter and at Christma means you will be able to experience traditional food, warm cafes, and an authentic Estonian adventure you will never forget. This Medieval Tallinn 2-Hour Old Town Walking Tour runs all year round and it's even more amazing during the season!
Furthermore, since during December, the city gets very cold, it doesn't get overcrowded with tourists like in the summer months, allowing you to stroll around more peacefully.
Christmas is a magical time full of vibrant, colorful lights and ornaments, delicious, warm food and snacks, tasty mulled wine, and fantastic markets to browse handcrafted art and crafts.
Thankfully, Europe is the epitome of magic, fairytale-like ambiance, and charming cities. So, choose one of these magnificent European cities for an unforgettable Christmas holiday.
---
Are you spending Christmas in any of these European cities?
Let me know in the comments below!
You might also want to read these posts:
Incredible European Destinations for Summer!
---
Pin this Guide to the Best European Cities to Visit at Christmas!
About the author of this blog: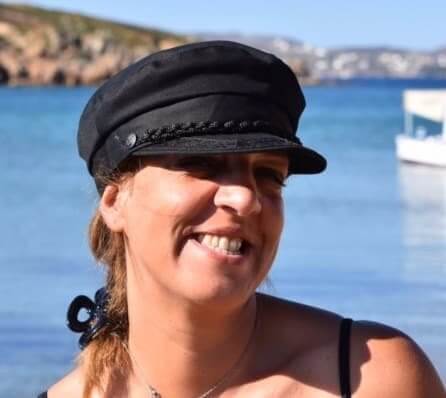 Gabi has been living in Crete for the last six years. On the island, she juggles being a solo mom, hosting culinary tours in summer, translating, and freelance writing for several travel blogs.
She's written for Greek Reporter, published several travel guides about Greece, and had more glasses of frappe than any regular person could ever handle.