Wondering if you should visit Florence in winter? Or unsure of what to do when it is cold outside? In short, Florence is a magical place all year round, so it makes all the sense in the world to visit it whenever you can. And as proof, here are seven of the best things to do in Florence in winter.
---
Disclaimer: Posts include affiliate links to products or services. I might earn a commission if you make a purchase at no extra cost.
---
Basic Things to Know about Florence, Italy
RESOURCES TO PLAN YOUR TRIP TO ITALY!
Book your flight: I use Skyscanner to compare prices before booking a plane ticket.
Book your accommodation: I've tried many different platforms for accommodation, but none of them beats the advantages of Booking.com.
Book your car: The best way to find an affordable car to rent is to use a powerful search engine that compares all the rental companies in the market. I use Discover Cars.
Book your tours: Live unforgettable adventures and cultural experiences with Get Your Guide. For instance, you can visit the Colosseum, discover Milan's Duomo, explore Pompeii, or wander the streets of Florence.
Don't forget travel insurance: Things can go wrong at times, but travel insurance will protect you against illness, injury, theft, and cancellations. I recommend Safety Wing for peace of mind.
Where is Florence
Florence is the capital of the Tuscany region in the upper central area of Italy, only 2-4 hours from the main northern cities in the country, including Venice, Milan, and Turin. Florence is also a very popular winter break destination in Europe, among many others, such as Berlin, Budapest, and Amsterdam!
The capital of Italy, Rome, is about 90 minutes by train from Florence. The city's main train station, Santa Maria Novella, has several daily connections to many other cities and smaller towns in the country.
How to Get to Florence and Moving Around
The best way to get to Florence is by train. The country has one of the best train networks in Europe including high-speed trains but also cheaper options, including regional and intercity trains.
It is possible to fly to Florence from other Italian cities as well, Amerigo Vespucci Airport is the second busiest airport in the region, after Pisa International Airport.
It receives regular flights from Athens, Frankfurt, Madrid, Vienna, and other places in Europe while there are seasonal flights from other European countries arriving from May to September.
It is also possible to travel by long-distance bus or to rent a car to move around.
Even when Florence is a very pedestrian-friendly town, quite compact and easy to visit on foot, a car comes in handy for those who intend to visit the broader region of Tuscany or tour the local wineries and nearby towns.
When to Visit Florence other than in Winter
Yes, I am aware that this article suggests a visit in winter. My very first trip to Florence was during January and except for a very bad memory (I lost my passport, but it was not Florence's or the weather's fault), it was the best moment to avoid the crazy overpopulated streets and museums typical of summer.
I also visited with my kids in June finding prices extremely inflated for absolutely everything!
Shoulder seasons, normally spring and fall tend to be better than summer, the weather is quite pleasant to walk around and accommodation not as expensive.
Where to Stay in Florence
You will find hundreds of hotels, residences, and rental apartments or villas to choose from. The choice can be overwhelming. For that reason, I will down describe the hotel where I stayed and and also suggest other three other properties worth checking.
Remember that booking in advance is always a good idea when visiting such a popular tourist destination as Florence.
My Hotel in Florence:
Don't think that winter will bring better fees or more availability, the city is popular all year round, so booking at least three months before the trip is the best way to ensure convenient fees.
I will always treasure the memory of my first 4-day stay in one of Florence's nicest hotels almost on the outskirts of town. The location was really excellent.
Just steps from the main landmarks in town, in the tranquil Piazza Piave square, this setting was ideal to explore and move around easily on food, but also to call for a taxi when it was time to reach the station with a massive new bag full of Florence's souvenirs. The hotel is now called Eurostars Florence Boutique.
The hotel has recently changed owners and is now part of a chain, however, its great location, but also the charming eighteenth-century building, the breathtaking views from the terrace, and its elegance remain unaltered. You can learn more and check out the opinion of other travelers here.
More places to stay in Florence:
There are tons of other places you can check out when looking for a place to stay in Florence, the following ones enjoy a really good location to visit the best of Florence on foot.
Best Things to Do in Florence in Winter
Now yes, without any more beating around the bush, let's see what to do in Florence in winter!
Get Warm and Amazed Inside Art Galleries
Florence is a significant Italian cultural hotspot known for its art galleries, architecture, museums, and monuments.
After all, it's been the birthplace of the country's renaissance movement. In other words, the city is a paradise for every history or culture enthusiast. And the best news? Exhibition halls are perfect for escaping the winter cold!
If you can't decide which gallery to visit first, Academia and Uffizi are two obvious candidates. The first one is where you will be able to experience Michelangelo's David (there is a stunning copy you can see at Piazza della Signoria).
The latter is so grand in size and glamor that it has become part of the city's identity. Inside, you will come in touch with an unprecedented collection of Italian Renaissance art that will leave you overwhelmed by human creativity.
Another interesting place featuring the best art exhibitions in Florence is the Pitti Palace, in the Oltrarno district.
Best art gallery tickets:
Stroll Around the Historical Center
Florence rarely sees snow, so strolling around is an excellent way to stay warm and experience the city. Plus, there'll be fewer crowds than what you could find in spring or summer.
As a result, walking the city's narrow streets, picturesque squares, and historic buildings becomes even more fun!
Start your stroll in Piazza Della Signoria and enjoy the sculpture replicas that decorate the square. From there, explore the little side streets and head southeast to take a picture of Ponte Vecchio, the city's oldest bridge.
While you cross to the other side, you'll notice the bridge feels like a residential street, with houses above and jewelry shops all around. Isn't that cool?
Climb the 463 Steps to the Top of Florence's Duomo
If walking hasn't warmed you up enough, consider climbing the Cathedral of Santa Maria del Fiore.
It's not only an iconic symbol of Florence, but the views from its top are breathtaking.
What makes the ascend even more remarkable is that you'll be standing in a fifteenth-century dome and bell tower!
Entrance to the church is free, but you'll need a ticket to climb it. It is worth every penny of it, though. Plus, it will give you access to the cathedral's crypt and baptistery.
So, grab this chance to explore these relatively remote parts of the basilica. You'll love every bit of the experience.
To visit the cathedral and make the most of this experience, you can join any of these organized tours:
Duomo, and Brunelleschi's Dome Guided Tour: Perfect to skip the long lines of the Santa Maria del Fiore Cathedral and explore the church with an expert guide. You will also climb the dome to enjoy 360° views of Florence. Click here for more details and to book this tour.
Cathedral, Duomo Museum, and Baptistery Tour: This tour takes you to see this historic landmark in Florence with pre-reserved tickets. You will visit the Cathedral, the Duomo Museum, and the Baptistery on a guided trip, then climb Giotto's Bell Tower at your own pace. Click here for more details and to book this tour.
Cathedral Skip-the-Line Entry Ticket: Experience the skyline of Florence from 330 feet and save time with the skip-the-line tickets to the dome and interior of the Cathedral of Florence. Enter the cupola at the selected time and then enjoy the other areas at your own pace within 3 days. Click here for more details and to book this tour.
Treat Yourself to a Tuscan Specialty; There Are a Ton!
After all the walking in cold and humid weather, your belly will inevitably ask for fuel. Thankfully to it and your appetite, you could not be in a better place.
Food in Florence is a perfect example of why Tuscan cuisine is among the best in Italy, if not the whole of Europe. By the way, the same goes for wines!
For an appetizer and to warm yourself up, try a traditional dish such as the Bollito, the Ribollita veggie soup, a Lampredotto sandwich, or a delicious portion of Porchetta inside freshly baked focaccia bread!
Then taste the local risotto or the famous grilled steak of Bistecca Alla Fiorentina with a glass of mulled wine or Punch on the side. Note, though, that you may need some help to finish your plate. The portions are usually massive!
For deserts, the obvious choice is ice cream Gelato. I know what you're thinking: It is Tuscany in winter. Still, it seems like a crime against the food industry to visit Florence and not try Gelato.
At the very least, have it served in hot chocolate or coffee, also known as affogato. By the way, Florence's thick and creamy hot chocolate is the go-to drink whenever you stop by a cafe.
You can learn more about local gastronomy by joining one of these experiences:
Find Local Products at the City Markets
Although you can taste all the Tuscan specialties everywhere in Florence, nothing beats a stroll in the city's most famous indoor market at San Lorenzo. Mercato Centrale consists of two floors, and each is an attraction on its own.
As you explore the ground floor, you'll come across several vendors with local products such as cured meats, cheese, and vegetables.
However, keep an eye out for specialty stores selling homemade items you can bring back home. If you're unsure what you can pack, ask the owners if their products are travel-safe.
Undoubtedly, the Central Market will surprise you the most with its recently renovated first floor. This is the perfect spot to find gourmet food and Italian dishes from around the country.
So, prepare to get spoiled and experience the beauty and variety of Italian cuisine on one single floor. And if that's not enough, you can even take cooking lessons here!
Ice Skate in Firenze Winter Park
If you're looking for winter activities in Florence, you can never go wrong with ice skating at Firenze Winter Park. And that is only one of the things you can try here. Think of ice hockey or even artistic ice skating lessons!
Even if you don't fancy wearing those pointy shoes and trying to balance on thick ice, you must admit watching other people ice skate is so fun.
Especially if the skill levels vary! If you're convinced, you'll find the venue along the Arno River, only 3 kilometers east of the city center, in the gardens of Tuscany Hall.
Feel the Change of Ambiance During the Firenze Light Festival
Another holiday-specific event in Florence, the city's Light Festival is one of the most unique things to experience.
Although it lasts only about a month, starting in early December, it completely transforms Florence's main landmarks and attractions.
Think of laminated and Christmas lights decorating important buildings, monuments, or even city gates. But it's not just plain Christmas decorations.
Every year, there is a theme, meaning the city always looks different. What stays the same, though, is the fun of strolling around Florence during late hours.
Winter in Florence: The Verdict
As you can see, Florence in winter is just as special as any other time. The city's monuments remain scenic while crowds are smaller and lights are everywhere, not to mention that its cultural and food scenes are at their best.
In short, if you're thinking of Florence for your winter or Christmas holiday, don't think more; it's time to look for flights!
---
Are you visiting Florence next winter?
Let me know in the comments below!
You might also want to read these articles:
Pin this Guide to the Best Things to Do in Winter in Florence, Italy!
Written by Dimitrios Tsevremes
Passionate about travel, spirituality, and sports, I have lived in 5 countries and traveled to more places than I have counted. Writing, for me, is a way to express myself and my creativity. Whether I write for my blog or a freelancing gig, I always fall in love with the process and often lose my sense of time. If you want, you can check out more about me and my work here.
About my blog: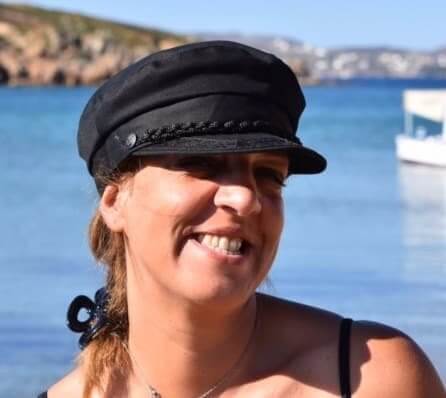 I moved to Crete in 2016. During these years, I learned much about the island.
In Crete, I juggle being a solo mom, hosting culinary tours, and writing for several travel blogs.
I've written for Greek Reporter, published travel guides about Greece, and had more glasses of frappe than any regular person could ever handle.