Dijon is the regional capital of Burgundy in eastern France. Of course, Burgundy is one of the country's top wine-producing areas, but Dijon is better known to many for its excellent mustard!
There is plenty to do in the area, including vineyard tours, food activities, and admiring the amazing architecture of the place.
Let's see all the amazing things to do in Dijon, a perfect place for a short getaway from Paris!
---
Disclaimer: Posts include affiliate links to products or services. I might earn a commission if you make a purchase.
---
Top Things to Do in Dijon
Basic Things to Know About Dijon
ARE YOU PLANNING YOUR TRIP TO FRANCE LAST MINUTE?
Be sure to book accommodation and tours in France ahead of time to ensure availability!
📍 Top tours in France:
🛌 Top picks for places to stay in France:
🚗 Looking for the best way to get around France? Check car rental rates for France now.
💳 Use WISE as a digital card and top-up from the app no matter where you are. Wise is one of the best cards for overseas travel!
Where is Dijon?
Famous for being on the road between Lyon and Paris, Dijon is in the center of the Bourgogne-Franche-Comté region, about 196 km from Lyon and 315 km southeast of Paris, the trip by car from Paris to Dijon takes about 3 hours.
A curious detail: The historical center of the city is a registered UNESCO World Heritage site due to its importance through history in regulating wine production in the Burgundy area.
How to Get to Dijon?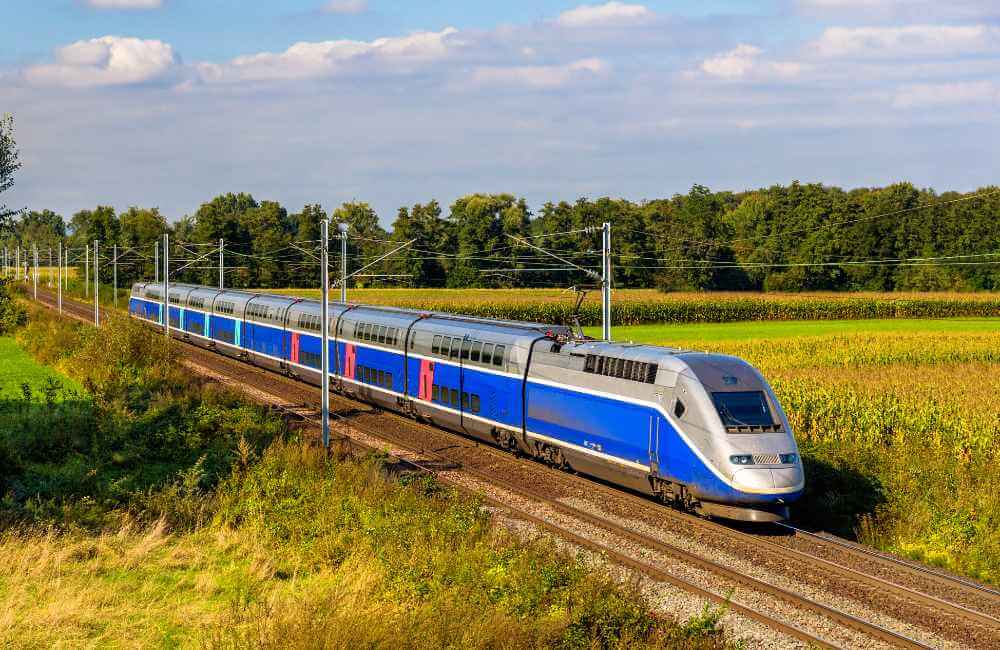 As we said before, driving to Dijon from France can take up to 3 hours, besides it is a great way to discover the French landscape and villages.
If you prefer to save time, you can get to Dijon Métropole by train. There are many High-Speed trains (TGV) that travel to Dijon daily, the trip from Paris is about 90 minutes.
The LGV Rhin-Rhône high-speed interregional line connects Dijon to Lille, London, and Brussels via Paris. You can also reach Dijon from Zurich (2.5 hours) by train.
There are also several daily buses reaching Dijon from other important cities in France, including Paris, Lyon, and Rennes.
How to Move Around in Dijon?
Getting around in Dijon is easy as there are frequent public connections to different areas in the center while there is also a regular tram service too – and both are very affordable!
There are several walking tours in town, however, the popular Scavenger Hunt is one of the best ways to discover the historic heart of Dijon on foot.
You can also check this website to purchase the Dijon City Pass.
Don't miss every secret place in Dijon!
This Self-Guided Audio Tour through the city is less than €6 and it is the best way to walk the streets of Dijon and learn about its important sites. This city smartphone audio guide helps you learn about Dijon mustard, takes you through hidden courtyards, and shows you a unique stone-carved salamander!
Best Time to Visit Dijon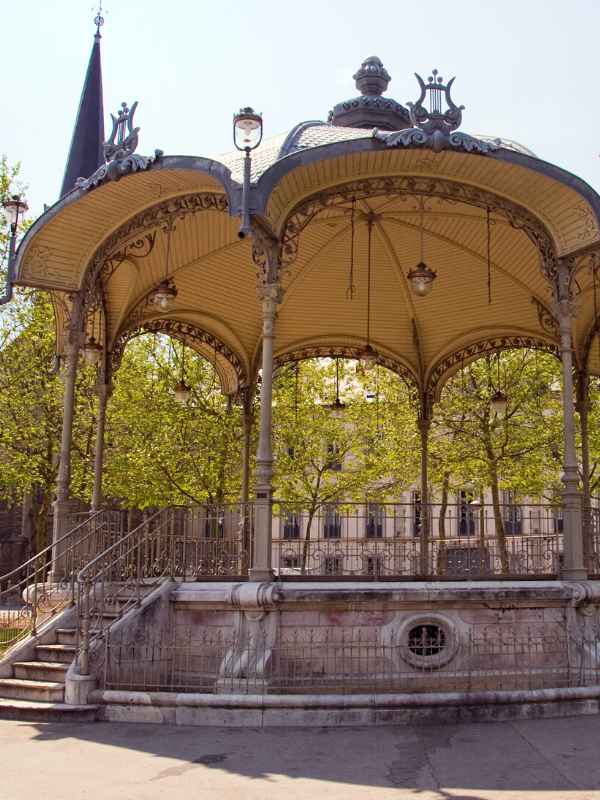 Generally speaking, spring and summer are the months that see most tourists all over France and Dijon is no exception, especially if you want to enjoy pleasant temperatures and little rain.
During these seasons, the average temperatures range from 15 ⁰C to 24 ⁰C, with overall warm and sunny weather and little rain.
Chances are that, if you're a foodie, both Dijon and Lyon are part of your France itinerary. In that case, take into account that autumn is a great time to visit if you want to enjoy Dijon's huge gastronomic fair.
Where to Stay in Dijon?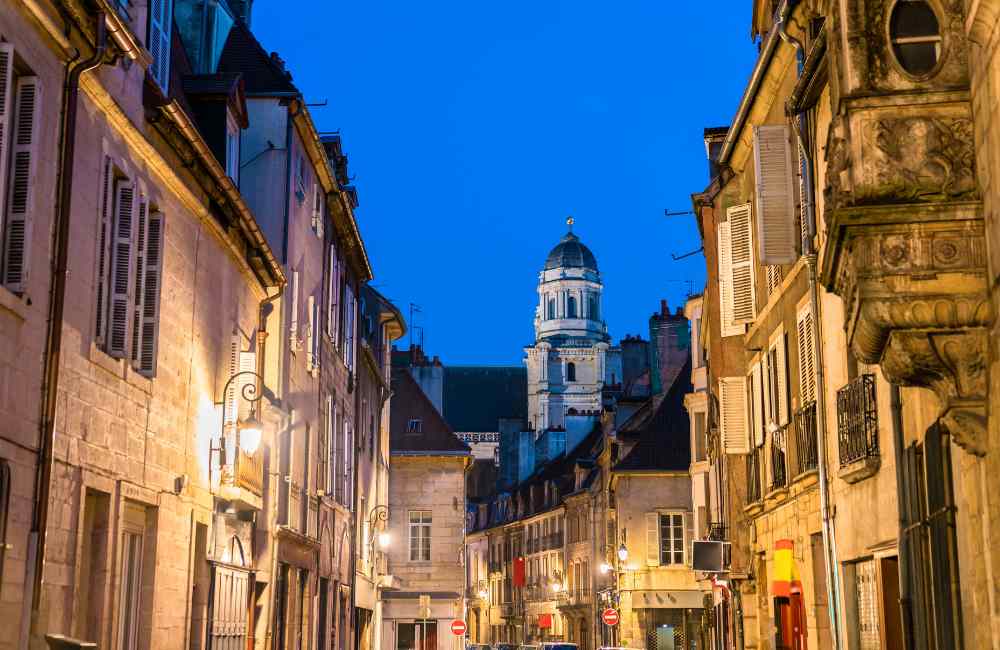 According to us, these are the best places to stay in Dijon if you're looking for a convenient, central position to walk or use public transport:
Best Things to Do in Dijon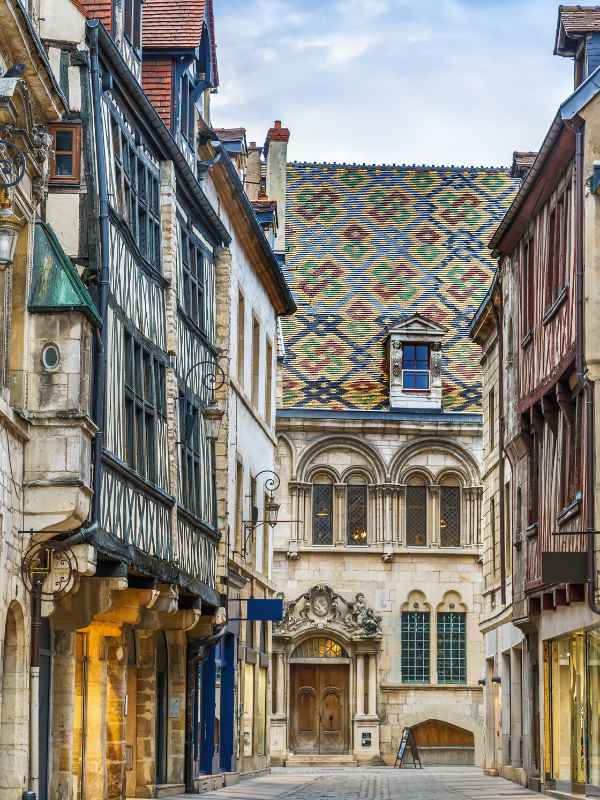 Are you ready to explore the city? Let's discover which are the things to do in Dijon that you don't want to miss!
Admire the Ducal Palace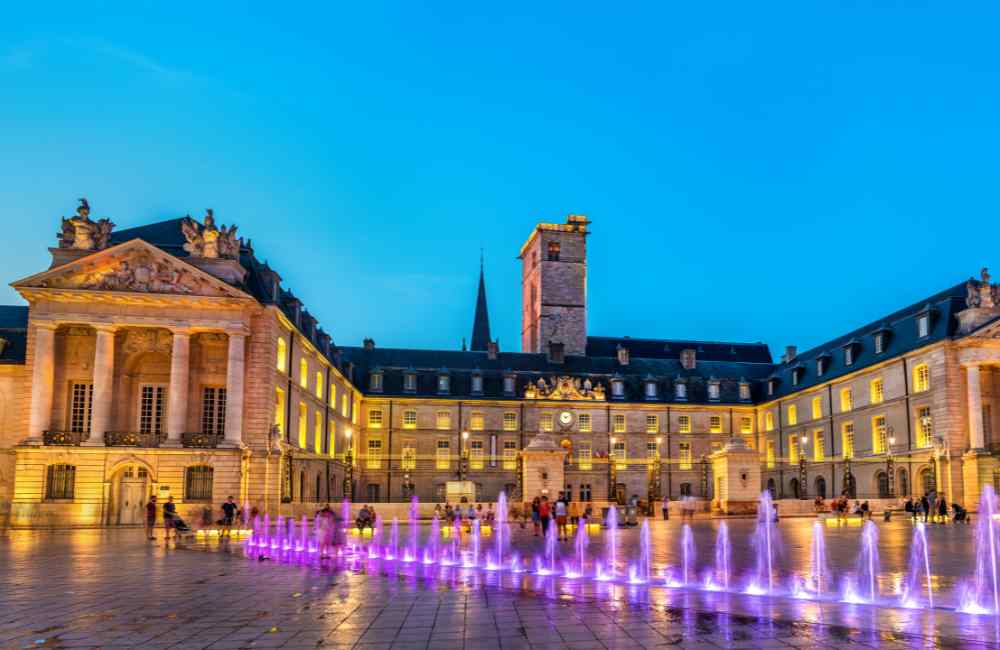 Back in the fourteenth and fifteenth centuries, Dijon was home to the powerful dukes of Burgundy, who controlled most of Eastern France.
The Ducal Palace is an impressive building that today houses the Town Hall of Dijon as well as the musée des Beaux-Arts. It stands overlooking the Place de la Liberation and it is one of the most popular attractions in Dijon.
The palace features two impressive classical porticos at the front and the Tower of Philip the Good (or Philippe Le Bon) sitting in between them.
There are more than 300 steps to the top of the tower, but the impressive view is well worth the effort. This remarkably well-preserved architectural gem is an excellent example of Gothic architecture.
Explore the Church of Notre-Dame
Situated in the center of the old city, this magnificent thirteenth-century church is a Roman Catholic church in Dijon and it is believed to be a masterpiece of Gothic architecture.
The religious building is in the center of the old center of Dijon, in Place Notre-Dame, near the Palace of the Dukes of Burgundy and opposite the rue Musette.
The church features a special western facade with a large porch, spectacular arches, and 51 fascinating gargoyles depicting monsters, animals, and humans.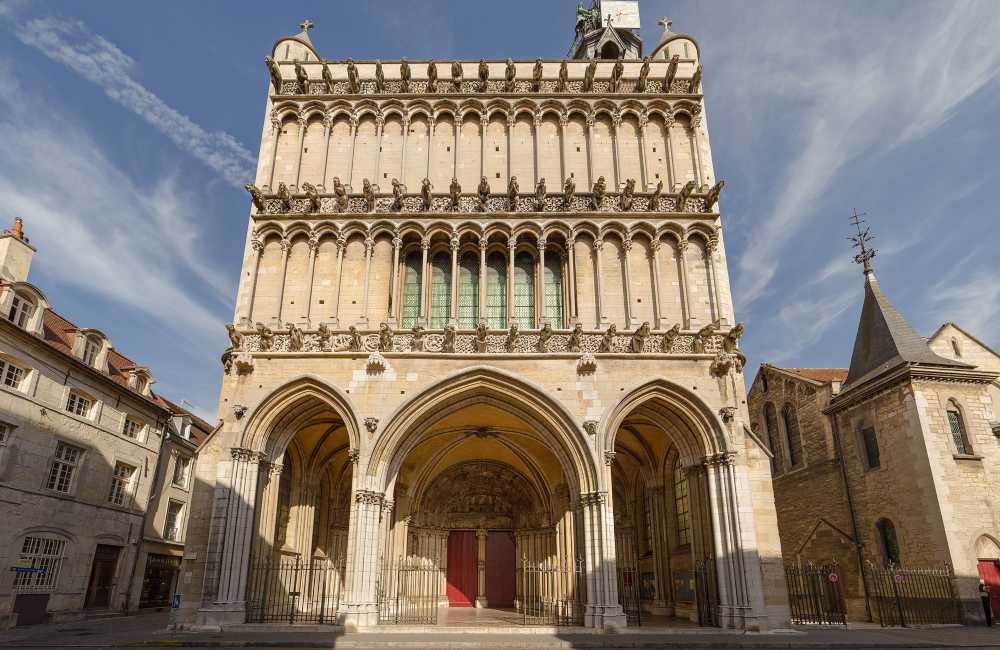 The church houses the statue of Notre Dame de Bon-Espoir, which is one of the oldest statues of the Virgin Mary in France.
The striking mechanism for the church bell is very special too.
Known as the Jacquemart, the church's clock has four statues – Jacquemart, Jacqueline, and their two. These figurines strike the hour in turns.
Wander along the Rue des Forges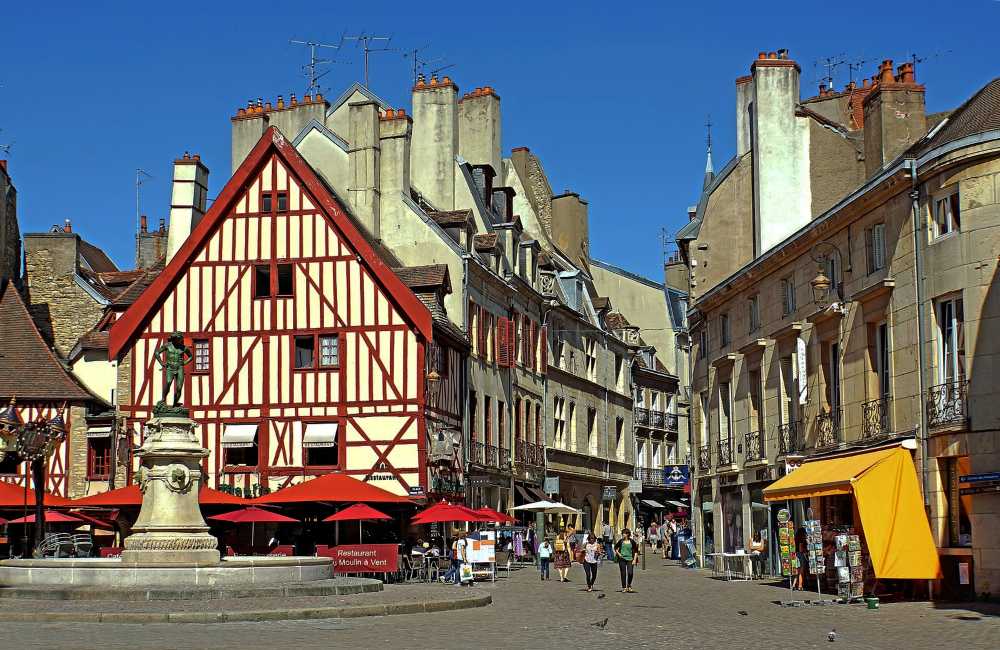 As well as being a popular shopping street, Rue des Forges has some amazing old buildings to admire including beautiful historic mansions.
The most impressive of all is Hôtel Chambellan, a flamboyant Gothic building where the courtyard has an impressive carved wooden gallery and a stone spiral staircase.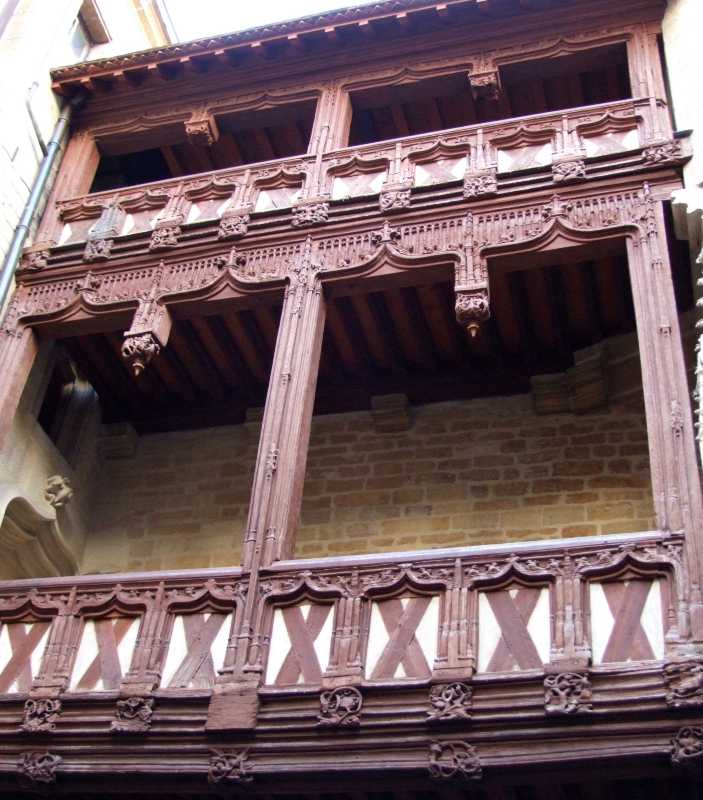 This unique building was built between the fifteenth and seventeenth centuries.
Follow the Owl's Trail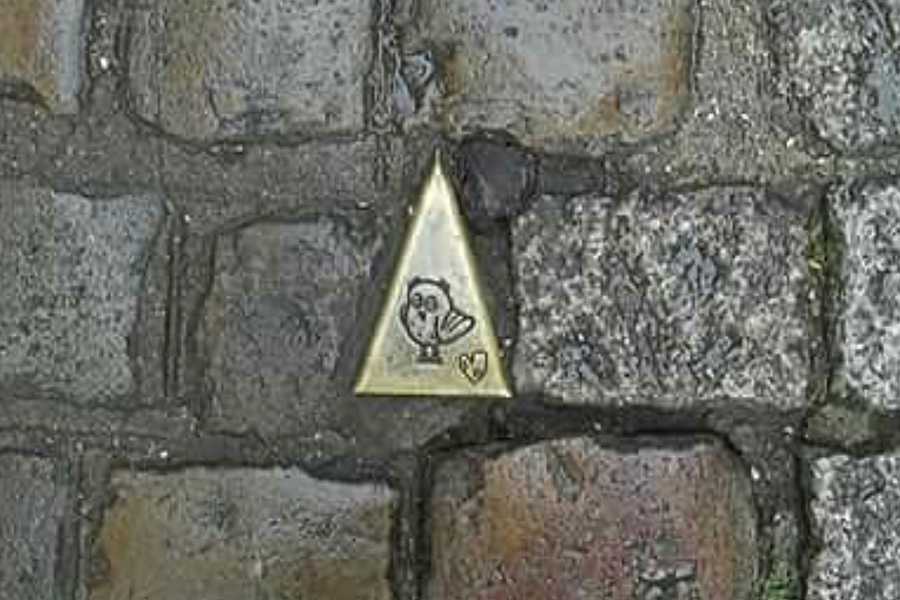 Looking for something fun to do in Dijon with friends or family? Then follow this 22-stage trail that has been specially created to take you back in time and show every important landmark of the city's history.
Along the charming trail known in French as Le parcours de la Chouette (Owl's Trail), there are numbered stages and the whole walk can take from one to two hours to complete.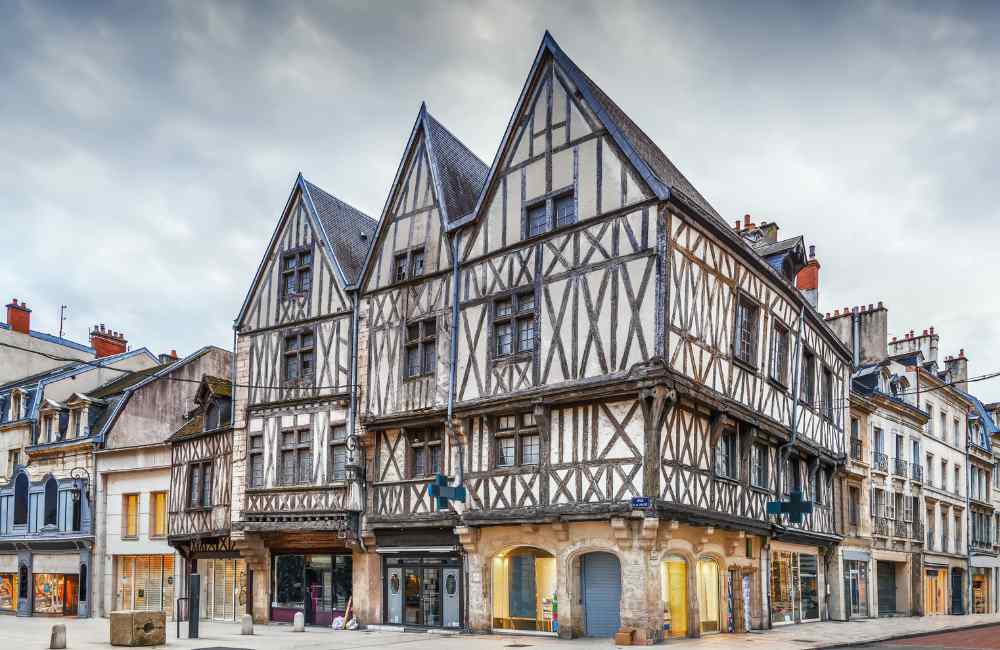 There are three different loops of this trail that you can choose from: the Rousseau loop, the Zola loop, and the Moses loop.
But don't rush, this trail could easily last a whole afternoon if you take the time to enjoy Dijon's vibe and soak in the friendly scene of the city, visiting also museums, galleries, and cafés that you will find along the way!
The trail highlights the beauty of the city but it also pays homage to the owl, which is the symbol of Dijon.
If you're looking at one of the many popular owls located all over the city, check out the owl found on the north side of the Church of Notre Dame in Rue de la Chouette (Owl Street). This is stop number 9 of the trail!
This is a stone sculpture with an etching of an owl that dates from the fifteenth century.
Local folklore tells that anyone who touches the stone with their left hand can make a wish and it will also bring good luck – no wonder the stone is incredibly shiny and quite eroded!
The fee is super affordable (less than €4) and you can find more info here or download the app for Android here.
Admire the Art in Musée Magnin
For many years, the Parisian magistrate Maurice Magnin and his sister, Jeanne, collected wonderful pieces of art which they bequeathed to the city in the 1930s, including furniture, sculptures, paintings, and other artistic objects!
The paintings were bought at various art auctions and the collection portrays the works of a large selection of lesser French, Flemish, and Italian artists.
If you're interested in checking out the exhibition, you can read more about the museum and the history of the building, the seventeenth-century Hôtel Lantin, you can visit the official website.
Step Back in Time at Musee de la Vie Bourguignonne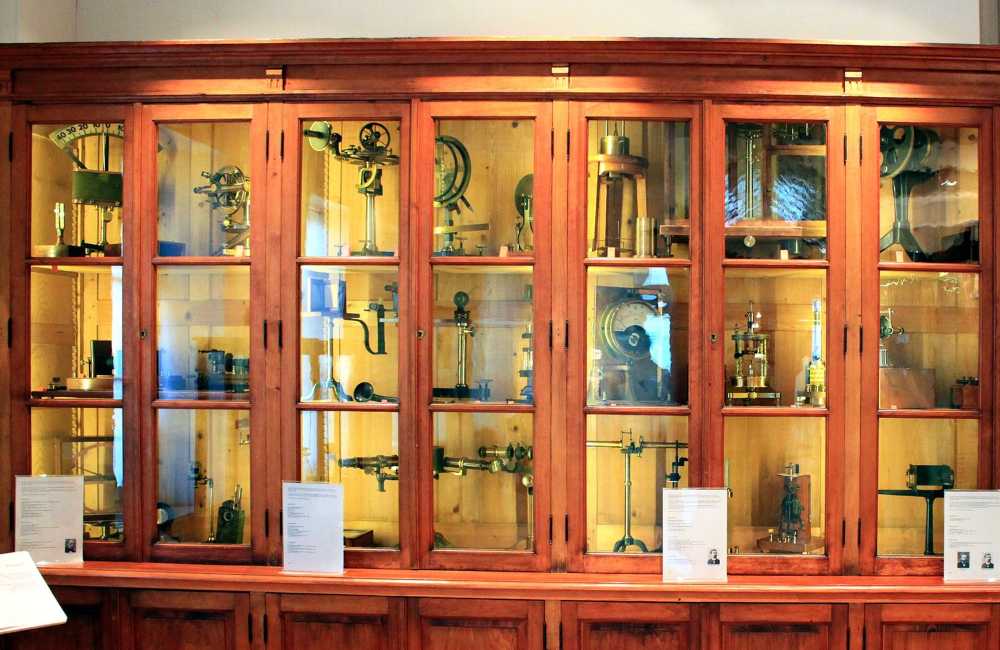 This museum gives a fascinating insight into traditional Burgundian life. The museum is housed in a beautiful monastery dating back to the eighteenth century.
The exhibition features reconstructed shops and a rich variety of exhibits that portray local life in years gone by.
Buy Local Food in Les Halles
The city's amazing covered market has a roof of glass and steel that was built in the 1870s by Dijon-born Gustav Eiffel – who is best known for building the Eiffel Tower!
Les Halles is well worth a visit! Once there, just stand and admire the architecture as it has one of the largest and prettiest glass roofs in France.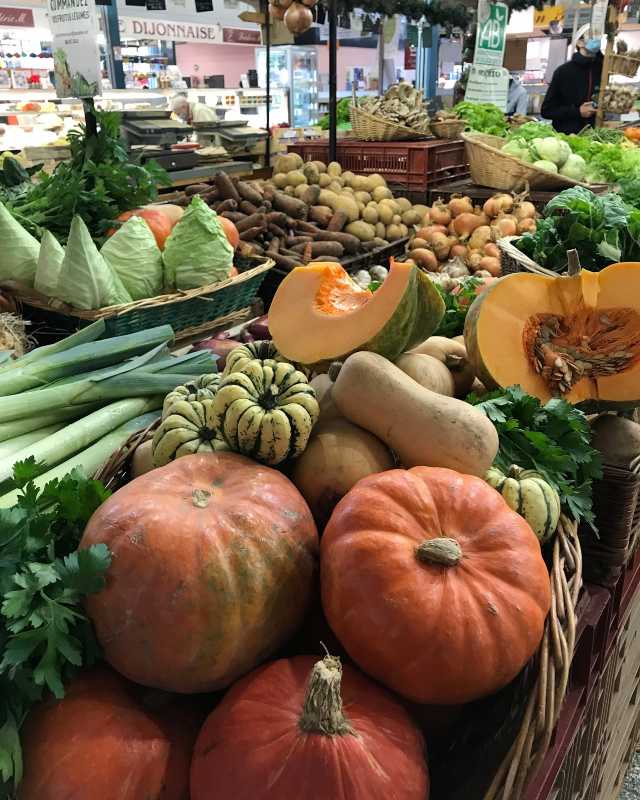 There are hundreds of stalls to enjoy selling fresh flowers, fruit, vegetables, cheeses, fish, and spices.
On Tuesdays, Thursdays, and Saturdays, which are the busiest days, the market spills over into the surrounding streets too! The market is open from 7.30 am to 1 pm.
The place is a great meeting point for locals who love to gather here to eat, drink, and engage in animated conversation!
Relax at Kir Lake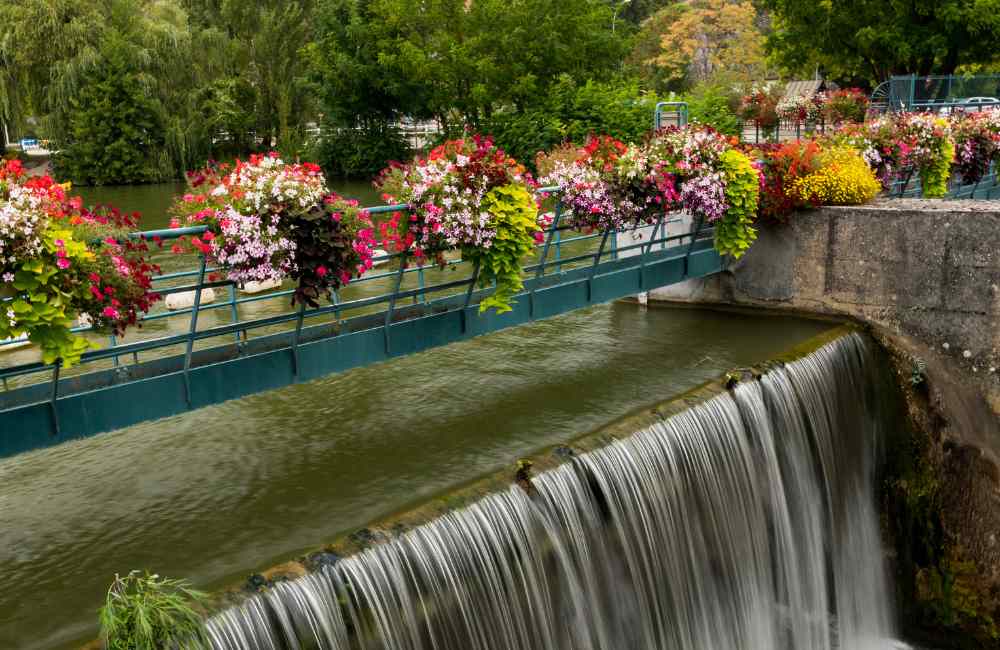 Situated just west of the city center, only a 10-minute drive away, you can find Kir Lake, an artificial lake that was built in 1964.
If you fancy some downtime, a stroll along the water's edge is fun. However, it is also possible to rent a bike or a boat for a more original activity.
On the premises, kids can also enjoy a playground while there is also a nine-hole golf course.
What to Eat in Dijon: Sample Great Dijonese Food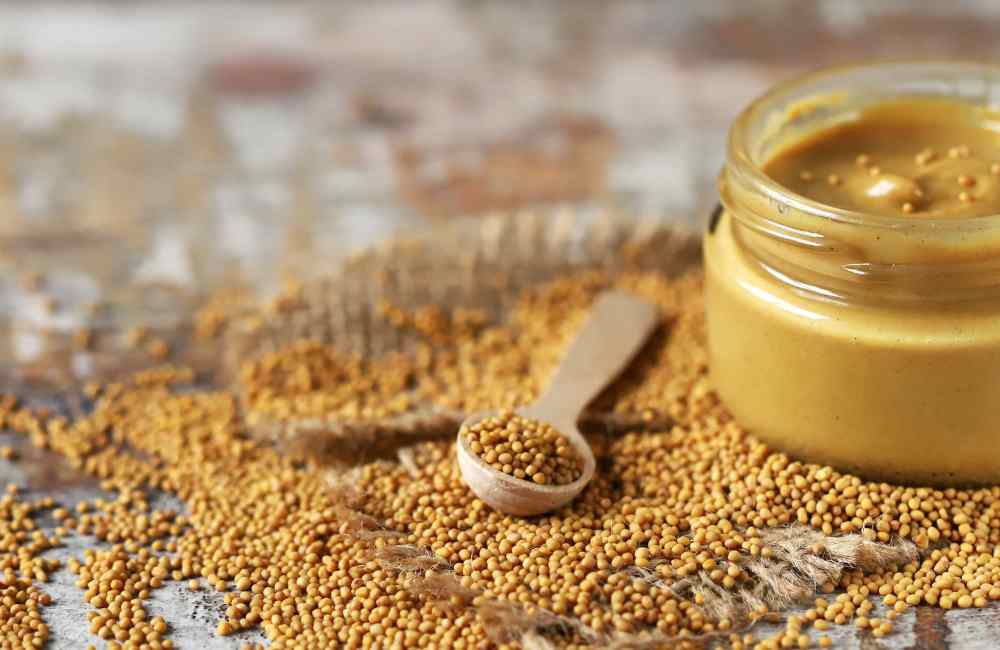 It is fun to discover the local culinary delights on your own, but if you prefer, there are several escorted foodie tours available. These are some of the best food and wine tours available:
When it comes to local delicacies, the best-known specialty is Dijon mustard which is milder and creamier than its English cousin!
Dijon mustard is no longer made in the city but there are several shops known as moutarderies that have been selling the mustard for generations.
If you love mustard, you will love Edmond Fallot, on Rue de la Chouette in central Dijon, as this shop stocks every mustard product you could imagine!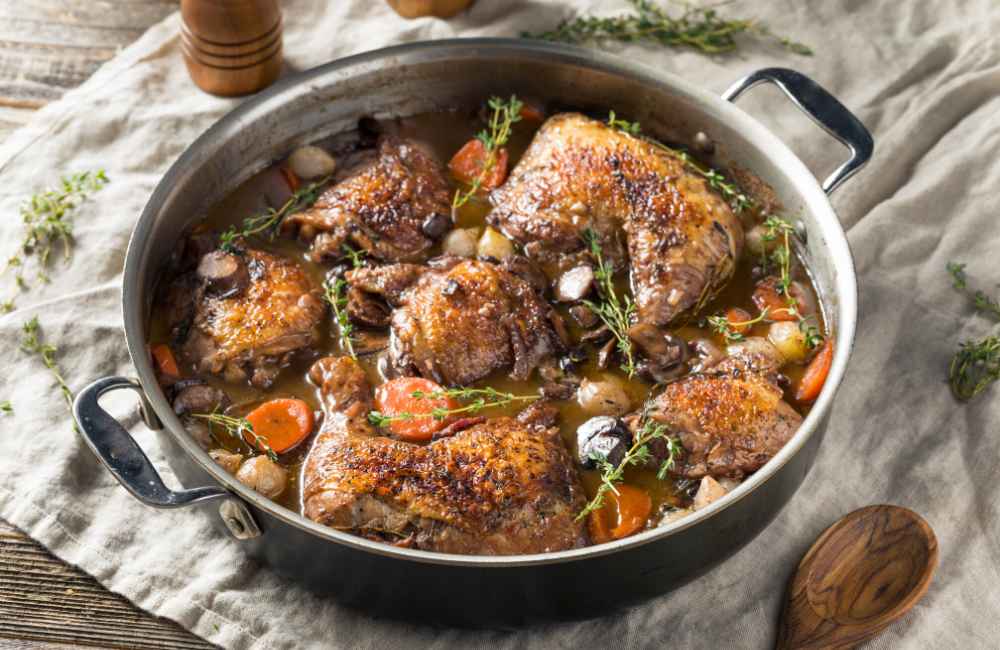 Other local specialties to try include coq au vin – the popular chicken casserole with red wine and soupe à l'oignons with slices of baguette floating in the soup and topped with melted St Nectaire cheese.
Pain d'epices is another local delicacy, the French equivalent of gingerbread. Mulot et Petitjean is a factory producing this delicious spicy bread… and it has been done for more than 200 years!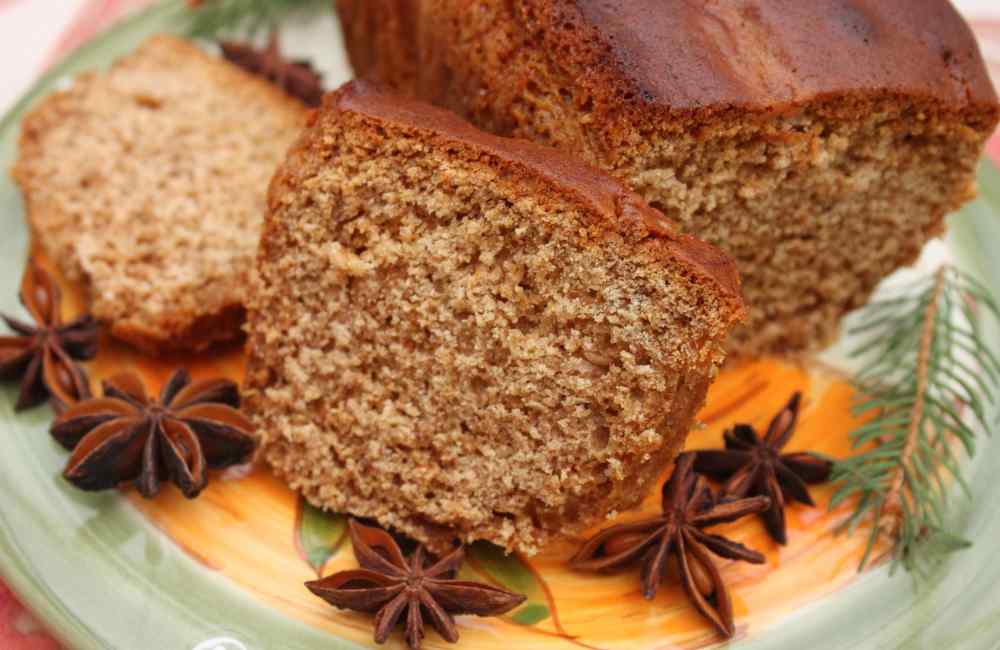 In the factory, there is a popular shop and a museum detailing the history of Pain d'epices. Check their website here.
As the area is one of the premier wine-growing regions, it is not surprising that another local dish is Boeuf bourguignon, which is another classic, made with beef braised in red Burgundy wine.
Discover Dijon Wines and a Special Local Liqueur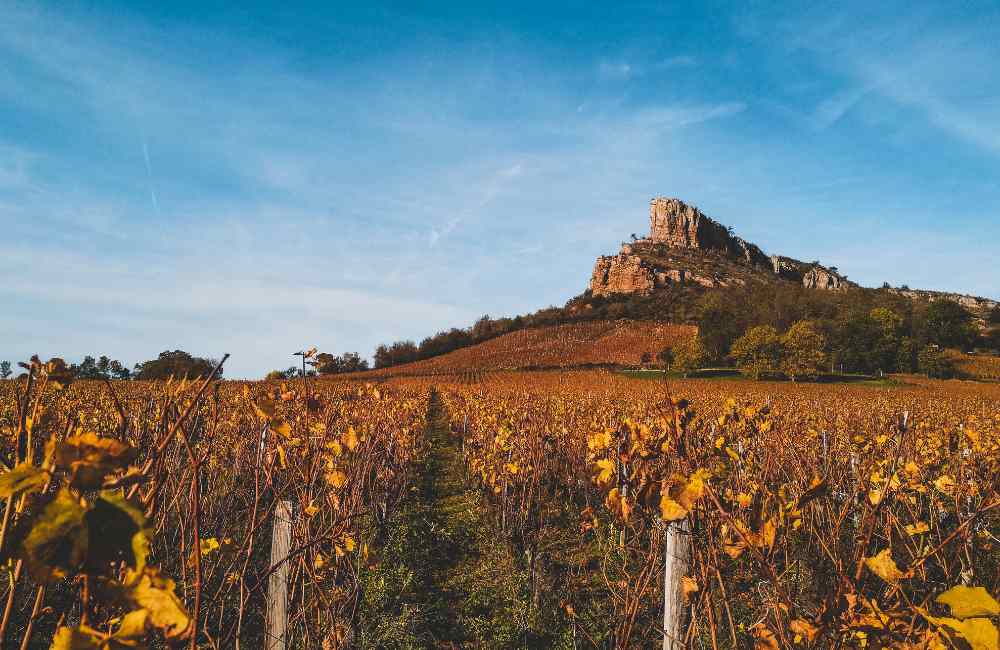 The name Burgundy is synonymous with fine wines and the region has more appellations than any other region in France.
There are a variety of excellent wine tours available from the city center as a number of excellent winemakers are situated just a few kilometers away.
Most of these offer visits the chance to see the winemaking process and to enjoy some wine tasting on-site.
If you fancy a different type of wine tour, there are cycling tours available too.
There are more than 500 wines produced in the Burgundy region.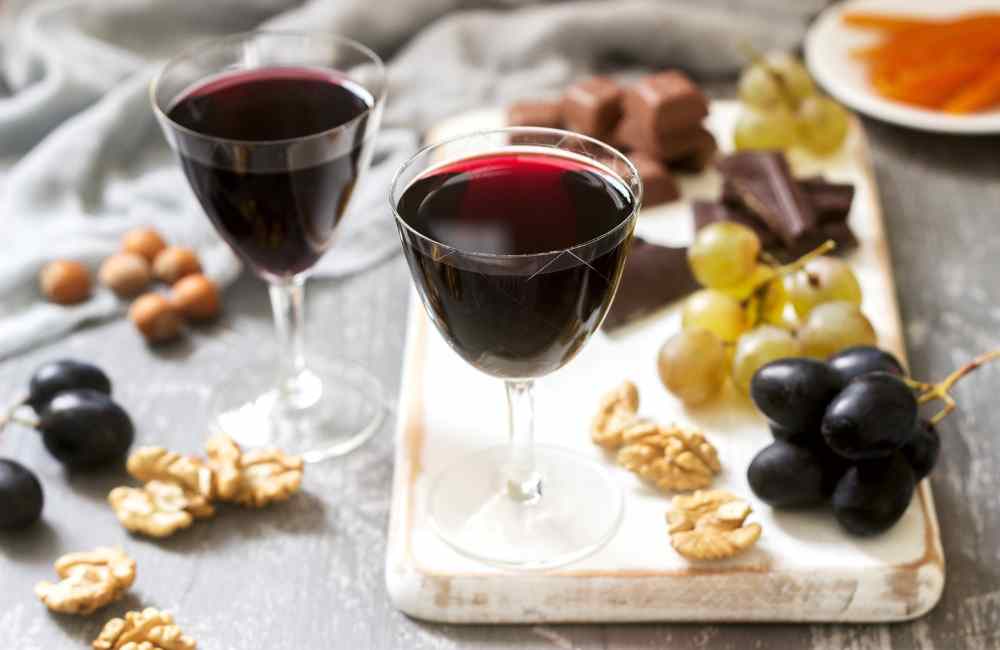 And when it comes to spirits, do not miss the delicious Crème de Cassis! This is a popular liqueur that has its roots firmly in Dijon.
This dark red liqueur made from blackcurrants is at the base of popular French cocktails including my favorite Kir, or Kir Royale made with sparkling wine.
Crème de cassis is also often served as an after-dinner liqueur or as a cold drink in summer months.
As you can see, Dijon offers plenty of interesting activities, things to see, and places to discover, and a visit to the city can be an interesting highlight during your vacation in France, don't you think?
Are you visiting Dijon soon?
Read more about France
Pin this Guide to the Best Things to Do in Dijon for your Next Adventures in France!
About my blog: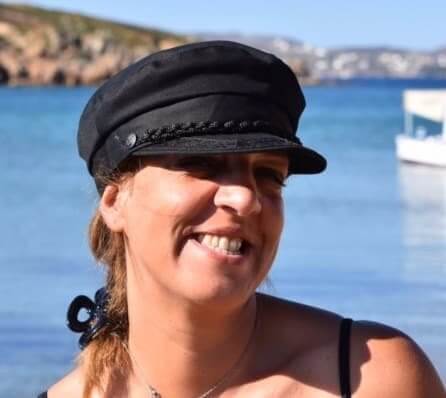 I moved to Crete in 2016. During these years, I learned much about the island.
In Crete, I juggle being a solo mom, hosting culinary tours, and writing for several travel blogs.
I've written for Greek Reporter, published travel guides about Greece, and had more glasses of frappe than any regular person could ever handle.